Self-driving cars are being trained in virtual worlds while the real one is in chaos
Brandon Moak felt as if a freight train had hit him.
It was mid-March, and the cofounder and CTO of the autonomous- trucking startup Embark Trucks had been keeping tabs on the emergence of covid-19. As a shelter-in-place order went into effect throughout the San Francisco Bay Area, where Embark is based, Moak and his team were forced to ground almost all their 13 self-driving semi-trucks (a few stayed on the road moving essential freight but weren't in autonomous mode) and send home the majority of their workforce, with no idea how long it'd be before they could return.
Moak and Embark weren't alone. For safety reasons, autonomous vehicles typically have two operators apiece. That's a no-go in the age of social distancing, and leaders of autonomous-vehicle companies knew they'd have to mothball their fleets. Suddenly the whole nascent industry was in trouble. Autonomous vehicles are still experimental, and real-world testing is the gold standard for collecting data and improving the cars' ability to operate safely. Unable to get on the road, self-driving operations risked becoming cash-intensive gambits with no path toward fielding a product anytime soon.
As they struggled with this new reality, layoffs rippled through autonomous-driving outfits like Zoox, Ike, and Kodiak Robotics, as well as the autonomous division at Lyft.
But as it turns out, all may not be lost. Several companies have traded road tests for delving deep into their algorithms and simulators, finding new uses for the countless hours of data they've collected. They're doubling down on efforts like detailed data labeling, 3D mapping, and identifying overlooked scenarios from previous road sessions that can be used to train their systems. Some have even helped vehicle operators transition into data labeling, equipping them with new skills that will likely come in handy when they resume their former roles.
To make the best of a bad situation, Moak decided to build a new tool to allow Embark's operations team to annotate the company's four years of driving data. For instance, the software serves Embark's truck drivers with images of different on-road scenarios and then asks them to determine if they're noteworthy—and how they'd handle each based on their own experience.
Aurora Innovation, a Palo Alto–based company that develops self-driving technology, took a similar approach to finding tasks for underutilized workers. Vehicle operators have joined forces with the triage and labeling teams to mine both manual and autonomous driving data for noteworthy on-road events to turn into tests in a simulated environment.
"This has the additional benefit of increasing the exposure of our operators to how the data they gather is used offline, [which] gives them better context into our overall development process and will help them be even better at their job as we get back on the road," cofounder and CEO Chris Urmson wrote in an email to MIT Technology Review.
Companies have also found creative ways to overcome the obstacle of being physically separated from their products. 
Urmson, who previously led Google's self-driving-car project, added that his team is using its "hardware-in-the-loop" pipeline to "catch software issues that would manifest on Aurora hardware and not on developer laptops or cloud instances." 
Embark, for its part, invested in software that could test hardware components offline. One test involves the vehicle's control system—the algorithms responsible for sending physical commands, like how fast to turn the steering wheel. "In the long run, this will be a good investment for us, but in the short term, we had to make a big leap to build all this new infrastructure," said Moak.
General Motors–owned Cruise has relegated 200 vehicles in San Francisco and Phoenix to the garage. The company is relying on its advanced simulators to keep putting cars' software through its paces—a regular practice even before the pandemic, but SVP of engineering Mo Elshenawy says they're improving the detail on how cars are scored during their encounters in the sims as a way to better assess competency in unusual situations, like when dealing with ambulances or delivery trucks.
Alexandr Wang, founder and CEO of data annotation firm Scale AI, works with companies like Lyft, Toyota, and Nuro, as well as Embark and Aurora. During the pandemic, Scale has been working on detailed labeling for companies' old data via point cloud simulation—using 3D maps of the environment around a vehicle to encode what every point corresponds to (pedestrian, stop sign, window, shrub, stroller). The team is also encoding the behavior of drivers, pedestrians, and cyclists with technology including "gaze detection," which aims to indicate whether a driver might yield or a pedestrian plans to cross the street.
No matter how much companies invest in their simulators, though, there's no getting around the need to eventually get back on the road. And as the US reopens, that's beginning to happen. A Waymo spokesperson wrote in an email that a day of simulated driving is akin to "driving more than 100 years in the real world," in part thanks to parent company Alphabet's computing power. Nevertheless, the company got its driving operations in Phoenix up and going again as of May 11.
Still, Wang says he sees a change in how autonomous-vehicle companies are working, shifting toward more innovative approaches and long-term experimentation.
"The ones who are taking this view," he says, "are the ones who will, at the end of this, come out ahead and be in a better spot."
Of course technology perpetuates racism. It was designed that way.
Today the United States crumbles under the weight of two pandemics: coronavirus and police brutality. 
Both wreak physical and psychological violence. Both disproportionately kill and debilitate black and brown people. And both are animated by technology that we design, repurpose, and deploy—whether it's contact tracing, facial recognition, or social media.
We often call on technology to help solve problems. But when society defines, frames, and represents people of color as "the problem," those solutions often do more harm than good. We've designed facial recognition technologies that target criminal suspects on the basis of skin color. We've trained automated risk profiling systems that disproportionately identify Latinx people as illegal immigrants. We've devised credit scoring algorithms that disproportionately identify black people as risks and prevent them from buying homes, getting loans, or finding jobs.
So the question we have to confront is whether we will continue to design and deploy tools that serve the interests of racism and white supremacy, 
Of course, it's not a new question at all.
Uncivil rights
In 1960, Democratic Party leaders confronted their own problem: How could their presidential candidate, John F. Kennedy, shore up waning support from black people and other racial minorities?
An enterprising political scientist at MIT, Ithiel de Sola Pool, approached them with a solution. He would gather voter data from earlier presidential elections, feed it into a new digital processing machine, develop an algorithm to model voting behavior, predict what policy positions would lead to the most favorable results, anf then advise the Kennedy campaign to act accordingly. Pool started a new company, the Simulmatics Corporation, and executed his plan. He succeeded, Kennedy was elected, and the results showcased the power of this new method of predictive modeling.
Racial tension escalated throughout the 1960s. Then came the long, hot summer of 1967. Cities across the nation burned, from Birmingham, Alabama, to Rochester, New York, to Minneapolis Minnesota, and many more in between. Black Americans protested the oppression and discrimination they faced at the hands of America's criminal justice system. But President Johnson called it "civil disorder," and formed the Kerner Commission to understand the causes of "ghetto riots." The commission called on Simulmatics. 
As part of a DARPA project aimed at turning the tide of the Vietnam War, Pool's company had been hard at work preparing a massive propaganda and psychological campaign against the Vietcong. President Johnson was eager to deploy Simulmatics's behavioral influence technology to quell the nation's domestic threat, not just its foreign enemies. Under the guise of what they called a "media study," Simulmatics built a team for what amounted to a large-scale surveillance campaign in the "riot-affected areas" that captured the nation's attention that summer of 1967.
Three-member teams went into areas where riots had taken place that summer. They identified and interviewed strategically important black people. They followed up to identify and interview other black residents, in every venue from barbershops to churches. They asked residents what they thought about the news media's coverage of the "riots." But they collected data on so much more, too: how people moved in and around the city during the unrest, who they talked to before and during, and how they prepared for the aftermath. They collected data on toll booth usage, gas station sales, and bus routes. They gained entry to these communities under the pretense of trying to understand how news media supposedly inflamed "riots." But Johnson and the nation's political leaders were trying to solve a problem. They aimed to use the information that Simulmatics collected to trace information flow during protests to identify influencers and decapitate the protests' leadership.
They didn't accomplish this directly. They did not murder people, put people in jail, or secretly "disappear" them.
But by the end of the 1960s, this kind of information had helped create what came to be known as "criminal justice information systems." They proliferated through the decades, laying the foundation for racial profiling, predictive policing, and racially targeted surveillance. They left behind a legacy that includes millions of black and brown women and men incarcerated.
Reframing the problem
Blackness and black people. Both persist as our nation's—dare I say even our world's—problem. When contact tracing first cropped up at the beginning of the pandemic, it was easy to see it as a necessary but benign health surveillance tool. The coronavirus was our problem, and we began to design new surveillance technologies in the form of contact tracing, temperature monitoring, and threat mapping applications to help address it. 
But something both curious and tragic happened. We discovered that black people, Latinx people, and indigenous populations were disproportionately infected and affected. Suddenly, we also became a national problem; we disproportionately threatened to spread the virus. That was compounded when the tragic murder of George Floyd by a white police officer sent thousands of protesters into the streets. When the looting and rioting started, we—black people—were again seen as a threat to law and order, a threat to a system that perpetuates white racial power. It makes you wonder how long it will take for law enforcement to deploy those technologies we first designed to fight covid-19 to quell the threat that black people supposedly pose to the nation's safety.
If we don't want our technology to be used to perpetuate racism, then we must make sure that we don't conflate social problems like crime or violence or disease with black and brown people. When we do that, we risk turning those people into the problems that we deploy our technology to solve, the threat we design it to eradicate.
—Charlton McIlwain is a professor of media, culture, and communication at New York University and author of Black Software: The Internet & Racial Justice, From the AfroNet to Black Lives Matter
Surviving The Pandemic As A Hacker: Peering Behind The Mask
We're now several months into the global response to the COVID-19 pandemic, with most parts of the world falling somewhere on the lockdown/social distancing/opening up path.
It's fair to say now that while the medical emergency has not passed, the level of knowledge about it has changed significantly. When communities were fighting to slow the initial spead, the focus was on solving the problem of medical protection gear and other equipment shortages at all costs with some interesting yet possibly hazardous solutions. Now the focus has moved towards protecting the general public when they do need to venture out, and as society learns to get life moving again with safety measures in place.
So, we all need masks of some sort. What type to do you need? Is one type better than another? And how do we all get them when everyone suddenly needs what was once a somewhat niche item?
Masks Offer Basic Protection for Everyone in Public Areas
Some parts of the world are coming to terms with the effects of long term lockdown, while others are beginning to contemplate how they might start moving back towards some kind of normality. The issue of mask wearing a practical one, because there are indications that it will slow the spread of the disease.
When considering face masks, it's important to start by defining what a mask for the general public should be, and what it is trying to achieve. This is not the same breed as the masks worn by intensive care staff where the primary intention is to protect the wearer by filtering the virus from an atmosphere heavily contaminated with it, instead it is a mask intended to be worn in environments where only a few people may be spreading the virus (with the pesky detail of not knowing who those few people are).
The goal of masks is to reduce the chances of transmission by infected droplets. It's an idea wittily illustrated in the "Urine Test" meme, that such a mask will not guarantee your escape from the virus but it should significantly reduce the odds of its transmission. We're told that these odds tilt further against the virus the more people in an environment wear a mask, and since it's a relatively easy step to take it's one that everyone should be taking as a courtesy to your fellow humans.
We're Makers, Yes… But You Can Learn a Lot From Commercial Masks
In our community the first thought turns invariably towards making our own and indeed that's part of the official advice in many territories, but before we go there it's worth considering the commercial alternatives. These normally use a composite design featuring multiple layers of fabric for comfort and filtration, with the main filter layer(s) being of a blown fabric rather than a woven one.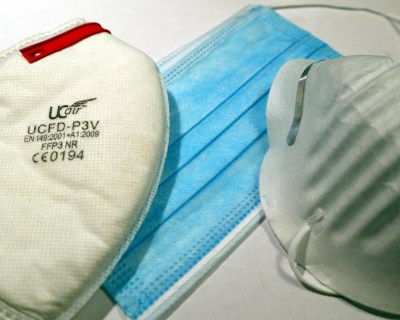 If you have a supply of the top-spec medical masks then you're all set, but since pandemic demand has caused a supply shortage that's a luxury most of us can't claim and shouldn't be taking from the professionals who need them anyway. We will often have an array of other masks to hand as dust protection in the workshop, and among these can be found some surprisingly good protection for our application. The key is in the rating which should be printed on the box or the outside of the mask, but to decode what it means will sometimes require a bit of digging into the world of international standards.
Assuming that you didn't buy from the cheapest seller on AliExpress and your mask isn't counterfeit, you may encounter US standards (N95 etc), EU standards (EN149, FFP etc.), or Chinese standards (T3210-2016 etc.). These deal among other properties with the mask's particulate filtration ability both in terms of particle size and percentage removal, and with the breathing force required to make air pass through them. Happily our requirement for a droplet-catcher does not require the most stringent of standards. As an aside, the official versions of all the above mentioned standards seem all to be behind very expensive paywalls. It's not difficult to find them online through your search engine though.
Tearing Down Some Masks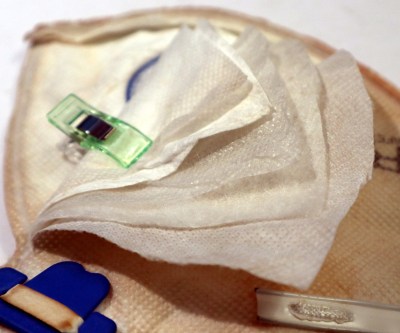 So casting around the commercial masks we have to hand here brings out a pair of dust masks and a surgical style mask that admirably illustrate the range on offer. An FFP3 dust mask is a European-rated rough equivalent of those N95 surgical masks in industrial form, and it feels thick between finger and thumb. Despite having probably the best available filtration, our FFP3 is not suitable as virus protection because it manages exhalation through a non-return valve that would release droplets into the atmosphere.
Taking the used FFP3 mask from my overall pocket that has protected me from dust during several woodwork machining sessions at MK Makerspace and cutting it open, it is revealed as having five non-woven layers including a thick and fluffy one and a very dense one. When compressed with a micrometer screw gauge its thickness is a relatively substantial 0.94mm.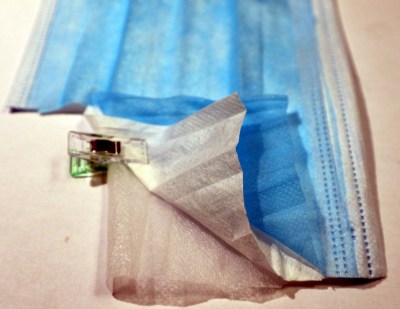 The next mask up for dissection is a Chinese-manufactured three-layer surgical mask with T3210-2016 spec, whose box clearly states that it isn't a medical device. That warning sounds concerning but in this case it isn't; masks to that particular standard are intended to be worn by the general public and not by medical staff. In fact this mask is purpose-made as everyday-life dust and droplet-catching PPE, so is just the job. Cutting it open reveals three layers with the middle filter layer being a dense non-woven fabric, and the micrometer reveals it to have a svelte 0.28mm compressed thickness.
The final mask is another dust mask, a Silverline single-layer mask from a pack I bought for showing people round a dusty church tower. It's a single layer of 0.45mm thick stiff blown-polymer fabric moulded into a mask shape, and its packaging has the ominous warning that it does not offer rated protection to the wearer. It was very cheap indeed and just about adequate for the purpose I bought it for, but I have to admit I'd be happier with more than its very basic level of protection during the pandemic.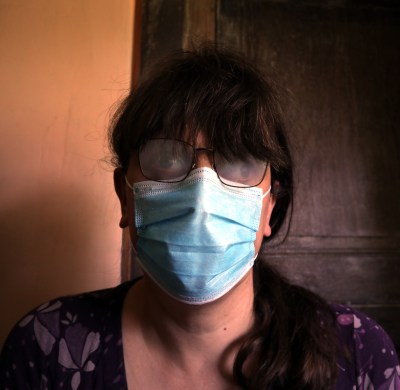 All three masks feature a piece of stiff wire or metal strip above the nose designed to fit the contours of the bridge of the nose and clamp shut any gaps through which breath can escape. It's easy to tell whether they are effective if you wear glasses, because they will immediately steam up if damp air from your breath escapes. Of the three it was the disposable surgical-style mask that did the worst job of this, the FFP3 had a very sturdy plastic and wire tape that lets nothing through and the cheap unrated mask has a metal strip, but the surgical-style mask's single piece of thin wire simply isn't up to the job.
I've worn all three for extended periods of time to test them, and while driving into town for a prescription wearing this one I had to stop and take it off as the risk of not seeing where I was going became too great. This can be mitigated with folded-up kitchen towel to plug the gaps or even medical tape to secure it, but such things rapidly become very annoying.
As for the fogging, there is some advice out there for this as well. Using dish soap that does not have lotion in it, or say that it's for sensitive skin will work. Apply to the inside of the lens, let sit a bit, then buff it until clear. The same is said to work with shaving cream although I've yet to try either method.
Freedom To Be Uninfected
What's to be gained from this insight into masks and their construction? In the first instance, it pays to be educated and informed when finding a mask for yourself. Over the past few months I've been offered the chance to buy masks from everyone from my PCB supplier through the local tool shop to my stationery provider, alongside any number of unsolicited emails. It's a confusing marketplace with traps for the unwary that with luck will have become a little clearer.
In the next part of this series I will look at home made mask design and demonstrate how I have made masks of my own. Dust off your sewing machine, that article will be out next week.
Latest iPad leak reveals a huge change that could spill over to Apple's iPhones
The new iPad Air scheduled to launch in the second half of 2020 will reportedly replace its Lightning connector with a USB-C port for the very first time.
Previously, the iPad Pro was the only iPad line with a USB-C connector.
This could be an indication that Apple is moving away from Lightning connectors on more of its mobile devices — perhaps even iPhones.
Apple is expected to debut a new iPad Air in 2H 2020, and a new iPad mini in 1H 2021.
---
Earlier this year, Apple revealed a new iPad Pro model with trackpad support and a new LiDAR Scanner. Despite the chaos caused by the ongoing novel coronavirus pandemic, this likely won't be the last new iPad model Apple debuts in 2020. In a note last month, TFI Securities analyst Ming-Chi Kuo claimed Apple would release a 10.8-inch iPad in the second half of this year, while a 9-inch iPad mini is slated to arrive in the first half of 2021.
Kuo didn't specify the type of iPad that Apple would launch later this year, but based on a new report from Japanese supply chain blog Macotakara, it seems reasonable to assume that the new model will be the fourth-generation iPad Air. The report also suggested that a major change will be coming to the new iPad Air.
Supply chain sources tell Macotakara that the 4th-gen iPad Air will replace its Lightning connector with a USB-C port, as the iPad Pro did not long ago. This would mark the first instance of any iPads other than the Pro ditching Lightning in favor of USB-C. Meanwhile, the iPad mini will apparently stick with Lightning for at least one more generation. The report also says that the new iPad Air will be "developed based on" the 11-inch iPad Pro, but then fails to offer any additional details. It's possible that this could be referring to the updated design of the tablet.
The next iPad Air has been the subject of several rumors and reports in recent months. In March, the fairly reliable Twitter account @L0vetodream claimed that the 4th-gen iPad Air would have a full-screen design without a notch, a Mini LED display, and Touch ID under the screen with no Face ID to speak of. The user's track record is solid enough that it's worth taking these tweets with more than a grain of salt.
Aside from the myriad iPad models currently in development, Apple is also preparing to launch four iPhone models this fall, all of which are expected to feature OLED displays and 5G support. Just days ago, we learned that the 6.1-inch iPhone models are likely to enter production ahead of the 5.4-inch and 6.7-inch models due to touch modules that need to be outsourced. The report also suggested that the iPhone 12 will launch in October, which might also give us some guidance as to when Apple will debut its new iPad Air model.
Of note, all of Apple's iPhone models this year are expected to feature Lightning ports, but Kuo said last year that Apple may be working on a portless iPhone set to debut in 2021. Additional reports since then have reaffirmed Kuo's leak, further suggesting that Apple could be phasing out its proprietary Lightning port.