A Parent PLUS Loan is a federal student loan taken out by a college student's parent. It is meant to supplement other available financial aid and can cover up to the full cost of attendance for the student, minus any other financial aid they have received. If you are looking for a way to cover a gap in your child's college costs, a Parent PLUS Loan can help make those ends meet.
Parent PLUS Loans vs. private student loans
Parent PLUS Loans are federal student loans with terms and conditions that offer many advantages over private student loans. For one, you can postpone the payments until the student is no longer enrolled at least half-time. Not all private student loan lenders allow payment postponement.
Further, Parent PLUS loans come with a fixed interest rate which is lower than many private loans. For the 2019 – 2020 school year, Parent PLUS loans have a 7.08% interest rate. Private student loans may come with variable or fixed rates varying from 4.5% to up to 14%. The rate you get will depend on your financial circumstances and your credit. Those with excellent credit may find a better rate from a private lender but the many will likely find federal loans offer the most competitive rates.
It is also often easier to get approved for a Parent PLUS Loan than a private student loan, even if you have an adverse credit history. Additionally, federal loans come with perks such as the option to consolidate the loan into a Direct Consolidation Loan, temporarily postpone or lower your payments and opt for a loan forgiveness program. All of these are far less common, even among the best private student loan lenders.
Parent PLUS Loans vs. federal subsidized and unsubsidized student loans
Federal subsidized and unsubsidized student loans help eligible students pay for the costs of education at a community college, trade school, career school, technical school or four-year university. They are issued directly to the student rather than the student's parent. But what is the difference between subsidized and unsubsidized loans?
With Direct Subsidized Loans, the U.S. Department of Education will pay the loan's interest while the student is in school and enrolled at least half-time, during a deferment period and during the first six months after the student leaves school. However, they are only available to undergraduate students that have a financial need. On the other hand, Direct Unsubsidized Loans don't require students to show a financial need but they hold the student borrowers responsible for paying interest throughout the loan term. You can postpone payments until you leave school but the interest will accumulate and be added to the principal amount of your loan.
Direct Subsidized and Unsubsidized Loans have a fixed interest rate of 4.53%, notably lower than the 7.08% rate for Parent PLUS Loans. They also don't require a credit check while PLUS loans do. Even so, it's best for students to use funds from Direct federal loans first and then to partner with their parents to cover any gaps with Parent PLUS loans.
How to apply for a Parent PLUS loan
If you think a Parent PLUS Loan is the right fit for funding your child's education, here's what you need to do:
Step 1: Fill out the Free Application for Federal Student Aid (FAFSA)
The first step is to fill out the FAFSA You can do so online on the official FAFSA website or can print off the form and mail or fax it to the U.S. Department of Education. The online application allows for faster processing.
Any family with a student attending college should fill out the FAFSA to find out if they are eligible to have their costs covered by grants (they don't have to pay back) or various federal loan options. To do so, you will need your social security number, federal income tax returns, W-2's, bank statements, records of investments, records of untaxed income, the school(s) your child may attend and an FSA ID. You can create an FSA ID here.
Note, dependent students will need their parents to fill this out the FAFSA on their behalf.
Step 2: Log in to studentloans.gov
Next, you need to apply for the Parent PLUS Loan. You can do so as early as April for the following academic year. To do so, you will need to visit studentloans.gov and log in. To log in, you will need an FSA ID. If you created one for yourself while filling out the FAFSA, that will work. If not, you'll need to create one. Don't use your student's FSA ID as they will not be able to apply for this loan because they are not a parent. Once you have an FSA ID, log in.
Step 3: Fill out the Parent PLUS Loan application
Now that you're logged in, click on the option to "Apply for a PLUS Loan." Next, select "Complete PLUS Request for Parents." Be sure you click the "Parent" button and not the "Graduate" button as making mistakes will delay your request.
Start the application by selecting the academic year for which you are applying for the loan. Then, you will need to carefully enter your student's information, not yours. Next, you will have payment deferment options to choose from and can opt to allow the loan to be used for other education-related costs like textbooks. You will then select the school you want to send the loan to, the amount you want to borrow, and when you want to receive the funds (usually for the full academic year).
The next page will ask for the borrower's information — that's you. Carefully provide all of your information and make sure it's accurate, as you can't edit the information after you submit it. Then, click apply.
Step 4: Receive an answer
After you submit your application, your credit will be checked and you will receive an answer in minutes.
Step 5: Master Promissory Note
If you are approved, the next step is to complete the Master Promissory Note (MPN) at studentloans.gov. The MPN is a legal document that outlines the loan rates and terms and asks for your promise to pay. After that, you can wait for a notification from the school stating that the loan has been applied to your student's bill.
Parent PLUS Loans are only available for one academic year at a time so if you need the loan for various years, you will have to reapply for each year you need funds.
Parent PLUS Loan repayment options
While you will be put on a repayment plan when you originate a Parent PLUS Loan, you can opt for a different repayment plan at any time if you find it will be more advantageous. The repayment plans available for Parent PLUS Loans include the Standard Repayment Plan, Graduated Repayment Plan, and Extended Repayment Plan.
The Standard Repayment Plan calculates a fixed monthly payment amount so your loan will be paid off within 10 years. This plan usually costs less than any other plan.
The Graduated Repayment Plan sets your monthly payment lower in the beginning and then it increases every two years or so to ensure your loan is paid off within 10 years. This plan will cost more than the Standard Plan but less than the Extended Repayment Plan. It provides some flexibility if you anticipate your income to increase in the near future.
The Extended Repayment Plan sets your payments so your loan will be paid off within 25 years. The monthly payments can be fixed or increasing. This will cost more overall but less per month.
The bottom line
Parent PLUS Loans are a helpful financing option provided by the federal government that allows parents to take out an affordable loan to pay for their children's education. However, it should be weighed alongside all other available financial resources available. Students may be eligible for grants they don't have to pay back or direct subsidized federal loans with lower interest rates and other perks. The best first step is to apply for the FAFSA and review all of your options. Then, identify which strategy will be the most cost-effective. Learn more about student loans on our 2019 Student Loan Resource Page.
The post Parent PLUS Loans appeared first on The Simple Dollar.
My Unconventional Best Work-From-Home Gear Guide (What's Yours?)
I'm quite familiar with working from home in my tiny 78 sq. ft. "office", but after looking at some online WFH gear guides recently, it's all about standing desks, latest laptop models, and USB hubs. Eh? My desk is a basic folding table and my laptop is a 2015 Macbook Pro (with real scissor keyboard and real moving trackpad) that recently underwent DIY battery replacement surgery (way too complicated, Apple!).
My favorite WFH gear is different. Maybe yours is too? These are real things that I bought with my own money and I would buy them again if I had to do it all over again.
Quiet, Please! – 3M PELTOR X5A Over-the-Head Ear Muffs
I wear these every day to help me focus. They have the highest noise reduction rating (31 dB) available on the market. You even have to certify that you are using them for "professional/commercial use" (which I am while working for money, as far as I am concerned). At ~$30, they are also about $10 more expensive than other similar models, but I think the extra $10 is well spent to know you have the quietest experience possible. If you have kids running around the house, you need all the help you can get. They are "over ear", which means they don't put pressure on your ears and I can wear them for a relatively long time without discomfort. (I try to take regular breaks anyway.)
Budget Noise-canceling Headphones – Mpow H5 Active Noise Cancelling Headphones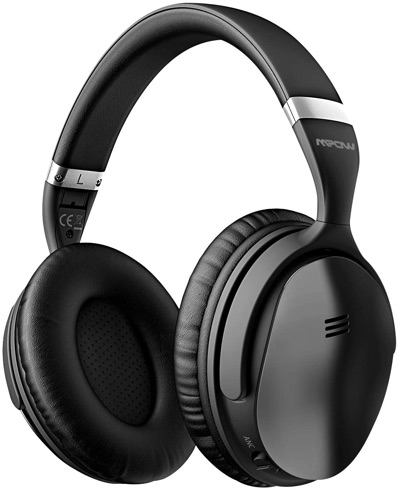 After a certain member of the house (ahem) stole my trusty old pair of wired Bose QC25 headphones, I decided to try out a budget pair of $50 bluetooth noise-cancelling headphones. These over-hear headphones worked out quite well and I really don't miss the old Bose ones. I'd say they are 80% as good while under 20% the price of new Bose QC35 headphones.
Note: I do own a pair of regular Airpods, which I got as a nice gift. I do like them and use them for phone calls around the house and outside, but I use the Mpow headphones while at my desk listening to music or editing things.
Dependable Printer – Brother Monochrome Laser Printer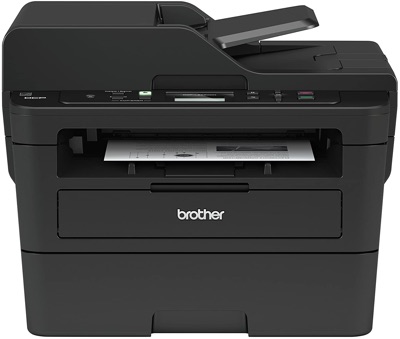 This thing is the workhorse of my home office, and yet also the oldest electronic item here at over 10 years old. Which is rather crazy, given that it has moving parts and daily to scan PDFs, make copies, and of course print. These Brother black-and-white laser printers are like the Toyota Corollas of the printer world – cheap yet reliable. The cost per page can be very low thanks to generic toner cartridges (that link is for two of them) if you don't mind a slight decrease in quality.
Dry Erase Whiteboard – Magnetic Dry Erase Whiteboard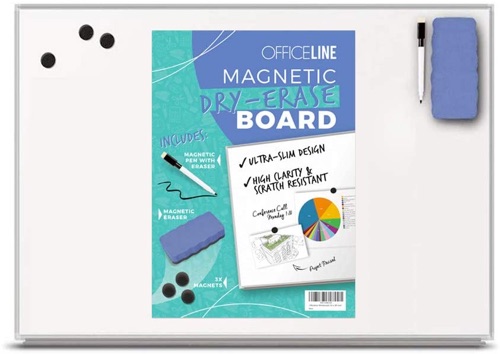 Another inexpensive but important addition for a variety of reasons. Sometimes something physical is just better than the digital alternative. This one is lightweight and thus easy to remove from the wall and move it around. You can also put up complex equations or obscure drawings and put it behind you during those Zoom and Webex meetings and impress/confuse/scare your colleagues. I like these BIC markers as they are higher quality and have finer points.
Looking around my desk, other random things that I probably like more than I should are my TI-85 calculator, classroom-grade pencil sharpener, and an ancient Swingline stapler (sadly not the red 747). The only thing that I have been thinking about upgrading is my office chair. Any suggestions?


"The editorial content here is not provided by any of the companies mentioned, and has not been reviewed, approved or otherwise endorsed by any of these entities. Opinions expressed here are the author's alone. This email may contain links through which we are compensated when you click on or are approved for offers."


My Unconventional Best Work-From-Home Gear Guide (What's Yours?) from My Money Blog.
---
Copyright © 2019 MyMoneyBlog.com. All Rights Reserved. Do not re-syndicate without permission.
Best NRE FD Rates 2020 : All You Need To Know
Non-Resident External or NRE Account can be a Savings, Recurring or Fixed Deposit Account where NRIs can deposit their foreign currencies which gets remitted to an Indian Account. An NRE account is held in Indian Rupees and is completely tax-free. In this article, we will discuss how you can select the best NRE FD and give you the best NRE FD rates in different banks in India.
NRIs cannot open a regular account that is designed for Indian Residents as per the guidelines by Foreign Exchange Management Act (FEMA) and this can attract huge penalties if breached. Also, no interest is earned if the account is closed within a year.
Benefits of an NRE FD Account
An NRE FD Account holder has the following benefits –
Both principal and interest earned are tax-free in India

Principal and interest earned are freely repatriable to account holder's country of residence

High-Interest Rate

Can be opened jointly with other Non-Resident Indian(s)

Offers flexible tenures that may range from 1 year to 10 years
Best NRE FD Rates
Below is a table that compares NRE Account FD Rates across all the banks along with the tenures mentioned.
Name of the Bank
Tenure
1 year
2 years
3 years
5 years
SBI
5.70%
5.70%
5.70%
5.70%
HDFC BANK
6.15%
6.15%
6.25%
6.15%
ICICI BANK
5.80%
5.80%
6.00%
6.00%
PNB
5.80%
5.80%
5.80%
5.80%
AXIS BANK
6.55%
6.65%
6.50%
6.50%
CANARA BANK
5.85%
5.85%
5.80%
5.80%
KOTAK MAHINDRA BANK
5.90%
5.90%
5.90%
5.50%
BANK OF BARODA
5.90%
5.90%
5.90%
6.15%
BANK OF INDIA
6.30%
6.25%
6.25%
6.25%
IDBI BANK
5.95%
5.85%
5.90%
6.10%
UNION BANK OF INDIA
6.75%
6.40%
6.40%
6.45%
FEDERAL BANK
6.15%
6.15%
6.25%
6.25%
INDUSIND BANK
6.65%
6.75%
6.75%
6.65%
YES BANK
7.25%
7.25%
7.25%
7.25%
CENTRAL BANK OF INDIA
5.70%
5.70%
5.70%
5.70%
INDIAN BANK
5.90%
5.80%
5.80%
5.80%
HSBC BANK
4.50%
5.00%
5.25%
NA
CITIBANK
4.25%
4.25%
4.25%
4.50%
INDIAN OVERSEAS BANK
6.25%
6.30%
6.20%
6.20%
PUNJAB AND SIND BANK
5.85%
5.85%
5.85%
5.85%
UCO BANK
6.10%
6.10%
6.10%
6.05%
UNITED BANK OF INDIA
6.50%
6.25%
6.25%
6.00%
ORIENTAL BANK OF COMMERCE
6.25%
6.25%
6.25%
6.25%
DBS BANK
5.75%
5.75%
5.75%
5.75%
* IndusInd Bank provides this interest rate for 61 months and above. 
Small Finance Bank FD Rates
Our government has licensed some companies to operate as financial institutions, small finance banks for example. Though not a scheduled commercial bank, these institutes are very niche in operations Fixed deposit is one of the services offered by Small Finance Banks. Down below are some small finance banks that provide the best interest rates for an NRE FD Account.
Small Finance Bank
Tenure/ FD Interest Rates
1 year
2 years
3 years
5 years
AU Small Finance Bank
7.00%
7.50%
7.77%
7.50%
ESAF Small Finance Bank
8.00%
7.75%
7.30%
7.30%
Equitas Small Finance Bank Limited
7.75%
7.45%
7.55%
6.75%
Suryodaya Small Finance Bank
8.00%
8.00%
8.25%
9.00%
Conclusion
We see that it is very tough to choose from, especially when each is better on its own. But there are certain factors you must keep in mind while going forward such as interest rate and a trustworthy long-term relationship with the bank. Also, you must check if the account can be operated from the country you live in right now. Some major banks have branches in countries like the USA, UK, and the Middle East.
The post Best NRE FD Rates 2020 : All You Need To Know appeared first on Compare & Apply Loans & Credit Cards in India- Paisabazaar.com.
Coronavirus Stimulus Check 2020 [how much you'll get & who qualifies]
(The following is a transcription from a video I recorded. Please excuse any typos or errors.)
Quick little update for you.
The Senate and the White House reached an agreement on this big stimulus bill, the Trump coronavirus stimulus check for 2020.
Let me share with you who will be eligible, how much you will get, what the qualifications are, and when you can expect to receive the stimulus check from the U.S. government.
And so if you haven't heard about this, it's pretty cool because you're probably going to be getting a nice fat check from the government.
Here are the details that you need to know.
It is expected to be up to $1,200 per adult and $500 per child, which is pretty fun.
These amounts are based off of your 2018 tax returns if you haven't filed 2019 tax returns yet.
Taking Your Income Level Into Consideration
And according to this article from the Los Angeles Times, the amount received will decline gradually beginning with individuals who make $75,000 a year or married couples who make $150,000 total each year.
Individuals making $99,000, or above or couples making $198,000, or above would receive no check.
Which looks like this:
And here is another helpful breakdown of how big your stimulus check will likely be:
When will you get your check?
Stimulus Check Timeframe
The fun thing about is they're expected to be shipping within the next few weeks.
So that's really cool. And you don't normally see the government move this fast on things, but the stock market's been doing fantastic the last two days as a result of the expectation of this thing coming through.
While I'm not really excited about the long term effects of the government giving away all this money, I know a lot of people who will be excited to get a little bit of cash in their pocket.
So that's the latest update for the Trump coronavirus stimulus check for 2020!
Let us know in the comments below what you plan to do with this Trump stimulus check that you will hopefully be receiving soon!