How To Grow Your Visibility, Attract Leads And Convert Customers On Autopilot With Gemma Went
How do other entrepreneurs make it look so simple to grow your visibility, attract leads and grow their business, when you feel like you're on a marketing treadmill and not seeing the results you're working so hard for?
If you've been asking yourself this question, you're going to love this episode of The She Means Business Show!
This week I'm joined by online business consultant and digital marketing strategist, Gemma Went!
Gemma previously created two incredible masterclasses for us inside the Members' Club, all about social media and creating an automated marketing system and her strategies are amazing!
Find out more about the Members' Club and Gemma's masterclasses right here >>>
In this episode she's sharing more about her evergreen ecosystem, that will help you grow your visibility and attract more leads, without having to constantly hustle!
In this episode we talk about:
Gemma's favourite sources for marketing inspiration and her best recommendations to help spark ideas.
How signing her first client when she was 4 months pregnant made her realise she needed an automated marketing system.
Gemma's evergreen ecosystem and how she creates online journeys that turn leads into customers.
How she plans her content and balances automation with human connection and building trust.
Gemma's top tips for increasing visibility and conversions.
If you would like to find out more about Gemma, head over to www.gemmawent.co.uk
Links & Resources:
I hope you love this episode and before you leave…
If you're a coach or run a service-based business, I have an invitation especially for you!
We're running a free challenge in collaboration with the incredible Gina DeVee called Package Your Brilliance!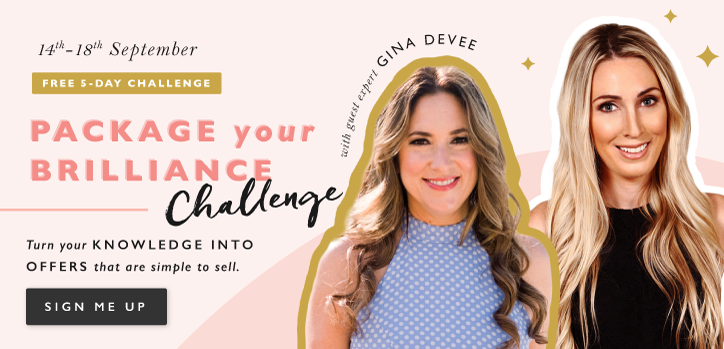 Gina will be giving 5 live training sessions inside our pop-up Facebook Group and helping you understand where you can get started with packages, how to get to $10k months, how to know what to charge and how to find your ideal clients.
Claim your spot now before we kick the challenge off on September 14th >>>
The post How To Grow Your Visibility, Attract Leads And Convert Customers On Autopilot With Gemma Went appeared first on Female Entrepreneur Association.
A 17 year old who started a startup needs help
Hey guys,
This can be long but I am sure it will be interesting. I am writing all of this from the core of my heart and I am sure somewhere out there, someone knowledgeable enough will read it and guide me accordingly. So a quick brief about myself, my name's Tanush, a 17 year old "Indian" (This is important) who just turned 18 a few days ago.
So I am a graphic designer, I have worked with 100s of brands since last 3 years and I am sure they all were unaware of my age and hired me out of my portfolio. I don't want to judge my own designs, but I get great response from the community when they see my designs.
Now India's a country where while being a high school student, generally they don't dream to start a business or work for businesses, and even if a student tries so, the community isn't much supportive, parents want their sons and daughters to study from a broken education system and live the rest of their lives working under a MNC after securing a degree. I won't blame the parents here, they just want their little ones to have a great and secured future rather than having a risky business but what this does is kills our creativity. Hence India generates one of the smartest minds and gets imported by abroad and foreign companies which is considered to be one of the greatest achievements here in India. ( India produces more engineers than US and China combined ) but they fail to generate creativity.
Now, my parents unlike the majority are very very special, they understand me and my perspective, they agree to my stupid thoughts and needs, they never force me to do anything which I don't want, in short they are very very supportive. Now obviously, in return I always want to fulfill any wish they have, I feel like, "Wow! They are so amazing, I have to fulfill any wish they have", now obviously nothing's perfect, their only wish in exchange for their supportive nature was for me to be good academically. And unfortunately, I wasn't ( though I am above average ), I just didn't wanted to study things which won't be valuable to me in the future ( Our curriculum is very very outdated ).
Still I have always felt very bad that they have always fulfilled all of my wishes and are extraordinary parents but I couldn't fulfill just one wish of theirs. So I thought, if I earn good enough, if I will earn extraordinarily enough in my age, they will be happy that their son is talented enough to earn at a age when students spend the time of their day playing games.
So as I loved computers, designing and solving problems with businesses, I used to read books which could increase my entrepreneurial and marketing knowledge (One of my favorite being the "Influence | The Psychology of Persuasion", I have completed over 25-30 courses in Udemy and I currently know to operate more than 6 Adobe Software. So everyday and night, I was wondering about problems which the world had, and ways to solve them (to me this is what business is). Opened several of them, and closed without seeing much profit and then one day I sat to re-evaluate myself and my mistakes and that is when I realized that I was not giving enough time for each of those businesses to flourish. I wasn't giving enough of my dedication to any of them. But often, I used to doubt myself, that really will a 17 year old be able to earn enough or start businesses, if this would be so easy, why people so experienced and aged would struggle to do so. But somewhere down my heart, I wanted to prove the age factor wrong.
Though at that time I also used to carry out part time and freelance jobs. So fortunately, I was little successful at earning, Getting $200 per month through freelance jobs which is a big deal here at the age of 16 was something which I was able to do, so they were satisfied that I am skillful enough to earn without being good academically. But I wanted to make them 'very proud' so I had bigger dreams, I wanted to buy my mom the dream house she ever wanted as soon as possible ( because I have this strange and weird fear of the death of my parents, and I want to achieve things as soon as possible at least so that they can see that they were successful at making their son a great and successful person and go very very happily and peacefully ), I wanted to be one of the most youngest entrepreneur the country has seen and don't worry, I am very very against of 'get rich quick schemes'. I believe in the hard work that goes into earning.
So, now you know the little background of mine, and back to current situation. So now, after evaluating all of my mistakes and understanding what I am excellent at, I opened a company which served Social Media Management services by making beautiful content 5-7 days a week with mesmerizing caption copy ( I did hire a talented copywriter for this and 2-3 more people for better management) and I posted our portfolio in one of the Facebook groups, and instantly few people approached from all around the world and I successfully closed two of them from Portland and Australia respectively, It's been 4 months, and we produced beautiful and engaging posts for them and even successfully carried some marketing campaigns as well. Through my experience of last 2 years, I had little knowledge about the Instagram algorithm as well, so I was able to successfully bump up their engagement rates as well. So now this so called company of mine is generating more than 600$ monthly, (though not much profit is left, but I don't want to secure profit right now). But something inside me was telling me, if I secured just 2 clients without any much effort and helped them with their problem of social presence then over the world, there must be so so so many companies who are in need of the same services, I searched through Fiverr and all, and people are charging hundreds of dollars for designs which are no where close to ours so I am pretty sure, I can scale this to immense figures.
Now the facebook group where I posted the portfolio have closed the option of promotions, and I can't seem to approach clients or get any leads. I am exploring LinkedIn, Fiverr and other sites. but still I feel like there is something which I am missing or doing wrong. Now I know there are a lot of people with immense knowledge here, if you did read all of the above. Thankyou so so much, I feel proud that I was able to make even a single person read this. but if there is anything, any advice which you feel should be given to me, please do so. Where should I look at, where should I get the clients, should I start with Paid ads? What should I do right now, even if you have anything to say apart from this, please do so. Any critique or comment will be valuable to me more than you know. Again Thankyou so so much for reading this through. Hope you have a wonderful day ahead.
My personal portfolio ( this is an old portfolio, some of my work is not updated ) – https://www.behance.net/gallery/90405155/PORTFOLIO-19
The Company's portfolio – https://imgur.com/gallery/VEht0cJ
P.S -> Sorry for my bad english.
submitted by /u/ta_nush
[comments]



Source link
Hashtags; Networking in Quarantine by @lorisica #launchandfounders
by Lori Sica
The Quarantine Trend
Most folks in the United States indicate the month of  March as a turning point in the Covid19 pandemic. Other countries were already locked down in quarantine. Schools were closing. Public parks and beaches were off limits.  Some states went into full lockdown, some were in partial lockdown. In the absence of social gathering, women who connect and inspire always find a way to shine.
Enter Twitter
Seeing a need, an insightful and fully caffeinated entrepreneur connected a diverse group of women on Twitter. Tweets among the group were posted daily, sharing ideas and creative strategies. Some posts offered gardening and baking tips. Others included at-home work out routines and recipe shares. The twitter stream filled with supportive messages for a mom awaiting the birth of her child. Some even asked for advice to improve content for a new website. The views from windows, local neighborhoods and landscapes in participants' home towns, provided a "local" backdrop. Posting photos of newly crafted work spaces inspired new ideas. The tweets became a 24 hour, daily check in across several time zones. It was amazing.
Real Connections
This was a time of hardship and real people get real about their feelings. Many folks were facing difficult issues, and needed a place to chat about it. Everybody was uncomfortable with the level of uncertainty of the future. Folks opened up about loved ones suffering from the virus, or businesses facing bankruptcy. Moms tweeted about the stress of having children at home, and on computers all day. In the same vein, people living alone, shared about the lack of contact and connection in quarantine.  In what felt like vast hopelessness, this thread provided good company, with  listening ears. It was a healthy outlet to share and express real feelings.
After three months of daily engagement, Jen Vallina, a photographer who possesses great branding skills, suggested creating a unique hashtag. After that, content marketer, Canva expert, and creative super star,  Nicky Pasquier drafted a logo to brand the hashtag. And just like that, a network of brilliance was born. Welcome to social media, #launchandfounders.
All Are Welcome
On any given Friday, multiple tweets and retweets invite people to follow folks. For example, one particular #FridayFollow challenge was to mention five people worth following. The tweet thread lasted six days, encompassing hundreds of tweets. Pretty powerful. It is not a members only club. Anyone can tweet and respond, using the hashtag.
Join The Conversation
In an era where social media is spreading fear and exclusion, #launchandfounders is spreading hope and inclusion. It is a hub of creativity and inspiration. There is no judgement. Thereby, it is safe place to share what matters. Also,  participants  support each other by engaging in twitter chats and live events, hosted by #launchandfounders. They are actively commenting on each other's blog posts and subscribing to their podcasts.  The support is gracious and inclusive. Networking is happening every day. In conclusion, hashtags can be everything, or just one thing that brings the world a little closer together. Much like a great cup of coffee.
The post Hashtags; Networking in Quarantine by @lorisica #launchandfounders appeared first on She Owns It.
How Valence Aims to Provide Better Access and Funding for Black Founders & Executives
"I gotta say it was a good day."
I'm so fricking pumped today. Really, truly. Yeah, Valence announced > $5 million in funding led by GGV and Upfront. That IS a big deal, but I'll get to that. But Kamala Harris was picked to be the Vice Presidential candidate for the Democratic Party. That means she'll be the first female Vice President of the United States, the first female Black Vice President and the first Indian-American Vice President. I don't take this for granted, be ready for a fight. But let's be clear. WE WILL WIN. We might have to fight for it after the votes go our way but let's get ready for the fight.
So let's get it.
Valence. It is a company with a mission to create better access and more funding for Black entrepreneurs and executives. Valence is led by a talented CEO, Guy Primus and was the brainchild of my partner, Kobie Fuller. If you want to follow two great Black executives who work at the intersection of technology and venture capital make sure to click on those links and follow them on Twitter.
So what exactly is Valence and why does it matter?
18 months ago, my partner Kobie Fuller was inspired to build a solution for a problem he faced regularly: as one of the few Black partners at a VC firm (an estimated 3% of GPs in venture are Black vs 14% of the US population), he was consistently asked for warm intros to Black professionals, to Black VCs, and to talented Black operators and entrepreneurs.
Venture firms wanted to meet talented Black founders but didn't know where to start to find them. And Black entrepreneurs wanted access to decision makers but didn't always have the easy connections. In fact, one of the biggest criticisms I personally get when I suggest that founders should "get introductions to VCs" is that this might reinforce existing racial imbalances by providing easier access to White professionals than people of color.
An imbalance clearly exists in access and networks that has resulted in a tech industry where an estimated only 1% of venture dollars go to Black founders and only 3% of the workforce is Black and a country where Black individuals hold a disproportionately low amount of the wealth — only 3%. As Kobie says, he didn't have a "magical database" of great Black talent, so he set out to build a solution not just for himself, but also for the community.
Personally I believe that to fund more people of color you need to put check-writing authority in their hands the same way that if you want to see more women funded you need more women GPs. My greatest criticism of our industry is that women and people of color feel the need to leave larger VCs to create their own firms. We have a responsibility to help propel them to the top ranks of our biggest firms to make our check writers more representative of our society overall.
There is a very clear economic rational and strategic advantage for doing so. There are amazing Black entrepreneurs, Indian entrepreneurs, Chinese entrepreneurs, female entrepreneurs, gay entrepreneurs and so forth. OBVIOUSLY! If 90% of the check writers are White, straight men then it's clear if you are different than that you're going to have an advantage. As I always say, being great as an investor is about having "edge" and edge means knowing somebody or something that very few others know. It's about swimming in lanes where others aren't present. Being diverse in the VC industry is a VERY LOW bar and a clear differentiator.
At Upfront we believe in improving access for founders and entrepreneurs to networking, professional development, and economic opportunities, and that's what Kobie set out to do with Valence, which he incubated in our offices. Huge hats off to Kobie for the idea, energy, direction, evening hours and the foresight and salesmanship required to bring on Guy to take the helm.
Building a mission into a business
By the time Valence launched in late 2019, the team had built the necessary systems and technology to seamlessly engage and onboard the community — not just the users, but also some pilot corporate partners who also believed in the mission and opportunity and who wanted to leverage and support this amazing database of talent. It was also important to Valence to not only connect users, but also to celebrate the successes and spotlight great Black leaders through high-quality content and design.
As soon as Valence launched in November 2019, the business quickly had proven demand from the community, not only from senior business leaders but also from so many young, talented professionals who could benefit from the inter-generational networking that Valence supported so seamlessly. Since launch, the Valence platform has supported more than 5,000 micro-mentoring sessions (AKA Boosts)— allowing the kind of invaluable network support that's so critical to success and advancement for even the most talented founders and operators.
You can hear more about the importance of mentoring from Kobie Fuller, Valence advisor James Lowry, and John Legend — yes, THE John Legend — in this video from the 2020 Upfront Summit.
https://medium.com/media/ca4b009ff76eb6ee18c50cdedd2ae63d/href
So things were going well for Valence in 2020, amazingly even in a pandemic. And then in May the world was galvanized by the tragic murder of George Floyd (and Breonna Taylor. And Ahmaud Arbery. And Rayshard Brooks. And the many Black women and men before them whose lives were taken at the hands of the police.)
When the mission meets a movement
In these months, not only did we see widespread civic protests but so many industries, including ours, faced a reckoning that despite even the best intentions, lip service wasn't enough. We all needed to take action to address the imbalance of access, and to literally put our money where our mouths are. Suddenly a spotlight was put on everything that the Valence team had been building, and there was even more energy around the business.
I always say that you can judge a startup's future based on how fast they're able to execute when it counts. Well, I can tell you that within weeks of the civil unrest, Valence had:
Introduced the Valence Funding Network, where GPs from more than 30 of the top venture funds representing more than $60B in assets under management joined Valence with the goal of linking Black entrepreneurs on the platform directly to venture decision makers.
Increased membership by more than 20%
Hired a CEO, Guy Primus, who was previously the CEO of The Virtual Reality Company as well as the COO of Overbrook Entertainment. He's been a leader at the intersection of media and tech for many years and we're grateful to partner with him.
Announced their Series A funding round, which Upfront participated in and which was led by Hans Tung from GGV. Hans has been a great peer and collaborator on other portfolio boards and we're excited for him to join Valence at this pivotal time. We have worked closely with GGV for years and they were a natural fit for helping to build a network like this given their investment in Chief (for women) and The Mighty (which helps families with people facing health challenges).
Since day one we have anticipated great things for Valence and with this groundswell of support at the civic level as well as the industry level, we hope to see meaningful improvements in access and dollars for Black professionals. Please join me in congratulating Guy, Kobie and the team for what they've built so far, and what's to come.
---
How Valence Aims to Provide Better Access and Funding for Black Founders & Executives was originally published in Both Sides of the Table on Medium, where people are continuing the conversation by highlighting and responding to this story.