Google advanced search: Six powerful tips for better SEO
30-second summary:
Google advanced search helps you get granular with your searches and deliver hyper-focused searches with the help of search operators (or a combination of them).

For example, you can search for articles published in the last week by your competitors or discover internal linking opportunities you might've missed.

In this how-to guide, Venngage's Aditya Sheth outlines six Google advanced search hacks you need to know to master Google search and become a better SEO.
I have to come clean on something: I'm lazy.
While being lazy may not be a virtue, it does come with an unseen advantage: It allows you to look for creative ways to get things done without necessarily spending more time.
And as an SEO, I'm always looking for ways to get more done without working longer hours. Essentially: aiming to accomplish more with less.
One way to do more with less is to look for tools, tactics or even hacks that help you cut down time wasted and get more done, faster. 
One of my favorite hacks ever? Google advanced search.
But what is it? In simple terms, the Google advanced search helps you fine-tune your searches to find exactly what you're looking for. 
This is an especially useful skill if you want to quickly pull up small-bits of information without always having to rely on tools like Ahrefs, Moz, or SEMRush to do it for you.
In this how-to SEO guide, you'll use advanced search operators to:
Before we dive into the meat of this guide, first things first:
A mini-crash course on advanced search operators
To keep things simple, we're going to cover four operators I, as an SEO, use most often.
The first operator is the site search operator. What this allows you to do is retrieve results from a single website. All you have to do is type site:[any website] into Google.
For example, If I enter site:semrush.com, I will only see results pertaining to SEMrush:
You don't need the http://, https://, or www prefixes when using the site operator.
That's not all, you can even use a keyword in addition to the site operator to find if that site has written any content around that keyword.
Let's say I want to find whether we've covered the keyword "infographic" on the site. I'll enter "site:semrush.com infographic" and this is what comes up:
I personally use the site operator very frequently as it limits my search results to a single domain. Keep this operator in mind as we're going to be relying on it later.
The next operator you'll find useful is the quotes or exact-match ("") operator. What the exact-match operator does is limit your searches to exact-match phrases only.
For example, here is a normal Google search (notice the number of results):
And now the same phrase wrapped in quotation marks: 
Notice something different? 
Compared to a normal Google search, exact-match queries will only show you results where your keyphrase has been mentioned exactly as it is (and not a variation). 
This operator is especially powerful to identify if your site has any duplicate content that could be sabotaging your rankings (more on this later).
Last but not the least, we're going to learn the dash (-) and plus (+) operators to perform laser-targeted searches. 
What the dash (-) operator does is excludes certain keywords from appearing in the search results. So if I wanted to read about the topic of search engines but not search engine optimization, I'd use the following query: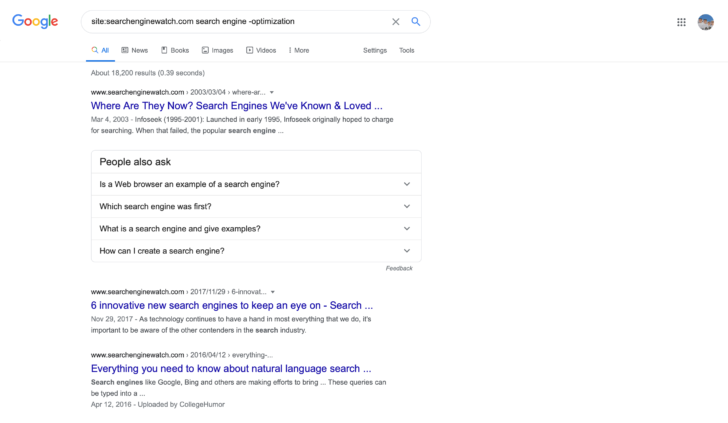 By using the "- optimization" in my search, I'll only see results about search engines and not search engine optimization.
The plus (+) operator, you guessed it — does the exact opposite. You can use the plus operator to add words to your original search and show you a different set of results. 
For example, here's a query I entered in Google search:
What did I do here? I used the site:, dash and plus operators in conjunction to show me articles that closely relate to search engine marketing but not SEO on the Search Engine Watch blog.
Venngage
There are many search operators out there (too many to list in fact). You can find a much more comprehensive list of search operators on the Moz blog.
But for simplicity's sake, we're going to stick to the site, exact match, dash, and plus operators in this guide.
Six Google advanced search tips for better SEO
Using the Google advanced search operators above, you can access exactly what you're looking for and spend less time searching for it.
Advanced search can come really handy especially when you're just starting out and don't have the budget for expensive SEO tools.
Imagine all the endless possibilities that lie in wait for you as an SEO; if only you got better at googling. Well, it's easier than you think. I'll show it to you:
1. Conduct basic but insightful competitor research
Conducting competitor research on Google is really easy. All you have to do is use the "related:" search operator followed by a website URL. 
"Related:" allows you to find sites that are closely related to a specific URL. You can use related to identify not only direct competitors but also indirect peripheral competitors that you might've missed in your competitor research.
Not only that, the related: operator also helps you understand how Google is categorizing your competitors and your website.
Let's look at what Google returns if we search for competitors related to Venngage
I already know the first three results are our direct competitors, but the last two are surprising because they seem to be indirectly competing with us (and I wasn't even aware of them).
We're an online infographic maker tool while both Column Five Media and InfoNewt appear to be done-for-you agencies. Google has identified and categorized them as sites related to Venngage which is an insightful find.
Don't dismiss this advanced search hack because of its simplicity. Try it for yourself and see what Google comes up with. You might just come away with a better understanding of the competition as it pertains to SEO.
2. Stalk your competitor's content strategy
Sticking to the topic of competitor research, here's a cool way you can spy on your competitor's content strategy: combining the site operator and Google's date-range filter.
Let's try this on one of our direct competitors: Piktochart.
To limit my search to only blog-related results, I'll use Piktochart's/blog subdomain instead of their website. And by the looks of it, they have 790 pages on their blog. 
I can use the date-range filter (click on tools and filter by date) to further drill down these results to identify what content they published in the last month only. Here's what comes up: 
This not only tells me Pitkchart published four new articles last month but also gives me insight into Piktocharts' content strategy and the keywords they're targeting.
You can find even more data by filtering the results by days, months, or custom time periods. 
I can even include exact-match ("your keyword" in quotes) keywords to find out how much content Piktochart has published on any given topic, which is a clever way to uncover their topic cluster strategy. 
Let's take content marketing as a topic for example
Using the site operator in conjunction with the date filters on Google search gives you information on: 
How much content your competition has published till date

How often they publish new content in a given time period

What kind of content they publish at a certain point in time

How often your competitor has written about a given topic
Pretty cool right? 
3. Unearth a gold mine of guest posting opportunities 
If your goal is to drive quality traffic back to your website, pick up high-quality backlinks, boost your website's domain authority and even rank higher on Google — guest blogging will help you do all of the above.
Anybody that tells you guest blogging is dead is either lying or in on it. Guest blogging still works, even in 2020.
Now that we've briefly covered how important guest blogging really is, how do you uncover guest blogging opportunities in your niche or industry?
Here are a few advanced search queries you can copy and paste into Google
Your Keyword "guest post opportunities"

Your Keyword "guest post"

Your Keyword "submit guest post"

Your Keyword "submit blog post"

Your Keyword intitle:"write for us"

Your Keyword intitle:"guest post guidelines"
If I'm looking to guest post for sites in the design space, for example, I'd use the following query:
Sites bookmarked. Guest post pitches sent. Fingers crossed. 
Try out these search queries for yourself and you'll be able to build a respectable list of sites to contribute for.
Brian Dean has the most exhaustive guide on guest blogging I've read (it includes a huge list of search operators that will help you find even more guest posting opportunities).
4. Discover hidden opportunities for internal linking
Internal linking plays a small but important role in the ranking factors that determine how well you rank on Google.
Irrespective of how well-designed and easy-to-navigate your site may be, a great internal linking structure can make all the difference when it comes to driving traffic from one post to another across your entire blog.
Internal linking also creates topical relevance by creating supporting content for the main topics of your website.
A few weeks ago, I published a mammoth webinar guide on the Venngage blog. I wanted it to start driving traffic to the post and rank for high-volume keywords immediately.
I got to work by finding out where I could link to our guide internally from as many relevant posts on our blog as possible. All I did was use the site operator and the keyword "webinar": 
Boom! Barring the first result, I found 47 internal linking opportunities with a simple search. And all it took was a few seconds.
You can even use this search query: site:www.yourwebsite.com/blog intext:"your keyword" to pretty much do the same thing.
This advanced search hack won't be as useful if you've recently started blogging, but it will come in handy if you manage a huge blog that already has a lot of existing content.
5. Find duplicate content on your website
Duplicate content is content that appears on more than one location on your website and can confuse search engines when it comes to deciding which page to rank higher. 
In short: Duplicate content can hurt your website rankings and it's a technical SEO issue you cannot afford to ignore.
To show you an example of duplicate content, I'll use this small piece of copy from the Apple Airpods product description on Walmart: 
Using the site operator, I'll paste the copy into Google using the exact-match operator. Here's what I come up with: 
The same piece of copy shows up on six other pages on Walmart. Things could be a lot worse but still, not ideal.
But if I were to search for the same piece of copy across the web (not just Walmart) using the dash operator, this is what comes up:
The same piece of copy appears on ~19,000 other websites (excluding Walmart). That's a lot of duplicate content. 
Duplicate content is especially a major issue for website blogs with 1,000s of pages or ecommerce sites with the same product descriptions. 
6. Find missed content opportunities
One of the last search operators I'll cover is the "filetype" operator. 
Filetype can help you find non-HTML content on your site, such as Word Documents or PDF files. This content is often valuable, but not search optimized. And traffic to it doesn't show up in your Analytics.
To use this search operator, simple type in "site:yourwebsite.com filetype:pdf" like so: 
Then look at that content. Have you published it as HTML content? Is it search optimized? Is there an opportunity to make it a valuable, rank-worthy and trackable webpage?

PDF files are often the rust of the internet, added to sites because the content manager doesn't have an easy way to publish actual web pages.
They should always be an alternate (print-friendly, download-friendly) version of HTML content. They should almost never be the only version of a piece of content.  
Your turn to master Google search
Congratulations! You've officially made it to the end of this mammoth guide. 
Google is far more powerful and robust than we realize or give it credit for. 
Knowing what to search for and how to search for it with the help of Google advanced search operators will help you harness Google's true power and in turn, grow your site.
As SEOs, our job comprises running SEO tests, tinkering with Google's algorithms, and staying on top of the latest search trends.
Google advanced search is not only a fun skill that you can learn over the weekend. It can help you uncover opportunities hiding in plain sight and help you be more effective at your job.
The real kicker
Google is and always will be free. The know-how to fine-tune your searches will help you become a better SEO and pay dividends over the long term.
Has using Google advanced search in your day-to-day made you a better SEO? Which search operators do you use most frequently? Did I miss any advanced search tips? Drop them in the comments below.
Aditya Sheth does Content & SEO at Venngage. You can connect with him on Linkedin or find him on Twitter @iamadityashth.
The post Google advanced search: Six powerful tips for better SEO appeared first on Search Engine Watch.
Birthdays are contagious. No one actually remembers the day they were born, other people remember it for you. And the way we celebrate them is cultural, a shared process that keeps changing.
People keep track of birthdays, and today used to be mine.
Sixty of them.
It doesn't feel like it's been that many. Time flies when you're busy. Lots and lots of projects. Countless friends made, lessons learned and ideas shared. Quite a journey, with lucky breaks and advantages again and again, beginning with my parents, the cultural identity, time and town where I was born… I wouldn't have been able to go on this journey without you, thank you.
But today's not my birthday (no need to send an email or a card). I've never really liked my birthday (it's a long story involving a non-existent parrot), and the only reason for this post is to talk about who owns my birthday now.
What happens if we start celebrating our birthdays differently? Today belongs to the 20,000 + people who are on their way to a permanent supply of clean drinking water because readers like you brought their birthday (and mine) to charity:water. Thank you. Now, particularly now, when the world is in pain and when so many people are wrestling with health, the economy and justice, it's more urgent than ever to think of someone you've never met living a life that's hard to imagine.
And today, because it celebrates a round number, I'm hoping you will join in and help us break charity:water's birthday record. And maybe donate your birthday too. Better still, if you subscribe as a monthly donor, you become a core supporter of a movement that changes lives with persistence and care.
How it works:
If you have the ability, I'm hoping you'll click here and donate to charity:water to celebrate what used to be my birthday.
And either way, I'm hoping you'll also donate your birthday to them. Because when it's your turn to celebrate a missing parrot or a lost cake, you can ask your friends, and they can do what you just did.
It's hard to visualize 21,000 people, mostly kids, fighting illness because the water in their village is undrinkable. That's about three times the population of the town where I live. Thanks to all of you, my projects, including this blog, have already raised nearly a million dollars to build long-term solutions to this problem.
Will you help me double that?
Even one kid who lives the life he or she is capable of is worth this blog post and worth your support.
Thank you.
SEO Negotiation: How to Ace the Business Side of SEO — Best of Whiteboard Friday
Posted by BritneyMuller
SEO has become more important than ever, but it isn't all meta tags and content. A huge part of the success you'll see is tied up in the inevitable business negotiations. In this helpful Whiteboard Friday from August of 2018, our resident expert Britney Muller walks us through a bevy of smart tips and considerations that will strengthen your SEO negotiation skills, whether you're a seasoned pro or a newbie to the practice.
Video Transcription
Hey, Moz fans. Welcome to another edition of Whiteboard Friday. So today we are going over all things SEO negotiation, so starting to get into some of the business side of SEO. As most of you know, negotiation is all about leverage.
It's what you have to offer and what the other side is looking to gain and leveraging that throughout the process. So something that you can go in and confidently talk about as SEOs is the fact that SEO has around 20X more opportunity than both mobile and desktop PPC combined.
This is a really, really big deal. It's something that you can showcase. These are the stats to back it up. We will also link to the research to this down below. Good to kind of have that in your back pocket. Aside from this, you will obviously have your audit. So potential client, you're looking to get this deal.
Get the most out of the SEO audit
☑ Highlight the opportunities, not the screw-ups
You're going to do an audit, and something that I have always suggested is that instead of highlighting the things that the potential client is doing wrong, or screwed up, is to really highlight those opportunities. Start to get them excited about what it is that their site is capable of and that you could help them with. I think that sheds a really positive light and moves you in the right direction.
☑ Explain their competitive advantage
I think this is really interesting in many spaces where you can sort of say, "Okay, your competitors are here, and you're currently here and this is why,"and to show them proof. That makes them feel as though you have a strong understanding of the landscape and can sort of help them get there.
☑ Emphasize quick wins
I almost didn't put this in here because I think quick wins is sort of a sketchy term. Essentially, you really do want to showcase what it is you can do quickly, but you want to…
☑ Under-promise, over-deliver
You don't want to lose trust or credibility with a potential client by overpromising something that you can't deliver. Get off to the right start. Under-promise, over-deliver.
Smart negotiation tactics
☑ Do your research
Know everything you can about this clientPerhaps what deals they've done in the past, what agencies they've worked with. You can get all sorts of knowledge about that before going into negotiation that will really help you.
☑ Prioritize your terms
So all too often, people go into a negotiation thinking me, me, me, me, when really you also need to be thinking about, "Well, what am I willing to lose?What can I give up to reach a point that we can both agree on?" Really important to think about as you go in.
☑ Flinch!
This is a very old, funny negotiation tactic where when the other side counters, you flinch. You do this like flinch, and you go, "Oh, is that the best you can do?" It's super silly. It might be used against you, in which case you can just say, "Nice flinch." But it does tend to help you get better deals.
So take that with a grain of salt. But I look forward to your feedback down below. It's so funny.
☑ Use the words "fair" and "comfortable"
The words "fair" and "comfortable" do really well in negotiations. These words are inarguable. You can't argue with fair. "I want to do what is comfortable for us both. I want us both to reach terms that are fair."
You want to use these terms to put the other side at ease and to also help bridge that gap where you can come out with a win-win situation.
☑ Never be the key decision maker
I see this all too often when people go off on their own, and instantly on their business cards and in their head and email they're the CEO.
They are this. You don't have to be that, and you sort of lose leverage when you are. When I owned my agency for six years, I enjoyed not being CEO. I liked having a board of directors that I could reach out to during a negotiation and not being the sole decision maker. Even if you feel that you are the sole decision maker, I know that there are people that care about you and that are looking out for your business that you could contact as sort of a business mentor, and you could use that in negotiation. You can use that to help you. Something to think about.
Tips for negotiation newbies
So for the newbies, a lot of you are probably like, "I can never go on my own. I can never do these things." I'm from northern Minnesota. I have been super awkward about discussing money my whole life for any sort of business deal. If I could do it, I promise any one of you watching this can do it.
☑ Power pose!
I'm not kidding, promise. Some tips that I learned, when I had my agency, was to power pose before negotiations. So there's a great TED talk on this that we can link to down below. I do this before most of my big speaking gigs, thanks to Mike Ramsey who told me to do this at SMX Advanced 3 years ago.
Go ahead and power pose. Feel good. Feel confident. Amp yourself up.
☑ Walk the walk
You've got to when it comes to some of these things and to just feel comfortable in that space.
☑ Good > perfect
Know that good is better than perfect. A lot of us are perfectionists, and we just have to execute good. Trying to be perfect will kill us all.
☑ Screw imposter syndrome
Many of the speakers that I go on different conference circuits with all struggle with this. It's totally normal, but it's good to acknowledge that it's so silly. So to try to take that silly voice out of your head and start to feel good about the things that you are able to offer.
Take inspiration where you can find it
I highly suggest you check out Brian Tracy's old-school negotiation podcasts. He has some old videos. They're so good. But he talks about leverage all the time and has two really great examples that I love so much. One being jade merchants. So these jade merchants that would take out pieces of jade and they would watch people's reactions piece by piece that they brought out.
So they knew what piece interested this person the most, and that would be the higher price. It was brilliant. Then the time constraints is he has an example of people doing business deals in China. When they landed, the Chinese would greet them and say, "Oh, can I see your return flight ticket? I just want to know when you're leaving."
They would not make a deal until that last second. The more you know about some of these leverage tactics, the more you can be aware of them if they were to be used against you or if you were to leverage something like that. Super interesting stuff.
Take the time to get to know their business
☑ Tie in ROI
Lastly, just really take the time to get to know someone's business. It just shows that you care, and you're able to prioritize what it is that you can deliver based on where they make the most money off of the products or services that they offer. That helps you tie in the ROI of the things that you can accomplish.
☑ Know the order of products/services that make them the most money
One real quick example was my previous company. We worked with plastic surgeons, and we really worked hard to understand that funnel of how people decide to get any sort of elective procedure. It came down to two things.
It was before and after photos and price. So we knew that we could optimize for those two things and do very well in their space. So showing that you care, going the extra mile, sort of tying all of these things together, I really hope this helps. I look forward to the feedback down below. I know this was a little bit different Whiteboard Friday, but I thought it would be a fun topic to cover.
So thank you so much for joining me on this edition of Whiteboard Friday. I will see you all soon. Bye.
Video transcription by Speechpad.com
---
Scoop up more SEO insights at MozCon Virtual this July
Don't miss exclusive data, tips, workflows, and advice from Britney and our other fantastic speakers at this year's MozCon Virtual! Chock full of the SEO industry's top thought leadership, for the first time ever MozCon will be completely remote-friendly. It's like 20+ of your favorite Whiteboard Fridays on vitamins and doubled in size, plus interactive Q&A, virtual networking, and full access to the video bundle:
Save my spot at MozCon Virtual!
Still not convinced? Moz VP Product, Rob Ousbey, is here to share five highly persuasive reasons to attend!
Sign up for The Moz Top 10, a semimonthly mailer updating you on the top ten hottest pieces of SEO news, tips, and rad links uncovered by the Moz team. Think of it as your exclusive digest of stuff you don't have time to hunt down but want to read!
Now Is The Time To Find And Correct Your Digital Strategy Pitfalls


/
/Every brand or enterprise is crafting and refining their digital strategy on a daily basis. However, especially in the world of B2B, companies fall into many of the same mistakes.
According to a 2019 Forrester report, "44% of B2B buyers expect to do more than half of their work-related purchasing online in the next three years." In the wake of COVID-19, that figure is probably even higher. It is crucial that marketers create engaging digital content, leveraging every digital touchpoint as an opportunity to build trust and strengthen relationships.
Marketers have access to more target audience research and data than ever before, but that doesn't mean it is easy to avoid pitfalls. Let's consider the consequential B2B marketing mistakes that companies are making, and demonstrate why a digital strategy audit is the solution.
Your Content Shouldn't Reflect Your Organization Chart
Too often, companies — particularly B2B enterprises — build their websites and digital assets around their internal organization structure rather than a customer's needs. As an example, imagine you are a customer looking for a mop. You surf to a company's website to buy a complete cleaning solution, but they have separate pages for mop handles and mop heads because they operate as separate divisions. Now you have to research the parts separately, figure out what you need and ensure they are compatible with one another. That's not a huge ask for a mop, but imagine you are purchasing a complicated business system with hardware, software and a consultative service component.
Your Messaging Should Focus On The Customer, Not The Product
Companies often lead with the news of the capability or product they just launched, but prospects don't come to your website for product announcements. They visit because they have a question or a problem. Your messaging should show people you understand that problem. This is a best practice for all marketers, but it is especially true for those marketing to developers, engineers and the C-suite. These audiences are highly skeptical of "marketing speak" and an overly product-forward content strategy will turn them off. Plus, leading with product makes your company seem uninterested in building strong audience bonds.
Don't Overload One Area Of The Buyer Journey With Content But Neglect Others
Another mistake that is easy to overlook when you are inside the organization is creating content around some areas of the buyer journey, but not others. If your organization doesn't have a healthy mix of content formats, you may be making this error. For example, you might have multiple white papers and blog articles that are relevant to a prospect comparing competitive solutions, but no video to share on social media to create brand awareness.
It is also common to create content for one audience segment but forget about other personas, or simply run out of time and resources. B2B purchasing decisions involve multiple decision-makers with different priorities and needs. A complete digital strategy needs to encompass all of them, which is part of what makes B2B marketing so challenging.
Don't Overuse Jargon
Your existing customers know your lingo, but new ones may not. It is important that your messaging and content use natural language, rather than jargon, so it resonates with your audience. This may sound like a simple one, but it can be hard to catch yourself because you are accustomed to the company's lexicon.
Why Now Is The Time For A Digital Assessment
The first step in fixing mistakes is finding them. Your company may have slowed or even stopped marketing initiatives in response to COVID-19, so use this time to audit your digital strategy.
There isn't an industry on the planet that hasn't been upended by the pandemic. Buying processes have changed overnight, so even if your company has managed to avoid these marketing traps, you still need to audit your strategy and update it to reflect the new normal.
A comprehensive review should include:
A content audit and effectiveness assessment;
A website CX health assessment;
A channel audit and effectiveness assessment;
A brand message assessment; and
An event strategy assessment.
The good news is an audit will likely uncover low-hanging fruit — low-effort/high-impact actions you can take to drive fast results for your company. Next, you can devise a plan for tackling the bigger initiatives.
Remember, as a B2B marketer, your goal is to build relationships with prospects and to lead them through their consideration journey, fostering trust every step of the way. The missteps above compromise your ability to do so. An audit kicks off the process of doing this right.
---
Greg Harbinson is the Senior Strategy Director at Centerline Digital, where he focuses his time on helping companies create messaging and experiences to better communicate with their customers. His work includes building messaging frameworks, defining the information architecture for websites, designing customer experience programs and helping companies understand the best ways to solve communication problems.