I've failed 3+ dropshipping stores. Revealing everything. Any advice is appreciated.
Hi everyone. So for the past 6 months, I have been trying to build a dropshipping store and scale it. Unfortunately, all attempts have failed, but I have learned a lot along the way. I hope this post helps others as I will be revealing all my stores and everything that I have learnt. I'll try and make it an interesting read/case study.
What bothers me though, is I don't understand how I have failed. I have followed the exact advice of so many professionals and now i'm all burned out. Any advice would be MUCH appreciated.
Professionals strategies that i have followed: Gabriel St-Germain, KING COMM, Verum, Kevin Zhang, Kevin David, lots of Facebook groups and Reddit recommendations. I've also completed the entire Facebook blueprint.
HOW I FIND PRODUCTS: – Ecomhunt/Aliexpress Dropshipping Center (40+ vol per day)/Facebook Video Search ("shop now", "free shipping" etc./ Facebook Turbo Ad Finder/ Instagram feeds etc.
---
FIRST STORE: BONIRIS
Link: https://www.facebook.com/bonirisglasses/ (website is dead)
Launch Date: December 2019
Sales: 2
Ad Spend: ~$500
Reasoning and what I learned: I tried to solve a problem. Simple as that. People get sore eyes when they look at screens all day. Blue light blocking sunglasses help solve that problem.
I was new to Facebook ads and didn't manage the process correctly. I ran too many PPE campaigns to try and generate social proof. I spent too much money on professional photo designs. This left me with a low conversions budget and ultimately I gave up due to a lack of sales.
One point to mention is that my creatives were good. I also experimented at the end by taking a winning competitor video, slapping my own logo over it, and judging the results. No sales.
---
Fast forward 4 months later I was back in the game and was determined to learn everything possible before trying again.
I also had to try and make this work during COVID-19.
---
SECOND STORE: WAGGY PRINTS
Link: https://waggyprints.com/
Facebook: https://www.facebook.com/waggyprints/
Launch Date: March
Sales: 18
Ad Spend: $1,600
Reasoning and what I learned: I launched a personalized print on demand / dropshipping store after about 2-3 weeks of planning it. This store took the most effort out of all of them so i'll talk about it a bit more. I also drafted a full business plan for it.
I figured print on demand would be less of an issue during corona as POD merchants weren't positioned in China, therefore shipping times wouldn't be an issue. POD is also becoming increasingly popular, so I tried to capitalize on it. I could also make a decent margin per print with Gooten fulfillment ($20-50) and I figured i could take on the big players. I was wrong.
My website looks amazing and the mock-up designs look good. For anyone interested in personalized print on demand, I recommend Chris Conrady and Wholesale Ted (Youtube) to learn from.
Okay, let's get straight to it. Facebook Ads!
I blew $100 on growing the page to 900 likes. Don't do this! It is completely useless. Next, I ran multiple $5 adsets with 8 creatives per ad set. Don't do this either! Experts suggest a minimum of $2.50 per ad creative. I then tried 2 creatives per $5 ad set.
Next, i tried to copy Verums strategy and run $50/day CBO campaigns with 2 creatives in each adset. I got 1 sale after 2 days and turned them off. I then changed the interests, changed the creatives, and tried again. This time with a $100/day CBO budget for 2 days. Same result.
This is when i introduced a custom dog harness to the website. I ran this over multiple campaigns with lots of testing and only got ~12 sales.
Facebook Screenshots: https://imgur.com/a/2ERCPU4
The only reason why "Pets At Home" has 3 sales is because the same person purchased the same product 3 times over the following weeks. All the other sales are basically from the pet harness.
Facebook testing:
Narrowing with engaged shoppers

Top 4 countries only (UK/US/AU/CA), or US only

So many different interests (found through audience insights, google search, suggestions etc.)

I tried to scale interests that showed some value after 2 days

I tried targeting different volume amounts (1m – 80m) and excluding dropshipping/aliexpress/printondemand interests.

I tried running identical ad sets with slight changes such as mobile-only, facebook feed only, etc.

Went to the breakdown tool and tried to target exactly what was working from old adsets, into new ones. E.g. Women only, 40+, Mobile only, US only.

Tried Conversions set to purchase, conversions set to add to cart, and set to view content

Different thumbnails

Tried to retarget website visitors over 180D

Always single interest testing. Sometimes tried with multiple interests but it made no difference.
After the Verum method failed, i tried normal ABO's and same result. I then tried a paid instagram promotion and got no results ($50). I also tried growing the instagram page by posting memes but it didn't provide results and was too hard to grow. I know how to grow a page as i have a different meme page with 20k followers, and also used that to try and promote this one.
I also made an Etsy shop and tried to sell on there. Got 0 sales ffs.
Anyway. enough of this business, onto the next.
---
THIRD STORE: NAPANNA
Link: https://napanna.com/
Facebook: https://www.facebook.com/napannajewelry/
Launch Date: April
Sales: ~15
Ad Spend: $1,100
Reasoning and what I learned: Thought i'd give personalized print on demand jewelry from aliexpress a go for the same reasons. I could claim that there would a 1 month delay due to the personalized nature of the product.
Facebook screenshots: https://imgur.com/a/iuDF7vY
2 ads per creative. I work out which one performs best after 2 days and kill the bad performing one, while doubling the budget. Nothing scaled properly though. I also tried all the different creative options such as slideshow, carousel, image, video, etc.
---
FOURTH STORE: Home Life Deals
Link: https://homelifedeals.com/
Launch Date: May
Sales: ~2
Ad Spend: $400
Reasoning and what I learned: I got sick of creating a new store everytime i wanted to test a niche or a product so i created a general store, only for testing, and to target products that people need for their house.. If a product was successful in the testing phase, then i'd create a new website around it.
Unfortunately, every product failed… My products aren't bad though, the couch covers look great. They are also proven to sell as the aliexpress dropshipping center reports constant 50+ sales and competitors have hundreds of thousands of views per video.
For these, i mainly just tried video ads. I found ads that were already working and stole them for testing and slapped my logo over it. I also found 5 or so videos from competitors, aliexpress product listings and more. Then i cut them up and created my own. Nothing worked though. The videos were good as they were proven to work by competitors. I also tested with different thumbnails.
I also tried finding products with a US warehouse. So everything would take ~2 weeks to arrive.
As i was much more experienced with Facebook ads, i tried to sell blue light glasses again on here. Still didn't work smh.
Facebook screenshots: https://imgur.com/a/L8jtz0k
submitted by /u/someone3245
[comments]



Source link
A 30-year Sales Superstar Shares Two Tricks to Succeeding
Kalika Yap, an Entrepreneurs' Organization (EO) member in Los Angeles, is founder and CEO of both Orange & Bergamot, a creative agency for female founders, and Citrus Studios, a branding and design agency. She's also an author and the host of  EO Wonder podcast.
Jacky Daly spoke in a recent EO Together live-stream, and Kalika shares highlights.
Jack Daly has been selling all his life. At 12, he picked up a paper route in Philadelphia that had 32 customers. A year later, it had 275.
But that meant trudging around in the Pennsylvania snow before dawn, delivering papers. You had to be 12 to have a paper route, so Daly hired a bunch of eager 11-year-olds who wanted a job but couldn't get one for another year. 
"I said, `Here, you guys go and deliver the papers. I'll split the money 50/50 with you,'" Daly recalls. "'A year from now, I'll write you a letter of recommendation, you'll get your own route. And by the way, I'm going to do the collecting.'"
That last part was key because people tipped him when he collected, and he kept those to himself. "So they did 100 percent of the work and I kept 70 percent of the money," Daly says.
That's when he knew he wanted to be an entrepreneur, and he's been one ever since. He's also an endurance athlete, completing 12 Ironman races in eight countries.
The paper route was a homerun, to be sure, but he really made it big in 1985, when he moved to California (for the weather) and started a mortgage company with three other people. A year and a half later, the firm had 750 employees. 
How did Daly figure out how to do that? By asking questions. While delivering newspapers, he moonlighted as a caddie. His family didn't have the money for golf, and Daly wondered how these players got theirs. So, he asked them. And asked them again. 
"In that process, I ended up interviewing 200 successful business owners in the summer of my 13th year," Daly said in a presentation to members of Entrepreneurs' Organization. He has kept up the practice, which he calls "modeling the masters."
So what did those entrepreneurs tell him?
Have goals, not dreams
Write them down
Set a date to reach them
Don't have too many
Daly has been setting goals since he was 13, when he wrote down where he wanted to be at age 30 in terms of education, profession and family.
Another trick? Appoint a board of directors for your life. Daly has a five-member board that he meets with four times a year to make sure he's on track. One of them is his daughter, Melissa, 44, who is known, he says, as "Jack in a skirt" because she is as driven as he is. 
Yet another trick: Don't be afraid to blow your own horn. Daly says he often got passed over for promotions early in his career at Arthur Anderson and Enron because he thought his good work alone would advertise his abilities. Not so, he says. After a series of disappointments, he decided to switch things up.  
"You have to position yourself," Daly says. "Literally, overnight, I decided to change my personality. In fact, my wife Bonnie had to get accustomed to this new guy that was out tooting his horn. But when that happened, opportunities presented themselves like crazy."
Not long after, Daly found himself at the helm of his mortgage company. He had a seven-figure income, a chef on the floor of his building, a helicopter and jet on call, and floor tickets to the Los Angeles Lakers, for the season.
And then he met Jim Pratt, whom he had hired as a speaking coach. They got to talking, and Pratt told him about traveling the world and helping people become better at their jobs, which sounded like a lot more fun. So he moved to San Diego to work with Pratt. After years of running large organizations, it was time for a change, he thought.
"My largest Salesforce was 2,600 people," Daly says. "Those people will suck every ounce of blood out of you. Today I have no employees, I go wherever I want."
After coming off the field to become a coach and speaker, Daly wrote the best-seller Hyper Sales Growth. He speaks regularly to Fortune 500 audiences.
Daly has done lots of different things in his life, but he pursued them all with the same strategy: set a goal, have a plan, and set a deadline. 
"At the end of the day," he says. "It all comes down to vision, a playbook,and then one word: grit." And, if you're an entrepreneur, you know all about that last item.
Jack Daly is a sales speaker and trainer with over 30 years of sales and executive experience. He started his professional journey at CPA firm Arthur Andersen and rose to the CEO level of several corporations, building six companies into national firms along the way, two of which he subsequently sold to the Wall Street firms of Solomon Brothers and First Boston. He is a 15-time Ironman competitor and has completed over 93 marathons in 49 states and on six continents. He achieves these goals and lives life to the fullest by following his own Life by Design techniques.
The post A 30-year Sales Superstar Shares Two Tricks to Succeeding appeared first on Octane Blog – The official blog of the Entrepreneurs' Organization.
#1948 How to teach your kids to build their own businesses


Joining me as somebody who I've been talking to via email for a while, and I've wanted to have on here and I'm so excited that he said yes to an interview.
So many entrepreneurs that I've interviewed had little businesses when they were kids. They're usually so freaking proud of then that they can't stop telling my producers about it. But so many of the stories ended with the business getting shut down by the school, by a teacher, or by the principal.
Well, today's guest said, "What if we create a way to encourage kids to sell and create businesses? We'll teach them how to do it and we give them everything that they need."
Scott Donnell is the founder of MyFirstSale, which gives kids the life skills and confidence
to sell their products in a safe, friendly online environment.
For a special listener discount, you can go to MyFirstSale.com/Andrew or hapbee.com/Andrew to see more.
Scott Donnell is the founder of MyFirstSale and Hapbee, a wearable device that allows people to pick the feelings they want to express, like happiness, calm and sleepiness.
Mixergy listeners can get the following promos:
www.myfirstsale.com/andrew ($20 off Sign Up)
www.hapbee.com/andrew (Indiegogo discount)
Sponsored by
HostGator – Ready to take your website to the next level? Whether you're a first-time blogger or an experienced web pro, HostGator has all the tools you need to create a great-looking website or online store. A wide range of options includes cloud-based web hosting, reseller hosting, VPS hosting and dedicated servers. Founded in 2002, HostGator is the perfect web partner for business owners and individuals seeking hands-on support. Visit www.hostgator.com/mixergy to see what HostGator can do for your website.
---
Toptal – Toptal is a global network of top talent in business, design, and technology that enables companies to scale their teams, on demand. Toptal serves thousands of clients, including Fortune 500 companies and innovative startups, delivering expertise and world-class solutions at an unparalleled success rate. With elite freelancers in over 100 countries, Toptal connects the world's top talent with leading companies in days, not weeks. Plus, every new engagement begins with a no-risk trial period, so clients only pay if satisfied with the work. Get started hiring with Toptal today.
More interviews -> https://mixergy.com/moreint
Rate this interview -> https://mixergy.com/rateint
What It Really Takes To Make A Million In Your Business

(You can watch the video below)
So many of us have this goal to make a million in revenue in our businesses… I used to dream so much of reaching this milestone back in 2009.
This is when I created a challenge for myself called "Mission To Make A Million In 365 Days".
And whilst I did reach the million mark a few years ago, that first challenge I set for myself was a total and utter fail, not because my ideas were bad, but because I was focusing on completely the wrong things.
It took me a few years from 2009 to figure out what it really takes to make a million, and it's such an important shift that I think holds so many entrepreneurs from ever getting to that milestone.
So in this week's episode I wanted to share with you my journey to making a million in my business and some key things I learned along the way that I know will be so helpful if this is a goal that's on your list too.
In this episode I share with you:
What happened by day 65 of my "Mission To Make A Million In 365 Days" challenge and why I decided I needed to set myself a different challenge after that.
The discovery I made in 2011 about what it really takes to become a successful entrepreneur and the new challenge I set for myself with this shift in perspective.
The changes I made that helped me bring to life a business idea I had been mulling over for 3 years (that's how FEA was born!).
The things we need to do every single day to become the person we need to be to create success.
The questions you really need to ask yourself as an entrepreneur and the commitments you need to make so that you can hit your financial goals.
I hope you love this episode and that it helps you to have a few A-HA moments!
I also wanted to let you know that I'm doing my final live workshop before the baby arrives and I'd LOVE to invite you to join me for it!
Click here to sign up for this workshop >>>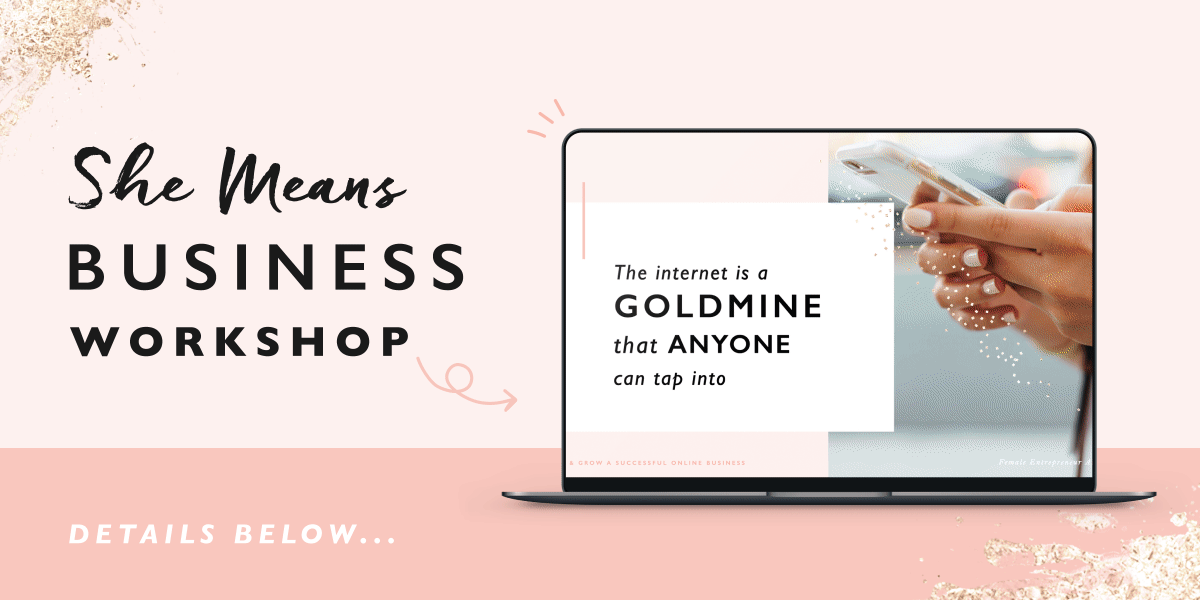 In this workshop I'll be sharing:
The 6 BEST ways to make money online – that everyone can take advantage of!
We'll be identifying what stage of the business journey you're at and what steps to take: are you The Dreamer, The Starter, The Hustler, The Grower, The Scaler or The Visionary?
How I was able to go from being a dreamer to building a million-dollar business – the core steps that got me here and how you can do it too.
The fundamental things you need to be doing every day (that most people don't even think about) to break through and create the success you want.
The post What It Really Takes To Make A Million In Your Business appeared first on Female Entrepreneur Association.