Breaking through the resistance and into success: My 5 top tips for getting unstuck and feeling unstoppable
It's one thing to have an idea or a dream of starting a business… but it's something completely different to have the courage to turn that dream into a successful and profitable business that you love.
The truth is that we all experience resistance when we have an idea to try something new. And it's not just something we struggle with at the beginning…
I've experienced periods of this struggle throughout my entire entrepreneurial journey – whenever I come up with a new idea or have a new dream to get to another level, that resistance creeps back in and gets in my way!
As entrepreneurs, we need to become masters of overcoming resistance, even when it feels like there's no option but to stay stuck.
So in this episode, I wanted to share with you my 5 top tips for doing exactly this. These are the powerful strategies I always turn to whenever doubts, fears and worries flood my brain and cloud my willingness to keep pushing through.
I'm sharing with you:
Why it took me 3 years from coming up with the idea for the Female Entrepreneur Association to actually launching it.
The most common resistance we all face when it comes to putting ourselves and our ideas out there and the #1 thing we need to do to overcome this.
The self-coaching exercise I use every time resistance comes up that helps me uncover the truth behind what's really going on in my head.
How to rewire your brain and flood yourself with positivity and motivation.
How to tap into the foresight of your future self to guide the decisions you make today.
How to stop letting everyday distractions hold you back.
How to manifest more of what you want into your life
If you're dreaming of taking your life or your business to the next level right now, but you're feeling weighed down by resistance – I know that these powerful strategies will help you break through to the other side.
After you've tuned into the episode, drop me a comment below and let me know what's the number one belief you have that you feel has been holding you back. Learning from each other's struggles makes us realise that we're never alone, so share below and let's get this discussion going!
Also make sure you subscribe to the She Means Business podcast and to our newsletter so that you can get notified when we drop our upcoming episodes (we have some INCREDIBLE interviews coming your way soon!)
The post Breaking through the resistance and into success: My 5 top tips for getting unstuck and feeling unstoppable appeared first on Female Entrepreneur Association.
#1948 How to teach your kids to build their own businesses


Joining me as somebody who I've been talking to via email for a while, and I've wanted to have on here and I'm so excited that he said yes to an interview.
So many entrepreneurs that I've interviewed had little businesses when they were kids. They're usually so freaking proud of then that they can't stop telling my producers about it. But so many of the stories ended with the business getting shut down by the school, by a teacher, or by the principal.
Well, today's guest said, "What if we create a way to encourage kids to sell and create businesses? We'll teach them how to do it and we give them everything that they need."
Scott Donnell is the founder of MyFirstSale, which gives kids the life skills and confidence
to sell their products in a safe, friendly online environment.
For a special listener discount, you can go to MyFirstSale.com/Andrew or hapbee.com/Andrew to see more.
Scott Donnell is the founder of MyFirstSale and Hapbee, a wearable device that allows people to pick the feelings they want to express, like happiness, calm and sleepiness.
Mixergy listeners can get the following promos:
www.myfirstsale.com/andrew ($20 off Sign Up)
www.hapbee.com/andrew (Indiegogo discount)
Sponsored by
HostGator – Ready to take your website to the next level? Whether you're a first-time blogger or an experienced web pro, HostGator has all the tools you need to create a great-looking website or online store. A wide range of options includes cloud-based web hosting, reseller hosting, VPS hosting and dedicated servers. Founded in 2002, HostGator is the perfect web partner for business owners and individuals seeking hands-on support. Visit www.hostgator.com/mixergy to see what HostGator can do for your website.
---
Toptal – Toptal is a global network of top talent in business, design, and technology that enables companies to scale their teams, on demand. Toptal serves thousands of clients, including Fortune 500 companies and innovative startups, delivering expertise and world-class solutions at an unparalleled success rate. With elite freelancers in over 100 countries, Toptal connects the world's top talent with leading companies in days, not weeks. Plus, every new engagement begins with a no-risk trial period, so clients only pay if satisfied with the work. Get started hiring with Toptal today.
More interviews -> https://mixergy.com/moreint
Rate this interview -> https://mixergy.com/rateint
What It Really Takes To Make A Million In Your Business

(You can watch the video below)
So many of us have this goal to make a million in revenue in our businesses… I used to dream so much of reaching this milestone back in 2009.
This is when I created a challenge for myself called "Mission To Make A Million In 365 Days".
And whilst I did reach the million mark a few years ago, that first challenge I set for myself was a total and utter fail, not because my ideas were bad, but because I was focusing on completely the wrong things.
It took me a few years from 2009 to figure out what it really takes to make a million, and it's such an important shift that I think holds so many entrepreneurs from ever getting to that milestone.
So in this week's episode I wanted to share with you my journey to making a million in my business and some key things I learned along the way that I know will be so helpful if this is a goal that's on your list too.
In this episode I share with you:
What happened by day 65 of my "Mission To Make A Million In 365 Days" challenge and why I decided I needed to set myself a different challenge after that.
The discovery I made in 2011 about what it really takes to become a successful entrepreneur and the new challenge I set for myself with this shift in perspective.
The changes I made that helped me bring to life a business idea I had been mulling over for 3 years (that's how FEA was born!).
The things we need to do every single day to become the person we need to be to create success.
The questions you really need to ask yourself as an entrepreneur and the commitments you need to make so that you can hit your financial goals.
I hope you love this episode and that it helps you to have a few A-HA moments!
I also wanted to let you know that I'm doing my final live workshop before the baby arrives and I'd LOVE to invite you to join me for it!
Click here to sign up for this workshop >>>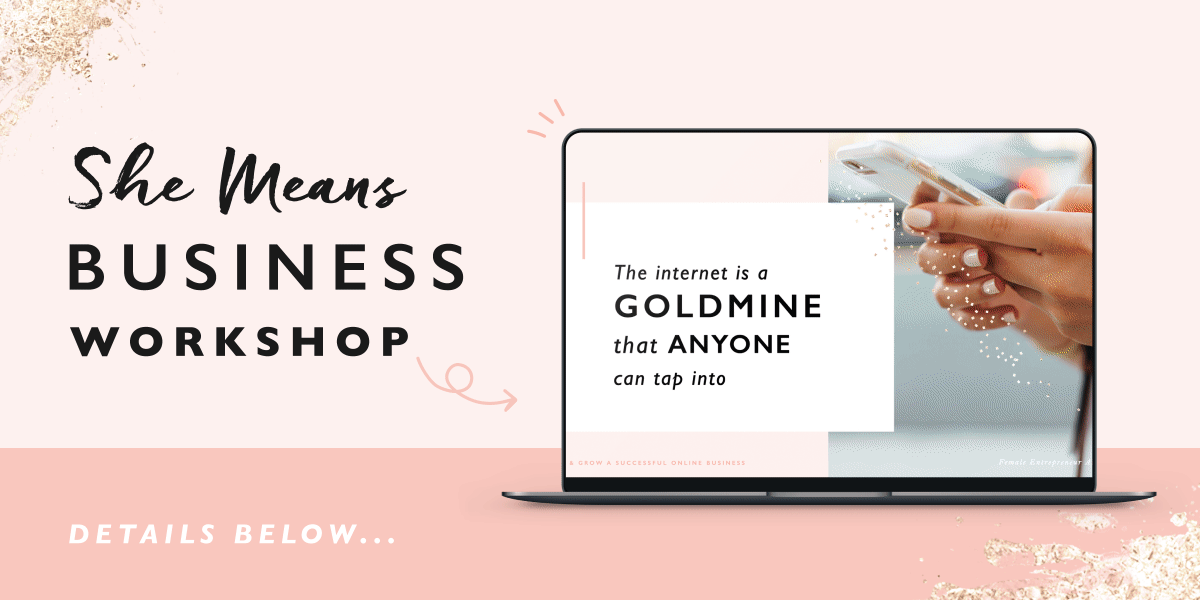 In this workshop I'll be sharing:
The 6 BEST ways to make money online – that everyone can take advantage of!
We'll be identifying what stage of the business journey you're at and what steps to take: are you The Dreamer, The Starter, The Hustler, The Grower, The Scaler or The Visionary?
How I was able to go from being a dreamer to building a million-dollar business – the core steps that got me here and how you can do it too.
The fundamental things you need to be doing every day (that most people don't even think about) to break through and create the success you want.
The post What It Really Takes To Make A Million In Your Business appeared first on Female Entrepreneur Association.
Build to learn – tame your shiny object syndrome.
It sounds simple, yet, it's challenging.
"Build to learn."
It's a fantastic tool for chaotic minds.
A way to benefit from your shortcomings.
If you ever fell for the shiny object syndrome (chasing new cool thing, instead of focusing on the present project), then this is for you!
And the best part – you can turn it to your advantage!
Turn it to build momentum, to become a better, wiser, fuller person.
​
When you fell for the shiny, new, better idea, you could've gone through the guilt and growing anxiety for not finishing things.
For some of us, this could end up in depression or/and quitting the whole "maker" realm.
In this post, I will provide you a valid solution to make the most out of the shiny object syndrome. If you have it, at least you can get something positive out of it.
The method, disguised under many names, sometimes called "build to learn," "build to fail," "ship to learn," is meant to make the most of your nature of jumping between the projects.
It's also a way for you to grow as a builder and founder.
​
I first started flirting with the idea independently – then, I found out that there is a micro-movement of sorts doing the same.
Two main places are hubs for this, New York and Silicon Valley. Only there you could try to hack success and look for possible anomalies to benefit from, and still get support from your social circles!
It's evident that financial capital (New York) is much less flexible about it (cross the border and you are gone) than Silicon Valley (cross the border, let's hire him, he might know something we don't).
And then, culture and social conveniences are limiting this movement elsewhere, causing people to quit.
Sadly – if you are from outside of those areas – how can you explain to people around that success is not your goal, and failure is acceptable?
It's easy to treat people trying this method like fakes or daydreamers.
When you go to college and spend 3-5 years learning, then you are a smart person.
If you do the same, but in real life, you might be seen as an outsider.
​
Let's get to the point, though!
The idea is quite simple but might be tricky to pull it off.
It's based on you abandoning the goal of achieving success while focusing on educational aspects.
To create projects that you will stretch and experiment to gain knowledge with a slight chance of success.
So next time you see great opportunity, instead of wondering how you can ride it to the top, wonder what you can get out of it short term.
Will it give you more knowledge?
If so, then how?
Is it worth "educational" wise?
Will you learn new tech/marketing/business knowledge that would be difficult to obtain otherwise?
​
The worst part of working on a project and then quitting it is to get nothing from it.
Sure, we can read a lot of post-mortems, but many say the same things. They ignore the whole process and often end up in a cliche, like "a startup doing exactly this opened at the same time."
And how can you learn from reading the same things over and over?
Going through the process while closely observing everything that happens is key to extensive experience.
Practical knowledge always beats the theoretical.
​
"Build to learn" is about being practical – using theory as a ground, and then build using practical knowledge.
But instead of building a castle, or a palace, we create a set of small constructions first to learn the basics.
Once we can handle the basics, we move to more advanced stuff.
Sooner or later, we will be building the mentioned castles!
If you think you might end up building dozens of projects in search of your success story, you might accept that instead of lying to yourself, and get the most of it.
There is nothing worst than wasting your talents on something meaningful.
Try to push forward; you might finally realize what your real goal is. What's behind your deepest intentions.
​
"Build to learn" is meant to fuel your creativity, not to kill it.
The first step of it is to put a clear goal:
"I build this to learn."
Assume that trophies and achievements are secondary goals.
After all, every major player like Mark Zuckerberg, Steve Jobs, or Richard Branson started with small projects (sometimes failing), then used the knowledge to build something big!
​
Force yourself to break your ego-infused box and look outside of it, to see what are real reasons for you to fail. Learn and keep trying to understand the events happening around you.
You might find out the shortcomings that were unnoticeable!
​
With this reasoning, don't be afraid to keep trying (as long as you won't bet everything on it). Fail, embrace the knowledge you get from it, grow your own self, and be a better person.
Don't fall in the trap of glorifying the failures though – praise the experience instead.
Don't build another shiny project to be the next unicorn company. When you are ready to make the next big thing, you'll know it (and feel it). There will be no guessing, no wondering (at least in the way you see now). There will be calculation and logic behind it.
​
"Experience is simply the name we give our mistakes." – Oscar Wilde.
​
World culture is critical of repeatable failure, even for a good cause.
Fail once – at least you tried, fail twice – you are a fool.
The social pressure is probably the most challenging part of this method.
If success (or at least how people perceive success) is not achieved, you will be labeled as an outsider or even a loser.
Missing a common goal (becoming wealthy) is perceived as an overall failure.
You cannot really translate the perception of failure to make it look normal.
You risk getting your close ones to be skeptical and even cynical of your journey. In extreme cases, I know situations where close circles would turn aggressive against the "rule breaker."
The more "failures" you "achieve," the more negative the overall attitude of the society around you will be.
It's not an easy road, but it's fruitful, to say the least.
You can achieve a level of understanding, where you will see ALL the mechanics behind the money-making machinery.
​
There are some risks when doing this method (as with everything).
Do it for not long enough, and you can get overconfident and biased.
Do it for longer than you should, and you will need months to get out from the trap of setting yourself impossible challenges.
Out of around dozens of people following this method (that I knew directly that is, I assume there are thousands globally), only a few completed it.
Some of them quit due to social pressure (even from their partners). They still got something out of it, and all but one run a small business now (they are unable to scale/grow though).
The rest created profitable companies, often one of the key players in their industry.
From the original group, I was the one that took the longest to complete the road. This is because of the opportunity given to me. My partner was studying, so I did not need to focus on sorting our life as of yet. And I felt that I needed to learn more (programming, viral growth) and to make sure that my ego is under control. I needed more time because my whole life was bumpy, and I thought that some scars could affect my business sense.
I did miss a deadline, though, where I could complete this process without the substantial side-effects.
I knew from conversations with others that by doing this method for too long, you would need to unwind. I thought it would take 2-3 months, but I am in my 9th month, and I feel that I need 2-3 more. Don't get me wrong, I still make money online, but focusing on a small project that's growing slowly is critical to prepare myself mentally for starting massive projects.
I am working on Almost Cake, which quickly turned into my full-time job.
Almost Cake is a reanimation of one of my old build-to-learn projects that performed well. This is another excellent part of this method – you have a set of field-tested projects, where some might prove to be moneymakers when you decide to come back to them.
​
It took me a few years, and over 30 projects completed to get where I am now, but as said, I did the extreme version of it.
One of the guys that now run a massive operation did 4 "build to learn" projects and spent 1,5 year before he moved ahead (he had some business background though).
Another person with no business experience and with no business-oriented parents completed it with 7 projects and 3 years. He now runs a company that's one of the USA's leading players in his niche.
So, it's hard to say how long you need this run, but the timeframe should not be of the importance here.
The whole point of this method is to tame yourself and start getting somewhere with yourself.
​
The key concerns of "build to learn" are:
-Can you finish the project before you get bored of it? Don't invest in long term projects, when you have a track of abandoning them. You don't need to ship the product or make thousands of dollars. Focus on your initial goals first.
-Can you determine small goals before starting to work on the product? Can you identify a few realistic things you want to get out of this project?
-Will working on this project help you to move forward in a space you want to? If you will learn things you don't feel you need, then maybe it's better to focus elsewhere for now.
-Do you really need to work on the project, or should you turn around and do something completely different? Something that is far beyond your comfort zone?
-Do you have significant chances of achieving your goals with this project? Try not to pursue goals that you assume you will fail. You need to take care of your mental health and not put to much strain on it.
​
Using the "build to learn" method should not become an excuse for you failing to ship. Either you build to learn, or you build to achieve something. You should never go in the middle of the project and say, "just kidding, I was doing it to learn."
​
Sure, if you are already in the middle of the project, then change your goals. But don't do this for future projects. Otherwise, you might lose the ability to ship ever. You will always be hiding behind the "it was just a project" excuse.
​
So here is an example of goals I would set for myself when working on a project:
-learn about the branding niche
-create a solution that relies heavily on JavaScript (whenever possible)
-build a simple theme from a scratch
-research affiliate programs for monetization, learn more about making money as an affiliate
-try to get your first conversion
​
And that's that. I will follow achievable goals, focus on growth, and learn. All the goals are somewhat easy to achieve so that I won't get stuck somewhere.
Once I get through those goals, I can either continue with the project or scrap it for another shiny object without feeling guilty.
And down the road, I will get to the moment when I will say "enough" and build something great.
​
I hope this can help people that are jumping projects often and cannot settle. I managed to settle on Almost Cake, which is a transition project (for the next few months until I will start slowly working on something big). I encourage everyone having difficulty sticking to one thing to start writing a list of small goals whenever starting a new project. Good luck!
submitted by /u/bartboch
[comments]



Source link