6 Ways To Incorporate SEO While Building A Business in 2020
There's no quick fix, or "one and done" solution when it comes to search engine optimization (SEO). You have to be prepared to play the long game to see the full advantages of SEO when developing a site — and it's worth it to see your site rank highly on search engine result pages.
That said, there are some methods that will give you a quick boost. Shift more attention to the most significant ranking factors and tactics that will give your site the ability to rise to the top of the search results this year.
Choose a Responsive Design
User experience is a big deal these days. Google loves to serve its users the best results possible. If your website isn't easy to use on a mobile device, you're going to suffer a setback in ranking. Think about it, have you ever landed on a site where you had to zoom in to read the text and scroll side-to-side to read all of the content? This was most likely the desktop version of a website. It was made for larger screens and doesn't reformat to fit on different screen sizes.
Responsive sites will resize images and reorganize the blocks of content according to the size of the screen. If you want to test whether a website is responsive, open up a web page on a desktop or laptop. From the full screen, shrink the window by clicking and dragging, and you'll see the sidebars move, the navigation and header will take on new positions and the content and images will line up differently.
Mobile search volume accounts for more than half of the total searches made online (see chart below). A responsive, mobile friendly site is no longer an option, but a necessity, when it comes to providing an enjoyable user experience.
Create Keyword Clusters
Making a list of keywords that your ideal audience would use to find the content you're offering will also boost your SEO ranking. Plug each keyword into a keyword tool to generate additional ideas. Assess the best options for keywords to include in your content strategy by grouping them into pools based on search intent. You'll notice that many of those keyword options will be subtopics large enough to write an entire blog post about, in which you can provide more detailed content optimized for a related keyword.
For example, if you own a home improvement business, a central page on your site would be kitchen renovation. And because there are so many choices to make when renovating a kitchen, you could then go into depth and create a new page for every option, from counter tops and backsplash tile to faucets and refrigerators. When you're planning your content, structure the website to feature central pages that are optimized for the most central, competitive keywords and most important aspects of your business.
Publish articles on the related subtopics in full detail in order to provide as much information on those major keyword topics, to show your expertise in your field, and to demonstrate authority within the content of your site. Google looks for this as partial evidence of your status as an expert in your niche.
Google also loves when there is a distinct organizational structure. By linking the subtopic posts to your major product pages, you signal what pages are most important to your site by creating a keyword cluster.
Image source: https://webstyleguide.com/wsg3/3-information-architecture/3-site-structure.html
Optimize Your C

ontent

On-page optimization enhances the likelihood of your page being ranked for your target keywords. Avoid keyword stuffing and place your keywords strategically. For instance, use your target keywords in the front end of your titles, and keep your titles under 60 characters or they will get cut off in the search display.

Place your keyword in your URL. The most effective URLs are those that are under 5 words and summarize the title or content on the page. Keywords should also be included in the meta description. Using your keyword in the beginning of the meta description will improve the click-through rate for users. As will placing your keyword within the first 100 words in the first paragraph of your content, and using keywords and keyword synonyms in the subtitles.

Use structured data markup whenever possible. If you can provide a rich snippet, you may get a boost in the position your site is displayed.
Make Your Pages Quick and Nimble
With a heavy emphasis on user experience, page speed can make a huge difference in how your site performs. If you're an ecommerce site, it becomes extremely important because every second your page takes to load will cost your business money from lower conversions.
mPulse Mobile Case Study on Page Speed Vs Conversion Rates, Image source: https://digitalducats.com/page-speed/
Test your mobile page speed here. You can improve your site speed by reducing image file sizes, using plugins, and using a content delivery network to give your website additional page speed.
W3 Cache is one of the most popular WordPress plugins that increase page speed, but you can decide for yourself by choosing one from

this list

.
Choose a CDN (Content Delivery Network) to reduce your pages load time from a list of options

here

.
Get Other Sites to Link to You
Establishing credibility and authority is a necessity to be competitive in search results. Backlinks are a powerful way to prove that your content is credible and authoritative because essentially it is being endorsed by the websites that link to you. But stay away from paid links, or any link scheme used to manipulate ranking in an underhanded way. Unnatural linking will lead to penalties and should be avoided altogether.
One approved method of link building is to become a guest author. There are guest posting sites in every niche and having knowledge about your business is all you need to create an article that can be submitted to a site for publication. It may take a few weeks to get a response, and you may need a few submissions before receiving acceptance. Get into a routine for guest posting to build backlinks as fast as possible.
Ask People to Share Your Content
A social network is a priceless asset for expanding your audience and getting more traffic to your website. Build your network by being active on the social media site that has the most impact on your business.
Install social sharing icons on your site and include a call to action to get the most shares. A retweet study revealed that content with share icons received 4 times as many retweets with the phrase "Please RT".
Conclusion
Although there is a lot to put together to achieve a first page result, it's a long-term game plan. Start building your website with SEO in mind to give your site the best chance at the top positions in search results.
#1948 How to teach your kids to build their own businesses


Joining me as somebody who I've been talking to via email for a while, and I've wanted to have on here and I'm so excited that he said yes to an interview.
So many entrepreneurs that I've interviewed had little businesses when they were kids. They're usually so freaking proud of then that they can't stop telling my producers about it. But so many of the stories ended with the business getting shut down by the school, by a teacher, or by the principal.
Well, today's guest said, "What if we create a way to encourage kids to sell and create businesses? We'll teach them how to do it and we give them everything that they need."
Scott Donnell is the founder of MyFirstSale, which gives kids the life skills and confidence
to sell their products in a safe, friendly online environment.
For a special listener discount, you can go to MyFirstSale.com/Andrew or hapbee.com/Andrew to see more.
Scott Donnell is the founder of MyFirstSale and Hapbee, a wearable device that allows people to pick the feelings they want to express, like happiness, calm and sleepiness.
Mixergy listeners can get the following promos:
www.myfirstsale.com/andrew ($20 off Sign Up)
www.hapbee.com/andrew (Indiegogo discount)
Sponsored by
HostGator – Ready to take your website to the next level? Whether you're a first-time blogger or an experienced web pro, HostGator has all the tools you need to create a great-looking website or online store. A wide range of options includes cloud-based web hosting, reseller hosting, VPS hosting and dedicated servers. Founded in 2002, HostGator is the perfect web partner for business owners and individuals seeking hands-on support. Visit www.hostgator.com/mixergy to see what HostGator can do for your website.
---
Toptal – Toptal is a global network of top talent in business, design, and technology that enables companies to scale their teams, on demand. Toptal serves thousands of clients, including Fortune 500 companies and innovative startups, delivering expertise and world-class solutions at an unparalleled success rate. With elite freelancers in over 100 countries, Toptal connects the world's top talent with leading companies in days, not weeks. Plus, every new engagement begins with a no-risk trial period, so clients only pay if satisfied with the work. Get started hiring with Toptal today.
More interviews -> https://mixergy.com/moreint
Rate this interview -> https://mixergy.com/rateint
What It Really Takes To Make A Million In Your Business

(You can watch the video below)
So many of us have this goal to make a million in revenue in our businesses… I used to dream so much of reaching this milestone back in 2009.
This is when I created a challenge for myself called "Mission To Make A Million In 365 Days".
And whilst I did reach the million mark a few years ago, that first challenge I set for myself was a total and utter fail, not because my ideas were bad, but because I was focusing on completely the wrong things.
It took me a few years from 2009 to figure out what it really takes to make a million, and it's such an important shift that I think holds so many entrepreneurs from ever getting to that milestone.
So in this week's episode I wanted to share with you my journey to making a million in my business and some key things I learned along the way that I know will be so helpful if this is a goal that's on your list too.
In this episode I share with you:
What happened by day 65 of my "Mission To Make A Million In 365 Days" challenge and why I decided I needed to set myself a different challenge after that.
The discovery I made in 2011 about what it really takes to become a successful entrepreneur and the new challenge I set for myself with this shift in perspective.
The changes I made that helped me bring to life a business idea I had been mulling over for 3 years (that's how FEA was born!).
The things we need to do every single day to become the person we need to be to create success.
The questions you really need to ask yourself as an entrepreneur and the commitments you need to make so that you can hit your financial goals.
I hope you love this episode and that it helps you to have a few A-HA moments!
I also wanted to let you know that I'm doing my final live workshop before the baby arrives and I'd LOVE to invite you to join me for it!
Click here to sign up for this workshop >>>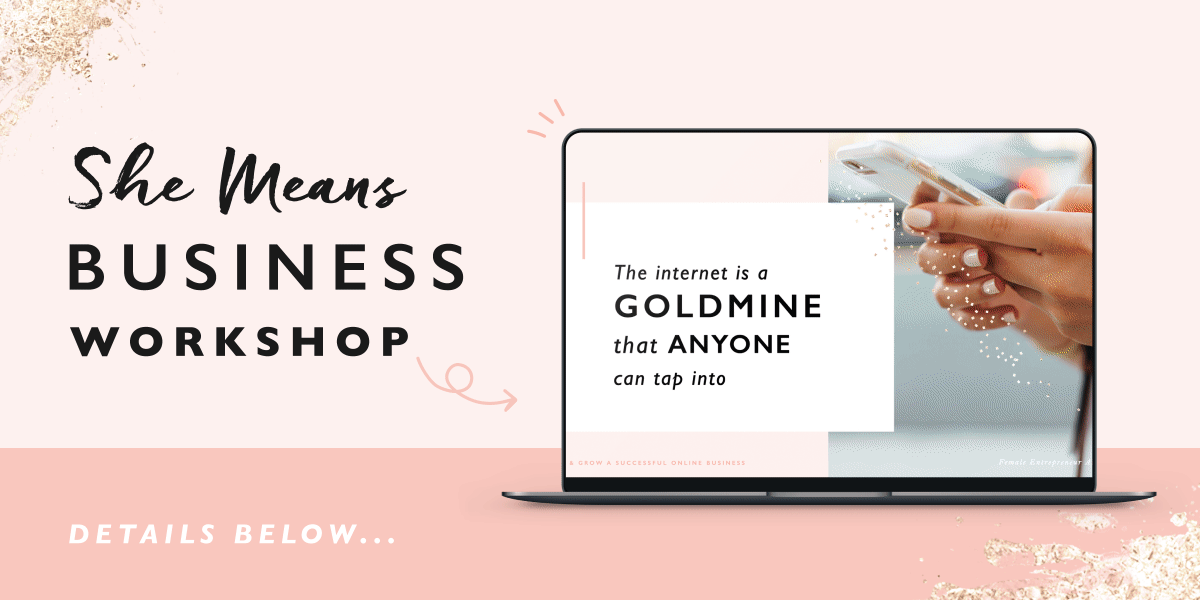 In this workshop I'll be sharing:
The 6 BEST ways to make money online – that everyone can take advantage of!
We'll be identifying what stage of the business journey you're at and what steps to take: are you The Dreamer, The Starter, The Hustler, The Grower, The Scaler or The Visionary?
How I was able to go from being a dreamer to building a million-dollar business – the core steps that got me here and how you can do it too.
The fundamental things you need to be doing every day (that most people don't even think about) to break through and create the success you want.
The post What It Really Takes To Make A Million In Your Business appeared first on Female Entrepreneur Association.
This Is How You Can Write a Killer Copy
Hey people!
As an early-stage startup founder, I cannot afford a copywriter expert and most of us cannot. I spent 3-4 days learning to copywrite; watched a lot of videos, read articles and posts on this sub, etc. After I wrote my new copy, I decided to turn it into 10 pieces of advice to share. If you have any feedback please comment.
P.S I couldn't upload images if you want to see the last 4 and example images you can click here.
1) Consistency
The look and feel of your site should be uniform throughout. Use the same 2-3 colors, leave consistent white space, and use the same language throughout your website.
This also helps you to create a brand. Your users will know your colors and it will contribute your overall brand awareness
2) No Adverbs, No Adjectives
Don't waste your white space with adverbs or adjectives. Effective copywriting requires a direct speech purged from unnecessary adverbs and adjectives.
After you write your copy always look for sentences or words to erase. If the sentence is powerful without a word, delete it.
3) Your Why matters
Always tell a story. Why you develop your product? What is your background? Did you encounter the problem that you solve?
A killer copy is the one that tells a great personal story. Start with your why and background then talk about the solutions you tried earlier. Finally, talk about your product. Don't forget to split your text into smaller parts to make it easier to read. You can see this kind of a copy at HEY!
4) Create excellent content
Combine content marketing and copywriting to maximize your conversion rate. Create content based on your niche and keywords, make an emotional connection, and make users take action with your killer landing page.
Try to write at least 1000-1500 words and try to be relevant to your audience. Don't just focus on what you sell, but look for trends that your audience search. You can use Google Trends for it.
5) Benefits>Features
Everyone says the same thing Benefits>Features and when something is being said everywhere, it is often being ignored.
As a matter of fact, a lot of landing pages tell about features that only the people who are genuinely interested in the product and experienced in the field can understand.
Tell for a 7-year-old, develop for a nerd.
6) Be a human
We don't talk like a machine in real life. Why would you write your copy like a machine? Your brand is like a human and it talks with people. Make it real.
If you have a video or an image, you can use real people on them or you can be on them. It feels great to see the person behind a landing page, it creates trust and a sense of friendship.
Conclusion:
In this article, we reviewed the copywriting basics for beginners. You really don't need to hire a copywriting expert. All it takes is continuously testing your copy and taking data-driven actions.
submitted by /u/sweetpotato31
[comments]



Source link