A Bigger Truth About Restaurant Food Delivery
I was listening to Dan Primack's podcast on Pro Rata and he was interviewing Senator Klobucher who is now publicly and vocally speaking out against Uber purchasing Grubhub and has tried to mobilize against this.
Her argument is that if Uber buys Grubhub (which itself once merged with Seamless) it would mean that Uber Eats / Grubhub would control half the market and that with DoorDash the two together would control 90% of the market. I think that's a largely flawed fight to be picking and of all the uses of Senator Klobuchar's I could think of some much more productive fights to be having.
For starters Uber itself has had to lay off 27% of its workforce due to the pandemic and has been severely impacted financially from the crisis with no immediate respite in sight. Its core business was already struggling to become profitable, so having tertiary businesses like food delivery that can deliver needed profits would be welcome to their financial stability. And the market would still have DoorDash and PostMates duking it out as well as the potential that players like Instacart broaden their business one day or Amazon gets into food delivery.
Even more likely is eventual technology disruption where drones deliver foods and make it hard for existing car delivery services to compete. It won't happen right away but I've seen some innovative companies doing exactly this in places like Australia where they are taking a more liberal approach to allowing drone deliveries. Therein lies the advantages of free markets and competition and if we really believed it were that easy to buy off your largest competitor and be a monopolist we'd all be surfing on AOL TimeWarner portals.
But the broader issue that hasn't garnered much press attention is how the restaurant industry itself is being transformed and what tools a modern restaurant will need to compete. What is the Shopify of the restaurant industry? I have some compelling data that suggests it may just become ChowNow.
We know that the restaurant business already operates on thin margins and many struggle to survive. So when delivery services came along many were willing to pay the fee to try and increase business. It was only about 10–15% of their actual total revenue per month so for many it wasn't a battle worth fighting — they just put up with the food delivery company fees. Customers were happy and restaurants focused on their in-store business.
The problem for the restaurants is that the more successful the "aggregators" of customer demand become over time, the less power the restaurants themselves have individually. This will largely be true whether you have 2 strong competitors or 5 because unless a delivery company can make a profit it won't continue to stay in business.
The delivery companies own the customer relationship and can drive traffic to the most profitable restaurants for them. Obviously if you have a great restaurant brand with differentiated food people search for you by name but for many people looking for pizza, sushi, Mexican food, Thai food, whatever, you might go with the choice put in front of you if it's being recommended or delivered more quickly. The delivery companies also own many of the assets like the photography so they can make certain options look much more attractive.
So just like when Groupon came out many small merchants welcomed the uptick in traffic, without owning the customer you lose the most valuable asset — the ability to re-market to your customer base and encourage them to become more loyal and more frequent customers. You lose the ability to up-sell and cross-sell products. And just like with Groupon the small businesses ended up having many unprofitable customers.
At Upfront we always took the approach that we wanted to back startups that enabled merchants to own the customer relationship and to increase profits by becoming excellent at marketing and serving ones most loyal customers.
So several years ago we backed a company called ChowNow that enables restaurants to offer self-service ordering for pick-up or delivery and the restaurant owns all of the customer information and relationship — ChowNow is simply a SaaS enablement product.
The company has done well over the past several year but never really captured the same press mindshare as the food delivery companies because when a company shows up at your house you get to know that brand rather than the tech that enables restaurants.
Covid-19 has changed all of that. Whereas pickup & delivery may have been 10–15% of a restaurant's business before it's currently 100% and when it's your entire business the thought of paying huge commissions to a third-party delivery service becomes much less attractive. So while many restaurants knew they eventually needed to invest in better order management software, many had been putting it off.
But just as many product or apparel companies were happy selling at Amazon, Walmart or Nordstrom in the past and have lately realized the importance of Shopify and serving customers directly — so, too, are restaurants. Enter ChowNow.
What data do I have to make the case?
ChowNow now has 17,000 restaurants using its SaaS platform for take-out and delivery and is adding more than 2,000 / month right now (and trending up)
10 million diners now use the ChowNow ordering platform vs. 24 million for GrubHub, so like Shopify while they built the customer base slowly and with capital efficiency they are now rivaling the bigger players in footprint
Last year they were serving 50,000 customers / day through their platform and did approximately $500 million in GMV (the value of the orders placed), this year they are on track to do $3 billion (with a B) and expect to end the year at a revenue run rate that may top $100 million (yes, I asked for permission to publish these numbers).
If you want to see a short spot that outlines the importance of the restaurant industry arming itself with better software tools to serve and market to their customers you may enjoy this 60-second video that makes it clear why it matters. It speaks volumes to why we all love our local restauranteurs and want to see them survive …
https://medium.com/media/dab8c9b98b12a45a4b06435888cc7fc0/href
Or if you want to see the argument laid out clearly by a customer, look no further than Motorino Pizza in NYC who posted this note that appears before you enter their website:
---
A Bigger Truth About Restaurant Food Delivery was originally published in Both Sides of the Table on Medium, where people are continuing the conversation by highlighting and responding to this story.
How to run a business – My small resources compilation pack
As I lost my job as a homeschool teacher due to the pandemic, I decided to start my business a few months ago, and I'm a total noob in entrepreneurship. I combed through the internet looking for pieces of advice to get the hang of what running a business requires. Some advice is just ridiculous while some of them look fine to me, with the latter I started a small business and manage to gain a satisfactory and stable income flow. Here's a list of articles I found helpful:
https://www.businessnewsdaily.com/4686-how-to-start-a-business.html
This article provides you with detailed steps you need to start a business, with a bunch of crucial steps that inexperienced people like me will likely ignore (market research, business plan, idea refinement). Although it doesn't tell me the exact procedures to deal with the government's red tape for my region (Yes, I'm not an American), this article is still really helpful.

https://www.thebalancesmb.com/how-to-apply-for-a-small-business-loan-393254
This article informs you about the general steps of getting a small business loan and provided some agile advice in response to the COVID, should be helpful if you are short of cash.

https://www.strategysprints.com/blog/keep-your-business-healthy-open-letter-to-ceos
This article tells you how to keep your newborn business living and growing. It raises questions on the grounds of your business like core capital, marketing, and capital spending. With fortification and verification of those conditions can your company sustain.
Throughout all three articles, my favorite one is the article from Strategy Sprints (https://www.strategysprints.com/) because they have provided some inspirative and visionary advice on the long-term sustainability of the business, which may prevent my good days from ending :D. Also, they have a great set of articles (https://www.strategysprints.com/articles-and-guides) targeting different readers of different experience levels. For entrepreneur starters, I recommend reading posts on Business Daily (https://www.businessnewsdaily.com/) and Forbes (https://www.forbes.com/leadership/#7c4120cb1d66) to get an overview of the business world first.
Besides these articles, I have found a raft of amazing and diversified articles and videos about entrepreneurship, which will be organized in no time.
If you enjoy this, please leave a comment, glad I can help. Stay healthy, stay safe.
submitted by /u/scientific_lizard
[comments]



Source link
#1948 How to teach your kids to build their own businesses


Joining me as somebody who I've been talking to via email for a while, and I've wanted to have on here and I'm so excited that he said yes to an interview.
So many entrepreneurs that I've interviewed had little businesses when they were kids. They're usually so freaking proud of then that they can't stop telling my producers about it. But so many of the stories ended with the business getting shut down by the school, by a teacher, or by the principal.
Well, today's guest said, "What if we create a way to encourage kids to sell and create businesses? We'll teach them how to do it and we give them everything that they need."
Scott Donnell is the founder of MyFirstSale, which gives kids the life skills and confidence
to sell their products in a safe, friendly online environment.
For a special listener discount, you can go to MyFirstSale.com/Andrew or hapbee.com/Andrew to see more.
Scott Donnell is the founder of MyFirstSale and Hapbee, a wearable device that allows people to pick the feelings they want to express, like happiness, calm and sleepiness.
Mixergy listeners can get the following promos:
www.myfirstsale.com/andrew ($20 off Sign Up)
www.hapbee.com/andrew (Indiegogo discount)
Sponsored by
HostGator – Ready to take your website to the next level? Whether you're a first-time blogger or an experienced web pro, HostGator has all the tools you need to create a great-looking website or online store. A wide range of options includes cloud-based web hosting, reseller hosting, VPS hosting and dedicated servers. Founded in 2002, HostGator is the perfect web partner for business owners and individuals seeking hands-on support. Visit www.hostgator.com/mixergy to see what HostGator can do for your website.
---
Toptal – Toptal is a global network of top talent in business, design, and technology that enables companies to scale their teams, on demand. Toptal serves thousands of clients, including Fortune 500 companies and innovative startups, delivering expertise and world-class solutions at an unparalleled success rate. With elite freelancers in over 100 countries, Toptal connects the world's top talent with leading companies in days, not weeks. Plus, every new engagement begins with a no-risk trial period, so clients only pay if satisfied with the work. Get started hiring with Toptal today.
More interviews -> https://mixergy.com/moreint
Rate this interview -> https://mixergy.com/rateint
What It Really Takes To Make A Million In Your Business

(You can watch the video below)
So many of us have this goal to make a million in revenue in our businesses… I used to dream so much of reaching this milestone back in 2009.
This is when I created a challenge for myself called "Mission To Make A Million In 365 Days".
And whilst I did reach the million mark a few years ago, that first challenge I set for myself was a total and utter fail, not because my ideas were bad, but because I was focusing on completely the wrong things.
It took me a few years from 2009 to figure out what it really takes to make a million, and it's such an important shift that I think holds so many entrepreneurs from ever getting to that milestone.
So in this week's episode I wanted to share with you my journey to making a million in my business and some key things I learned along the way that I know will be so helpful if this is a goal that's on your list too.
In this episode I share with you:
What happened by day 65 of my "Mission To Make A Million In 365 Days" challenge and why I decided I needed to set myself a different challenge after that.
The discovery I made in 2011 about what it really takes to become a successful entrepreneur and the new challenge I set for myself with this shift in perspective.
The changes I made that helped me bring to life a business idea I had been mulling over for 3 years (that's how FEA was born!).
The things we need to do every single day to become the person we need to be to create success.
The questions you really need to ask yourself as an entrepreneur and the commitments you need to make so that you can hit your financial goals.
I hope you love this episode and that it helps you to have a few A-HA moments!
I also wanted to let you know that I'm doing my final live workshop before the baby arrives and I'd LOVE to invite you to join me for it!
Click here to sign up for this workshop >>>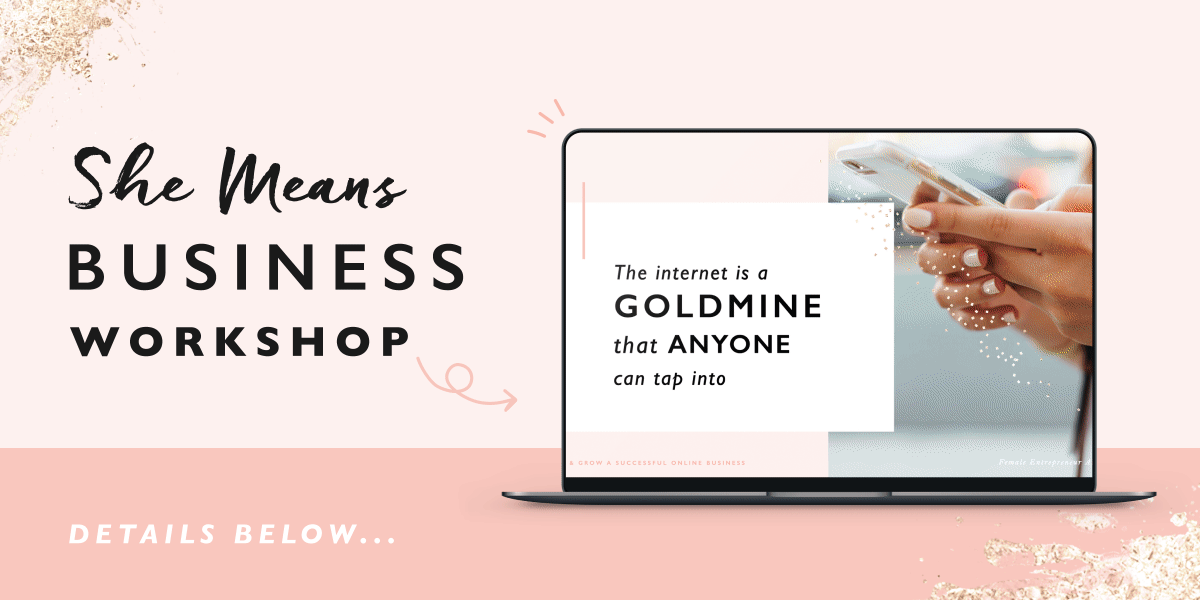 In this workshop I'll be sharing:
The 6 BEST ways to make money online – that everyone can take advantage of!
We'll be identifying what stage of the business journey you're at and what steps to take: are you The Dreamer, The Starter, The Hustler, The Grower, The Scaler or The Visionary?
How I was able to go from being a dreamer to building a million-dollar business – the core steps that got me here and how you can do it too.
The fundamental things you need to be doing every day (that most people don't even think about) to break through and create the success you want.
The post What It Really Takes To Make A Million In Your Business appeared first on Female Entrepreneur Association.