America's Unemployment Numbers Are Stabilizing. That's Not A Good Thing.
Processing the ongoing economic damage caused by the COVID-19 pandemic can be a daunting task. The numbers involved are often so far out of scale with the rest of our historical data that it's difficult to even contextualize what they mean. For instance, 2.4 million more Americans filed for unemployment in the week ending May 16. On the one hand, that's the lowest weekly total since March 14; on the other hand, it's still 3½ times as high as the previous weekly record from before March, part of a nine-week stretch that's seen 38.6 million initial claims filed across the country.
As lockdowns have begun to lift in all 50 states, we might expect the pace of job losses to slow down if businesses are able to reopen and begin bringing workers back (or begin posting jobs for positions that need to be refilled). But if that's going to happen, it's tough to find much evidence for it yet. According to data from the employment-search website Indeed, the number of jobs posted by employers last week was only marginally higher than it had been the week before — still down nearly 40 percent year-over-year from the same week in 2019. And, if anything, unemployment claims are dropping more slowly than we might have anticipated just a few weeks ago.
After consistently declining by an average of 16 percent each week from April 11 through May 9, initial claims were down only 9 percent week-over-week in the Department of Labor's most recent report:
Perhaps the silver lining in all this dire unemployment data is the prospect of jobs not being permanently lost — that, through layoffs and furloughs, people might be out of work now but could return to their jobs when their employers reopen. And the most recent jobs report does provide more information on that. According to the Bureau of Labor Statistics' Current Population Survey, about 78 percent of all unemployed Americans in April were classified as being "on temporary layoff"; that group also made up 88 percent of those who lost or completed jobs (as opposed to voluntarily leaving jobs or reentering the ranks of the unemployed). That supports the idea that the vast majority of jobs that have been lost to COVID-19 could eventually return.
To get a more granular view of this in (near) real time, we can also look at filings made under the WARN Act, which generally requires employers with 100 or more workers to give a 60-day notice about plant closings and other mass layoffs. States post their WARN data in somewhat different formats, so we looked at just two: California and Texas.
California experienced the largest total number of job losses in the last state-level employment data release from the BLS, and the share of total affected employees who were temporarily laid off (87 percent) in its WARN data1 almost exactly matches the national percentage. It also gives us a snapshot of ongoing unemployment under ever-evolving lockdown conditions, since Gov. Gavin Newsom has lifted stay-at-home orders for some counties but not others, generally taking a more cautious approach to reopening than many other states.
According to California's WARN Act data, the share of all layoffs that are temporary hasn't changed much throughout the crisis, mostly hovering around its current mark of 84 percent. (This might be an encouraging sign, since it means those jobs aren't being permanently eliminated any more now than they were a month ago.) The total number of layoffs has also stayed relatively flat, at a rate of about 3,100 per day since mid-April, with a recent spike attributable to a 11,083-employee temporary layoff by Tesla Motors at its Alameda County factory, which has since reopened. This, too, seemingly mirrors the overall national unemployment picture, with the rate of new claims flattening after the huge initial spike of March and early April — creating a steady flow of people filing for insurance.
Will that trend change when lockdowns are lifted more fully? We can contrast California's situation with that of Texas, which saw the second-most job losses of any state in March and allowed its stay-at-home order to expire on April 30. The state's WARN Act data doesn't differentiate between temporary and permanent layoffs — and its numbers have generally been lower than those reported by California anyway — but the seven-day rolling average of layoffs has generally dipped since late April, when a large number of franchise locations owned by Bloomin' Brands (which manages such restaurants as Outback Steakhouse) made WARN filings.
Some caveats: The WARN Act doesn't apply to every business, and this data doesn't capture unemployment outside of mass layoffs and plant closings. But it is another way to paint the picture of unemployment — and of layoffs or furloughs in particular — on a faster time frame and a more detailed level than the official data updated by the U.S. government.
But the slowing decline in initial claims nationwide, even as states make efforts to reopen, is something to watch. Against the backdrop of concerns that reopenings have already planted the seeds for further outbreaks — which may necessitate another round of economic shutdowns — our national unemployment crisis could be settling into a long period of despair before things truly improve.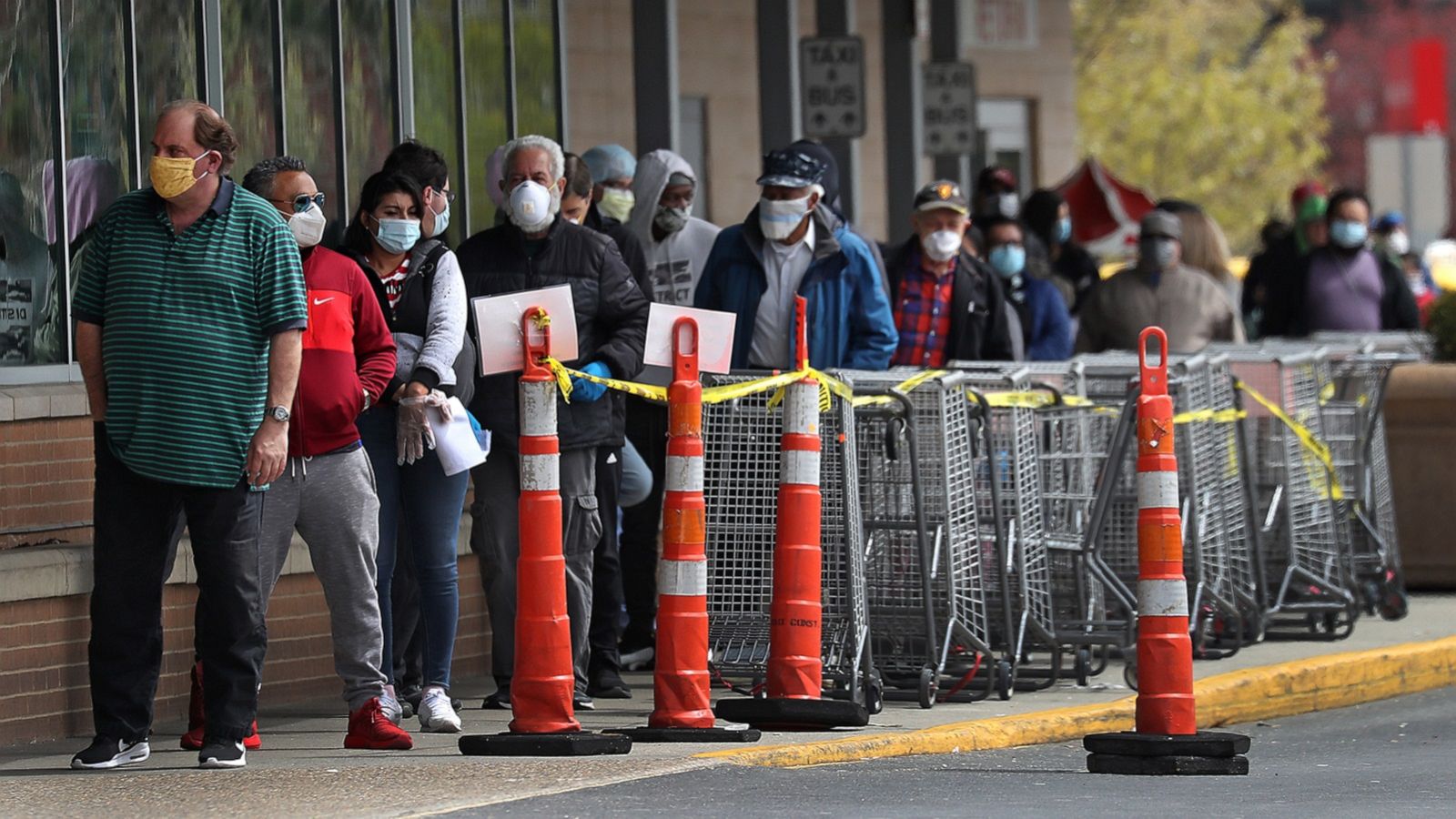 Why We Need to Keep Talking About George Floyd
I must begin by pointing out that this is really not what I wanted to be writing about. This is EconLog, for crying out loud; a virtual property of Econlib.  They don't just let anyone natter on here, and for that reason, I would rather my introduction to the readers here be a message of freedom and hope. It was a mere few days ago that NASA launched a rocket built by SpaceX into space, ferrying humans to the International Space Station from American soil for the first time since 2011, signaling the successful culmination of a public-private partnership (sort of) that may one day see mankind colonize the stars.  But…I can't engage you in a whimsical fantasy of our descendants enjoying Andorian ale in a bar on the joint colony at Titan.
Those of us tethered to the ground have been subject to pandemics, government overreach, massive loss of employment…and then there's George Floyd. Those of us possessed of the masochism inherent in formal training in the social sciences have an obligation to review the world as it is, making data-driven observations, providing deep analysis of proximate causes, and generating recommendations aimed at making improvements and finding solutions. This last is the most difficult, because in matters involving race, I don't necessarily know that here are any solutions outside of "we all need to be better." Nor, in truth, am I an indifferent observer. As an African American myself, I have known too many George Floyds to remain indifferent.
It must be noted that the murder of George Floyd by Minneapolis Police officers, and the resultant riots raging across the American landscape aren't entirely about race. As Reason's Christian Britschgi has so ably observed, a combination of coronavirus lockdowns, joblessness, and other related factors combined to form a perfect soup that boiled over the day Derek Chauvin and his cohorts essentially strangled Floyd to death. This, however, is an outcome, not a cause. While this matter isn't entirely about race, it's still about racial relations in America. As ostensible thinkers in the classical liberal tradition, those of us dedicated to the natural rights of all men often shrink from in-depth discussion of such matters, when we may be the only parties left with any shred of moral authority to lead the charge.
So, we're going to have that discussion, no matter how uncomfortable it might be. We're going to discuss public choice and path dependencies. The ruinous War on Drugs and its unholy offspring, the carceral state, are also on the docket.  Institutional bias, uneven enforcement of laws that, by all right, shouldn't even be laws…they're on the table as well. The first step to solving a problem is admission that the problem exists, and we're going to get to the root of it.  We're going to analyze through the filters of economics, sociology, political science, history…because we must. To channel Acemoglu, history happens when critical junctures mate with institutional drift, giving birth to persistent paradigms.  We are, as the fires attest, at a critical juncture. To create new paradigms, we must facilitate changes within our institutions.
I will, of course, talk about other things. It is an honor for me to be here, and this isn't the only issue that needs discussion. Nevertheless, this will be an ongoing conversation, and it is my hope that both author and readers benefit from it. The American apartheid system known as Jim Crow was relegated to the dustbins of history because men and women of good conscience did not bury their heads in the sand at a critical juncture in time, but the work is not yet done. It is up to us to find its completion, so that we can truly fulfill the obligations inherent in our credo "we hold these truths to be self-evident that all men are created equal."
---
Tarnell Brown is an Atlanta based economist and public policy analyst.
(5 COMMENTS)



Source link
The Media Has Conveniently Forgotten George W. Bush's Many Atrocities
Former president George W. Bush has returned to the spotlight to give moral guidance to America in these troubled times. In a statement released on Tuesday, Bush announced that he was "anguished" by the "brutal suffocation" of George Floyd and declared that "lasting peace in our communities requires truly equal justice. The rule of law ultimately depends on the fairness and legitimacy of the legal system. And achieving justice for all is the duty of all."
Bush's declaration was greeted with thunderous applause by the usual suspects who portray him as the virtuous Republican in contrast to Trump. While the media portrays Bush's pious piffle as a visionary triumph of principle, Americans need to vividly recall the lies and atrocities that permeated his eight years as president.
In an October 2017 speech in a "national forum on liberty" at the George W. Bush Institute in New York City, Bush bemoaned that "Our politics seems more vulnerable to conspiracy theories and outright fabrication." Coming from Bush, this had as much credibility as former president Bill Clinton bewailing the decline of chastity.
Most media coverage of Bush nowadays either ignores the falsehoods he used to take America to war in Iraq or portrays him as a good man who received incorrect information. But Bush was lying from the get-go on Iraq and was determined to drag the nation into another Middle East war. From January 2003 onwards, Bush constantly portrayed the US as an innocent victim of Saddam Hussein's imminent aggression and repeatedly claimed that war was being "forced upon us." That was never the case. As the Center for Public Integrity reported, Bush made "232 false statements about weapons of mass destruction in Iraq and another 28 false statements about Iraq's links to Al Qaeda." As the lies by which he sold the Iraq War unraveled, Bush resorted to vilifying critics as traitors in a 2006 speech to the Veterans of Foreign Wars.
Bush's lies led to the killing of more than four thousand American troops and hundreds of thousands of Iraqi civilians. But since those folks are dead and gone anyhow, the media instead lauds Bush's selection to be in a Kennedy Center art show displaying his borderline primitive oil paintings.
In February 2018, Bush was paid lavishly to give a prodemocracy speech in the United Arab Emirates, ruled by a notorious Arab dictatorship. He proclaimed: "Our democracy is only as good as people trust the results." He openly fretted about Russian "meddling" in the 2016 US election.
But when he was president, Bush acted as if the United States were entitled to intervene in any foreign election he pleased. He boasted in 2005 that his administration had budgeted almost $5 billion "for programs to support democratic change around the world," much of which was spent on tampering with foreign vote totals. When Iraq held elections in 2005, Bush approved a massive covert aid program for pro-American Iraqi parties. The Bush administration spent over $65 million to boost their favored candidate in the 2004 Ukraine election. Yet, with boundless hypocrisy, Bush proclaimed that "any (Ukrainian) election…ought to be free from any foreign influence." US government-financed organizations helped spur coups in Venezuela in 2002 and Haiti in 2004. Both of those nations, along with Ukraine, remain political train wrecks.
In that October 2017 New York speech, Bush proclaimed: "No democracy pretends to be a tyranny." But ravaging the Constitution was apparently part of his job description when he was president. Shortly after 9-11, Bush turned back the clock to before 1215 (when the Magna Carta was signed), formally suspending habeas corpus and claiming a prerogative to imprison indefinitely anyone he labeled a terrorist suspect. In 2002, Justice Department lawyers informed Bush that the president was entitled to violate the law during wartime—and the war on terror was expected to continue indefinitely. In 2004, Bush White House counsel Alberto Gonzales formally asserted a "commander-in-chief override power" entitling presidents to ignore the Bill of Rights.
Under Bush, the US government embraced barbaric practices which did more to destroy America's moral credibility than all of Trump's tweets combined. Bush's "enhanced interrogation" regime included endless high-volume repetition of a Meow Mix cat food commercial at Guantanamo, head slapping, waterboarding, exposure to frigid temperatures, and manacling for many hours in stress positions. After the Supreme Court rebuffed some of Bush's power grabs in 2006, he pushed through Congress a bill that retroactively legalized torture—one of the worst legislative disgraces since the Fugitive Slave Act of 1850. During his years in the White House, Bush perennially denied that he had approved torture. But in 2010, during an author tour to promote his new memoir, he bragged about approving waterboarding for terrorist suspects.
Is Bush nominating himself to be the nation's racial healer? When he was president, Bush inflicted more financial ruin on blacks than any president since Woodrow Wilson (who brought Jim Crow barbarities to the federal government). Bush trumpeted his plans to close the gap between black and white homeownership rates and promised in 2002 to "use the mighty muscle of the federal government" to solve the problem. Bush was determined to end the bias against people who wanted to buy a home but had no money. Congress passed Bush's American Dream Downpayment Act in 2003, authorizing federal handouts to first-time homebuyers of up to $10,000 or 6 percent of the home's purchase price. Bush also swayed Congress to permit the Federal Housing Administration to make no–down payment loans to low-income Americans. Bush proclaimed: "Core American values of individuality, thrift, responsibility, and self-reliance are embodied in homeownership." In Bush's eyes, self-reliance was so wonderful that the government should subsidize it. And it didn't matter whether recipients were creditworthy, because politicians meant well. Bush's 2004 reelection campaign trumpeted his down payment giveaways, a shining example of "compassionate conservatism."
Thanks in large part to his policies, minority households saw the fastest growth in homeownership leading up to the 2007 recession. The housing collapse ravaged the net worth of black and Hispanic households. "The implosion of the subprime lending market has left a scar on the finances of black Americans—one that not only has wiped out a generation of economic progress but could leave them at a financial disadvantage for decades," the Washington Post reported in 2012. The median net worth for Hispanic households declined by 66 percent between 2005 and 2009. That devastation was aptly described in a 2017 federal appeals court dissenting opinion as "wrecking ball benevolence" (quoting a 2004 Barron's op-ed I wrote). But almost none of the media coverage of the ex-president reminds people of the economic carnage of this Bush vote-buying binge.
It is possible to condemn police brutality and, even more importantly, the evil laws and judicial doctrines that enable police to tyrannize other Americans without any help from a demagogic ex-president who ravaged our rights, liberties, and peace. As I commented in an August 2003 USA Today op-ed, "Whether Bush and his appointees will be held personally liable for their [Iraq War] falsehoods is a grave test for American democracy." The revival of Bush's reputation vivifies how our political media system failed that test. As long as George Bush doesn't turn himself in for committing war crimes, all of his talk about "achieving justice for all" is rubbish.
Police Are Killing Fewer People In Big Cities, But More In Suburban And Rural America 
Six years after nationwide protests against police violence captured the country's attention, the recent killings of Breonna Taylor and George Floyd have put the issue of police violence back into national focus. Many are left asking what, if anything, has really changed?
In the absence of comprehensive federal data, databases such as Fatal Encounters, Mapping Police Violence and The Washington Post's Fatal Force project have tracked these killings year after year. And the data produced by these projects suggests that police, at least on a national level, are killing people as often now as they were before Michael Brown's death in Ferguson, Missouri, sparked widespread protests in 2014.
But these numbers don't tell the whole story. While the nationwide total of people killed by police nationwide has remained steady, the numbers have dropped significantly in America's largest cities, likely due to reforms to use-of-force policies implemented in the wake of high-profile deaths. Those decreases, however, have been offset by increases in police killings in more suburban and rural areas. It seems that solutions that can reduce police killings exist, in other words — the issue may be whether an area has the political will to enact them.
Indeed, looking only at the 30 most populous cities in the country,1 you see a substantial decrease in the number of people killed by police in recent years.
Police departments in America's 30 largest cities killed 30 percent fewer people in 2019 than in 2013, the year before the Ferguson protests began, according to the Mapping Police Violence database. Similarly, The Washington Post's database shows 17 percent fewer killings by these agencies in 2019 compared to 2015, the earliest year it tracks.
This data isn't perfect. The databases have slightly different methodologies for collecting and including police killings. And not everyone who's shot winds up dying, which means some people who are shot by police don't end up in one of these tracking projects. So to better test and understand the progress made in these big cities, I compiled an expanded database of all fatal and nonfatal police shootings by these departments, which expands our view of any changes in police behavior. Based on data published on police departments' websites and reported in local media databases, I found data covering police shootings in 2013-2019 for 23 of the 30 departments.2 An analysis of this data shows that police shootings in these departments dropped 37 percent from 2013 to 2019.
So why haven't these trends resulted in fewer people killed by police nationwide?
Examining the geography of police killings based on population density (a methodology developed by the real estate site Trulia, which was featured in a previous FiveThirtyEight article), police killings in suburban and rural areas appear to have increased during this time period — offsetting reductions in big cities.
This shift mirrors other trends within the criminal justice system. For example, since 2013, the number of people in jail per capita in urban areas has fallen by 22 percent, while rates have increased by 26 percent in rural areas, according to a study by the Vera Institute of Justice.
Similarly, arrest rates have declined in major cities at a faster pace than arrest rates in suburban and rural areas. Fewer arrests means fewer police encounters that could escalate to deadly force — police are substantially more likely to use force when making an arrest than in other interactions with the public — so falling arrest numbers could have a marked effect on police killings. Comparing police shootings data to the arrests data each department reported in the FBI Uniform Crime Report shows that departments that reported larger reductions in arrests from 2013-20183 also reported larger reductions in police shootings. Specifically, cities that reduced police shootings also made 35 percent fewer arrests in 2018 than 2013, compared to only a 4 percent drop in arrests in cities where police shootings increased or remained constant. These declining arrest rates have been attributed, in part, to reforms reducing enforcement of low-level offenses such as marijuana possession, disorderly conduct, loitering and prostitution.
Other reforms may be making a difference as well. Police shootings dropped in Philadelphia, San Francisco and Baltimore after the cities began reforming their use-of-force policies to match recommendations from the Department of Justice. In Chicago, police shootings dropped following protests over the shooting of Laquan McDonald and fell further after the city adopted more restrictive use-of-force policies and a new police accountability system. Denver also adopted more restrictive use-of-force policies in 2017, requiring de-escalation as an alternative to force. Los Angeles police shootings reportedly declined to the lowest number in 30 years in 2019, which officials attribute to new policies requiring officers to use de-escalation and alternatives to deadly force. Shootings dropped precipitously in Phoenix a year after public scrutiny led the department to evaluate its practices and implement changes to its use-of-force policy. And, in response to local protests over the 2012 killing of James Harper, Dallas implemented a range of policies to emphasize de-escalation, which local authorities credit with producing a sustained decline in police shootings.
This suggests that reforms may be working in the places that have implemented them. Many of these reforms were initiated in response to protests and public outcry over high-profile deaths at the hands of police — most notably in Baltimore following the police killing of Freddie Gray, in San Francisco following the killing of Mario Woods, and in Chicago and Dallas following the deaths of Laquan McDonald and James Harper. This suggests that protests and public pressure may have played an important role in producing policy changes that reduced police shootings, at least in some cities.
Of course, that's a double-edged finding. The absence of reforms in more suburban and rural cities and towns could explain why police killings haven't decreased in those areas — though it may not explain why they increased. There's still a lot we need to investigate about how policing is changing in rural and suburban areas. More Latinos are being killed by police in suburban areas than before, according to Mapping Police Violence data, while more white people are being killed in rural areas than before. Some of this might reflect demographic shifts (though killings have dropped in urban areas across all races) or other changes in the criminal justice system — for example, the share of the population that's in jail awaiting trial has been increasing in rural areas. Gun-related suicides and gun deaths in general appear to be increasing in rural areas, which might also be spilling over into policing practices and responses.
Still, if we know that certain policies reduce police violence, adapting those reforms to smaller cities, suburban and rural communities could be a pathway to reducing police violence in the U.S. overall. But that would take political willpower at the local level, and the country's growing urban-rural political divide might make that difficult.