#COVID-19 Regional Updates (03/26/20)
IATF OKs DA-endorsed food transport protocol
THE Inter-Agency Task Force (IATF) for the Management of Emerging Infectious Diseases has approved the food resiliency protocol endorsed by the Department of Agriculture (DA) for faster movement of major food commodities to Metro Manila and other parts of Luzon. Agriculture Secretary William D. Dar said the protocol covers free movement of agricultural personnel such as farmers, fishers, employees of food processing and manufacturing companies, and food supply chain logistics providers. "Iniiwasan po natin na mayroong mabubulok na mga gulay at iba pang produkto dahil sa mabagal na galaw ng mga ito. Maliban dito, iniiwasan nating tumaas ang presyo ng mga pagkain at pangunahing bilihin (We are avoiding food wastage due to slow movement of cargo transport. We are also preventing higher prices for basic food commodities)," Mr. Dar said. Interior and Local Government Secretary Eduardo M. Año also issued an advisory to local governments units (LGUs) on Wednesday to ensure the uninterrupted movement of goods. "All LGUs are advised to adhere to protocols prescribed by the IATF and concerned NGAs (national government agencies) in ensuring food availability and sufficiency during the COVID-19 crisis," Mr. Año said. — Revin Mikhael D. Ochave
BoC issues ECCs at airport
THE BUREAU of Immigration has started issuing emigration clearance certificates (ECC) at the Ninoy Aquino International Airport to minimize crowding at its office and physical contact between officers and holders of a temporary visitors visa. An ECC is issued to temporary visitors who stayed in the country for more than six months and holders of residence, work, or student visa who would like to leave the country "for good." "We have put this temporary measure in place to prevent the influx of foreign nationals leaving the country who will be applying to process their ECCs, essentially minimizing physical contact with the traveling public," Commissioner Jaime H. Morente said in a statement. Mr. Morente said they have also suspended biometrics capturing and issuance of special security registration numbers for processing of ECCs in observance of physical distancing. The commissioner assured that they still match the application with the derogatory database to ensure that the applicants have no pending obligation with the government. — Vann Marlo M. Villegas
Cebu airport closed to all inbound international flight passengers starting March 27
ALL INBOUND passengers on international flights will no longer be allowed to enter Cebu through the Mactan Cebu International Airport starting March 27 as the entire province is placed under enhanced community quarantine to mitigate the spread of the new coronavirus known as COVID-19. Governor Gwendolyn F. Garcia, in a streamed media briefing Thursday, said one of the reasons for the stricter protocols is to lessen the burden of monitoring newly-arrived people who are required to undergo a 14-day quarantine. Speaking in Cebuano, Ms. Garcia cited several local government units (LGU) around the province, such as Liloan, that are struggling with keeping watch of thousands of people who could potentially be carriers of the virus. Outbound passengers will still be allowed as well as the free flow of cargo movement in all airports and seaports. Inter-LGU transport services will also be restricted. The enhanced community quarantine will be in effect until further notice. — MSJ
BPOs in Davao City checked for compliance to DTI rules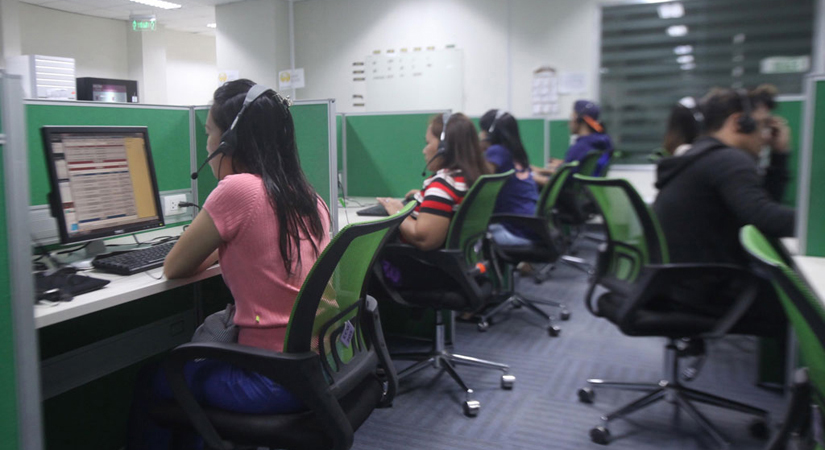 DAVAO CITY — Business process outsourcing (BPOs) companies here are being checked by a joint team from the city government and the Department of Trade and Industry (DTI) for compliance to guidelines on continued operations.
"You only have two options based on the DTI memo: skeletal workforce provided they observe social distancing and employees should have a temporary accommodation within the vicinity of the workplace with shuttle service; and work from home arrangement. If they cannot comply they must close down," Mayor Sara Duterte-Carpio said over the state-run Davao City Disaster Radio.
Under the national government's state of health emergency policy, BPOs are among the sectors allowed to continue operations.
DTI issued a memorandum circular outlining the rules that must be observed by outsourcing firms while the Davao City government also released localized guidelines last Monday.
Samuel R. Matunog, president of ICT-Davao, Inc., the industry council for the Davao region's information and communications technology sector, said they have reminded members not to waste this concession from the government.
"Government is providing a way to maintain the operation and for us not to lose our clients along the way and provide employment to our workers. To that extent, BPOs will be able to comply and we hope they will be able to follow guidelines," Mr. Matunog said in a telephone interview.
As of Monday, 26 BPOs have been inspected, according to the mayor.
One call center, Six Eleven, already has about 40% of its employees on home-based arrangement.
"(It's) those accounts that can be done from home. We lent them computers and all necessary hardware," Six Eleven owner Joji Ilagan-Bian said in a text message.
For those still reporting to the office, Ms. Bian said they have set up a foot bath and temperature check in all entrances, and social distancing is observed.
"We enforced that strictly by actually removing the chairs in between so the agents will be disciplined to observe social distancing while at work. We also have our floor sanitized every five days," she said.
Ms. Bian said accommodations and shuttle service are provided for those who require these.
"We understand that we have to be proactive now and really follow strict protocols from our government. We are also doing our utmost best to protect our people and to ensure their safety," she said. — Maya M. Padillo
Fauci Sees Tests in Week or So; Spain Deaths Slow: Virus Update
(Bloomberg) — The U.S. will have a large number of tests available within about a week, according to Anthony Fauci, director of the National Institute of Allergy and Infectious Diseases.Spain reported the fewest number of deaths since March 24, and the pace of new cases slowed in Germany. Italy is seeing a downward trend in infections and may extend its lockdown, while U.K. Prime Minister Boris Johnson is starting his recovery. Earlier, European Union finance ministers agreed on a $590 billion rescue package.U.S. Vice President Mike Pence and one of the country's top health officials said reopening the economy hinges partly on the government seeing major communities at the end of their outbreaks.Key DevelopmentsCoronavirus Tracker: Global Cases 1.62 Million; Deaths 97,200'No Sail Order' for cruise ships extended; Boeing may cut jobsPotential coronavirus drugs may cost as little as $1, study saysHong Kong edge over Singapore shows early social distance worksAmerica worships from the parking lot, online to avoid Covid-19White House weighs new panel to map post-virus economic recoverySingapore Reports 198 New Cases, None Imported (9:36 a.m. NY)The Ministry of Health confirmed an additional 198 cases of Covid-19, with none of them imported.Earlier, the government placed a fifth foreign worker dormitory under isolation to curb the spread of the coronavirus in the city-state. Health Minister Gan Kim Yong declared a foreign worker housing facility in east Singapore as an isolation area. Singapore started placing some of these dorms under 14-day quarantines from Sunday.The country reported its highest daily increase of infections on Thursday with more than 200 of the 287 new cases linked to foreign worker dormitories.NHS Reports 866 More Deaths in England (9:32 a.m. NY)A further 866 people who tested positive for the coronavirus have died in England, bringing the total of confirmed fatalities in hospitals to 8,114. The patients were aged between 27 and 100 years old, NHS England said in an emailed statement. The highest number of deaths was in London at 249, followed by 229 in the Midlands.Earlier, Neil Ferguson, an epidemiologist at Imperial College London who advises the U.K. government, told BBC Radio 4 that it will be "several more weeks" before scientists can draw conclusions about the rate of decline in cases and therefore recommend any lifting of lockdown measures. But he also said there's preliminary evidence the lockdown is working better than expected.Putin Plans $14 Billion Stimulus as Pressure Mounts (9:15 a.m. NY)Russian President Vladimir Putin's government plans to dramatically ramp up stimulus measures to prop up an economy that is lurching toward recession. The government will roll out about 1 trillion rubles ($13.5 billion) of new spending, according to two people familiar with the plans. Some of the money will go toward subsidizing salaries of workers idled by isolation measures to fight the coronavirus, the people said.Antibody Tests Could Be Available in a Week or So: Fauci (8:42 a.m. NY)The U.S. will "have a rather large number of tests that are available" within a week or so, Fauci said. Tests for coronavirus antibodies are being validated by the National Institutes of Health and the FDA to make sure they are consistent and accurate, he said on CNN.Portugal Reports Highest Daily Case Increase (8:31 a.m. NY)Portugal reported the highest daily increase in confirmed cases on Friday, while the number of patients in intensive-care units fell for a third day. There were 1,516 new cases, taking the total to 15,472, the government's Directorate-General of Health said on Friday. Total deaths increased to 435 from 409.Tokyo Games CEO Hints at Further Delay: AP (8:21 a.m. NY)The chief executive officer of the committee organizing the Tokyo Games said on Friday that he can't guarantee the postponed Olympics will be staged next year, the Associated Press reported. Japanese Prime Minister Shinzo Abe issued an emergency declaration this week to battle the virus, putting the country under restrictions after it seemingly had avoided the spread."I don't think anyone would be able to say if it is going to be possible to get it under control by next July or not," committee CEO Toshiro Muto said, speaking through an interpreter at a news conference conducted remotely.Johnson Beginning His Recovery (7:50 a.m. NY)U.K. Prime Minister Boris Johnson "is at the beginning of his recovery and he will be taking the advice of his medical team," spokesman James Slack told reporters. "The prime minister is back on the ward and continuing his recovery, which is at an early stage, he continues to be in very good spirits" after being moved from the intensive care unit, Slack said.Trump Wants Next Aid Round Exclusively for Small Businesses (7:32 a.m. NY)The aid package in Congress should be limited to a funding boost for small businesses to help them keep their employees, "with no additions," U.S. President Donald Trump said in a tweet. "We should have a big Infrastructure Phase Four with Payroll Tax Cuts & more," he said.Trump earlier said he has asked his agriculture secretary to "use all of the funds and authorities at his disposal," to aid U.S. farmers, whose financial peril has worsened in the coronavirus pandemic.Democrats are holding firm to their demand that a $250 billion economic stimulus for small businesses must include more funds for hospitals, states and localities struggling with the pandemic, leaving congressional leaders at a standoff for now.UN Envoy Warns Libya Escalation is Straining Response (7:13 a.m. NY)An escalation in Libya's year-long war is straining the North African country's ability to deal with the coronavirus pandemic, the acting United Nations envoy said. "It's incredibly reckless. It's inhumane, it's stretching the capacity of local authorities and the health infrastructure that is already decimated," Stephanie Williams told Bloomberg in an interview on Thursday.Malaria Drug Hype Reels in Macron (7 a.m. NY)France's Emmanuel Macron unexpectedly flew to Marseille Thursday and spent more than three hours meeting with Didier Raoult, the researcher whose work has propelled a medicine called hydroxychloroquine from fringe to famous in just three weeks. Raoult's unconventional studies won over U.S. President Donald Trump, who suggested he'd be willing to take the medicine himself.Doctors say the hype has gotten ahead of the science, though many have tried hydroxychloroquine on patients because they don't have anything better.German Hospitals May Face Drug Shortages (7 a.m. NY)German hospitals are concerned that they will soon face a shortage of drugs needed to treat Covid-19 patients who must be ventilated, Der Spiegel reported, citing an Augsburg hospital pharmacist.Earlier this week, the European Union's most senior health official appealed to the pharmaceutical industry to boost production of critical medicines needed to treat the symptoms of the coronavirus, warning that several member states may soon run out.Downtrend in Italy Cases (6:40 a.m. NY)The downtrend of new coronavirus cases in Italy is confirmed, Silvio Brusaferro, head of the country's ISS public health institute, said on Friday. "The curve clearly shows a descending pattern and this is a good sign, but we cannot lower our guard," he said.Prime Minister Giuseppe Conte is leaning toward extending the country's lockdown to early May, with only minimal concessions to business demands to allow more companies to resume normal operations.France Confirms 50 Cases on Aircraft Carrier (6:39 a.m. NY)The French Defense Ministry said 50 of the aircraft carrier Charles-de-Gaulle's crew members have been infected. Three have been evacuated to a hospital in Toulon, south of France, while a medical team was transported on board to conduct a probe. The ship has shortened its mission and is heading toward its base in Toulon in the Mediterranean sea while sanitary processes aboard have been reinforced with all crew members now having to wear a mask.Potential Coronavirus Drugs May Cost as Little as $1 (6:38 a.m. NY)Potential coronavirus treatments could be made for as little as $1, well below their typical price tags in pharmacies, according to an analysis of nine drugs in clinical trials. If their promise is confirmed in ongoing studies, medicines for Covid-19, including hydroxychloroquine, which President Donald Trump touted as a treatment, and Gilead Sciences Inc.'s remdesivir could be manufactured from $1 to $29 a course, a study published Friday in the Journal of Virus Eradication found.G-20 Economy Chiefs to Hold Virtual Press Conference (6:15 a.m. NY)Finance ministers and central bank governors from the Group of 20 will hold a virtual meeting on Wednesday, followed by a virtual press conference, according to a statement from Saudi Arabia, the host country.Moscow Hospitals Stretched to Limit (6 a.m. NY)Moscow clinics and ambulances are being stretched to the limit as the number of hospitalizations from coronavirus doubled over the last several days, Interfax reported, citing Deputy Mayor Anastasia Rakova."I'll tell you one thing for sure: we haven't reached the peak yet," Moscow Mayor Sergei Sobyanin said in a interview with state-run RIA Novosti. "We are still in the foothills of the mountain, and not even half way up." About two-thirds of Russia's 11,917 coronavirus infections are in Moscow, which saw cases jump 17% overnight.Sobyanin, who has pushed for unpopular measures to slow the epidemic's spread, has consistently struck a more pessimistic tone than many in the government. On Tuesday, a senior health official said Russia expects the number of cases to peak within two weeks.Belgian Deaths Top 3,000 (5:50 p.m. HK)The pandemic has so far claimed 3,019 lives in Belgium, with a record 325 deaths reported in the past 24 hours and an additional 171 in Flemish nursing homes between March 18 and March 31 that were previously unreported.The numbers include deaths which are highly likely linked to a coronavirus infection without being confirmed by a diagnostic test. The number of patients currently being treated in hospitals rose by 20 to 5,610 and 1,278 patients are in intensive care, a decline of seven from the prior day. Confirmed cases rose by 6.7% to 26,667.Iran New Cases, Fatalities Decline (5:44 p.m. HK)Iran reported 1,972 new cases and 122 more deaths in the past day, bringing the country's total to 68,192 cases and 4,232 fatalities.Spain Deaths Slow to Lowest Since March 24 (5:30 p.m. HK)Spain reported the fewest number of new coronavirus deaths in more than two weeks on Friday, yet remains one of the epicenters of the crisis in Europe. There were 4,576 new infections in the 24 hours through Friday, pushing total cases to more than 157,000, according to Health Ministry data. The death toll rose by 605 to 15,843, the smallest increase since March 24.Tokyo's Shutdown Plan Leaves Pubs Open (4:33 p.m. HK)Pachinko parlors, game centers and internet cafes in the Japanese capital will be asked to close, but "izakaya" pubs providing food and drink will be able to operate, albeit only until 8 p.m. Confirmed cases in the capital tripled in 10 days to top 1,500, raising worries Tokyo could be the next global center to see an overwhelming surge in infections.Earlier, Masayoshi Son, founder of SoftBank Group Corp., took to Twitter to blast the Japanese government's response to the outbreak. Toyota Motor Corp. President Akio Toyoda said the country's auto industry is banding together to avoid "fatal injury" as the pandemic slams demand and stymies production.Malaysia Extends Lockdown Until April 28 (4:30 p.m. HK)The nationwide restrictions on movement will be in place until April 28, Prime Minister Muhyiddin Yassin said Friday. While the spread of the disease has stabilized, efforts are still needed to contain the virus, he said.Malaysia's lockdown has been in place since March 18 and was previously set to end April 14. At first, people were free to travel across the city even as schools and most shops were ordered to shut. The government added new restrictions along the way, including imposing a curfew as well as limiting people's travel to within 10 kilometers (6 miles) of their residence.The country still has the largest number of infections in Southeast Asia even as daily increases have slowed. There were 118 new cases on Friday, after Thursday saw the smallest increase since March 24, with 109 cases.Deadly Virus Fails to Trigger World Bank's Pandemic Bond (4:22 p.m. HK)The outbreak, deemed a pandemic by the World Health Organization, isn't enough to trigger payouts from the World Bank's pandemic bonds, an independent arbiter decided on Thursday.AIR Worldwide Corp. published its so-called eligible event report, determining that the outbreak hadn't met the "exponential growth rate" criterion in eligible countries, the World Bank said in a statement April 9.Renault Seeks Billions in State-Backed Loans (3:43 p.m. HK)Renault SA Chairman Jean-Dominique Senard said the French carmaker is seeking as much as 5 billion euros ($5.5 billion) in government-backed loans to weather the pandemic, while dismissing the possibility of nationalization."We are working on the idea of bank loans that would be guaranteed by the state and are destined to be reimbursed," Senard said Friday on RTL radio. "This will help us get past this bad period." He brushed aside the possibility of the state retaking control of the troubled carmaker.Austrian Study Shows More People Infected Than Thought (3:40 p.m. HK)A study on a random sample of 1,544 people showed that about three times as many Austrians were infected with the novel coronavirus than had officially tested positive, according to a presentation by Science Minister Heinz Fassmann.According to the study, it is likely that 28,500 people were acutely infected with the virus at the time of the tests around April 4-5. That's 0.32% of the entire population and compares with known cases of about 8,500 in that period. The margin of error was reported to be 0.12% to 0.76%.Fassmann said that the tests showed that Austria was still far away from herd immunity, supporting the government's strategy to contain the virus by social distancing.Kering's Pinault Waives 2020 Bonus (3:39 p.m. HK)Kering CEO Francois-Henri Pinault also said he's cutting the fixed portion of his salary by 25% from April 1 until end of 2020.Taiwan Accuses Chinese Trolls of Fomenting WHO Spat (2:35 p.m. HK)Chinese internet users are claiming to be Taiwanese and apologizing for racist attacks against WHO Director-General Tedros Adhanom Ghebreyesus, Taiwan's Investigation Bureau said at a briefing on Friday. The fake posts are easily identifiable as they all use identical wording, said the bureau's head of cybersecurity Chang Yu-jen.Pakistan Reopens Some Factories (2:30 p.m. HK)Pakistan is reopening some factories amid a national lockdown as the south Asian nation expects its exports will decline by 50% in the next two months. Companies with export orders will start working again with precautionary measures including calling in only essential employees.Philippines Bars Doctors From Going Abroad (2:18 p.m. HK)The Philippines has barred doctors, nurses and other health workers from leaving for overseas work as the nation seeks to stem the coronavirus outbreak. The temporary halt follows an order of the Philippine Overseas Employment Administration on April 2, immigration spokeswoman Dana Sandoval said in mobile-phone message. It will last for the duration of the nation's state of emergency, according to the employment administration order.Germany New Cases, Deaths Decline (2:10 p.m. HK)German coronavirus cases rose to 118,235 as of 8 a.m. CET on Friday, up by 4939. That is a smaller increase than the 5,633 new infections reported on Thursday. Fatalities increased by 258 to 2,607, down from 333 reported a day earlier. So far, 52,407 have recovered.U.K. Trial of Virus Treatments Expands at Record Pace (2 p.m. HK)A U.K. clinical trial of potential treatments for Covid-19 has become the fastest-growing in history after enrolling more than 2,700 patients, the Financial Times reported, citing the head of the project.Thousands more are likely to be added in the next several weeks, the newspaper said, citing Peter Horby, professor of infectious diseases at the University of Oxford. The three treatments being evaluated are a lopinavir-ritonavir combination used to combat HIV, the steroid dexamethasone and hydroxychloroquine, which is used against malaria, the FT said.Boeing Considers Potential 10% Cut to Workforce, WSJ Reports (10:34 a.m. HK)Boeing is considering a plan that would cut about 10% of its workforce of about 160,000 people through buyouts and involuntary layoffs, the Wall Street Journal reported, citing unidentified people familiar with the matter. The cuts are expected to largely be in the commercial arm. The company plans to shrink workforce through buyouts and attrition before involuntary layoffs, the paper said.Pence, CDC Head Lay Out Virus Criteria to Reopen U.S. Economy (09:36 a.m. HK)Vice President Mike Pence and one of the top U.S. health officials said reopening the country's economy hinges on the government seeing major communities at the end of their coronavirus outbreaks and developing treatments for the disease, among other hurdles.For more articles like this, please visit us at bloomberg.comSubscribe now to stay ahead with the most trusted business news source.©2020 Bloomberg L.P.
Biden turns to his biggest decision: Choosing a running mate who can take over 'on a moment's notice'
Joe Biden faces the most important decision of his five-decade political career: choosing a vice president.
The presumptive Democratic presidential nominee expects to name a committee to vet potential running mates next week, according to three Democrats with knowledge of the situation who spoke on the condition of anonymity to discuss internal plans. Biden, a former vice president himself, has committed to picking a woman and told donors this week that his team has discussed naming a choice well ahead of the Democratic convention in August.
Selecting a running mate is always critical for a presidential candidate. But it's an especially urgent calculation for the 77-year-old Biden, who, if he wins, would be the oldest American president in history. The decision carries added weight amid the coronavirus pandemic, which, beyond its death toll, threatens to devastate the world economy and define a prospective Biden administration.
"We're still going to be in crisis or recovery, and you want a vice president who can manage that," said Karen Finney, a Democratic strategist who worked for Hillary Clinton's 2016 campaign. "This seems like a much more important decision than usual."
Biden faces pressure on multiple fronts. He must consider the demands of his racially, ethnically and ideologically diverse party, especially the black women who propelled his nomination. He must balance those concerns with his stated desire for a governing partner who is "simpatico" and "ready to be president on a moment's notice."
The campaign's general counsel, Dana Remus, and former White House counsel Bob Bauer are managing the early process, gathering information about prospects. Democrats close to several presumed contenders say they've not yet been contacted.
Biden has offered plenty of hints about his thinking. He's said he can easily name 12 to 15 women who meet his criteria, but would likely seriously consider anywhere from six to 11 candidates. He's given no indication of whether he'll look to the Senate, where he spent six terms, to governors or elsewhere.
Some Biden advisers said the campaign has heard from many Democrats who want a woman of color. Black women helped rescue Biden's campaign after an embarrassing start in predominately white Iowa and New Hampshire. Yet there's no firm agreement within the campaign that Biden must go that route.
"The best thing you can do for all segments of the population is to win," said Biden's campaign co-chairman Cedric Richmond, a Louisiana congressman and former chairman of the Congressional Black Caucus. "He has shown a commitment to diversity from the beginning. But this has to be based on, like the VP says, who he trusts."
Biden has regularly praised California Sen. Kamala Harris, a former rival who endorsed him in March and campaigned for him. When she introduced him at a fundraiser this week, Biden did little to tamp down speculation about her prospects.
"I'm coming for you, kid," he said.
He's also spoken positively of Stacey Abrams, who narrowly missed becoming the first African American female governor in U.S. history when she lost the 2018 Georgia governor's race.
Yet those two women highlight Biden's tightrope. At 55, Harris is talented and popular with Democratic donors, a valuable commodity for a nominee with a fundraising weakness. But she's also a former prosecutor who faces the same skepticism among progressives as Biden. Meanwhile, her home state is already firmly in the Democratic column and could make her an easy target for Republicans eager to blast the party as too liberal.
Abrams, 46, is a star for many younger Democrats, a group Biden struggled to win over in the primary. And she could help turn Georgia into a genuine swing state. But the highest post she's ever held is minority leader in the Georgia House of Representatives, a possible vulnerability in a time of crisis.
Paul Maslin, a Democratic pollster based in the battleground state of Wisconsin, said it will be impossible for Biden to choose someone who will please everyone.
"You can ask too much of a vice president pick to bridge everything — ideology, generational gap, gender, race, experience," he said. "There's going to be something wrong with every one of these choices."
New Mexico Gov. Michelle Lujan Grisham is Democrats' only nonwhite female governor. Former Senate Majority Leader Harry Reid of Nevada has reportedly vouched for his state's Latina senator, Catherine Cortez Masto. Illinois Sen. Tammy Duckworth is a veteran who lost limbs in combat. She's of Thai heritage and has notably jousted with President Donald Trump. And Rep. Val Demings, a black congresswoman from the swing state of Florida, helped lead the House impeachment efforts against Trump.
Yet all four women are relative unknowns nationally.
Biden could go beyond Washington to Gov. Gretchen Whitmer of Michigan, one of the three Great Lakes states that delivered Trump his Electoral College majority in 2016. She's won plaudits during the pandemic and meshes with Biden's pragmatic sensibilities, winning her post in 2018 with promises to "fix the damn roads."
But it's not clear that a 48-year-old white woman from the Midwest brings Biden advantages he doesn't already have or can't find elsewhere.
It's a similar conundrum for others, including Minnesota Sen. Amy Klobuchar, a former rival who fits seamlessly with Biden's politics. Massachusetts Sen. Elizabeth Warren, meanwhile, could offer a bridge to progressives, but several Democrats said her age, 70, is a bigger liability than potential policy differences with Biden.
Perhaps helping Biden, several African American advocates and progressive leaders said the Democratic ticket's policies and empathetic appeals are what's most important.
Black voters "have to trust the messenger," said Adrianne Shropshire, executive director of Black PAC, and "a black woman could stand up and have moral authority to lead on those big issues facing the country right now." But, Shropshire continued, that doesn't mean a white, Asian or Latina vice presidential nominee could not "speak to the systemic issues, the structural issues that allow for inequalities to persist."
—Are Americans too dependent on political polls?
—Joe Biden's health care plan for the coronavirus and beyond
—The Supreme Court faces pressure to work online as its case backlog grows
—COVID-19 upends learning and cancels spring tests for millions of U.S. students
—Listen to Leadership Next, a Fortune podcast examining the evolving role of CEO
—WATCH: As unemployment skyrockets, the labor market's future looks grim
Get up to speed on your morning commute with Fortune's CEO Daily newsletter.
IMF chief says pandemic will unleash worst recession since Great Depression
WASHINGTON – The pandemic sweeping the world will turn global economic growth "sharply negative" in 2020, triggering the worst fallout since the 1930s Great Depression, with only a partial recovery seen in 2021, the head of the International Monetary Fund said.
IMF Managing Director Kristalina Georgieva painted a far bleaker picture of the social and economic impact of the new coronavirus than even a few weeks ago, noting governments had already undertaken fiscal stimulus measures of $8 trillion, but more would likely be needed.
She said the crisis would hit emerging markets and developing countries hardest of all, which would then need hundreds of billions of dollars in foreign aid.
"Just three months ago, we expected positive per capita income growth in over 160 of our member countries in 2020," she said on Thursday in remarks prepared for delivery ahead of next week's IMF and World Bank Spring Meetings.
"Today, that number has been turned on its head: we now project that over 170 countries will experience negative per capita income growth this year."
If the pandemic faded in the second half of the year, the IMF expected a partial recovery in 2021, Georgieva said, but she warned the situation could also get worse.
"I stress there is tremendous uncertainty about the outlook: it could get worse depending on many variable factors, including the duration of the pandemic," she said.
The IMF, which has 189 member countries, will release its detailed World Economic Outlook forecasts on Tuesday.
The novel coronavirus that emerged in China in December has raced around the globe, infecting 1.41 million people and killing 83,400, according to a Reuters tally.
Georgieva said the pandemic was hitting both rich and poor countries, but many in Africa, Asia and Latin America were at higher risk because they had weaker health systems. They were also unable to implement social distancing in their densely populated cities and poverty-stricken slums.
She said investors had already removed some $100 billion in capital from those economies, more than three times the outflow seen during the same period of the global financial crisis.
With commodity prices down sharply, emerging market and developing countries would need trillions of dollars to fight the pandemic and rescue their economies, she said.
"They urgently need help," she said, estimating hundreds of billions of dollars would have to be pumped in from outside sources since those governments could only cover a portion of the costs on their own, and many already had high debts.
Georgieva said it was encouraging that all governments had sprung into action, enacting some $8 trillion in fiscal measures and massive monetary measures.
To ensure a future recovery, Georgieva called for continued efforts to contain the virus and support health systems, while averting export controls that could slow the flow of vital medical equipment and food.
"The actions we take now will determine the speed and strength of our recovery," she said.
It was critical to provide affected people and companies with "large, timely and targeted" measures such as wage subsidies, extended unemployment benefits and adjusted loan terms, while reducing stress to the financial system.
Coordinated fiscal stimulus was critical, and monetary policy should remain accommodative, where inflation remained low.
"Those with greater resources and policy space will need to do more; others, with limited resources will need more support," she said.
The IMF was created for times like these, and stood ready to deploy its $1 trillion in lending capacity, Georgieva said.
The Fund's executive board had approved doubling its emergency funding to $100 billion to meet the requests of over 90 countries, and staff were racing to process those requests.
The IMF was also looking at ways to provide additional liquidity support, including through creation of a new short-term liquidity line, and solutions that would allow lending even to countries whose debt was unsustainable, she said.
The IMF was also looking to increase its Catastrophe Relief and Containment Fund, which provides grants for the poorest countries to cover IMF debt service payments, to $1.4 billion from around $200 million, she said.
To further aid the poorest economies, the Fund and the World Bank were urging creditors such as China and other countries to temporarily stop collecting debt payments on their bilateral loans. — Reuters