Growing A Side-Hustle Into A Global Business with Lorraine Dallmeier
This week I was joined on the She Means Business podcast by one of our amazing members from the Members' Club, Lorraine Dallmeier.
As soon as she returned to work after having a baby, Lorraine soon realised that she was being held firmly back by the glass ceiling.
She had been dabbling with creating a side-income for herself, so when the opportunity came up to take over the online course company she had been enrolled in, Lorraine took the plunge. She had seen it simply as a side-hustle, but it turned into so much more than that.
Join Lorraine and over 5000 other incredible women in business over in our Members' Club here >>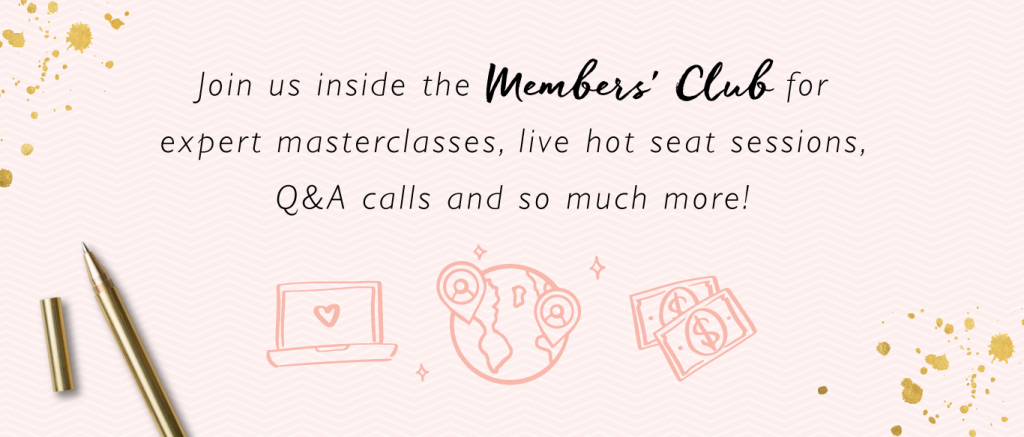 A few years and a lot of hard work later, Lorraine has grown her business, Formula Botanica, into a global success, with almost 9,000 students across 161 countries.
Formula Botanica is an online training school for people who want to learn how to make their own organic skincare or haircare and how to then turn those products into a viable and profitable indie beauty brand.
In this podcast, Lorraine and I discuss:
How being held back at work after having a baby pushed her to start her own business.
Her journey from being a student in her own online education business to buying and taking over the company.
All the changes, updates and processes she had to put in place to revive and grow the business, the steps she took and the things she focused on.
The successful launch that helped her realise she could quit her job and work on the business full-time.
How she used customer feedback to change and improve the business.
How she juggled growing the business and raising two children and the lifestyle she has managed to create for her family.
The struggles she faced with getting herself and her business out there and what she did to overcome her fear of being visible.
Winning The Digital Achiever of the Year Award from Google among beauty industry giants.
How she got started with video and how her skills have improved over time.
The kind of success her students have achieved.
All the exciting plans she has ahead of her this year.
Lorraine's top tips for success are:
Don't be scared of being visible – just do it and keep doing it until you feel comfortable with it. It will get easier the more you try!
Be really consistent in whatever you do. Be realistic in what you commit to doing and then keep showing up!
Find what drives you and gives you your passion as that's what will get you through the hard times.
Find out more or connect with Lorraine.
Website: https://formulabotanica.com
Facebook page: https://www.facebook.com/FormulaBotanica/
Join Lorraine and over 5000 other incredible women in business over in our Members' Club here >>
The post Growing A Side-Hustle Into A Global Business with Lorraine Dallmeier appeared first on Female Entrepreneur Association.
How I Made $8794.50 By Sending Out 1300 Postcards – Marketing Experiment
In this experiment I'm sending out 1000 post cards to homes recently listed for sale in my area in attempt to gain more sales for my moving company. I will cover design, my tactics, the total expense, the results.
​
Flyer Design
I have done a slight redesign to my flyer. I did away with discounts and replaced the spot that used to be a coupons with a smiling face. In services I find smiling faces and a friendly look matter a whole lot more than technical details. You can't touch or hold a service like you can a product but you can "feel" its impression.
​
Why I Like Postcard Flyers
They are cheaper to send than regular mail. Post card stamps are currently $0.35. This really adds up as you send hundreds of flyers out.
It's an easy activity for admin staff to do during downtime.
​
Total Cost
After sending out the initial 1000 post cards I noticed that there were still a few hundred houses left in the area so I decided to hit them all, resulting in 1300 total flyers sent. This is the total expense.
Postage $455 (1300 at $0.35 a piece)
Labor $120
Flyers $39 ($0.03 a piece)
Total $614
​
Results
We sent the flyers and waited about 6 weeks to tabulate the results. A certain number of flyers are always returned to sender. In this case 300 of the 1300 flyers were returned due to vacancies or address issues.
Of the 1000 that were actually sent we ended up booking 6 jobs. That doesn't sound like a whole lot but the caveat here is we only sent flyers to homes for sale for over $400,000 so each job is of significant size.
This is proven with the first job we landed for a whopping $4600. This single job paid for every single flyer PLUS some.
The total revenue from sending 1300 flyers was $8794.50!
At a 20% year end profit margin that comes out to $1758.90 in net profit on $614 in expense. A 286% return on investment!
​
What I Attribute the Results To
The flyer design. On the first in-home estimate we did the customer said "we just loved your flyer" and when I heard that I knew this would work well
We have great reviews online. I don't believe our results would be nearly as impressive if we didn't already have a great online presence.
My office staff is trained and relentless. I have 3 salespeople who book jobs for me and they are very good at closing sales and following up with customers. They don't leave anything on the table.
​
The best marketing plan is only as good as the company behind it. The best form of advertisement for your service is simply being a wonderfully ran service.
​
To watch more on this or check out the flyer design elements click this link: https://youtu.be/qEBcnmnHPRs
submitted by /u/mmaher13
[comments]



Source link
Social Media Trends to Watch in 2020 by @DONNAAMOS
by Donna Amos | Featured Contributor 
There are trends that are occurring in social media that business owners can take advantage of to help them grow their businesses. As changes take place on platforms, it may benefit business owners to stay current on the changes so that you don't use outdated practices that no longer work on social networking sites.
Growth of Tik Tok
This site has gained popularity as a social networking site for business owners. Tik Tok is a social networking site that has become very popular with Generation Z.
Individuals who are micro-influencers have gained popularity on this social networking video app. Influencers are aware that using the site to promote video can benefit small businesses because it's not geared towards traditional sales. The lack of hard sales on the site is popular with users. By connecting with followers through good video content, it will help small businesses expand and provide opportunities to sell products. It's expected that one of the social media trends for 2020 will include the expansion of Tik Tok to allow platform users to shop online like other social networking channels.
Increase in social shopping
Entrepreneurs can benefit from using social shopping on their company sites because of the growth of e-commerce. During the past decade, social networking sites have contributed to the growth of e-commerce. It's now the norm for social shopping to occur on social networking channels. Customers enjoy connecting with brands and building relationships with them on social networking sites. Consumers enjoy having access to brands without leaving platforms to purchase products and services. Entrepreneurs can look to expand social shopping on their social channels.
The rise of small business owners as influencers
Small businesses can benefit from the increase in popularity that they have experienced as influencers. Users on various social platforms desire to connect with small businesses rather than huge companies. The ability to connect with an audience on a small-scale is something that small business owners can take advantage of because they have a unique following.
The use of social media to develop consumer confidence
Small business owners can benefit from using their social platforms to develop a relationship with followers that are based on trust. Followers can develop relationships based on the quality of content that is promoted that informs followers about the value that a business brings into the market. By having real conversations with followers and connecting on a human level, companies establish relationships on a much richer level because of the connection that is made by showing the company as a place where real people work.
Use of LinkedIn
LinkedIn is a powerful social platform because the site is geared toward business professionals. Business owners can reach decision-makers on LinkedIn to grow their businesses. If a company has products and services to sell and its budget is limited, being active on the platform can help generate sales and gain the attention of decision-makers.
Fewer boundaries between personal and professional lives
Social media trends include witnessing fewer boundaries between the professional and personal lives of business owners. Small business owners can grow their online audience by interacting with followers and showing them aspects of the personal and professional lives. Sharing unique content that shows followers portions of the daily lives allows followers to connect with business owners on a genuine level.
An increase in the number of brief posts
Businesses are posting new content that is online for a short amount of time, and this will continue to increase in 2020. These posts occur on sites such as Instagram, Facebook, and Tikk Tok. The time-limited posts are primarily videos and allow businesses to share content that may be more personal and allows business owners to share special offers of their products and services.
Increase focus on customer interaction
Brands are working to focus more on customer responses in 2020. By responding to customer service issues that arise, businesses can learn what is necessary to meet the needs of their customers. Small businesses can gain attention from their followers by working to connect with followers and meeting the needs they address about the products and services they desire to purchase.
Expansion of the use of storytelling
Companies have increased their use of storytelling on social media sites using different types of media such as video and written content. By sharing what a company represents, it allows businesses to reach followers and potential customers. Business owners can engage with their audience telling stories on different social platforms such as Facebook, Twitter, Instagram, and YouTube.
Increase in video content
There is an increase expected in the amount of video content that brands produce in 2020 on social networking sites. Small businesses can increase their number of customers and followers by producing content that is appealing to followers. Business owners can determine which platforms work best for their followers and provide content that is based on what works best for their audience.
More social messenger apps
Small business owners can benefit from using social messenger apps to connect with their customers. The top messenger apps are used primarily by millennials. The top messenger apps include the following.
• Messenger
• WeChat
• Viber
There are over 2 billion messages sent on Messenger each month from businesses. The app is on over 1.2 billion phones. The potential exists for greater customer experiences to occur because of the growth of the social messaging service. Messaging apps that were developed using artificial intelligence have improved customer engagement. It's expected that the customer experience will continue to improve because of the unique way that companies can improve the artificial intelligence they use to have more unique engagement with customers using social messaging services.
The use of messenger apps outranks the top social networking sites which include the following.
• Instagram
• Facebook
• Twitter
• LinkedIn
Small business owners can work to expand their businesses by using social networking sites and social messaging services. By working to create personalized experiences with customers and potential customers, businesses can expand and provide their customers with good experiences. Having an awareness of what their customers desire will help small businesses grow and effectively market to customers of all ages.
The post Social Media Trends to Watch in 2020 by @DONNAAMOS appeared first on She Owns It.
Hard Decisions Require Empathy
In the past two weeks we have entered perhaps to most surreal experience in any of our lives. I think intuitively many of us believe it may be a more lasting impact than just "60 days at home," which is why we almost have a nervous laughter when we call (Zoom!) somebody we haven't spoken to since before the crisis and acknowledge how bizarre we all feel right now. I have seen the insides of more people's homes and apartments than I probably ever have as we're invited into this intimate world of videoconferencing.
Just two weeks into it we are just starting to come to grips with what will no doubt wreak big financial, emotional and obviously dire health consequences and suffering for many.
In our business lives we're having to deal with decisions that could have lasting impacts on our companies without any compass to guide us in the direction we're heading . It feels a bit like choosing a fork in the road amidst dense fog and with nobody to guide us what to do.
In our personal lives we're having to change our routines and figure out how to remain productive — often with other people sharing our homes who have their own ideas of how to use our collective space and time. What do we eat? Where do we shop? What is safe? What are my parents doing — are they being safe? Can I plan a Winter vacation or attend a wedding or travel anywhere again this year?
Who the fuck knows.
But you should know that everybody is in exactly this mind space. That's what makes this so surreal. I find myself struggling to fully relax at bedtime, with my mind spinning about the world that lies ahead and the infinite amount of weekly decisions I'm having to process. I imagine many of you are, too. It goes without saying that if you find yourself in a really negative headspace PLEASE reach out to any trusted mentor, friend or family member. I promise we'll all get through this some way and there's always tomorrow, whatever that holds. I have lost friends who didn't see the light at the end of the tunnel in past economic hardships.
For founders of startups or for executives tasked with making decisions with all of this incomplete information, the moment calls for decisiveness on every front:
how to deal with customers,
what to do about expenses,
what to tell board members / investors,
what happens with fund raising,
do I need to lay off employees or deal with a furlough,
do I qualify for government assistance?
If your head isn't spinning you haven't fully grasped the severity of the situation.
Each of these decisions could be a blog post in its own right but for today I want to avoid tactical advice and offer something more about your temperament as you wade through complexity and deal with decisions that affects the lives and the livelihoods of others. To say it simply ….
Show empathy.
I know that I shouldn't have to say that, as it seems obvious. But in the past two weeks I've heard many cavalier comments about: cuts, renegotiations, changing terms, "the market environment dictates this" or "never waste a good crisis" or "you just need to cut 25% of your staff" because it seems everybody is doing it. I know that many people are just short-handing given stressful times but do try and pause and think about your actions & words and how they will affect others (or whether they're the right actions in the first place).
In the words of my friend and a CEO with whom I work,
"Yeah, I know I need to make some cuts because our demand has changed, but I want to do this with a scalpel and not with an axe."
He produced a very detailed analysis of his customer base and which would be affected. He enacted a program to proactively offer payment holidays to customers in obviously "hit" industries like travel & entertainment. He showed industries where demand was likely to hold strong and he outlined a case for how he could protect as many jobs as possible. He asked for a few more weeks to gather market signals before enacting change. It was the thoughtful response of an empathetic leader.
The driver of your decisions must be logical, rational and economically sound. You need to consider:
Has demand for my product fundamentally changed in ways that will persist?
How long is my cash runway if this demand doesn't recover for the foreseeable future?
Is there a viable path to raising money / strengthening my balance sheet as one solution?
If not, how much must a reduce costs to give our company enough runway to weather this current storm?
The inevitable decisions may mean you shed employees, suppliers, offices, bonuses, contractors — you name it. But here is where empathy becomes most critical. It is very easy to want to insulate yourself from feeling the extreme emotions that will come from the loss of a job or for a supplier of yours with the loss of an important customer. Don't insulate yourself — handle things personally and be a leader that is present in times of crisis. And if you have to make these hard decisions, empathy goes a long way.
If you have to let employees go or have to furlough them do it 1–1 or have senior members of your staff divide up employees and do each one 1–1 (or 2–1 if you need to have HR in the room (or "in the Zoom") but my point is that each affected employee deserves a private meeting. And they deserve compassion because whatever stress level you are under, your actions are going to make their stress levels just as bad if not worse.
They don't need to hear you say in an antiseptic way, "Look, we have no choice. It's your job or we all run out of cash." That might be true, but it lacks empathy. It should be something more like, "Sadly we have made a decision that your job is being made redundant. I'm very sorry that this will affect you and I don't take lightly what a burden it must be to you." Of course that doesn't change the outcome, but it's the humane thing to say.
You can insert you own wording or phrasing but the point is to acknowledge the pain, the cost, the consequence of your actions — even if you had no choice. Let the other person speak. Let them emote. It might be that they have to cry or they might have to yell at you — whatever. This isn't the time to argue back that you had no choice or that "they weren't really pulling their weight anyways" or whatever else is playing in your head. This is the moment to let them have their say. It doesn't change anything. This is a moment to be calm, let others vent and politely move on.
Empathy can also be financial. You need to make sure that you're making sound economic decisions for your company so I'm not advocating being cavalier about money because ultimately if you run out of cash then everybody loses his or her job and every investor loses his or her money. But at the margin if there are things you can do to be compassionate about severance or medical benefits or helping people navigate government assistance — you should do all that you can. If your company can help with job search, or resume writing or providing references or calling other companies to tell them you did redundancies — you should do it.
The month of March, 2020 has been hard on our country and on the world and the sad reality is that this is still likely just the first act in a long series of heart-breaking stories and circumstances around the world. In times like these your friends, family, associates, colleagues, employees and business partners need you more than ever.
If we know each other personally and you think I can help you please reach out. I promise I will make time.
Photo by Annie Spratt on Unsplash
---
Hard Decisions Require Empathy was originally published in Both Sides of the Table on Medium, where people are continuing the conversation by highlighting and responding to this story.