How to master the miracle mindset: Stop feeling stuck and start moving forward in four easy steps

One of the biggest struggles that keeps so many people from building the successful business they dream of has nothing to do with strategy or marketing.
Success depends hugely on the mindset, beliefs and rituals we live by on a daily basis, that either lead us closer or further away from our dreams.
It's as simple as that: the answer to going from struggling to success story lives inside each and every one of us!
For such a long time I was that person and it was so frustrating feeling so stuck.
One day I decided that what I really needed to have wasn't another three-month trip around Australia in search of an epiphany, but a mindset shift, and when I did this, everything started to change.
If you've been struggling to get into a mindset conditioned for success, in this post we'll be going through four simple steps to help you get off the couch and on to taking the action that will move you forward.
These strategies have really helped me shift my mindset and have been crucial in helping me build the business of my dreams, become a bestselling author and achieve some of the biggest goals I had on my vision board.

Step 1: Create awareness of your current mindset
Any sort of change starts with awareness and clarity, so this is all about getting clear about where you're at and what your mindset is like.
There's a powerful intuitive journaling exercise that I love to do that really helps me create awareness around what's going on in my life, how I'm feeling and how that's showing up in my business.
Do some intuitive journaling
Take some time out to go somewhere quiet, a nice environment that makes you feel good.
Grab a pen and a piece of paper and give yourself permission to tune in with yourself and to write about what you're feeling and what's going on internally.
Ask yourself some questions that will help you explore, like:
"How am I feeling right now and what's my mindset like?"
The next step is to write without filtering or thinking too much, allowing the words to flow out onto the paper.
The intention is just to create awareness around what you're currently thinking: the good, the bad and the ugly. This is all about being really honest with yourself.

Step 2: Discover the shifts you need to make
As part of the intuitive journaling exercise, write down what your biggest struggle is right now, the biggest mindset challenge you're facing.
Whatever is bubbling underneath the surface for you in terms of a mindset block, a doubt, worry or fear, focus on that and ask yourself:
"Why do I feel like this?"
Write down whatever comes to mind and as you go along, keep asking yourself "Why do I feel like this?" over and over again.
As you continue to ask this question and dig deeper, you'll start peeling back the layers and getting to the root of the problem of what's really going on.
Really often we think our surface feelings are the issue, when in fact, it is experiences, memories or negative beliefs we're holding on to start showing up through us and in our business.
It could be something that happened three years ago that you don't even realise is having a huge impact on how you're feeling and showing up today.
So this exercise is about figuring out why you're really feeling the way you are so that you can do something about it.

Step #3: Look for the solution
Once you have answers to these questions and you've discovered what is truly affecting your mindset in the present and keeping you stuck, start looking for the solution.
Get clear on how you can move past that mindset block and not let it hold you back anymore.
Using the intuitive journaling method, simply brainstorm all the ideas you can think of for moving away from the negative mindset and towards a positive mindset.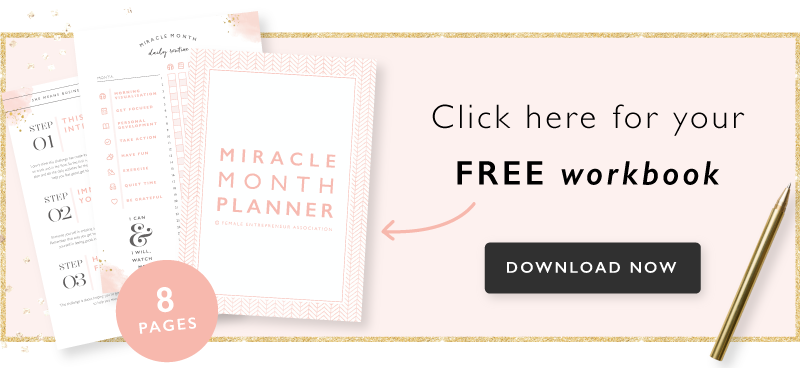 Step 4: Create your daily rituals for a growth mindset
Once you have created awareness and understood the mindset shifts you need to make in order to create more success in your life, it's time to put it all into practice.
This strategy will help you implement the steps you need to take to make those shifts on a daily basis.
Your daily rituals for a growth mindset are the actions and tasks that will help you to step away from self-limiting thoughts and step into a place where you're brimming with confidence.
This is about the practices that will shift you into a positive frame of mind that enables you to take the action that you need to take to create success.
A great ritual for a growth mindset is visualisation, which involves taking five minutes every day to close your eyes and connect with the vision of success that you hold for yourself.
The point is to visualise that dream or goal vividly and as if it has already happened and to connect with how it feels to have made that a reality.
Instead of spending your days consumed by a self-limiting mindset, visualization helps you immerse yourself into a mindset that connects you with what it is that you actually want to make happen.
Another really effective ritual for a growth mindset is to set intentions every day.
This involves getting really clear on what it is that you want to achieve, where it is that you want to go, what are the things that you want to make happen and the action you're going to take.
Success doesn't happen by accident, it's something that we have to create on purpose, so this is a way to get intentional about it every single day.
Listening to inspiring podcasts, watching inspirational videos or reading books to help you expand your mind and get away from a limited mindset is another great ritual to practice.
Once you have a list of rituals you would like to put into action, schedule in the time to practice them every single day.
Start by challenging yourself to stick to the process for seven days, then 14 days, then 30 days and keep doing it over and over again from there until they become a part of your natural daily habits.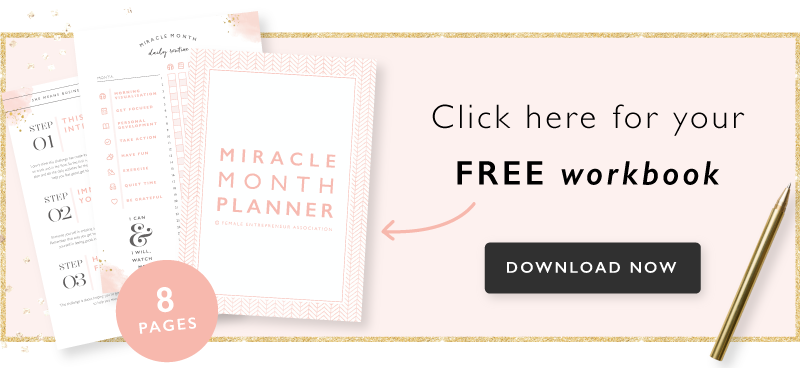 Practicing daily success rituals will make a huge difference to your mindset and if you stick to the process, you will surely start to see your positive mindset manifest into confidence, action and success.
Leave me a comment below and let me know what are the biggest mindset blocks you're struggling with. What mindset shifts do you know you need to make to create success?
The post How to master the miracle mindset: Stop feeling stuck and start moving forward in four easy steps appeared first on Female Entrepreneur Association.
6 Ways To Incorporate SEO While Building A Business in 2020
There's no quick fix, or "one and done" solution when it comes to search engine optimization (SEO). You have to be prepared to play the long game to see the full advantages of SEO when developing a site — and it's worth it to see your site rank highly on search engine result pages.
That said, there are some methods that will give you a quick boost. Shift more attention to the most significant ranking factors and tactics that will give your site the ability to rise to the top of the search results this year.
Choose a Responsive Design
User experience is a big deal these days. Google loves to serve its users the best results possible. If your website isn't easy to use on a mobile device, you're going to suffer a setback in ranking. Think about it, have you ever landed on a site where you had to zoom in to read the text and scroll side-to-side to read all of the content? This was most likely the desktop version of a website. It was made for larger screens and doesn't reformat to fit on different screen sizes.
Responsive sites will resize images and reorganize the blocks of content according to the size of the screen. If you want to test whether a website is responsive, open up a web page on a desktop or laptop. From the full screen, shrink the window by clicking and dragging, and you'll see the sidebars move, the navigation and header will take on new positions and the content and images will line up differently.
Mobile search volume accounts for more than half of the total searches made online (see chart below). A responsive, mobile friendly site is no longer an option, but a necessity, when it comes to providing an enjoyable user experience.
Create Keyword Clusters
Making a list of keywords that your ideal audience would use to find the content you're offering will also boost your SEO ranking. Plug each keyword into a keyword tool to generate additional ideas. Assess the best options for keywords to include in your content strategy by grouping them into pools based on search intent. You'll notice that many of those keyword options will be subtopics large enough to write an entire blog post about, in which you can provide more detailed content optimized for a related keyword.
For example, if you own a home improvement business, a central page on your site would be kitchen renovation. And because there are so many choices to make when renovating a kitchen, you could then go into depth and create a new page for every option, from counter tops and backsplash tile to faucets and refrigerators. When you're planning your content, structure the website to feature central pages that are optimized for the most central, competitive keywords and most important aspects of your business.
Publish articles on the related subtopics in full detail in order to provide as much information on those major keyword topics, to show your expertise in your field, and to demonstrate authority within the content of your site. Google looks for this as partial evidence of your status as an expert in your niche.
Google also loves when there is a distinct organizational structure. By linking the subtopic posts to your major product pages, you signal what pages are most important to your site by creating a keyword cluster.
Image source: https://webstyleguide.com/wsg3/3-information-architecture/3-site-structure.html
Optimize Your C

ontent

On-page optimization enhances the likelihood of your page being ranked for your target keywords. Avoid keyword stuffing and place your keywords strategically. For instance, use your target keywords in the front end of your titles, and keep your titles under 60 characters or they will get cut off in the search display.

Place your keyword in your URL. The most effective URLs are those that are under 5 words and summarize the title or content on the page. Keywords should also be included in the meta description. Using your keyword in the beginning of the meta description will improve the click-through rate for users. As will placing your keyword within the first 100 words in the first paragraph of your content, and using keywords and keyword synonyms in the subtitles.

Use structured data markup whenever possible. If you can provide a rich snippet, you may get a boost in the position your site is displayed.
Make Your Pages Quick and Nimble
With a heavy emphasis on user experience, page speed can make a huge difference in how your site performs. If you're an ecommerce site, it becomes extremely important because every second your page takes to load will cost your business money from lower conversions.
mPulse Mobile Case Study on Page Speed Vs Conversion Rates, Image source: https://digitalducats.com/page-speed/
Test your mobile page speed here. You can improve your site speed by reducing image file sizes, using plugins, and using a content delivery network to give your website additional page speed.
W3 Cache is one of the most popular WordPress plugins that increase page speed, but you can decide for yourself by choosing one from

this list

.
Choose a CDN (Content Delivery Network) to reduce your pages load time from a list of options

here

.
Get Other Sites to Link to You
Establishing credibility and authority is a necessity to be competitive in search results. Backlinks are a powerful way to prove that your content is credible and authoritative because essentially it is being endorsed by the websites that link to you. But stay away from paid links, or any link scheme used to manipulate ranking in an underhanded way. Unnatural linking will lead to penalties and should be avoided altogether.
One approved method of link building is to become a guest author. There are guest posting sites in every niche and having knowledge about your business is all you need to create an article that can be submitted to a site for publication. It may take a few weeks to get a response, and you may need a few submissions before receiving acceptance. Get into a routine for guest posting to build backlinks as fast as possible.
Ask People to Share Your Content
A social network is a priceless asset for expanding your audience and getting more traffic to your website. Build your network by being active on the social media site that has the most impact on your business.
Install social sharing icons on your site and include a call to action to get the most shares. A retweet study revealed that content with share icons received 4 times as many retweets with the phrase "Please RT".
Conclusion
Although there is a lot to put together to achieve a first page result, it's a long-term game plan. Start building your website with SEO in mind to give your site the best chance at the top positions in search results.
😎How to Get Webdesign Clients FOR REAL
I've been receiving many messages lately on how difficult it is to get webdesign clients. The majority of stories revolve around potential clients ignoring you or disappearing after a first promising exchange of emails.
So I decided to put together an article, listing what I do to book Webdesign clients FOR REAL. Everything in this article is based on pure practice and my personal experience.
If you want to watch the video version of this article, click here (and like the video since you're there 😝).
Research on your clients
As I always say, everything starts with research. The wrongest thing you can do is to send duplicate emails that you create in batch for everyone you want to work with.
The client needs to feel that the email is original and written just for her.
I don't know you, but I immediately spot a "copy and paste" proposal to work with me. I receive duplicate messages all the time on Linkedin, and I stop reading them after the second line.
I take into consideration just the ones I feel genuine, and the ones where I see that the person TRULY knows who I am and what I do.
That's why research is fundamental before writing the email.
Visit your addressee's website and take notes. Get familiar with what the client does. Then write the message sowing here and there information you grasped from your research.
I'm aware that this approach takes way more time than bombarding 100 clients with the same email. That's why you need to sort clients.
When I'm looking for website redesign gigs, I discard all the companies with a presentable website. Researching and pitching my service to them would be a waste of time.
I reach out just to clients who could need my help. This allows me to reduce the time I spend collecting info.
Focus on them
In case you offer Webdesign services, it's useful to highlight what are the flaws of the client's website, and how you could solve the problem.
This part is what makes your approach different from the crowd.
Clients aren't interested in your previous experiences and history. What they truly want to know is if you can be an asset to them and how motivated you are.
The fact is that usually, clients don't even know what their problem is. If you can show their website's flaws, and then you show how you can fix them, they will pay attention.
Showing what needs improvement
But what's the best way to show what you can do for the clients?
Visual explanations is the answer.
When I contact a client, I rarely write a plain text email. I use videos and images, instead. They permit me to show visually what are the parts to improve on their website.
In case I want to shoot a video, I use Loom. Loom is a great tool to film screencasts, upload them online, and share them through a private link.
If I want to attach an image to my email instead, I use Skitch to add notes on the website screenshot.
I've been using pain emails for a while before realizing that almost everyone responds better to videos and images. So why not using the same approach in my emails.
This turned out to be the right choice. Since I use videos and notes on screenshots to promote my services, I saw an increase in positive feedback.
Working before getting paid
In case you definitely want to work with a specific client, you can go a little farther with your strategy.
Instead of notes on the existing website, you can create a new version of this client's homepage.
This method needs more time and energy, but it's so far the best one I used to collect clients. If you want to impress someone, there's no better way than working for that person without getting paid.
To reduce the time it would take you to create a new mockup, you need to use website builders. They allow you to come up with a fresh design quickly, using drag-and-drop.
I've been using Elementor for years, and it made a huge difference in finding web design clients. With Elementor, I can create a webpage in a matter of an hour and send it to the client as an example of what I can create for him.
And if you don't want to invest too long creating a new template from scratch, Elementor gives you a vast list of templates you can choose from.
Tailor your service
The last advice I can give you is to be honest and specific with your clients. Promise just what you can deliver, and promote tailored services for your clients.
The more tailored they are, the better they will work.
While the majority of web designers propose a 360degrees service (blending with the background), you can be the authority in your distinct topic.
Niching down gives better results than being the all-round expert.
And if you need an extra push to convince them to hire you, offer a trial period. Propose to work together for a month in order to see if you're good for each other. If at the end of the trial, you're not a good match, no hard feelings.
What about you? What are the techniques you use to get clients for webdesign?
submitted by /u/pickupchange
[comments]



Source link
In this 'new normal' it's not more time, but THIS, that's the holy grail of life and business
Has anyone else secretly worried that they accidentally manifested a worldwide pandemic? Because the top 3 things in my future vision journaling for about a year now have been:
My husband works at home (so I don't have to do all the childcare)
I run my business in just a few short hours a day
We spend lots of time together as a family
"Not like this!" I journal frantically on day 1 of lockdown.  It feels like those awful wish reversals you get in fairytales where your wishes are indeed granted, but only in the most ironic and terrible ways.
Abracadabra! The world's now in peril, your kids rarely leave your side, your husband's going to work from home (but only emerge to look in the fridge), oh and here's your new work day: AKA the crack of dawn, and "crikey, it's midnight!" Enjoy!
On day 2 of lockdown I realise I do not have the patience of Mary Poppins and that our teachers are indeed underpaid; perhaps my children are going to have to settle for 'The School of Life' for a few weeks (or even months?!).
On day 3, I have a mini meltdown in the shower and sob into the soap dish over the future of the world, my business and my children (who are apparently now destined to be educated by a mentally unstable mother who doesn't even know what a number bond is).
But on day 4, something miraculous happens: I feel better!
Months and years of mindset work and gratitude finally kick in, and I emerge from that dark place of fear, mourning and worry we all seem to have been tipped into, and realise that:
Yes, we've been forced to slow down, and yes, we've been forced to create space, and yes, it's happened in the most horrible way; but even with all the extra scariness and worry and uncertainty; without the rush of the old world and the necessity to live our lives around someone else's timetable, I can finally see the truth in that saying that, with change, comes opportunity.
We can either use this time to freeze and bemoan all the plans and dreams that will now have to be postponed or forgotten; or we can stop focusing on all that we've lost, and redirect our attention to all that we've gained.
I hate to say this, but for me and anyone else with children and/ or a job that can be done from home, more time isn't necessarily one of those things we're gaining – so don't worry, I'm not going to suggest you're suddenly going to be able to write your book or launch that new membership program…
But actually, after a few more days in our 'new normal', I realise that although my days are definitely longer and fuller and involve far more parenting and far less actual working than ever before; it has also meant that I've had to pare back everything to the pure essentials, and there's no doubt about it, this forced simplicity has created something I now suspect is more precious than that holy grail of more time: it's given me back my headspace.
Because without the rush that bookends my days; the school runs and the work trips, the homework, the social events, the clubs, appointments, obligations, and all the other mental acrobatics that go into running a 21st Century life, I realise that it's not lack of time that's been stopping me from doing all the things I want to do, like write my book, or tap into my business vision, have more self care, or be more present with my kids (time is just an illusion, after all).
No, the thing that's really been holding me back, is a lack of room in my mind to see things clearly, a lack of space to daydream, and a train of thought that's constantly being stopped and diverted.
Maybe it wasn't the new skeleton schedule, or personal development seminar, or more help around the house that I needed to help me achieve those dreams. Maybe what I really needed all along was a pattern interrupt; something that would slow me right down. And suddenly here we have it; the mother of all pattern interrupts; not really holding us back so much as reining us in, so we can slow down and see the opportunities already here.
So 2020 isn't exactly panning out how I'd planned it – I'm sure you know how that feels – and while I know there'll still be moments of frustration, fear and sadness for all of us, I've decided to take what the universe has given me (more family time and more togetherness), embrace the change, go with the flow, trust, and look for the opportunities that were here all along.
And you know what? Maybe that's how slowing down to speed up really works; because in the little under 2 weeks since this all began, that book that's been sitting outlined in my google docs for months has already been turned into a mini ebook ready for my VA to make pretty in Canva (and the extended version is on its way); and that membership I've had all the content for but no 'time' or energy to launch – it's going live later this month so I can serve more people who need what I've got.
Yes, the road ahead is uncertain right now, but I'm beginning to trust that I've got all the tools I need within me to weather the storm (or at least Amazon Prime, probably does). So now's the time to stay out of fear and stay in momentum; to show up and serve with no other agenda than serving; to be scared without being scary (as Brene Brown very aptly said); and to look for the opportunities that were already there.
And hopefully, when this is all over, l may still not know what a number bond is, but at least I'll be ready to rise with the tide. Will you rise with me?
Words by Cate Butler Ross.
The post In this 'new normal' it's not more time, but THIS, that's the holy grail of life and business appeared first on Female Entrepreneur Association.