The Conquest of the US by Spain
The year 1898 was a landmark in American history. It was the year America went to war with Spain — our first engagement with a foreign enemy in the dawning age of modern warfare. Aside from a few scant periods of retrenchment, we have been embroiled in foreign politics ever since.
Starting in the 1880s, a group of Cubans agitated for independence from Spain. Like many revolutionaries before and after, they had little real support among the mass of the population. Thus they resorted to terrorist tactics — devastating the countryside, dynamiting railroads, and killing those who stood in their way. The Spanish authorities responded with harsh countermeasures.
Some American investors in Cuba grew restive, but the real forces pushing America toward intervention were not a handful of sugarcane planters. The slogans the rebels used — "freedom" and "independence" — resonated with many Americans, who knew nothing of the real circumstances in Cuba. Also playing a part was the "black legend" — the stereotype of the Spaniards as bloodthirsty despots that Americans had inherited from their English forebears. It was easy for Americans to believe the stories peddled by the insurgents, especially when the "yellow" press discovered that whipping up hysteria over largely concocted Spanish "atrocities" — while keeping quiet about those committed by the rebels — sold papers.
Politicians on the lookout for publicity and popular favor saw a gold mine in the Cuban issue. Soon the American government was directing notes to Spain expressing its "concern" over "events" in Cuba. In fact, the "events" were merely the tactics colonial powers typically used in fighting a guerrilla war. As bad or worse was being done by Britain, France, Germany, and others all over the globe in that age of imperialism. Spain, aware of the immense superiority of American forces, responded to the interference from Washington by attempts at appeasement, while trying to preserve the shreds of its dignity as an ancient imperial power.
When William McKinley became president in 1897, he was already planning to expand America's role in the world. Spain's Cuban troubles provided the perfect opportunity. Publicly, McKinley declared, "We want no wars of conquest; we must avoid the temptation of territorial aggression." But within the US government, the influential cabal that was seeking war and expansion knew they had found their man. Senator Henry Cabot Lodge wrote to Theodore Roosevelt, now at the Navy Department, "Unless I am profoundly mistaken, the Administration is now committed to the large policy we both desire." This "large policy," also supported by Secretary of State John Hay and other key figures, aimed at breaking decisively with our tradition of nonintervention and neutrality in foreign affairs. The United States would at last assume its "global responsibilities," and join the other great powers in the scramble for territory around the world.
The leaders of the war party camouflaged their plans by speaking of the need to procure markets for American industry, and were even able to convince a few business leaders to parrot their line. But in reality none of this clique of haughty patricians — "old money," for the most part — had any strong interest in business, or even much respect for it, except as the source of national strength. Like similar cliques in Britain, Germany, Russia, and elsewhere at the time, their aim was the enhancement of the power and glory of their state.
In order to escalate the pressure on Spain, the battleship USS Maine was dispatched to Havana's harbor. On the night of February 15, the Maine exploded, killing 252 men. Suspicion immediately focused on the Spaniards — although they had the least to gain from the destruction of the Maine. It was much more likely that the boilers had blown up — or even that the rebels themselves had mined the ship, to draw America into a war the rebels could not win on their own. The press screamed for vengeance against perfidious Spain, and interventionist politicians believed their hour had come.
McKinley, anxious to preserve his image as a cautious statesman, bided his time. He pressed Spain to stop fighting the rebels and start negotiating with them for Cuban independence, hinting broadly that the alternative was war. The Spaniards, averse to simply handing the island over to a terrorist junta, were willing to grant autonomy. Finally, desperate to avoid war with America, Madrid did proclaim an armistice — a stunning concession for one sovereign state to make at the bidding of another.
But this was not enough for McKinley, who had his eyes set on bagging a few of Spain's remaining possessions. On April 11, he delivered his war message to Congress, carefully omitting to mention the concession of an armistice. A week later, Congress passed the war resolution McKinley wanted.
In the Far East, Commodore George Dewey was given the go-ahead to carry out a prearranged plan: proceed to the Philippines and secure control of Manila's harbor. This he did, bringing along Emilio Aguinaldo and his Filipino independence fighters. In the Caribbean, American forces quickly subdued the Spaniards in Cuba, and then, after Spain sued for peace, went on to take over Puerto Rico as well. In three months, the fighting was over. It had been, as Secretary of State John Hay famously put it, "a splendid little war."
The quick US trouncing of decrepit Spain filled the American public with euphoria. It was a victory, people believed, for American ideals and the American way of life against an Old World tyranny. Our triumphant arms would guarantee Cuba a free and democratic future.
Against this tidal wave of public elation, one man spoke out. He was William Graham Sumner — Yale professor, famed social scientist, and tireless fighter for private enterprise, free trade, and the gold standard. Now he was about to enter his hardest fight of all.
On January 16, 1899, Sumner addressed an overflow crowd of the Yale chapter of Phi Beta Kappa. He knew that the assembled Yalies and the rest of the audience were brimming with patriotic pride. With studied irony, Sumner titled his talk "The Conquest of the United States by Spain."
Sumner threw down the gauntlet:
We have beaten Spain in a military conflict, but we are submitting to be conquered by her on the field of ideas and policies. Expansionism and imperialism are nothing but the old philosophies of national prosperity which have brought Spain to where she is now.
Sumner proceeded to outline the original vision of America cherished by the Founding Fathers, radically different from what prevailed among the nations of Europe:
They would have no court and no pomp; nor orders, or ribbons, or decorations, or titles. They would have no public debt. There was to be no grand diplomacy, because they intended to mind their own business, and not be involved in any of the intrigues to which European statesmen were accustomed. There was to be no balance of power and no "reason of state" to cost the life and happiness of citizens.
This had been the American idea, our signature as a nation: "It is by virtue of this conception of a commonwealth that the United States has stood for something unique and grand in the history of mankind, and that its people have been happy."
The system the Founders bequeathed to us, Sumner held, was a delicate one, providing for the division and balance of powers and aimed at keeping government small and local. It was no accident that Washington, Jefferson, and the others who created the republic issued clear warnings against "foreign entanglements." A policy of foreign adventurism would, in the nature of things, bend and twist and ultimately shatter our original system.
As foreign affairs became more important, power would shift from communities and states to the federal government, and, within that, from Congress to the president. An ever-busy foreign policy could only be carried out by the president, often without the knowledge of the people. Thus, the American system, based on local government, states' rights, and Congress as the voice of the people on the national level, would more and more give way to a bloated bureaucracy headed by an imperial presidency.
But now, with the war against Spain and the philosophy behind it, we were letting ourselves in for the old European way, Sumner declared — "war, debt, taxation, diplomacy, a grand governmental system, pomp, glory, a big army and navy, lavish expenditures, political jobbery — in a word, imperialism."
Already, it seems, the global meddlers had come up with what was to be their favorite smear word: "isolationist." And already Sumner had the appropriate retort. The imperialists "warn us against the terrors of 'isolation,'" he said, but "our ancestors all came here to isolate themselves" from the burdens of the Old World. "When the others are all struggling under debt and taxes, who would not be isolated in the enjoyment of his own earnings for the benefit of his own family?"
In abandoning our own system, there would be, Sumner freely admitted, compensations. Immortal glory is not nothing, as the Spaniards well knew. To be a part, even a pawn, in a mighty enterprise of armies and navies, to identify with great imperial power projected around the world, to see the flag raised on victorious battlefields — many peoples in history thought that game well worth the candle.
Only — only, it was not the American way. That way had been more modest, more prosaic, parochial, and, yes, middle class. It was based on the idea that we were here to live out our lives, minding our own business, enjoying our liberty, and pursuing our happiness in our work, families, churches, and communities. It had been the "small policy."
There is a logic in human affairs, Sumner the social scientist cautioned — once you make a certain decision, some paths that were open to you before are closed, and you are led, step-by-step, in a certain direction. America was choosing the path of world power, and Sumner had little hope that his words could change that. Why was he speaking out then? Simply because "this scheme of a republic which our fathers formed was a glorious dream which demands more than a word of respect and affection before it passes away."
A note about Sunday reads: Normally, these are a cross section of policy, investing, economics, technology, arts, sports, etc. But these are not normal times, with the news is dominated by Coronavirus and the botched U.S. response to it.
Rather than let these Sunday reads become an exercise in negativity, they are now in two parts: Part 1 are upbeat, positive links to get help you get through these difficult times; Part 2 are the news stories of incompetence and corruption. Those negative now will get pushed below the jump. Read them, skim them, skip them entirely: your choice. Above all, stay safe! 
~~~
My easy like Sunday morning reads:
• FAQ: Coronavirus unemployment guide: What to do if you get laid off or furloughed (Washington Post)
• Millions Are Suddenly Working From Home. Can They Claim a Tax Break? (Wall Street Journal)
• The Cuomo brothers put on quite a show. (Washington Post)
• This Time is Different (The Belle Curve)
• How to Have a Social Life While Practicing Social Distancing (Real Simple) see also Apart, together (The Bellows)
• These Coronavirus Exposures Might Be the Most Dangerous (New York Times)
• Streaming spikes during pandemic lockdown (Axios)
• A Forest Submerged 60,000 Years Ago Could Save Your Life One Day (New York Times)
• Three shifts at the Scrabble factory: The inventor (VT Digger)
• (LOL) How to Buy a Private Jet (Worth)
Be sure to check out our Masters in Business interview this weekend with Jonathan Miller (of Miller Samuel), discussing the impact of the Coronavirus pandemic on the national real estate industry.
Randall Bell's Bell Disaster Index Shows We Will Survive

Source: LinkedIn h/t Jonathan Miller
Sign up for our reads-only mailing list here.
Avert your eyes! My Sunday morning look at incompetency, corruption and policy failures reads:
• The Cult Comes for Dr. Fauci (The Bulwark)
• It's a sh– sandwich': Republicans rage as Florida becomes a nightmare for Trump (Politico)
• Joe Biden, January 2020: Trump has weakened our capacity to deal with coronavirus (USA Today) (But I was told nobody could have seen this coming?)
• Excuses (Popular Information)
• How Tea Party Budget Battles Left the National Emergency Medical Stockpile Unprepared for Coronavirus: Fiscal restraints imposed by Republicans in Congress in the early years of the Obama administration left the U.S. less prepared to respond to the coronavirus pandemic today (ProPublica)
• Inside the coronavirus testing failure: Alarm and dismay among the scientists who sought to help (Washington Post) see also As Trump declared coronavirus under control, local leaders faced confusion and chaos as cases piled up (Washington Post)
• Taxpayers Paid Millions to Design a Low-Cost Ventilator for a Pandemic. Instead, the Company Is Selling Versions of It Overseas. (ProPublica)
• Authoritarian Populists Have Six Classic Moves. Trump's Response to COVID-19 Uses Five of Them. (The Atlantic)
• DHS wound down pandemic models before coronavirus struck: A vital modeling program was sidelined amid a bureaucratic battle, former officials say, leaving U.S. less prepared to face the virus (Politico) see also U.S. axed CDC expert job in China months before virus outbreak (Reuters)
• The Military Knew Years Ago That a Coronavirus Was Coming (The Nation) see also 'Inside the National Security Council, a rising sense of dread (Politico)
Be sure to check out our Masters in Business interview this weekend with Jonathan Miller (of Miller Samuel), discussing the impact of the Coronavirus pandemic on the national real estate industry.
Trump's 75th Fox interview as president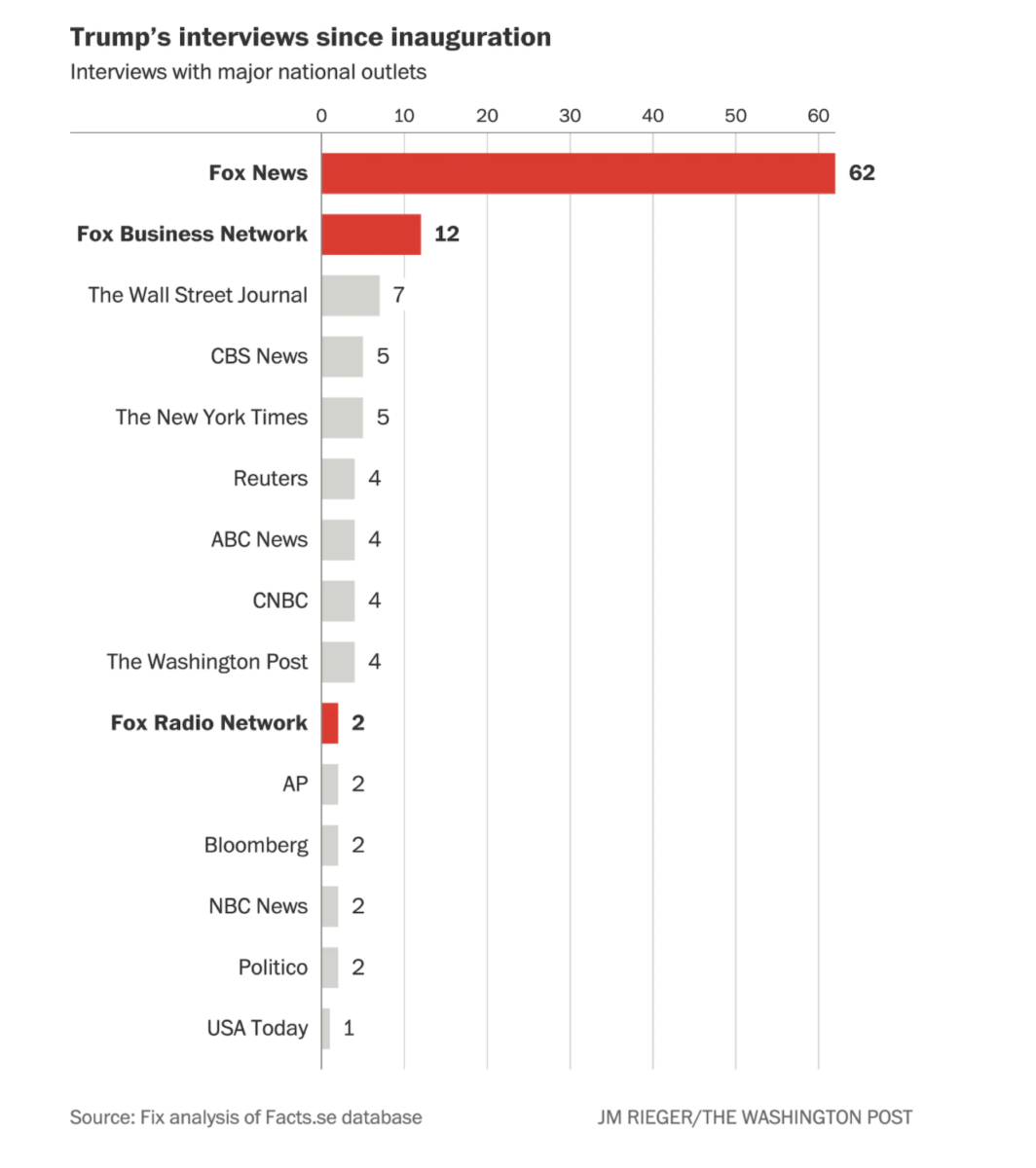 Source: Washington Post
The post 10 Sunday Reads appeared first on The Big Picture.
QUESTION #1: Dear Martin,
Could you offer a comment on how these increases in deaths can affect the latest predictions that you and Socrates offered? Will we still have the sling effect? Even with reduced liquidity, with millions unemployed, with the economy in a state of war, is the Dow Jones able to react and find the strength to rise?
how will the emerging countries be?
how can the dollar remain strong with more than 5 trillion to be injected and with the cancellation of the euro preventing the flight to the dollar?
I agree with your comments on the great farce and that afterward they will be small numbers of sick people compared to other diseases, but what would you do at a time like this where the smell of death and the tears are multiplying?
How can we move forward if hospitals are full and have no vacancies for those who need respirators?
Please update us at this moment so dramatically.
Thanks,
S
ANSWER: The transformation of the Euro to digital will not impact the dollar negatively, but has the risk of driving it higher. Even in Japan when the government lost the ability to even issue money for 600 years, people used Chinese coins and bags of rice. As for the increase in deaths, I have first-hand info that this is also being contrived. Elderly people are dying from the flu and they simply put down the Coronavirus. We still show the trend should top out this week. Nevertheless, it is still 1/10th of those who die from the flu. Hospitals are not full. The virus will run its normal course. It peaked in China in less than 30 days. It has already peaked in Italy on March 20th. Any claim that it continues beyond this week of April 6th is bogus and fake. Even New York Gov. Andrew Cuomo, who many see as trying to be in the running to be drafted for the Democratic nominee came out and confirmed that the number of deaths may be declining. My bet is on Socrates. It has not bee wrong yet.
In Europe, SPD leader Norbert Walter-Borjans (Socialist) called for the European Stability Mechanism (ESM) to be used as a crisis aid, but in the long term to use Eurobonds. "I am in favor of Eurobonds, but the seriousness of the situation leaves us no time for principle riding. It looks as if consent can be obtained that the ESM can be used without the frowned upon requirements," said Walter-Borjans in an interview with the newspapers "La Repubblica", "Il Messagero" and "El Pais". In other words, we have the Socialists claiming emerging powers to circumvent democratic processes.
---
QUESTION #2: Is it possible that the markets don't recover this year? Given the craziness will people trust anything at all?  I wonder if this virus thing is what you described in your report about herd mentality–everyone is scared and paralyzed?    Will this create the energy for any type of bounce back?  or is a society just doomed?  What good if the markets recover if everyone is out of work?  Money won't be good since society will be turned back into the stone age.
ANSWER: We are running Socrates on all inputs. So far, it still shows a 2nd quarter low. Note also the forecast I have been touting for the past 6 years at least that this new wave would be an inflationary one driven by SHORTAGES in agriculture. The first major producers of staple foods such as wheat and rice have restricted exports. Although there is enough food in the world, supply bottlenecks and rapidly rising prices are threatening in some regions. In Germany, there may be bottlenecks with certain types of vegetables and fruits. However, with transportation shut down to prevent the virus from spreading, this is also impacting agriculture. Socrates forecasts the trend. It does not sort out the fundamental causes behind those trends. There is a clear distinction between the two.
---
QUESTION #3:  Dear Martin,
as a retired bond dealer and fund manager I subscribe to your Facts of socialism against
capitalism –but couldn`t it be that some Ultra RICH ( companies ) have the idea to Profit from this fight by buying up the whole shop for Peanuts if f.instants the Indices are
crashing down to a 1/10 of the current value —THAT WOULD BE A CAPITALISTIC POWER GRAB? -Like in Formula ! you surpass your Opponent out of the wind shadow.
KEEP UP THE PRESSURE –TKU for your work
PZ
ANSWER: This is far greater. Forcing a company's share down to buy cheap is an old ploy as we both know. But this is a play to undermine the entire economy for political gain. Every socialist political party is pitching this to be the worst disaster warranting emergency powers. This goes beyond that for the very players are losing even Warrant Buffet lost $80 billion in market value on by March 23rd. If the socialist seize control of the economy, even the capitalist will lose. The rise of Eurobonds in a free market means that the outstanding negative $12 trillion in individual government bonds will crash. There go the pension funds.
Coronavirus job losses for the past two weeks could match two years of the Great Recession's job losses: Estimates of new claims filed are 10 million
In the last two weeks, Americans have experienced a net loss of jobs on scale with the two years of job losses in the Great Recession.
Thursday, the U.S. Department of Labor (DOL) reported that a record-breaking 6.6 million Americans filed new claims for unemployment insurance benefits in the week ending March 28, doubling the prior week's 3.3 million, an eye-popping record that lasted only a week. New claims in each of the last two weeks dwarf any prior week in over 50 years of weekly data (Figure A).
In the two weeks ending last Saturday, about 10 million Americans filed new claims for unemployment insurance. For a sense of scale, the Great Recession reduced total number of U.S. jobs by 8.7 million through 2 years of losses, from 138.4 million in January 2008 to 129.7 million in February 2010. The share of adults employed is now almost certainly below its lowest level since the start of the Great Recession.
Based on Americans' internet search activity through the first three days of this week, our model predicts that, next Thursday, DOL will report that another 4.7–5.7 million Americans filed new claims in the current week ending tomorrow.
The Great Recession and the current one unfolded very differently. During the Great Recession, job separations—the sum of quits, firings, and layoffs—actually slowed (Figure B: dashed line) but hiring slowed even more rapidly (Figure B: dotted line). In any time period, the difference between the number of separations and the number of hires equals the net change in the number of jobs. Over those two years of net losses, 55.9 million Americans filed new claims for unemployment.
Figure B
Throughout the Great Recession, new hires counterbalanced a large share of the job losses in any month.
The current labor-market shock is happening differently. It's not driven primarily by a hiring slowdown but by skyrocketing layoffs. Hiring appears to be slowing as well, along with posted openings, though this is more difficult to observe and slower to show up in any official sources. A simple approximation implies that there may have been as many as 2 million hires over the prior two weeks, implying a net loss of at least 8 million jobs.
These job losses are happening across every state. Table 1 describes the official reports of new claims over the two weeks ending March 28 for each state and for each week separately. Applying the national seasonal adjustment factors would raise these by about 14%. Many states' UI administrators are struggling to keep pace with the huge surge in demand, which is leading to intake, processing, and reporting challenges. And not everyone who loses work has tried to file for unemployment. So the true scale of labor income loss is undoubtedly larger than even these huge numbers show.
Table 1
The surge in new claims was not a surprise, but the magnitude is enormous. Americans started searching for the phrase "file for unemployment" at unprecedented rates a couple of weeks ago, as the broad quarantines started and layoffs followed. Search activity rose again last week, above the record high levels of the prior week, as shown in Figure C.
Figure C
Figure D shows the intensity of search activity by state in the last week, on the vertical axis, against intensity in the prior week, on the horizontal axis. It shows that search intensity increased in many states.
Figure D
The federal government is the only entity in the country with the borrowing capacity to help families losing massive shares of their income through no fault of their own, as necessary to preserve life and ensure a speedy recovery. Given our failure to stand up wide-scale testing, we cannot distinguish who can work from who requires care and our only option for saving lives is indiscriminate social distancing. We had to put the U.S. economy into a medically induced coma. Without life support systems pumping resources where they need to go, vital parts of our economy will start to fail, diminishing our ability to quickly and smoothly revive.
We must address the public health challenges with every productive resource available, while also preventing families' finances from deteriorating into desperation. It's not about stimulus. It's about survival.