The 2020 Elections & the Coming Violence
Democracy is dying and it just looks like we have to go into the crash and burn. President Trump won more votes than any incumbent ever in history in New Hampshire. His rallies attract more people than any other and in most cases, all others combined. The Democrats have adopted such a left-wing agenda that it is truly scaring the "silent majority" who most often are never represented in the polls.
In the Democratic camp, Bernie supporters realize that the game is rigged. There are fears emerging among Bernie supporters that his nomination will be stolen like the last time. They fear that party-bosses claim that they have rewritten the nomination rules after the nasty 2016 primary race to quell a backlash from Sanders' supporters, that will not matter here in 2020 – watch! Last time, the influence of the "superdelegates" backed Hillary which was not represented by any democratic vote. That is how the party can ignore the primaries when they do not like the result. They are absolutely correct – they will never allow Bernie to represent the party in November.
Even Bloomberg is acting very left-wing and many see him with resentment. The common complaint is that he made all his money and now wants to oppress the small business owners with his insane environmental regulations. He thinks he can just buy the presidency and vows to outspend Trump. Hillary outspent Trump by 10:1 so 2016 showed that money was not the deciding factor. Bloomberg is a very dangerous guy for his decision on the stop-and-frisk illustrates that his claim that crime was just too high and he had to do something demonstrates he has no respect for constitutional rights. This is not a dictatorship and many see his Napoleon Complex a very dangerous. Bloomberg News will, of course, pitch him to the world just like CNN will oppose Trump regardless of who the Democratic candidate will be. My bet is on Hillary still – (OPINION).
The real problem to emerge is interesting. When Obama was elected, we did not hear Republicans claiming "he's not my president!" Something has seriously changed. Historically, everyone who voted for the losing candidate simply moved on and that was the end of the contest. This time, the left is hell-bent on oppressing the right and this is not what civilization is supposed to be about. No matter who wins in 2020, either side will just not accept a loss. This will lead to violence this time far more than people realize.
This is just not going to end well and it is part of the collapse in confidence in the bond market and governments. CNN and the rest of the biased media are fueling this divide. They just do not care what they are doing to the nation. We are no longer a democracy or a viable civilization that benefits LIBERTY. It is all about suppressing the opponent.
This is why the backlash is becoming evident from both sides. If the winner is not respected as the president, then what is the purpose of even having a unified country? The United States becomes the Free-For-All of States. We have New York declaring it is a "sanctuary" state issuing IDs to illegal aliens who then do not pay taxes or are ineligible to vote legally? So they defend people who cannot even vote or pay taxes? Very strange thinking indeed!
A note about Sunday reads: Normally, these are a cross section of policy, investing, economics, technology, arts, sports, etc. But these are not normal times, with the news is dominated by Coronavirus and the botched U.S. response to it.
Rather than let these Sunday reads become an exercise in negativity, they are now in two parts: Part 1 are upbeat, positive links to get help you get through these difficult times; Part 2 are the news stories of incompetence and corruption. Those negative now will get pushed below the jump. Read them, skim them, skip them entirely: your choice. Above all, stay safe! 
~~~
My easy like Sunday morning reads:
• FAQ: Coronavirus unemployment guide: What to do if you get laid off or furloughed (Washington Post)
• Millions Are Suddenly Working From Home. Can They Claim a Tax Break? (Wall Street Journal)
• The Cuomo brothers put on quite a show. (Washington Post)
• This Time is Different (The Belle Curve)
• How to Have a Social Life While Practicing Social Distancing (Real Simple) see also Apart, together (The Bellows)
• These Coronavirus Exposures Might Be the Most Dangerous (New York Times)
• Streaming spikes during pandemic lockdown (Axios)
• A Forest Submerged 60,000 Years Ago Could Save Your Life One Day (New York Times)
• Three shifts at the Scrabble factory: The inventor (VT Digger)
• (LOL) How to Buy a Private Jet (Worth)
Be sure to check out our Masters in Business interview this weekend with Jonathan Miller (of Miller Samuel), discussing the impact of the Coronavirus pandemic on the national real estate industry.
Randall Bell's Bell Disaster Index Shows We Will Survive

Source: LinkedIn h/t Jonathan Miller
Sign up for our reads-only mailing list here.
Avert your eyes! My Sunday morning look at incompetency, corruption and policy failures reads:
• The Cult Comes for Dr. Fauci (The Bulwark)
• It's a sh– sandwich': Republicans rage as Florida becomes a nightmare for Trump (Politico)
• Joe Biden, January 2020: Trump has weakened our capacity to deal with coronavirus (USA Today) (But I was told nobody could have seen this coming?)
• Excuses (Popular Information)
• How Tea Party Budget Battles Left the National Emergency Medical Stockpile Unprepared for Coronavirus: Fiscal restraints imposed by Republicans in Congress in the early years of the Obama administration left the U.S. less prepared to respond to the coronavirus pandemic today (ProPublica)
• Inside the coronavirus testing failure: Alarm and dismay among the scientists who sought to help (Washington Post) see also As Trump declared coronavirus under control, local leaders faced confusion and chaos as cases piled up (Washington Post)
• Taxpayers Paid Millions to Design a Low-Cost Ventilator for a Pandemic. Instead, the Company Is Selling Versions of It Overseas. (ProPublica)
• Authoritarian Populists Have Six Classic Moves. Trump's Response to COVID-19 Uses Five of Them. (The Atlantic)
• DHS wound down pandemic models before coronavirus struck: A vital modeling program was sidelined amid a bureaucratic battle, former officials say, leaving U.S. less prepared to face the virus (Politico) see also U.S. axed CDC expert job in China months before virus outbreak (Reuters)
• The Military Knew Years Ago That a Coronavirus Was Coming (The Nation) see also 'Inside the National Security Council, a rising sense of dread (Politico)
Be sure to check out our Masters in Business interview this weekend with Jonathan Miller (of Miller Samuel), discussing the impact of the Coronavirus pandemic on the national real estate industry.
Trump's 75th Fox interview as president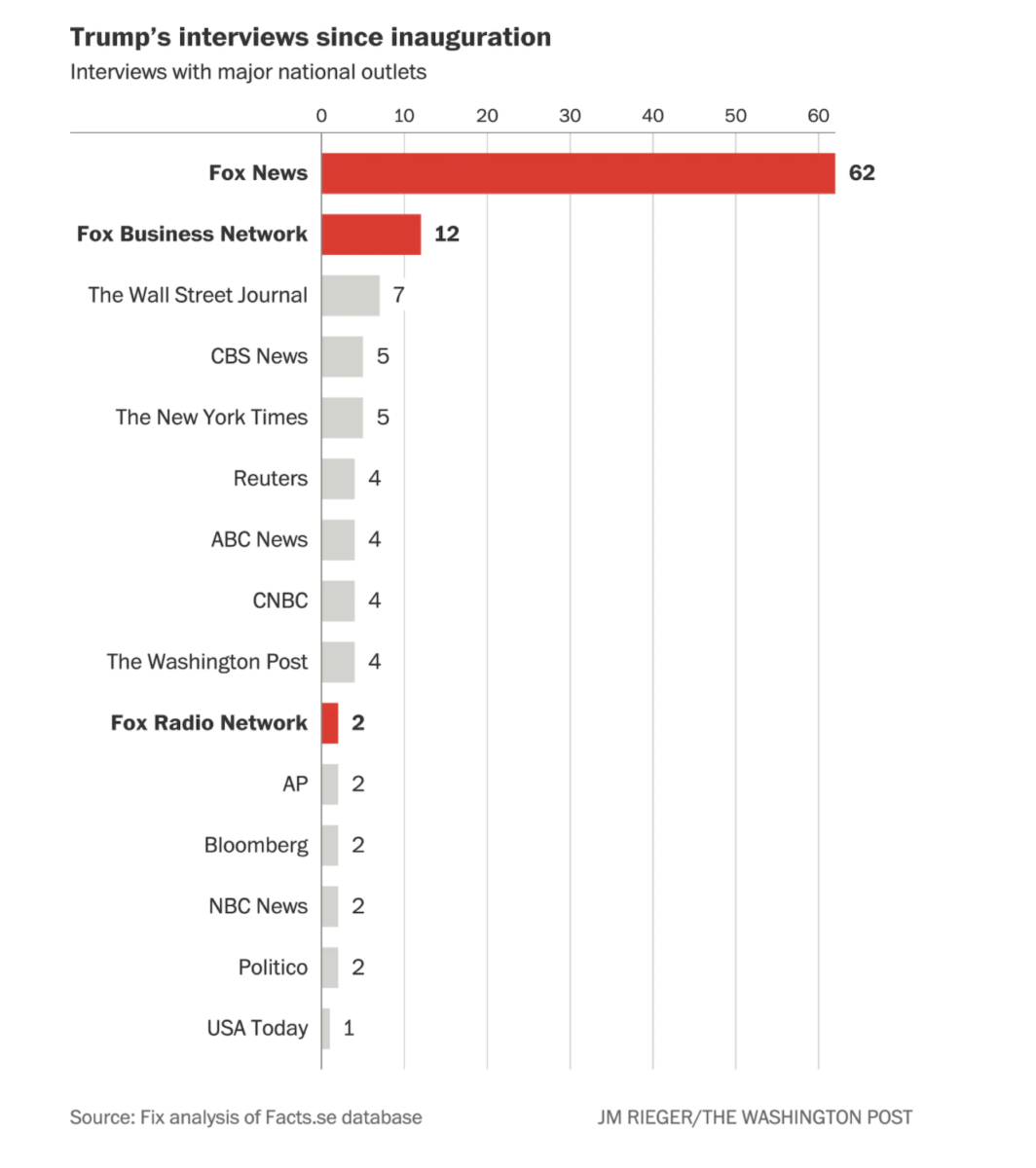 Source: Washington Post
The post 10 Sunday Reads appeared first on The Big Picture.
QUESTION #1: Dear Martin,
Could you offer a comment on how these increases in deaths can affect the latest predictions that you and Socrates offered? Will we still have the sling effect? Even with reduced liquidity, with millions unemployed, with the economy in a state of war, is the Dow Jones able to react and find the strength to rise?
how will the emerging countries be?
how can the dollar remain strong with more than 5 trillion to be injected and with the cancellation of the euro preventing the flight to the dollar?
I agree with your comments on the great farce and that afterward they will be small numbers of sick people compared to other diseases, but what would you do at a time like this where the smell of death and the tears are multiplying?
How can we move forward if hospitals are full and have no vacancies for those who need respirators?
Please update us at this moment so dramatically.
Thanks,
S
ANSWER: The transformation of the Euro to digital will not impact the dollar negatively, but has the risk of driving it higher. Even in Japan when the government lost the ability to even issue money for 600 years, people used Chinese coins and bags of rice. As for the increase in deaths, I have first-hand info that this is also being contrived. Elderly people are dying from the flu and they simply put down the Coronavirus. We still show the trend should top out this week. Nevertheless, it is still 1/10th of those who die from the flu. Hospitals are not full. The virus will run its normal course. It peaked in China in less than 30 days. It has already peaked in Italy on March 20th. Any claim that it continues beyond this week of April 6th is bogus and fake. Even New York Gov. Andrew Cuomo, who many see as trying to be in the running to be drafted for the Democratic nominee came out and confirmed that the number of deaths may be declining. My bet is on Socrates. It has not bee wrong yet.
In Europe, SPD leader Norbert Walter-Borjans (Socialist) called for the European Stability Mechanism (ESM) to be used as a crisis aid, but in the long term to use Eurobonds. "I am in favor of Eurobonds, but the seriousness of the situation leaves us no time for principle riding. It looks as if consent can be obtained that the ESM can be used without the frowned upon requirements," said Walter-Borjans in an interview with the newspapers "La Repubblica", "Il Messagero" and "El Pais". In other words, we have the Socialists claiming emerging powers to circumvent democratic processes.
---
QUESTION #2: Is it possible that the markets don't recover this year? Given the craziness will people trust anything at all?  I wonder if this virus thing is what you described in your report about herd mentality–everyone is scared and paralyzed?    Will this create the energy for any type of bounce back?  or is a society just doomed?  What good if the markets recover if everyone is out of work?  Money won't be good since society will be turned back into the stone age.
ANSWER: We are running Socrates on all inputs. So far, it still shows a 2nd quarter low. Note also the forecast I have been touting for the past 6 years at least that this new wave would be an inflationary one driven by SHORTAGES in agriculture. The first major producers of staple foods such as wheat and rice have restricted exports. Although there is enough food in the world, supply bottlenecks and rapidly rising prices are threatening in some regions. In Germany, there may be bottlenecks with certain types of vegetables and fruits. However, with transportation shut down to prevent the virus from spreading, this is also impacting agriculture. Socrates forecasts the trend. It does not sort out the fundamental causes behind those trends. There is a clear distinction between the two.
---
QUESTION #3:  Dear Martin,
as a retired bond dealer and fund manager I subscribe to your Facts of socialism against
capitalism –but couldn`t it be that some Ultra RICH ( companies ) have the idea to Profit from this fight by buying up the whole shop for Peanuts if f.instants the Indices are
crashing down to a 1/10 of the current value —THAT WOULD BE A CAPITALISTIC POWER GRAB? -Like in Formula ! you surpass your Opponent out of the wind shadow.
KEEP UP THE PRESSURE –TKU for your work
PZ
ANSWER: This is far greater. Forcing a company's share down to buy cheap is an old ploy as we both know. But this is a play to undermine the entire economy for political gain. Every socialist political party is pitching this to be the worst disaster warranting emergency powers. This goes beyond that for the very players are losing even Warrant Buffet lost $80 billion in market value on by March 23rd. If the socialist seize control of the economy, even the capitalist will lose. The rise of Eurobonds in a free market means that the outstanding negative $12 trillion in individual government bonds will crash. There go the pension funds.
Coronavirus job losses for the past two weeks could match two years of the Great Recession's job losses: Estimates of new claims filed are 10 million
In the last two weeks, Americans have experienced a net loss of jobs on scale with the two years of job losses in the Great Recession.
Thursday, the U.S. Department of Labor (DOL) reported that a record-breaking 6.6 million Americans filed new claims for unemployment insurance benefits in the week ending March 28, doubling the prior week's 3.3 million, an eye-popping record that lasted only a week. New claims in each of the last two weeks dwarf any prior week in over 50 years of weekly data (Figure A).
In the two weeks ending last Saturday, about 10 million Americans filed new claims for unemployment insurance. For a sense of scale, the Great Recession reduced total number of U.S. jobs by 8.7 million through 2 years of losses, from 138.4 million in January 2008 to 129.7 million in February 2010. The share of adults employed is now almost certainly below its lowest level since the start of the Great Recession.
Based on Americans' internet search activity through the first three days of this week, our model predicts that, next Thursday, DOL will report that another 4.7–5.7 million Americans filed new claims in the current week ending tomorrow.
The Great Recession and the current one unfolded very differently. During the Great Recession, job separations—the sum of quits, firings, and layoffs—actually slowed (Figure B: dashed line) but hiring slowed even more rapidly (Figure B: dotted line). In any time period, the difference between the number of separations and the number of hires equals the net change in the number of jobs. Over those two years of net losses, 55.9 million Americans filed new claims for unemployment.
Figure B
Throughout the Great Recession, new hires counterbalanced a large share of the job losses in any month.
The current labor-market shock is happening differently. It's not driven primarily by a hiring slowdown but by skyrocketing layoffs. Hiring appears to be slowing as well, along with posted openings, though this is more difficult to observe and slower to show up in any official sources. A simple approximation implies that there may have been as many as 2 million hires over the prior two weeks, implying a net loss of at least 8 million jobs.
These job losses are happening across every state. Table 1 describes the official reports of new claims over the two weeks ending March 28 for each state and for each week separately. Applying the national seasonal adjustment factors would raise these by about 14%. Many states' UI administrators are struggling to keep pace with the huge surge in demand, which is leading to intake, processing, and reporting challenges. And not everyone who loses work has tried to file for unemployment. So the true scale of labor income loss is undoubtedly larger than even these huge numbers show.
Table 1
The surge in new claims was not a surprise, but the magnitude is enormous. Americans started searching for the phrase "file for unemployment" at unprecedented rates a couple of weeks ago, as the broad quarantines started and layoffs followed. Search activity rose again last week, above the record high levels of the prior week, as shown in Figure C.
Figure C
Figure D shows the intensity of search activity by state in the last week, on the vertical axis, against intensity in the prior week, on the horizontal axis. It shows that search intensity increased in many states.
Figure D
The federal government is the only entity in the country with the borrowing capacity to help families losing massive shares of their income through no fault of their own, as necessary to preserve life and ensure a speedy recovery. Given our failure to stand up wide-scale testing, we cannot distinguish who can work from who requires care and our only option for saving lives is indiscriminate social distancing. We had to put the U.S. economy into a medically induced coma. Without life support systems pumping resources where they need to go, vital parts of our economy will start to fail, diminishing our ability to quickly and smoothly revive.
We must address the public health challenges with every productive resource available, while also preventing families' finances from deteriorating into desperation. It's not about stimulus. It's about survival.