3 Tips to Host a Successful Webinar That Boosts Leads
If you want to boost leads for your business, have you considered hosting a webinar for your followers?
Webinars, or online seminars, are a great way to attract attention to your brand and move visitors through the sales funnel. For small businesses especially, webinars can get the word out about their brand and provide value to new customers.
Creating a solid webinar doesn't have to be complicated. In no time, you too can host a webinar that improves your brand's lead generation and brings your business to new heights. Here are three tips to help you get started.
Choose a relevant topic
To start, you need to choose a topic that's relevant and interesting to your target audience. If not, racking up attendance will prove difficult and the turnout won't be as successful. You need to create content for users that appeals to their needs, and the best way to do this is by getting to know them better.
Research your target audience so you know who you're presenting to. The more you get to know them, the easier it is to pick a subject that engages them the entire time. Send a customer survey, ask for their direct feedback, and reach out on social media to collect user information from various channels.
Use the information you gather to create customer personas of your audience. These are detailed profiles of your visitors that marketers use to appeal to their target market. The more you know, the easier it is to create a webinar that increases leads.
Your buyer persona might look something like this:
Prepare well in advance
If your strategy includes creating, planning, promoting, and holding a webinar in a week, then good luck. It takes time and lots of organizing to put together a webinar that brings in enough viewers and boosts leads. Rushing the process will only result in a disorganized presentation that fails to increase sales.
At the minimum, you should start the planning process about a month in advance. This should give you enough time to plan your material and spread the word so you have a hefty audience waiting for you.
Cross-promoting your webinar across various channels, such as email and social media, will spread awareness about the webinar and increase the number of signups you receive. A whopping 96 percent of marketers use social media to drive traffic to their content. You need to create optimized social media campaigns to attract your target audience to your brand and encourage their attendance.
Creating a landing page for your webinar also improves lead generation and encourages more users to sign up. Landing pages are built specifically to guide customers through the sales funnel so they feel ready to purchase, and the same goes for webinars. Informing visitors about its benefits and details encourages them to participate.
Microsoft created an optimized landing page for their webinar to spread awareness for the event:
Use a responsive form
When collecting user information for everyone attending the webinar, you need to optimize your online registration form to receive the best turnout. Around 67 percent of site visitors will abandon your form and won't come back if they encounter complications, which is why it's crucial to create an optimized form for users.
Some common issues that users come across when engaging with contact forms include:
Asking for too much information. People don't want to spend a lot of time filling out a form even if it's for an event they want to attend. Make sure you minimize your form fields to encourage more signups and a better turnout.
A lack of security. Too many business owners fail to secure their websites, scaring potential leads away and discouraging them from handing over their information.
Using the same form for every campaign. Since you're trying to collect leads specifically for a webinar, you need to ask for information pertaining to that only.
Poor visibility. If your form is difficult to locate or isn't on the right page, then it's difficult for people to sign up. Make it easy to find so users can sign up right away.
Sometimes, it's the little details that make the most significant difference in your campaign's numbers. Taking the extra time to make changes that improve the UX will take your business a long way compared to those that don't.
Over to you
You can use webinars to attract your target audience and cultivate interest around your brand. Collecting leads is an important strategy to grow your business, and webinars can bring it closer to reaching success.
5 Startup Marketing Ideas That Actually Work
Are you new to the startup game, and even newer to the content marketing game? With all the work that goes into starting a business, there's little time to think about marketing strategies that prove successful and are feasible for a startup's teams to execute.
If you find yourself in this boat, don't panic. You probably know the tools that are helpful for startup marketers to use when strategizing — a CMS, social media accounts, and graphic design software, for instance.
Now, what you need to know is how to use these tools, and similar methods, to create campaigns that align with your business goals. You may have seen other startups' glowing marketing techniques and found yourself wondering how to create a winning strategy.
For that, we've got you covered. To get a sense of how a marketing strategy can produce success for your startup, we're going to lay out some ideas. These ideas are from startups, and will help you visualize how a successful strategy can be helpful for your own marketing goals.
So, in the next section, let's go over some startup marketing ideas.
Startup Marketing Ideas
Other than starting an email list, using online software, and taking high-quality images, what else can you do to market your startup? Below are some examples:
If you're struggling to come up with new marketing strategies, maybe you can put a new spin on one that works for your campaign goals. Like some of the companies mentioned, you can use tools you already have at your disposal to execute a winning campaign.
1. Use paid ads to build a community.
Starburst Data is a B2B that helps companies understand their website analytics. They use a search query engine that organizes data, so customers can interpret large amounts of data quickly. This startup uses ads on LinkedIn to connect with its audience, like this one promoting their software:
A content marketer for a company like Starburst has a good chance of finding its target audience on LinkedIn, since it's a platform for professional networking. Part of this marketing campaign involves using LinkedIn Ads to build community and provide helpful information.
A similar B2B startup strategy could involve making use of a social media platform's paid ads offerings to cater to your audience. Alternatively, you can upload offers for free and use hashtags to get them seen by more prospective customers, like #B2BMarketing, or #MarTech.
2. Try social media to connect with customers.
Social media marketing doesn't have to include spending money — it can be used to grow your audience and connect with existing members. Take Paperless Parts, for example, a manufacturing company with a stellar Facebook page:
It's free to create a Facebook Business page and optimize it so leads and customers can find it. The Paperless Parts feed begins with recommendations and reviews from happy customers, showing that the business has a dedicated customer userbase. After that, the business posts videos that go behind-the-scenes of the manufacturing process, and also post reminders for webinars and other website content.
A social media page for a startup that showcases customers provides helpful content and encourages audience participation is a free strategy to expand reach, bring clicks to your website, and show credibility in the industry.
3. Crowdfunding marketing, which can generate press.
Are you thinking about starting a crowdfunding campaign? If you do, you could earn great press from publications, expanding your campaign's reach. Take NeighborSchools, for example, which is a child care startup. NeighborSchools offers unique daycares from licensed and experienced professionals.
When the minds behind NeighborSchools began to seek funding to scale up their service, they turned to crowdfunding to seek out people who believed in the service and were able to invest. This tactic earned the company $3.5 million in seed funding, and the success caught the eye of major publications.
Even if you have just a few customers, you can use your crowdfunding campaign as a marketing tactic to get more people interested in your business.
4. Host a virtual meetup instead of a conference.
Mabl is a Boston-based SaaS provider for machine learning test automation. It makes the lives of developers who have to test their solutions way easier. To build a larger community, Mabl hosted a virtual meetup with industry experts.
The meetup's speakers educated its attendees about software testing. This idea is a cool, low-cost way to expand your professional network and provide valuable content for customers without hosting a conference.
5. Use user-generated content to tell your story.
Startups don't usually have the revenue to produce big-budget social media campaigns. For travel agency Hopjump, their marketing team found that the best way to tell their story is on Instagram. The business page is filled with clients enjoying their destination vacations, booked using the service:
Customers who post their amazing travel pictures on Instagram can tag Hopjump for a chance to be featured on the page, and this also increases exposure for the startup. Satisfied customers can share their experiences with more of Hopjump's target audience.
A marketing campaign that includes user-generated content is an easy, free way to work in testimonials. You can use your social media channels to execute the campaign and include hashtags for the chance to appear in more feeds.
When thinking about campaign ideas, you might not have to look that far. You might be able to turn some of the tools you already have at your disposal to boost your campaign messages. Is there a webinar you can host about a topic, or a content offer you think will resonate particularly well with your LinkedIn audience?
B2B Orgs Make Authentic Connections With Audiences On Social Channels Amid 'Social Distancing'
During a time when "social distancing" has become the new norm, it's no surprise most people are turning to social media to connect with friends, family, colleagues and buyers. The digital world has quickly become a safe alternative for B2B organizations to maintain relationships with prospects and customers alike, as in-person interactions are not an option for the time being. And while social media always has been a top channel for sales reps to engage with prospects and customers, and for businesses and individuals to share thought-leadership content with audiences, this "new reality" has shifted marketing strategies, requiring reps to rethink traditional tactics to cater to the needs and pain points of modern buyers during this unsettling time.
While the message always has been an important component for authentic engagement, it has become more critical than ever to understand what your audience is going through to better cater to their current situation in the right tone.
"Everything starts with the message … it always did, but I think the message is absolutely imperative even more now," said Courtney Beasley, VP of Marketing at the B2B agency Walker Sands, in an interview with Demand Gen Report. "So, make sure that you are meeting your audience where they are. And that might mean going back to the drawing board of understanding your personas and putting yourselves in the shoes of your customer.
"What are the words that they're using right now? What are the new challenges that they're facing? Getting that message down to the granular of, for example, the language they are using. And it's not even just the words, it's the tone as well. Do you need to be more empathetic right now or is your audience truly just looking to get back to work? There's a lot going on and we still have to figure out how to run companies if this is going to be a new normal for a little while. So, I think the tone and language choice are very important."
Promoting Digital Communities & Education On Social Media
In a new world of canceled trade shows, as employees are forced to work from home and companies are shifting strategies to digital experiences, social media channels have become key to promoting virtual events and communicating discounts or free offers for services. B2B organizations such as Moz and Inverta are using company social channels, as well as individual employee's social channels, to relay useful information to audiences and promote a sense of community. Social media also allows organizations to share how they are helping the greater community in their time of need.
"It's important for everyone to play their part in trying to support whoever needs it the most," said Brendan Burns, podcast host and CEO of the coaching and consulting company Burns International. "A lot of companies are offering specials where they say, 'Hey if you buy then we're going to donate this percentage back to relief funds.' Now more than ever, I think it's always important to have an element of contribution in your business and your communication strategies. And it's really important to get those out there and share that on social because there's a lot of craziness happening in the world and while we don't want to take advantage of the hysteria, you want to address it and try to help people and give them hope. Let them know that you're thinking about these things and doing your part as an organization to help."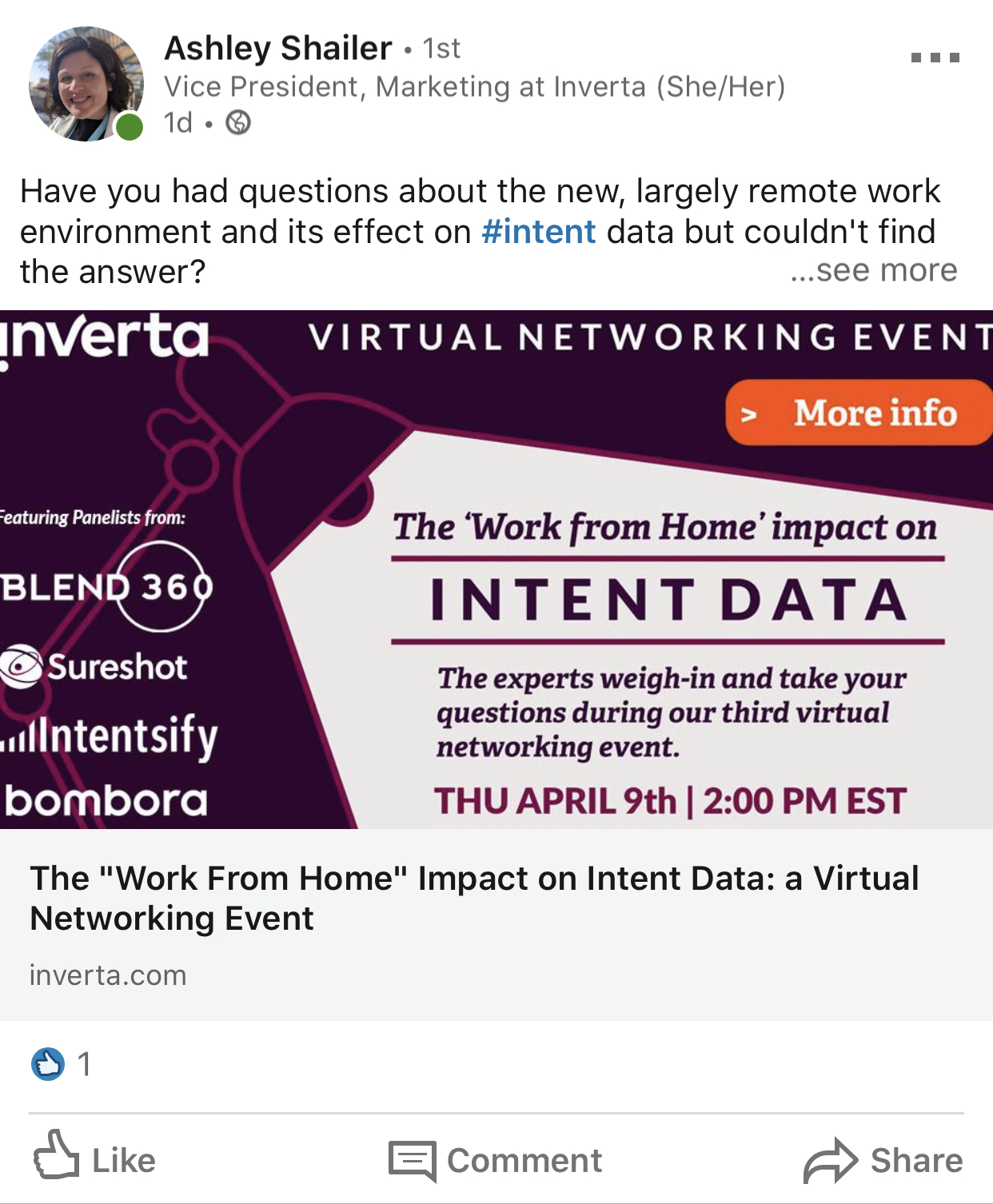 Inverta, for example, tapped into social media to promote an impromptu virtual roundtable for marketers to engage with each other to discuss strategies following the COVID-19 crisis. The company put together a Zoom meeting that was mainly promoted by the Inverta marketing team on LinkedIn, which led to more than 120 registrants for an event that didn't require registration.
"I said this was going to be a networking lunch and I want marketers to get together and discuss how they're dealing with these event cancellations and budget reallocation, and really anything else on our minds right now," said Ashley Schailer, VP of Marketing at Inverta. "I just put it out on LinkedIn and had some of my coworkers at Inverta also post it. We also did some highly targeted paid social through LinkedIn that was account- and title-specific."
Moz, an SEO software provider, also turned to social media to promote free educational services in light of the COVID-19 pandemic. The company is offering free courses within the Moz Academy and leveraging channels such as LinkedIn and Instagram to share the initiative.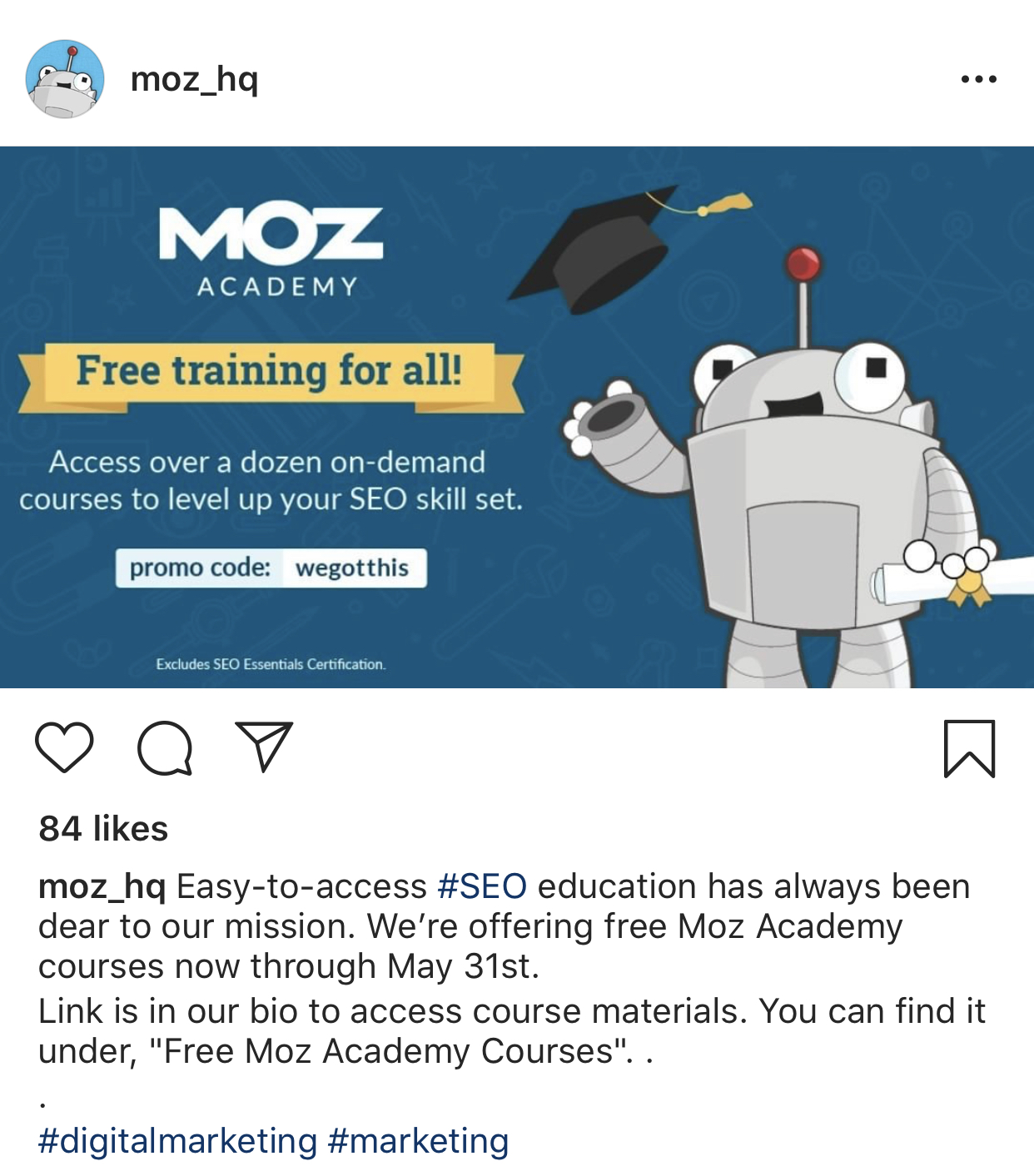 "I'm seeing brands, especially in B2B, utilize their platforms a little bit differently," said Beasley. "Moz did a really awesome ad campaign where they're offering their training programs, which are normally around $250 a month, for free for whoever signed up. I happen to know that that was incredibly successful for them. They were running ads for that within Instagram stories since people are spending a lot more time on their phones interfacing with anything that's going to be collaborative. There's a lot of big opportunity to share those kinds of things via social ads and such."
Making Professional & Personal Connections On Social Channels
When it comes to deciding which social channels to leverage, marketers must first understand their audience and know which platforms they frequent to make both a personal and professional connection.
To no surprise, Demand Gen Report's 2020 Content Preferences Survey found that LinkedIn continues to be a top channel for sharing thought-leadership content, with 81% of respondents saying they share business-related content with their network. However, Facebook, Twitter and Instagram are also becoming fairly common for sharing content.
Specifically, the research showed that 43% of respondents saying they share resources on Twitter, 40% share on Facebook and 22% on Instagram.
Buyers also continue to turn to social media to gain feedback and commentary on potential purchase decisions. More than half (57%) of survey respondents said they are relying on social feedback and commentary as they navigate new solutions and vendors.
"LinkedIn is still the starting point of where professional relationships begin, and often where the professional nature of relationships continues," said Mike Orr, Founder and CEO of Grapevine6, an enterprise social and digital sales engagement platform. "We can almost think about it as a continuum. And this is probably the same for brands, where it goes from a professional realm into the personal realm. [LinkedIn] is usually the starting point for most of the social programs that we see in B2B. But then often, when you build a relationship, especially with current customers, you then would start to engage in more personal conversations that may extend into Twitter or Facebook or even Instagram, some of the more personal platforms. It really depends on the maturity of the relationship or the depth and personal element of the relationship and how that progresses to those different platforms."
Orr noted that these more "personal" social media channels are ideal platforms to visually present company culture to a new audience, as well as promote charitable initiatives and support.
"The personal nature of the visual medium is that you can have a chance to externalize your company culture," said Orr. "If you have a company culture that supports people internally or externally, or helps your customers do amazing things for society, you can visually represent those on social. If that's authentically part of your company culture, those platforms give you a way to externalize it."
Amid our new reality, social media can make or break the way prospects and customers feel about your company. Taking the time to reassess what matters and what doesn't for your audience is critical to delivering an authentic customer experience on social media.