Which Entity Structure Should You Choose to Incorporate a Small Business? by @DeborahSweeney
by Deborah Sweeney | Featured Contributor
There are a lot of entity structures to pick from when you decide to incorporate a small business. It's easy to struggle with finding the formation that feels like the right fit. Some entrepreneurs may feel so overwhelmed that they decide not to incorporate their startup.
Keep calm and always incorporate! Certain entity formations are frequently used to incorporate small businesses across multiple industries, like the ones listed below.
Sole proprietorship
Limited liability company (LLC)
S Corporation
Partnership
How do you know which entity is a fit for your company? Let's examine what it means to incorporate as each entity and which types of businesses are best suited for the business structure.
Sole Proprietorship
How does this entity work? A sole proprietorship allows the owner of the business to be the boss. They take full responsibility for everything that happens to the business. There's not much paperwork involved to set up a sole proprietorship, making it one of the easiest and most affordable entity formations.
Sole proprietorships are a fit for… Any entrepreneur who wants to call the shots of their small business on their own. Sole proprietorships are also ideal for companies where there is little to no liability risk involved, or startups that are still testing out their business ideas.
Keep in mind… There is no separation between the owner and the business entity in a sole proprietorship. The owner takes full responsibility for everything that impacts the company, good and bad. Sole proprietors must be able to pay all business debts and taxes and file annual reports and paperwork on time. Take care not to fall out of compliance as a sole proprietorship.
Limited Liability Companies (LLCs)
How does this entity work? Often considered to be a hybrid entity of a corporation and partnership, an LLC provides its owners (or members, depending on how many you have within the LLC) with liability protection. This creates a separation between professional and personal assets. In the event of an unforeseen circumstance, like a lawsuit against your business, your personal belongings like houses and cars may be liable. However, an LLC protects against personal liability to ensure these belongings are not seized from you.
LLCs are a fit for… Businesses where there is potential for high risk liability, such as a restaurant or construction site, where employees may be injured on the job. It's also a solid entity for owners with personal valuable assets that would like to protect their belongings.
Keep in mind… LLCs are flexible, due to being a hybrid entity. You may choose how you would like to be taxed under an LLC, including as an S Corporation.
S Corporation
How does this entity work? The S Corporation entity helps entrepreneurs to avoid double taxation. An S Corp allows the profits and losses of the corporation to "pass through" to the personal income of the shareholders. (The alternative would mean being taxed at a personal income and corporate level.)
S Corps are a fit for… Companies that have evolved past the startup phase, established their leadership and organization members, and raised capital from shareholders.
Keep in mind… You must file to elect S Corporation status with the IRS. This may be done using Form 2553. S Corporations also come with certain ownership and stock criteria as well. The business may not have more than 100 shareholders, with all shareholders acting as individual persons and no nonresident aliens. The business must also only have a single class of stock.
Partnership
How does this entity work? A partnership is established between two (or more) individuals interested in going into business together. As partners, they share ownership of the business including profits and losses. They also make decisions together. Generally, this entity is easy to form with little paperwork necessary.
Partnerships are a fit for… Individuals that are equally invested in the idea of going into business together. A partnership may be started with a family member, friend, or another like-minded individual passionate about your business.
Keep in mind… While it's not a requirement, a partnership formation should include a written partnership agreement. A written partnership agreement outlines the terms of the partnership, capital contributions from partners, and rules for admitting new partners as well as voluntary and involuntary partner withdrawal. This document will help keep all partners on the same page with regulations as they relate to the business.
Deborah Sweeney is the CEO of MyCorporation.com which provides online legal filing services for entrepreneurs and businesses, startup bundles that include corporation and LLC formation, registered agent services, DBAs, and trademark and copyright filing services. You can find MyCorporation on Twitter at @MyCorporation.
The post Which Entity Structure Should You Choose to Incorporate a Small Business? by @DeborahSweeney appeared first on She Owns It.
What It Really Takes To Make A Million In Your Business

(You can watch the video below)
So many of us have this goal to make a million in revenue in our businesses… I used to dream so much of reaching this milestone back in 2009.
This is when I created a challenge for myself called "Mission To Make A Million In 365 Days".
And whilst I did reach the million mark a few years ago, that first challenge I set for myself was a total and utter fail, not because my ideas were bad, but because I was focusing on completely the wrong things.
It took me a few years from 2009 to figure out what it really takes to make a million, and it's such an important shift that I think holds so many entrepreneurs from ever getting to that milestone.
So in this week's episode I wanted to share with you my journey to making a million in my business and some key things I learned along the way that I know will be so helpful if this is a goal that's on your list too.
In this episode I share with you:
What happened by day 65 of my "Mission To Make A Million In 365 Days" challenge and why I decided I needed to set myself a different challenge after that.
The discovery I made in 2011 about what it really takes to become a successful entrepreneur and the new challenge I set for myself with this shift in perspective.
The changes I made that helped me bring to life a business idea I had been mulling over for 3 years (that's how FEA was born!).
The things we need to do every single day to become the person we need to be to create success.
The questions you really need to ask yourself as an entrepreneur and the commitments you need to make so that you can hit your financial goals.
I hope you love this episode and that it helps you to have a few A-HA moments!
I also wanted to let you know that I'm doing my final live workshop before the baby arrives and I'd LOVE to invite you to join me for it!
Click here to sign up for this workshop >>>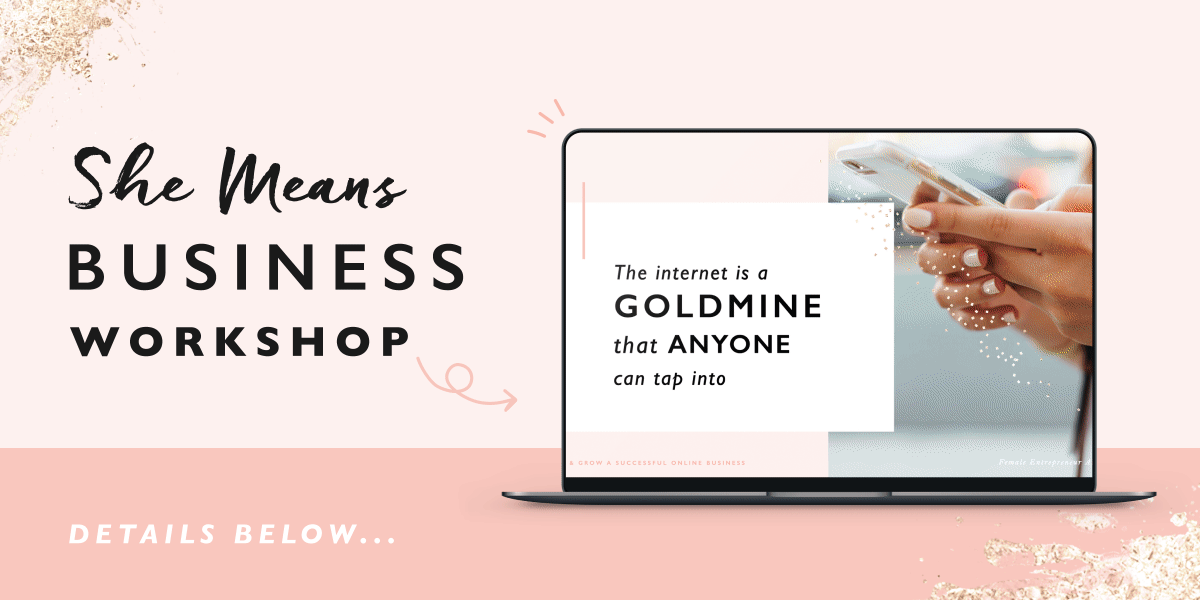 In this workshop I'll be sharing:
The 6 BEST ways to make money online – that everyone can take advantage of!
We'll be identifying what stage of the business journey you're at and what steps to take: are you The Dreamer, The Starter, The Hustler, The Grower, The Scaler or The Visionary?
How I was able to go from being a dreamer to building a million-dollar business – the core steps that got me here and how you can do it too.
The fundamental things you need to be doing every day (that most people don't even think about) to break through and create the success you want.
The post What It Really Takes To Make A Million In Your Business appeared first on Female Entrepreneur Association.
How a $8.00 investment got me a recurring $100 monthly sale
Hello everybody! I hope you're all doing great today! I'm a long time lurker, first time poster, but I have a story to tell you.
About a week ago I was listening to The Side Hustle show and heard en episode about a woman from Michigan who started a pet waste removal company (essentially poop scooping). She was able to replace her pharmacy job and was able to build it into a six figure income.
I was blown away. I'm a textbook over thinker who's built out businesses and websites over and over again (only getting to the point of launch and then abandoning everything out of fear or lack of connection). BUT THIS. THIS WAS SO SIMPLE I COULDN'T OVERTHINK IT:
1) Low Startup Costs
Free Wix site (looks legit af)
I design my own business cards and flyers
Just need initial tools and recurring expenses are only trash bags, gloves, masks, and gas.
2) Low Time Commitment
If you charge $14 per visit, have 30 clients, and show up weekly, you could be making up to 60/h if you route your clients correctly. WHICH MEANS that you get your time back, which is truly the only thing I care about at the moment.
3) Easy to preform
Other services businesses such as pressure washing, house painting, and cleaning were all to high risk for me. Didn't want to blow someone's paint off while pressure washing, or hire a whole crew to paint, or clean anything with a rag. Not interested.
This is literally scooping poop into a bag and tossing into the customers bin (unless they want haulaway services in which case you can charge even more!)
All of that to say, I finally pulled the trigger with my fiancé's support and we went out yesterday in the heat to hand out flyers. Yes, it was uncomfortable and hot and sweaty and weird walking up to peoples doors to slip in a flyer. BUT it only took my $8.00 to get my flyers printed, about 2 hours of my time, and not even 12 hours later I got a call from someone looking to schedule cleaning AND BI-WEEKLY SERVICES. Which means that I'm looking at just about $100 extra dollars per month for 1 client and MAYBE 2 hours max of my time actually scooping.
$50/h picking up poop. And KEEP IN MIND: if you're making as much as I am right now ($15/h 40h/week) then literally all it would take is convincing 30 people to book your services and you can leave your job. Income REPLACED AND EXCEEDED.
I was hyped all night yesterday and just wanted to share it with my favorite sub. A lot of your stories and ideas have influenced me to think that there's actually a different way to exist instead of being monitored by your whack ass bosses all day.
Side Note: there's a lot that goes into a business but over the course of the last 3 years I've acquired almost every skill I need to start a business myself. This didn't happen overnight. It was piece by piece. Wondering why tf I was learning illustrator. Why I learned to edit videos. Why I made so many website mockups. It all felt like an endless cycle. But when I found the idea that made sense, it was as if all my skills were acquired for this purpose. Keep learning! It definitely will reap benefits in the future!
TLDR: I actually put advice to action and booked a $100/month client with only $8.00 and 2 hours of putting up flyers on doors. Rate works out to about $50/h for minimal effort.
Thanks friends! Here to answer as many questions as I can if you have any.
Edit: ended up buying the domain to get google to recognize this traffic. Thank you everyone who's upvoted. Meant the world!!
Check out the site at: AV Scoops
submitted by /u/zeromoreno
[comments]



Source link
You Know This Song: Having Confidence to Sing the Soundtrack to Your Life by @NancySolari
by Nancy Solari 
One of my favorite hobbies and passions has always been karaoke. But as my vision started deteriorating after being diagnosed with Retinitis Pigmentosa, I found I could no longer read the lyrics at a distance. I solved this by having the karaoke host at my go-to bar whisper the words to me while I sang, but when I visited other karaoke places, I ran into issues with the DJ or manager being uncomfortable reading the words to me. In my mind, I felt more secure when they assisted me, but the audience often sat there whispering among themselves, confused by my performance.
One night, I was at a bar with my friends and serenading them with the well-known Britney Spears song "…Baby One More Time." The manager agreed to whisper the lyrics in my ear, but I had to repeatedly lean down to hear her; my body swaying like a pendulum during the performance. Suddenly, a woman got up from her seat, marched towards me, slammed her hand on the stage, and shouted: "You know this song!" Without another word, she disappeared, and I never encountered her again. But I immediately started singing the song without the manager and to my surprise, she was right: I sang the song perfectly. I realized I no longer needed my "karaoke crutch" of having the words read to me in order for me to succeed.
The next day, I was still perplexed by the mystery lady and my triumph in the bar. But it gave me the chance to understand I had become too dependent on others. The interruption of my song allowed me to recognize this and trust my abilities again.
In order for us to grow into being our most authentic selves, we must plant the seeds of the following qualities…
Let disrupters Into Your life
When I performed at karaoke bars, I was content with someone feeding me the words until the I was jolted into realizing the truth: I knew the lyrics and was capable of singing on my own. What I needed was someone to assist in my overall personal growth.
We need these people in our lives, because there are insecurities we cannot recognize in ourselves. The woman who interrupted me on stage saw the discomfort in my body and gave me the impetus to perform without assistance. Our friends and family do the same for us: They give us guidance and provide opportunities that endow us with confidence.
Believe in Your abilities
When my vision started worsening, I began leaning on those around me. It was only when I started singing on my own again that I grew more self-reliant. I developed a new habit of listening to the song a few times to learn the melody, and practicing for hours before performing. I discovered if I messed up the verses, I could just smile and make them up as went along: I learned how to adapt and become a stronger.
To find this self-assurance, I had to examine what I liked about myself. Nobody is perfect, but we have to consider a skill we take pride in and let it be our signature trait. For some it might be a physical attribute, and for others it may be intelligence. We can use confidence in this singular feature to build our self-worth in other areas: It becomes like a business card defining us in the best way possible.
Play Only Your Soundtrack
 My ability to sing and do karaoke is important because it stems from a time before I lost my sight. The music industry was a career path I went down for a brief period. I was going to music award parties, meeting with presidents of different record labels, and recording my music. As exciting as the industry was, I encountered sexual harassment that made me feel powerless.
One night, I was at an industry party that opened my eyes. I found myself scanning the room and observing new artists who were indulging in drugs. In that moment, I went to the bathroom; tears were running down my face, and I felt adrift in a sea of partiers. I looked in the mirror and told myself: "These are not my people." I immediately left the party and walked away from the music industry. I found the confidence to step out of that world, and I felt like I gained my soul back.
By confronting what I desired in life and have conviction in my morals, I left behind people I knew would not have assisted my growth. To find our true selves, we need this self-reflection. I found when I journaled or voiced my thoughts into a recorder, I effectively discovered my inner pain. When we examine ourselves through a different prism, we learn what holds us back and can create change in our lives.
The soundtrack to my life is far from complete, as I continue to be challenged by my vision every day. But each time we are confronted with adversity, we must remember our best verses will be about overcoming hardship, and the greatest songs often take years to write. Along the way, when self-confidence meets our authentic selves, we come one step closer to finishing the album to our life.
And that is music to my ears.
Nancy Solari is an inspiring example of living life with a positive mindset, regardless of the challenges you face.
At sixteen, she was diagnosed with retinitis pigmentosa: a progressive retinal disease that leads to blindness. Over the years, Nancy experienced significant vision loss, but refused to let this dissuade her from following her dreams. She obtained a BA in broadcasting and psychology from the University of Oregon, worked for Good Morning America and Entertainment Tonight, had a successful singing career, and was a top-producing Realtor in Southern California.
Nancy went on to obtain a life coaching degree, and launched Living Full Out in 2008 to help others achieve their goals. An accomplished coach, speaker, and host of the national radio show, Living Full Out with Nancy Solari, she shares her tools for success with audiences and organizations all around the country.
The post You Know This Song: Having Confidence to Sing the Soundtrack to Your Life by @NancySolari appeared first on She Owns It.