Starting a Freelance Business: A Step-by-Step Guide
So, you're in the business of starting a business.
You're looking for the freedom and flexibility that comes with only answering to yourself.
You're planning to take life by the reins and your industry by storm.
In other words, you want to get your own freelance business going.
Starting a freelance business is an exciting prospect. Perks like setting your own hours and pursuing your passion are certainly attractive — but a lot of effort, strategy, and planning goes into earning those benefits.
It's a tough road with a lot of confusing twists and turns, so it helps to have a map.
Let's explore some key points you'll have to address using a roadmap to starting a freelance business.
1. Understand what you want out of your business.
Before you set your big freelance business plans in motion, you need to know a lot about yourself and why you're starting your business in the first place.
Ask yourself some of the following questions — Why are you doing this? Is it to be your own boss? To set your own hours? To pursue your passion? All of the above?
And how much time and effort are you willing to put in? Is this going to be a side hustle? Are you going to keep your day job?
You need to know the answers to all of these questions — and quite a few more — before you can really commit to starting your own freelance business. You can't actually know what you're doing if you have no concept of why you're doing it in the first place.
2. Have a solid picture of your personal financial situation.
The idea of dropping everything to pursue your passion on your own terms is starry-eyed daydream material. That's why you need to be careful.
It's easy to romanticize the image of you walking out of your office with a big smile on your face, knowing that you're about to do what you've always wanted without anyone to answer to.
It's a lovely concept, but you can't get carried away. You need to ground yourself, and understanding your personal finances is a crucial part of that.
Familiarize yourself with personal and business-related expenses and understand how long your savings can sustain you. Take a good hard look at your financial situation, and identify a point where you might jump ship if things don't go according to plan.
Take all of that into account and use it to set a monthly income target. There are a lot of helpful resources online — like the Boundless Freelance Target Income Calculator — that can walk you through the different factors you must consider when calculating how much you'll need to make.
Understanding your personal finances will help you get a clear picture of what you can expect going forward, and give you a concept of how to handle the issues that are going to arise.
3. Make sure you're really in it.
If you want to succeed as a freelance business owner, you have to be all the way in. You need to find and maintain a special kind of motivation.
You have to ask yourself some burning questions, including — Am I ready to commit as much as I possibly can to this? Is this exactly what I want to do? Do I have a comprehensive plan? Do I genuinely believe in that plan? Am I willing to fail?
When it comes down to it, you have to believe in yourself, believe in your business, understand it might not pan out, and know you're willing to stay the course to successfully start a freelance business.
4. Set measurable goals.
You'll need to set benchmarks to make sure your business is making progress and that you, personally, are staying the course. It'll also help your confidence to know that you're consistently reaching milestones you've set for yourself.
Make sure the goals you're setting are SMART — specific, measurable, attainable, relevant, and time-based. Also be sure to set different kinds of goals — specifically short-term, long-term, and ongoing.
A short-term goal may be something like getting your website up and running with a certain number of monthly visitors within three months.
A long-term goal could be reaching a target in annual revenue within three years.
Lastly, an ongoing goal might be dedicating a specific number of hours to client outreach each week.
Make sure these goals are reasonable and outline a solid trajectory for your business. Keep careful track of them to have a better understanding of what you're doing well, and what you could be doing better.
5. Sort out the business-end of the business.
You'll want to handle the nitty-gritty administrative and legal ends of your freelance business before really getting started.
That could mean taking steps like formally organizing a business entity, getting a picture of your tax exposure, and familiarizing yourself with what your business contracts might look like.
You should also have a plan in place for cash management. How and when money comes can be unpredictable in freelancing. You should have some concept of how you intend to maintain enough cash to stay afloat.
Additionally, consider building infrastructure that helps you manage your sales, marketing, and customer service. A CRM is a great way to do that. Consider adopting one and letting it serve as the backbone for a lot of your business operations.
The main point I'm getting at here is that there's a side to starting a freelance business that isn't particularly fun or exciting. But you won't get to enjoy the fun and exciting stuff without addressing it first.
Be sure to work out aspects like accounting, how your business is going to function on a day-to-day basis, and how you're going to save and manage your money before really launching into your freelance business.
6. Start figuring out your buyer personas.
As per HubSpot's own definition, a buyer persona is "a semi-fictional representation of your ideal customer based on market research and real data about your existing customers."
In other words, it's the kind of person you think you'll be selling to.
You'll want to start by conducting general research about your target audience. Get a feel for who your customers and prospects are. You should consider reaching out to those people for surveys and interviews. This will help you understand what kind of buyer is right for your business.
From there, you'll want to whittle down your base a bit. Pick out commonalities among the potential buyers you've identified. This could include considering factors like demographics, how they like to be contacted, behaviors, and interests.
Once you've identified trends within your audience, develop personas based on the different patterns you see. For instance, if you're a caterer, you may notice that 40-to-50 year old women booking their childrens' birthday parties or other family events make up a significant portion of your business. Use that information to develop a buyer persona specific to those qualities.
Give that group a name and boom! You have a buyer persona.
That's a very high-level overview of the process, if you'd like a more in depth perspective on how to go about developing one of these personas, check out this article.
7. Determine pricing.
When determining pricing, it's important to consider how you plan on charging clients.
Will you be hourly? Will you charge a flat fee? Will you use project quotes? It's important to settle on how you'll be making money before you start actually making it.
Once you've landed on your pricing structure, start figuring how much your services are going to cost. You can start by researching industry averages. You should be able to find some solid figures online. Sites like Payscale and Glassdoor are good places to start.
Additionally, take a look at How to Calculate Hourly Rate for Freelance Marketers & Consultants for some initial estimates.
It could also help to reach out to other professionals in your space to see what they charge and how those price points are working out for them.
Bear in mind, this isn't an exact science. Finding the right price for your services will probably take some trial-and-error. You should keep experimenting until you get it right.
8. Create and maintain an online presence.
You're going to need to get a website up and running as soon as possible. That's going to be your first point of contact with a lot of your customers.
Having a great-looking website that's easy to navigate assures potential customers that your business is legitimate and professional.
A well-structured, visually appealing website can also distinguish you from other freelancers in your space. You can use it to give your prospects a picture of your services, portfolio, and pricing.
Additionally, you'll want to establish a solid social media presence. Outreach through social networks is becoming essential to any kind of business — and freelancers are no exception.
A robust social media presence is incredibly important when it comes to engaging with existing customers to keep them interested in your business.
Create and develop profiles across a variety of social networks. The more likes and followers you can gather, the more trustworthy and established your business will look.
9. Network, network, network.
You can't conduct business without contacts. That's like trying to drive a car without gasoline. But networking is much easier in theory than in practice.
It takes a lot of energy, and it's often difficult to know where to begin. There's no doubt it'll be tough, but the success of your business could hinge upon whether or not you put in the effort to network effectively.
You should start by identifying where your target buyers are hanging out — both online and offline. Then, you can use that information to develop a marketing and networking strategy that meets them where they are.
Attend local meetings relevant to your industry to make personal outreach to potential prospects and fellow professionals in your space. It also helps to stay active on online forums about the areas your business covers.
Be sure to use social media to keep consistent contact between you and your potential buyers, as well as you and your fellow professionals.
Like I said, you can't conduct business without contacts, and it's not easy to establish those relationships. It's also difficult to maintain those connections once you have them, but don't get discouraged.
If you make smart, dedicated efforts to reach and connect with prospects and fellow professionals, you should be able to establish a productive network for your business.
Take a look at How to Master Non-Awkward, Effective In-Person Networking for more networking tips.
10. Market yourself effectively.
You should develop a solid content marketing strategy. Blogging is an essential part of that process. When you do, be sure to write content that is generally relevant to your field — not just specific to your own business.
You want to establish yourself as a thought leader in your industry. That can give you the kind of credibility your business needs to stand out.
You want to show that your business is legitimate. The best way to do that is to demonstrate that you really know what you're talking about when it comes to your area of expertise.
You'll also want to write up content offers to attach to your blogs to convert website visitors into leads. A content offer is an asset like a whitepaper or an eBook with information relevant to your field.
You can use content offers to attract and log contacts. In order for a reader to download your content offer, have them fill out a contact form. In doing so, you're identifying that reader as a potential lead.
You should also be actively promoting content on social media — and it doesn't always have to be your own. You can actively post other thoughtful content from other outlets in your industry. By doing this, you can let your followers know that you're staying educated about and on top of industry trends.
Your content marketing strategy can shape your reputation. If you create and promote enriching content that your readers will get a lot out of, you'll stand out as an authority in your industry.
11. Maintain relationships and boost your reputation.
One of your first priorities will always be preserving the client relationships you establish. You have to do everything in your power to delight your customers and keep them close.
This means keeping consistent contact and providing exceptional customer service.
Positive word of mouth can be a huge boost when starting a freelance business. Happy customers can provide that, and even happier customers will go out of their way to offer it.
If you can, get testimonials from those kinds of clients to display on your website.
And it should go without saying, but everything on this means nothing if you don't do your job well. Do good work. Put in as much effort as you can. Be professional and consistent with what you do. And keep your customers happy.
12. Stay persistent when unexpected difficulties arise
You must be prepared to stay the course, if you want to make it. Odds are you won't see stellar results right away, and it will probably take a lot of time and effort before you do.
You have to set yourself up for success and do everything you can deliver on the goals you set for yourself. You'll hit snags. Some things won't go well. You're bound to deal with at least a few hard times.
In spite of all that, you have to be professional, persistent, and do all you can to best serve your customers. That's going to put you in the best possible position to make it.
It's not going to be easy. But if your head and heart are in the right place, it's going to be worth it.
B2B Orgs Make Authentic Connections With Audiences On Social Channels Amid 'Social Distancing'
During a time when "social distancing" has become the new norm, it's no surprise most people are turning to social media to connect with friends, family, colleagues and buyers. The digital world has quickly become a safe alternative for B2B organizations to maintain relationships with prospects and customers alike, as in-person interactions are not an option for the time being. And while social media always has been a top channel for sales reps to engage with prospects and customers, and for businesses and individuals to share thought-leadership content with audiences, this "new reality" has shifted marketing strategies, requiring reps to rethink traditional tactics to cater to the needs and pain points of modern buyers during this unsettling time.
While the message always has been an important component for authentic engagement, it has become more critical than ever to understand what your audience is going through to better cater to their current situation in the right tone.
"Everything starts with the message … it always did, but I think the message is absolutely imperative even more now," said Courtney Beasley, VP of Marketing at the B2B agency Walker Sands, in an interview with Demand Gen Report. "So, make sure that you are meeting your audience where they are. And that might mean going back to the drawing board of understanding your personas and putting yourselves in the shoes of your customer.
"What are the words that they're using right now? What are the new challenges that they're facing? Getting that message down to the granular of, for example, the language they are using. And it's not even just the words, it's the tone as well. Do you need to be more empathetic right now or is your audience truly just looking to get back to work? There's a lot going on and we still have to figure out how to run companies if this is going to be a new normal for a little while. So, I think the tone and language choice are very important."
Promoting Digital Communities & Education On Social Media
In a new world of canceled trade shows, as employees are forced to work from home and companies are shifting strategies to digital experiences, social media channels have become key to promoting virtual events and communicating discounts or free offers for services. B2B organizations such as Moz and Inverta are using company social channels, as well as individual employee's social channels, to relay useful information to audiences and promote a sense of community. Social media also allows organizations to share how they are helping the greater community in their time of need.
"It's important for everyone to play their part in trying to support whoever needs it the most," said Brendan Burns, podcast host and CEO of the coaching and consulting company Burns International. "A lot of companies are offering specials where they say, 'Hey if you buy then we're going to donate this percentage back to relief funds.' Now more than ever, I think it's always important to have an element of contribution in your business and your communication strategies. And it's really important to get those out there and share that on social because there's a lot of craziness happening in the world and while we don't want to take advantage of the hysteria, you want to address it and try to help people and give them hope. Let them know that you're thinking about these things and doing your part as an organization to help."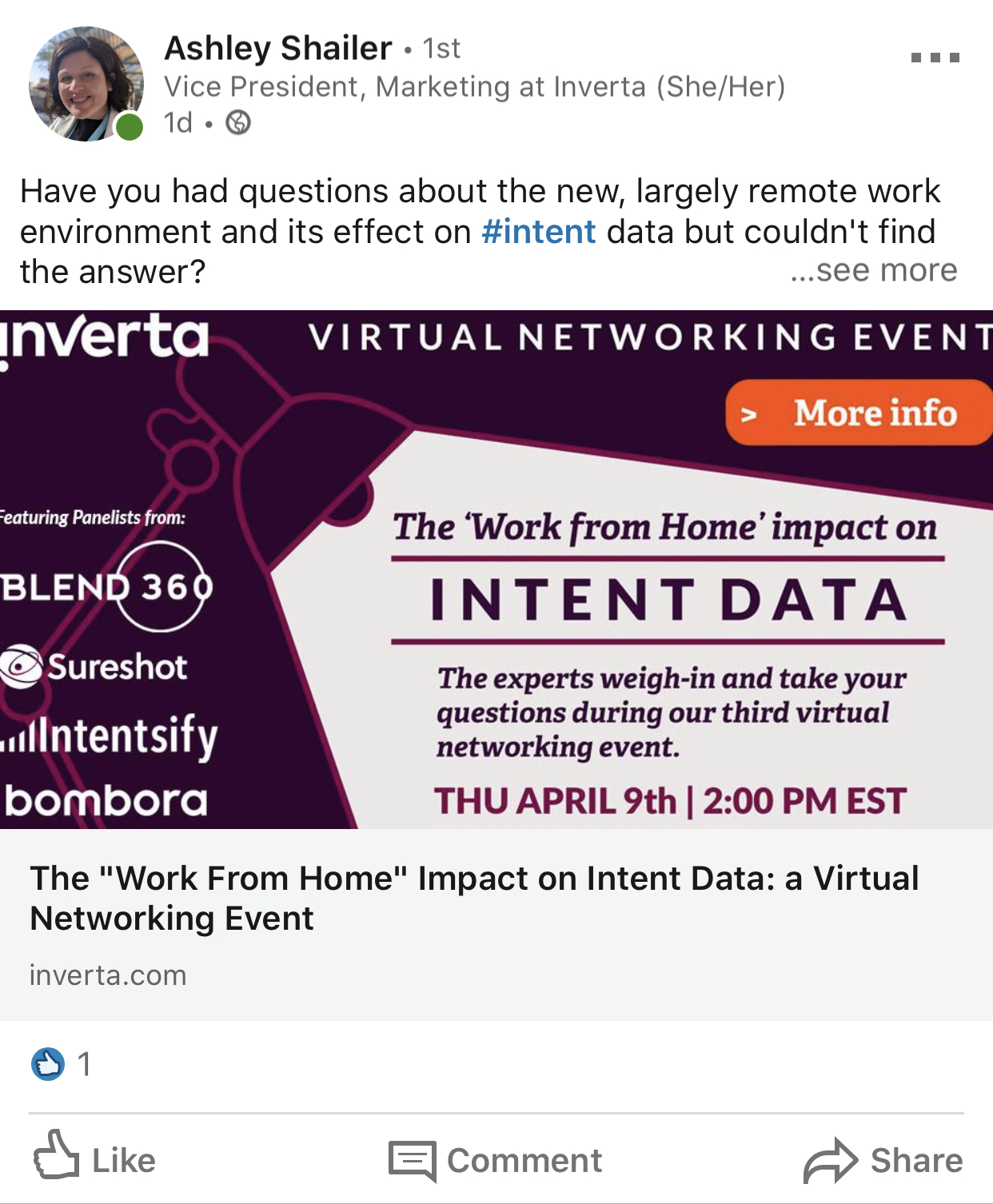 Inverta, for example, tapped into social media to promote an impromptu virtual roundtable for marketers to engage with each other to discuss strategies following the COVID-19 crisis. The company put together a Zoom meeting that was mainly promoted by the Inverta marketing team on LinkedIn, which led to more than 120 registrants for an event that didn't require registration.
"I said this was going to be a networking lunch and I want marketers to get together and discuss how they're dealing with these event cancellations and budget reallocation, and really anything else on our minds right now," said Ashley Schailer, VP of Marketing at Inverta. "I just put it out on LinkedIn and had some of my coworkers at Inverta also post it. We also did some highly targeted paid social through LinkedIn that was account- and title-specific."
Moz, an SEO software provider, also turned to social media to promote free educational services in light of the COVID-19 pandemic. The company is offering free courses within the Moz Academy and leveraging channels such as LinkedIn and Instagram to share the initiative.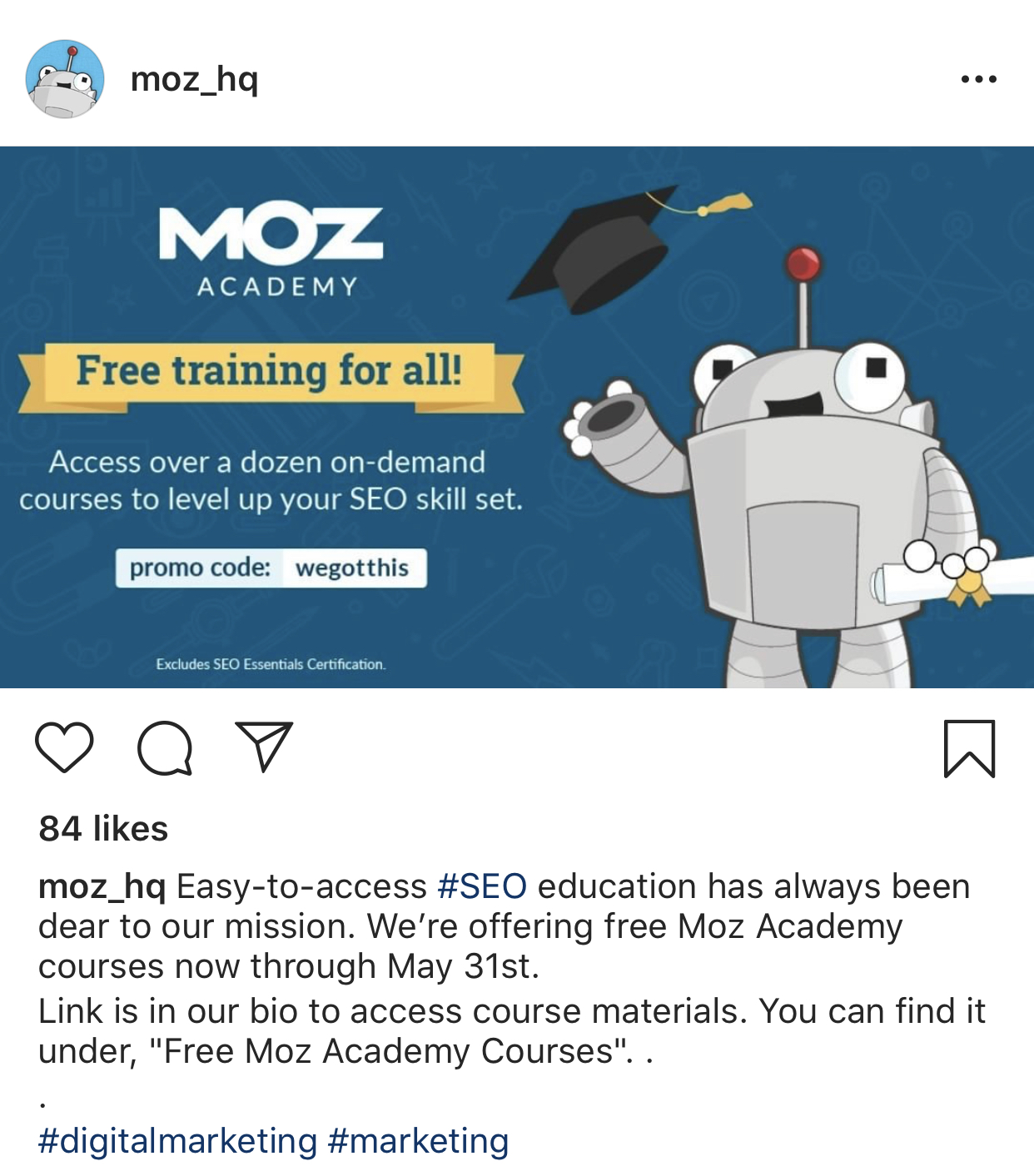 "I'm seeing brands, especially in B2B, utilize their platforms a little bit differently," said Beasley. "Moz did a really awesome ad campaign where they're offering their training programs, which are normally around $250 a month, for free for whoever signed up. I happen to know that that was incredibly successful for them. They were running ads for that within Instagram stories since people are spending a lot more time on their phones interfacing with anything that's going to be collaborative. There's a lot of big opportunity to share those kinds of things via social ads and such."
Making Professional & Personal Connections On Social Channels
When it comes to deciding which social channels to leverage, marketers must first understand their audience and know which platforms they frequent to make both a personal and professional connection.
To no surprise, Demand Gen Report's 2020 Content Preferences Survey found that LinkedIn continues to be a top channel for sharing thought-leadership content, with 81% of respondents saying they share business-related content with their network. However, Facebook, Twitter and Instagram are also becoming fairly common for sharing content.
Specifically, the research showed that 43% of respondents saying they share resources on Twitter, 40% share on Facebook and 22% on Instagram.
Buyers also continue to turn to social media to gain feedback and commentary on potential purchase decisions. More than half (57%) of survey respondents said they are relying on social feedback and commentary as they navigate new solutions and vendors.
"LinkedIn is still the starting point of where professional relationships begin, and often where the professional nature of relationships continues," said Mike Orr, Founder and CEO of Grapevine6, an enterprise social and digital sales engagement platform. "We can almost think about it as a continuum. And this is probably the same for brands, where it goes from a professional realm into the personal realm. [LinkedIn] is usually the starting point for most of the social programs that we see in B2B. But then often, when you build a relationship, especially with current customers, you then would start to engage in more personal conversations that may extend into Twitter or Facebook or even Instagram, some of the more personal platforms. It really depends on the maturity of the relationship or the depth and personal element of the relationship and how that progresses to those different platforms."
Orr noted that these more "personal" social media channels are ideal platforms to visually present company culture to a new audience, as well as promote charitable initiatives and support.
"The personal nature of the visual medium is that you can have a chance to externalize your company culture," said Orr. "If you have a company culture that supports people internally or externally, or helps your customers do amazing things for society, you can visually represent those on social. If that's authentically part of your company culture, those platforms give you a way to externalize it."
Amid our new reality, social media can make or break the way prospects and customers feel about your company. Taking the time to reassess what matters and what doesn't for your audience is critical to delivering an authentic customer experience on social media.
Conviva report shows big boost in daytime streaming during the pandemic
30-second summary:
A new report from streaming intelligence provider Conviva shows how the stay-home directives have boosted video streaming, as well as local news on social media.
The window of time that used to be filled by working — 10AM to 5PM — rose nearly 40 percent.
Additionally, local news posts and video on social media also saw major increases, as online users have sought info on nearby conditions.
As someone recently pointed out, it's hard to think you are helping to save the world by watching Netflix at home. But that is one of the many ironies of life in the pandemic. And, not surprisingly, a new report – "Streaming in the Time of Coronavirus" from streaming media intelligence provider Conviva – finds that streaming during the pandemic has climbed sharply.
Increase in global streaming
It's up 26 percent in the U.S. and 20 percent globally. The increase in daytime viewing more clearly reflects the boost in stay-at-home behavior: the 10AM to 5PM window increased 39 percent between March 9 and 23.
Early morning hours are also up 26 percent, and pre-primetime fringe rose 20 percent. Interestingly, the only drop – a negligible 2 percent down – was in primetime.
For streaming video providers and advertisers, a key question is whether these bumps will carry over in any degree once the pandemic subsides.
"We anticipate streaming providers will retain new viewers long after the coronavirus has ended," Conviva CEO Bill Demas said in a statement, "as viewers embrace the variety and flexibility of the medium."
News on social media
Conviva also looked at news on social media during the February 21- March 23 block, compared to the previous 30 days, and found what it described as "exponential growth." Total views of local news outlets on Facebook were up 247 percent during that period, for an average increase of 118 percent in views per video.
Twitter saw a 196 percent increase in average engagement per video and a 63 percent increase in overall engagement with local news accounts. On YouTube, there was a 50 percent increase in engagement (likes, dislikes and comments) for videos.
To keep up with the demand for local info, local news organizations are boosting their posts on Facebook by 19 percent.
The data for this report was collected by Conviva from three billion streaming video applications, accounting for about 1.5 trillion real-time transactions daily. Social data came from nearly 800 news accounts globally, and from 789 local and city news outlets in the U.S.
This is Conviva's first report on the topic. Although it doesn't currently have plans for another coronavirus-specific report, Demas told ClickZ, the topic may find its way into the company's regular reports.
The post Conviva report shows big boost in daytime streaming during the pandemic appeared first on ClickZ.