Rothbard: The Constitution Was a <em>Coup d'État</em>
[Conceived in Liberty: The New Republic, 1784–1791. By Murray N. Rothbard. Edited by Patrick Newman. Mises Institute, 2019. 332 pages.]
We owe Patrick Newman a great debt for his enterprise and editorial skill in bringing to publication the fifth volume, hitherto thought lost, of Murray Rothbard's Conceived in Liberty. The details of his rescue of the lost manuscript are indeed dramatic, but rather than recount them here, I should like to concentrate on a theme central to the new book.
It is well known that Rothbard took the American Revolution to be mainly libertarian in its inspiration. The libertarian impulses of the Revolution were betrayed by a centralizing coup d'état. As Rothbard puts it:
Basically, urban merchants and artisans, as well as many slaveholding planters, united in support of a strong nation-state that would use the power of coercion to grant them privileges and subsidies. The subsidies would come at the expense of the average subsistence yeoman farmer who might be expected to oppose such a new nationalism. But against them, to support a new constitution, were the commercial farmers aided by the southern plantation-farmers who also wanted power and regulation for their own benefit. Given the urban support, the split among the farmers, and the support from wealthy educated elites, it is not surprising that the nationalist forces were able to execute their truly amazing political coup d'état which illegally liquidated the Articles of Confederation and replaced it with the Constitution. In short, they were able to destroy the original individualist and decentralized program of the American Revolution. (p. 128)
The theme I should like to concentrate on is this: what happens to the way we understand the Constitution if Rothbard is right that it was a centralizing document? The Anti-Federalists, with whom Rothbard agreed, denounced it for that reason. For example, in Virginia Patrick Henry, one of Rothbard's heroes, said:
When the American spirit was in its youth, the language of America was different: liberty, sir, was then the primary object….But now, sir, the American spirit, assisted by the ropes and chains of consolidation, is about to convert this country into a powerful and mighty empire….Such a government is incompatible with the genius of republicanism. There will be no checks, no real balances, in this government. What can avail your specious, imaginary balances, your rope-dancing, chain-rattling, ridiculous ideal checks and contrivances? But, sir, we are not feared by foreigners; we do not make nations tremble. Would this constitute happiness, or secure liberty? (p. 262)
With all this as background, we can now consider the theme I'd like to stress. If the Anti-Federalists were right. We cannot say that the Constitution as originally written gave us a limited government that later regimes have ruthlessly and recklessly expanded. In taking this approach, Rothbard set himself firmly against the dominant trend in American conservative thought. He remarks:
The Constitution was unquestionably a high-nationalist document, creating what Madison once referred to as a "high mounted government." Not only were the essential lines of the nationalistic Virginia Plan Report carried out in the Constitution, but the later changes made were preponderantly in a nationalist direction….While it is true that the general congressional veto over state laws and the vague broad grant of powers in the original Virginia Plan were whittled down to a list of enumerated powers, enough loopholes existed in the enumerated list: the national supremacy clause; the dominance of the federal judiciary; the virtually unlimited power to tax, raise armies and navies, make war, and regulate commerce; the necessary and proper clause; and the powerful general welfare loophole; all allowed the virtually absolute supremacy of the central government. While libertarian restraints were placed on state powers, no bill of rights existed to check the federal government. (p.211)
We can argue that later regimes extended national power beyond what the Constitution contemplated, but if Rothbard is right, the Constitution as written provides ample scope for tyranny.
One of the leading arguments of Constitutional conservatives is that since Congress is granted the power to declare war, military engagements by later presidents that bypass Congress are unconstitutional. (In several reviews, I have argued this way myself.) Rothbard does not agree. He says:
Congress' proposed broad military powers occasioned much debate. The nationalists tried to narrow Congress' power to make war into a more concentrated, and therefore a more controllable, form: Pinckney to the Senate only, Butler to the president himself. While these were defeated, Madison cunningly moved to alter congressional power: 'make war' became 'declare war,' which left a broad, dangerous power for the president, who was grandiosely designated in the draft as the 'commander in chief' of the U.S. army and navy, and of all the state militias. For now, the president might make war even if only Congress could formally declare it." (p. 185)
Rothbard finds similar slippery language in the Tenth Amendment, imagined by some defenders of limited government to be a principal means to thwart efforts by the federal government to centralize power:
This amendment did in truth transform the Constitution from one of supreme national power to a partially mixed polity where the liberal anti-nationalists had a constitutional argument with at least a fighting chance of acceptance. However, Madison had cunningly left out the word "expressly" before the word "delegated," so the nationalist judges were able to claim that because the word "expressly" was not there, the "delegated" can vaguely accrue through judges' elastic interpretation of the Constitution….The Tenth Amendment has been intensely reduced, by conventional judiciary construction, to a meaningless tautology. (pp. 302–3)
(Note that Rothbard does not disagree with the nationalist judges' interpretation.) Rothbard does see some hope of restraining the central government in the "forgotten" Ninth Amendment, but this was not to be invoked in a serious way by the Supreme Court until the 1960s.
Defenders of the Constitution as a bulwark of limited government often invoke the wisdom to be found in the Federalist Papers, but Rothbard views them as deceptive propaganda:
The essays contained in The Federalist were designed not for the ages—not as an explanation of nationalist views—but as a propaganda document to allay the fears and lull the suspicions of the Antifederal forces. Consequently, these field marshals of the Federalist campaign were concerned to make the Constitution look like a mixed concoction of checks-and balances and popular representation, when they really desired, and believed that they had, a political system of overriding national power. What is remarkable is the fact that historians and conservative political theorists have seized upon and canonized these campaign pieces as fountains of quasi-divine political wisdom, as hallowed texts to be revered, even as somehow a vital part of American constitutional law. (pp. 269–70)
James Madison's argument that a large national republic would better cope with the dangers of factionalism than a small one is often invoked for its profundity, but Rothbard is not impressed:
Madison claimed that the greater diversity of interests over a large area will make it more difficult for a majority of the interests to combine and oppress a minority. It is difficult to see, however, why such a combination should be difficult….But the main fallacy in Madison's argument is that it is part and parcel of the antidemocratic Federalist doctrine that the danger of despotic government comes, not from the government, but from among the ranks (i.e., the majority) of the public. The fallacy of this by now should be evident. Even if a majority approves an act of tyranny, it almost never initiates or elaborates or executes such action; rather they are almost always passive tools in the hands of the oligarchy of rulers and their allied favorites of the state apparatus. (pp. 270–71)
Rothbard concludes with this verdict on the Constitution:
Overall, it should be evident that the Constitution was a counterrevolutionary reaction to the libertarianism and decentralization embodied in the American Revolution. The Antifederalists, supporting states' rights and critical of a strong national government, were decisively beaten by the Federalists, who wanted such a polity under the guise of democracy in order to enhance their own interests and institute a British-style mercantilism over the country. Most historians have taken the side of the Federalists because they support a strong national government that has the power to tax and regulate, call forth armies and invade other countries, and cripple the power of the states. The enactment of the Constitution in 1788 drastically changed the course of American history from its natural decentralized and libertarian direction to an omnipresent leviathan that fulfilled all of the Antifederalists' fears. (p. 312)
There is evidence that Rothbard wrote the manuscript of this book before 1967 (see p. 312, editor's note 7). But I do not think that he later changed his mind about the Constitution. Those who wish to challenge his brilliant analysis have a difficult task ahead of them.
I have been mulling over a somewhat contrarian theory as to why the US markets seem to have decoupled from the U.S. economy. I have a commentary with lots of data on this coming Monday, but I wanted to discuss the evolution of my thinking about it today.
I began by asking the Fintwit community what they thought was driving markets, culled from some of the more popular tweets on the topic:
US Markets have rallied to record highs despite economic weakness & Covid-19 surge.

Why are traders ignoring the negatives and powering higher?

— Barry Ritholtz (@ritholtz) July 8, 2020
I was genuinely surprised about the response to that tweet; here is the FinTwit community reaction:
About 60% credited "The Fed" for the market rally off of the lows, while 30% believe it is a bubble; in the comments, more than a few people suggested it was both: a Fed induced bubble.
One option I considered was "Investors are looking past 2020 to 2021/22" (but I swapped it out as too nuanced and replaced it with "Bubble!").
I half-jokingly noted that no one had suggested "Buybacks," which if you can remember all the way back to 2019 was a popular explanation for what was driving markets over the prior 5-10 years. Suggestions to add "All of the Above" was thwarted by Twitter's 4 choice limit for polls, but I think that is as valid an answer as any.
The biggest shock to me: No one whatsoever brought up anything related to "international" in any capacity. No one mentioned overseas regions are the biggest source of revenue for America's biggest technology companies (and 42% of the S&P500).
I pulled this data form the most recent 10ks for the 6 FAANMG stocks — and it is pretty compelling.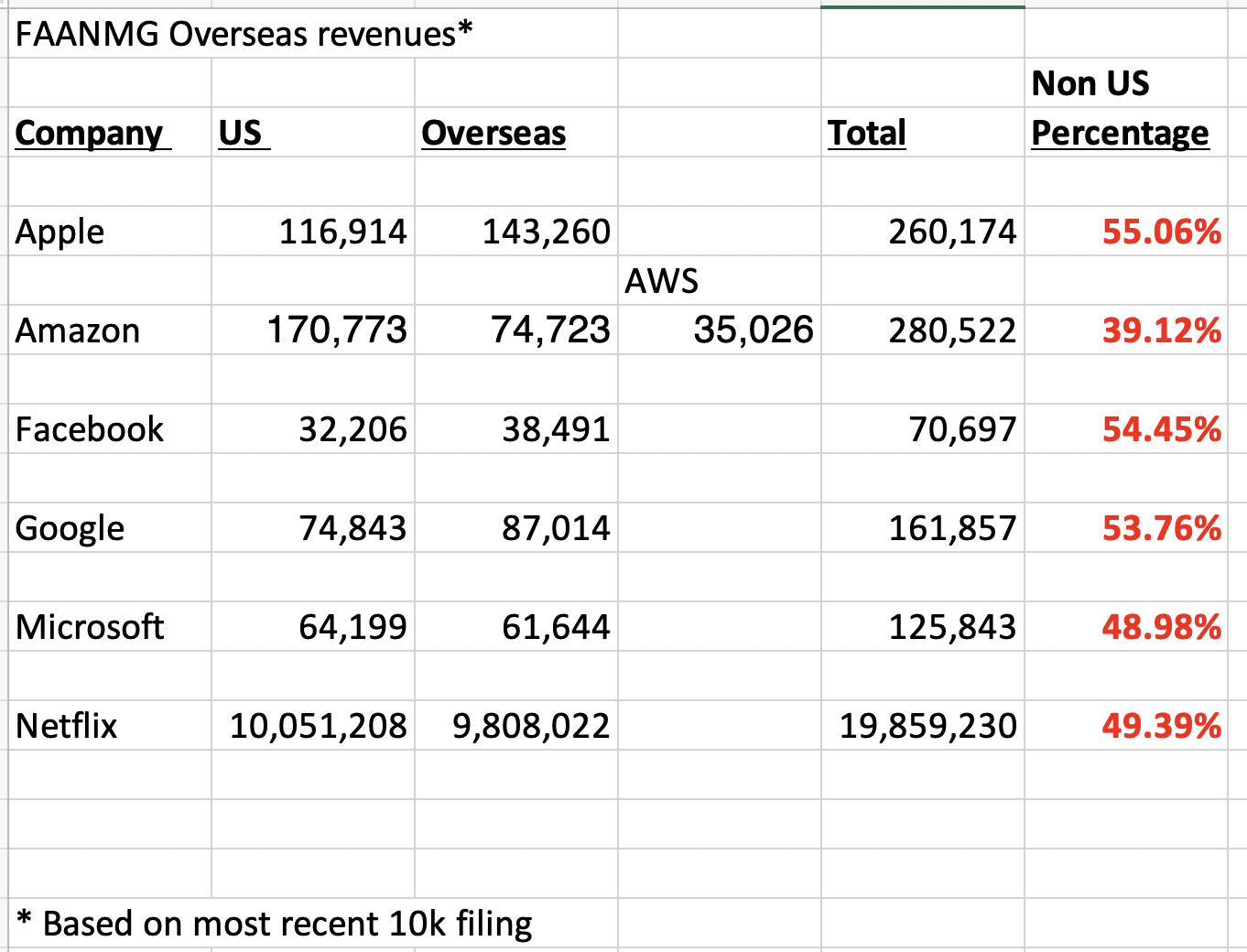 The other item no one thought to mention:  How much better the rest of the world is doing than the US in managing its pandemic — in terms of handling the lockdown, communicating the importance of masks and social distancing, in re-opening. Germany and South Korea and Japan, and yes, even China, have all managed this crisis much, much better than we have.
I pointed this out in a tweet Monday, and (again) I was surprised by the responses. A handful of trolls on the other side of the argument, but generally, widespread support.
The United States has 4.2% of the world's population, but over 25.3% of the infections and 24.4% of the deaths. It is an overwhelming indictment of gross negligence and incompetence pic.twitter.com/eg2jxzpORb

— Barry Ritholtz (@ritholtz) July 6, 2020
The difference between the two tweets is the poll at top was read by a financial audience, while this tweet was pushed into a political audience, thanks to retweets by George Conway, Rick Wilson, and the Mooch.
In finance, all of us tend to bring our confirmation bias to the table, typically reflecting our portfolios. But the political audience are hard core believers, and exist in a bubble within which it is very difficult to change any minds.
My job is to bridge the gap between these two disparate belief systems — politics and financial — to see if I can adhere to Ray Dalio's prime directive to investors: "There is nothing more important than understanding how reality works and how to deal with it."
Say what you will about confirmation biases in finance, but all of us have the ability to cover a short and go long. We each change our portfolio allocations, we sell long held beloved companies. Buying and selling often reflect a change of perspective. The feedback loop in investing is very short — buy or sell something, and you usually know if you are right or wrong in a matter of days or weeks, if not hours.
That feedback loop in politics is decades, and it does not tend to encourage circumspection and thought when we are in error.
Mr. Market is cruel but fair, and intolerant of losing positions.
This is the real genesis of the upcoming analysis. See it here on Monday.
Lots of charts after the jump…

FAANMG Stocks (group) vs S&P500 March 23 lows to present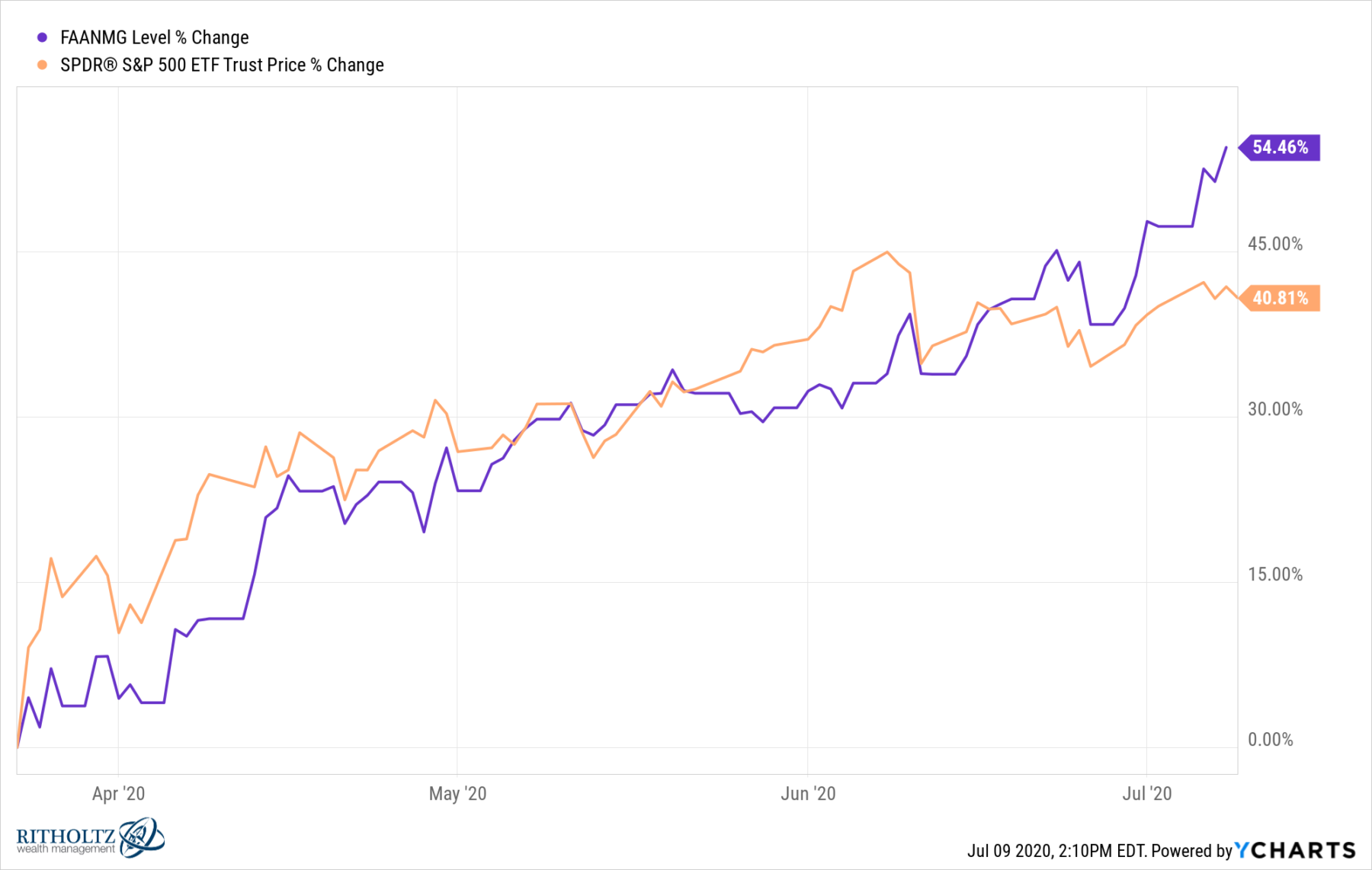 Source: YCharts
FAANMG Stocks (group) vs S&P500 2015 to present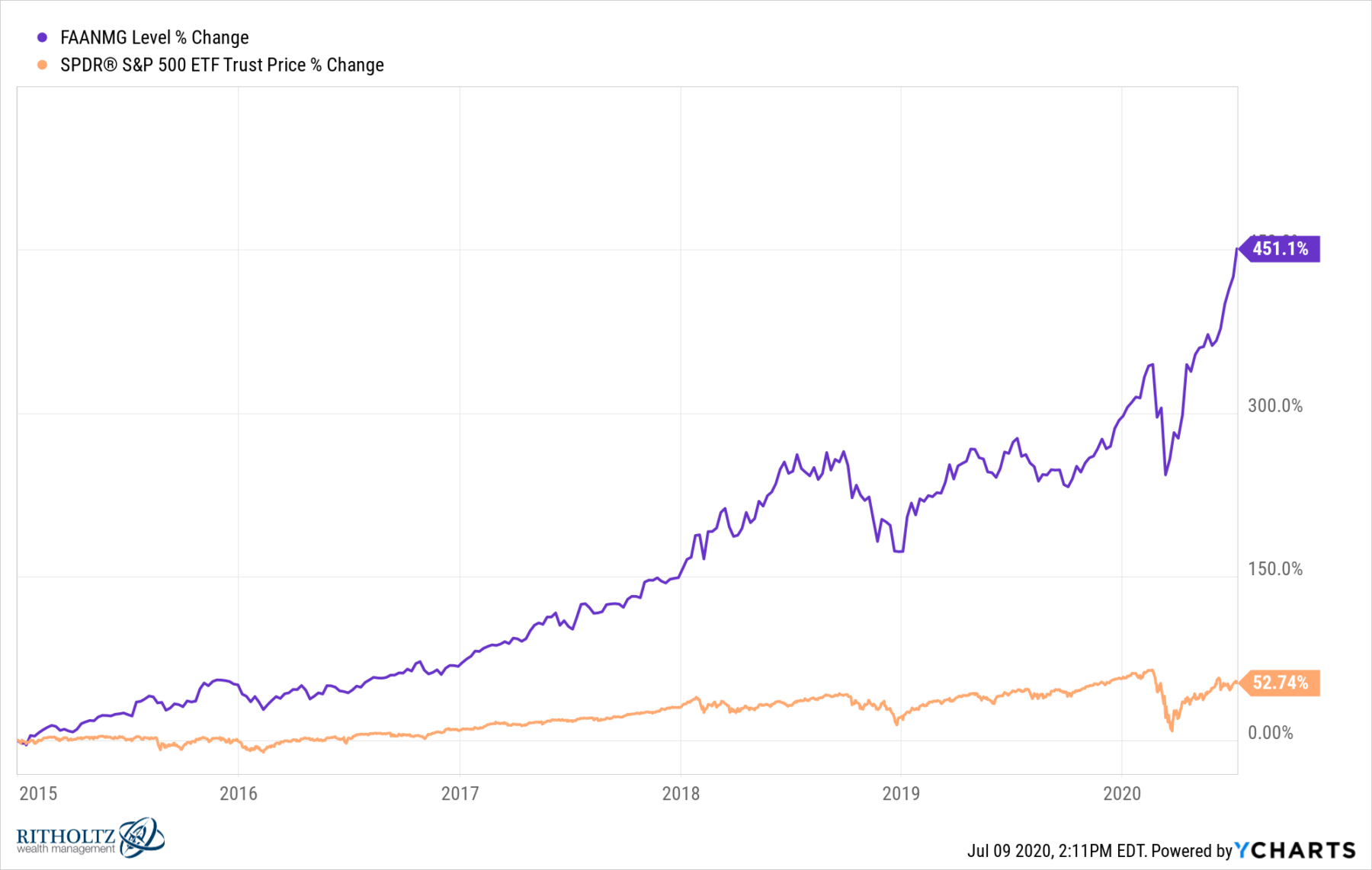 Source: YCharts
FAANMG Stocks (individual) vs S&P500 2015 to present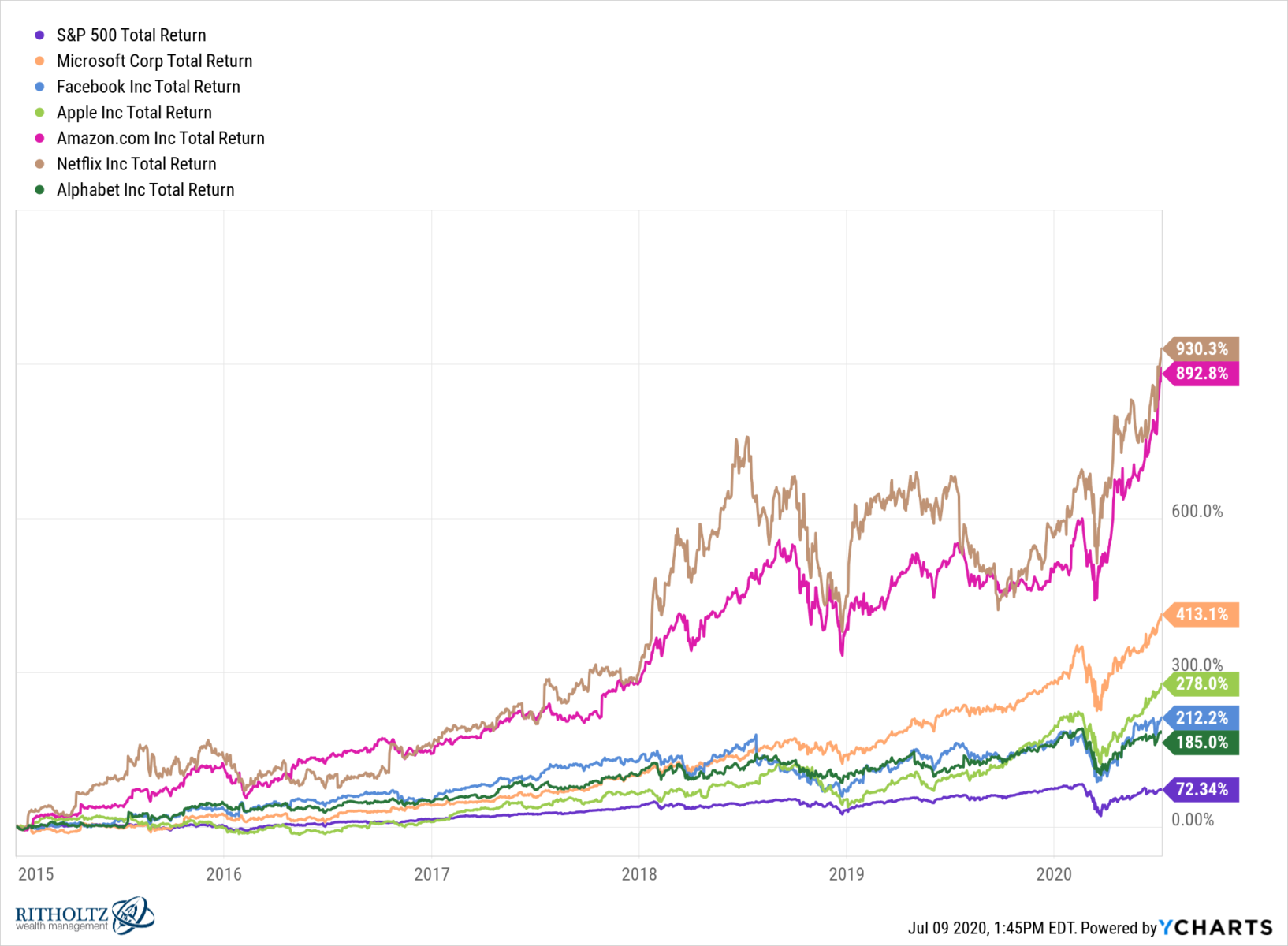 Source: YCharts
FAANMG Stocks (individual) vs S&P500 March 23 lows to present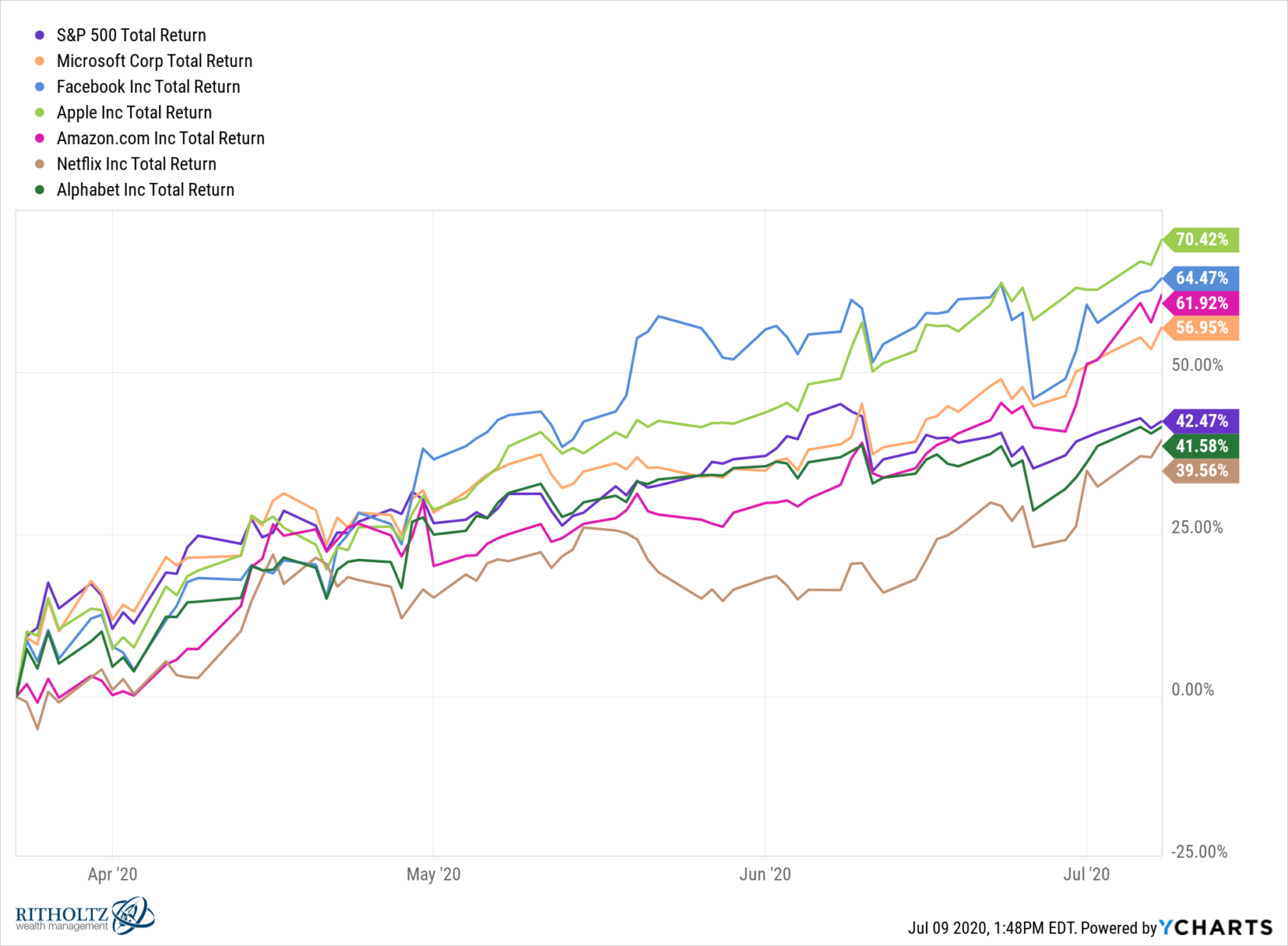 Source: YCharts
The post What is Driving Markets? appeared first on The Big Picture.
Market Talk – July 10, 2020
ASIA:
The United States has imposed sanctions on three senior officials of the Chinese Communist Party, including a member of the ruling politburo, for alleged human rights abuses targeting ethnic and religious minorities in the western part of the country. The decision to bar the three senior officials from entering the US is the latest in a series of actions the Trump administration has taken against China as relations deteriorate over the coronavirus pandemic, human rights, Hong Kong, and trade.
The United States is in talks with India on market access for its goods in exchange for reinstating New Delhi's trade concessions under the Generalized System of Preferences (GSP), U.S. ambassador to India Kenneth Juster said on Thursday. Last year, the US scrapped India's trade concessions under the GSP program that allowed duty-free entry to the US market for up to $5.6 billion of Indian exports in retaliation for India's high tariffs and rules on e-commerce.
Indian state-owned lender, Punjab National Bank, said on Thursday it had reported loans made to Dewan Housing Finance Corporation Ltd worth 36.89 billion rupees ($491 million) to India's central bank as "fraud." Indian state-owned lender PNB, which was hit by a $2 billion fraud involving billionaire Nirav Modi in 2018, had already set aside 12.5 billion rupees in provisions for the loans to DHFL, which is in bankruptcy proceedings. Other banks including State Bank of India and Union Bank have also reported DHFL's accounts as fraudulent.
The major Asian stock markets had a negative day today:
NIKKEI 225 decreased 238.48 points or -1.06% to 22,290.81
Shanghai decreased 67.27 points or -1.95% to 3,383.32
Hang Seng decreased 482.75 points or -1.84% to 25,727.41
ASX 200 decreased 36.30 points or -0.61% to 5,919.20
Kospi decreased 17.65 points or -0.81% to 2,150.25
SENSEX decreased 143.36 points or -0.39% to 36,594.33
Nifty50 decreased 45.4 points or -0.42% to 10,768.05
The major Asian currency markets had a mixed day today:
AUDUSD decreased 0.00141 or -0.20% to 0.69463
NZDUSD increased 0.0001 or 0.01% to 0.65707
USDJPY decreased 0.29 or -0.27% to 106.92
USDCNY increased 0.01336 or 0.19% to 7.01052
Precious Metals:
Gold decreased 7.10 USD/t oz. or -0.39% to 1,796.95
Silver decreased 0.02 USD/t. oz or -0.12% to 18.6465
Some economic news from last night:
China:
China Thomson Reuters IPSOS PCSI (Jul) increase from 67.89 to 72.52
Japan:
M2 Money Stock (YoY) increased from 5.1% to 7.2%
PPI (MoM) (Jun) increased from -0.5% to 0.6%
PPI (YoY) (Jun) increased from -2.8% to -1.6%
Thomson Reuters IPSOS PCSI (Jul) increased from 33.63 to 33.82
New Zealand:
Electronic Card Retail Sales (YoY) (Jun) increased from -6.0% to 8.0%
Electronic Card Retail Sales (MoM) (Jun) decreased from 78.9% to 16.3%
Some economic news from today:
China:
M2 Money Stock (YoY) (Jun) remain the same at 11.1%
New Loans (Jun) increased from 1,480.0B to 1,810.0B
Outstanding Loan Growth (YoY) (Jun) remain the same at 13.2%
India:
FX Reserves, USD increased from 506.84B to 513.25B
Cumulative Industrial Production (May) decreased from -0.70% to -45.80%
Industrial Production (YoY) (May) increased from -57.6% to -34.7%
EUROPE/EMEA:
The UK government has relaxed quarantine rules for travelers from a number of destinations, including France, Italy, Belgium, Germany, and Spain. From July 10, visitors arriving in England from 58 selected countries will no longer be required to self-isolate for 14 days. The US, China, and Portugal are among the destinations that have been left off the list, which is to be kept "under constant review."
A British-Palestinian MP and staunch opponent of Donald Trump's Middle East peace plan is running for the leadership of one of Britain's main political parties after its dismal showing in the 2019 general election. Layla Moran – born to a British diplomat father and Palestinian mother from Jerusalem – is in a two-horse race to head the Liberal Democrats, the fourth largest party in the UK Parliament.
German lawmakers have finalized the country's long-awaited phase out of coal as an energy source, backing a plan that environmental groups say is not ambitious enough and free marketers criticize as a waste of taxpayers' money. Bills approved by both houses of the German parliament on Friday envision shutting down the last coal-fired power plant by 2038 and spending about 40 billion euros ($45 billion) to help affected regions cope with the transition.
France, the second-biggest economy in the European Union, returned to growth this month even as activity in the rest of the region continued to decline. The $3 trillion French economy grew this month for the first time since February, as coronavirus restrictions were eased and domestic consumption ticked up, according to a closely-watched survey. An initial reading of the country's Purchasing Managers' Index, which tracks activity in the manufacturing and services sectors, jumped to 51.3 in June from 32.1 in May. Readings above 50 indicate an expansion.
The major Europe stock markets had a green day:
CAC 40 increased 49.47 points or 1.01% to 4,970.48
FTSE 100 increased 45.79 points or 0.76% to 6,095.41
DAX 30 increased 144.25 points or 1.15% to 12,633.71
The major Europe currency markets had a green day today:
EURUSD increased 0.00102 or 0.09% to 1.13004
GBPUSD increased 0.00216 or 0.17% to 1.26303
USDCHF increased 0.0008 or 0.08% to 0.94101
Some economic news from Europe today:
Norway:
Core CPI YTD (Jun) increased from 3.0% to 3.1%
Core Inflation (MoM) (Jun) increased from 0.1% to 0.4%
CPI (YoY) (Jun) increased from 1.3% to 1.4%
CPI (MoM) (Jun) remain the same at 0.2%
PPI (YoY) (Jun) increased from -17.5% to -14.4%
Italy:
Italian Industrial Production (YoY) (May) increased from -43.4% to -20.3%
Italian Industrial Production (MoM) (May) increased from -20.5% to 42.1%
France:
French Industrial Production (MoM) (May) increased from -20.6% to 19.6%
US/AMERICAS:
In a landmark ruling, the US Supreme Court has declared nearly half of the state of Oklahoma to be an Native American Indian reservation. The 5-4 ruling was based on a promise to the Muscogee Creek Nation prior to Oklahoma becoming an official state. "Today we are asked whether the land these treaties promised remains an Indian reservation for purposes of fed­eral criminal law. Because Congress has not said otherwise, we hold the government to its word," Justice Neil Gorsuch stated. Dissenting Justice John Roberts warned that the ruling would impact the government's ability to prosecute crimes and "may destabilize the governance of vast swathes of Oklahoma."
Today, China rejected the proposal for a nuclear arms discussion with the US, with Foreign Ministry spokesperson Zhao Lijian claiming the US was "neither serious nor sincere." China currently possesses the third-largest nuclear arsenal behind the US and Russia. The Chinese government faulted the US for allowing Russia to propose an extension of the New START treaty that limits the number of nuclear weapons but is set to expire in February. Although the Trump administration would like China to participate in discussions, spokesperson Lijian confirmed, "China's objection to the so-called trilateral arms control negotiation is very clear, and the US knows it very well."
The coronavirus outbreak that originated in Wuhan, China, has "severely damaged" US-China relations, President Trump stated this Friday. The US president declared that phase two of the prolonged trade deal is no longer a top priority, as the world is still recovering from the economic damage caused by the outbreak. Furthermore, the president allegedly stated that China had the ability to stop the spread of the virus but chose not to do so.
Police chiefs in Canada are asking the federal government to decriminalize recreational drug use. The Canadian Association of Chiefs of Police believes the matter should be considered a health crisis rather than a criminal offense, and reframing the act could lead to a decrease in overall drug usage, deaths, and drug-induced crimes.
According to Statistics Canada, 953,000 jobs were added to the Canadian economy in June. The total accounts for 488,000 full-time and 465,000 part-time jobs. The current unemployment rate sits at 12.3%, down from 13.7% in May. However, Statistics Canada noted that the real unemployment rate is closer to 16.3% as they did not include those who were not actively seeking employment.
US Market Closings:
Dow advanced 369.21 points or 1.44% to 26,075.30
S&P 500 advanced 32.99 points or 1.05% to 3,185.04
Nasdaq advanced 69.69 points or 0.66% to 10,617.44
Russell 2000 advanced 23.76 points or 1.70% to 1,422.68
Canada Market Closings:
TSX Composite advanced 145.18 points or 0.93% to 15,713.82
TSX 60 advanced 9.67 points or 1.03% to 945.35
Brazil Market Closing:
Bovespa advanced 871.50 points or 0.88% to 100,031.83
ENERGY:
The oil markets had a green day today:
Crude Oil increased 0.91 USD/BBL or 2.30% to 40.5300
Brent increased 0.84 USD/BBL or 1.98% to 43.1900
Natural gas increased 0.025 USD/MMBtu or 1.40% to 1.8080
Gasoline increased 0.0288 USD/GAL or 2.30% to 1.2795
Heating oil increased 0.0171 USD/GAL or 1.40% to 1.2400
The above data was collected around 15:00 EST on Friday.
Top commodity gainers: Lumber (7.41%), Cotton (2.43%), Copper (2.55%), and Canola (3.80%)
Top commodity losers: Bitumen (-2.63%), Corn (-3.14%), Ethanol (-6.45%), and Coffee (-2.87%)
The above data was collected around 15:05 EST on Friday.
BONDS:
Japan 0.02%(-0bp), US 2's 0.15% (-0bps), US 10's 0.62%(+2bps); US 30's 1.31%(-0bps), Bunds -0.46% (+3bp), France -0.13% (+1bp), Italy 1.31% (+2bp), Turkey 12.39% (+2bp), Greece 1.27% (+16bp), Portugal 0.45% (+2bp); Spain 0.44% (+10bp) and UK Gilts 0.16% (+0bp).
Italian 12-Month BOT Auction decreased from 0.014% to -0.124%
Extending the $600 weekly unemployment boost would support millions of workers: See updated state unemployment data
The U.S. Department of Labor (DOL) released the most recent unemployment insurance (UI) claims data yesterday, showing that another 1.4 million people filed for regular UI benefits last week (not seasonally adjusted) and 1.0 million for Pandemic Unemployment Assistance (PUA), the new program for workers who aren't eligible for regular UI, such as gig workers. As of last week, more than 35 million people in the workforce are either receiving or have recently applied for unemployment benefits—regular or PUA.
Figure A and Table 1 show the total number of workers who either made it through at least the first round of regular state UI processing as of June 27 (these are known as "continued" claims) or filed initial regular UI claims during the week ending July 4. Three states had more than one million workers either receiving regular UI benefits or waiting for their claim to be approved: California (3.1 million), New York (1.7 million), and Texas (1.4 million). Seven additional states had more than half a million workers receiving or awaiting benefits.
While the largest U.S. states unsurprisingly have the highest numbers of UI claimants, some smaller states have larger shares of the workforce filing for unemployment. Figure A and Table 1 also show the numbers of workers in each state who are receiving or waiting for regular UI benefits as a share of the pre-pandemic labor force in February 2020. In four states and the District of Columbia, more than one in six workers are receiving regular UI benefits or waiting on their claim to be approved: Hawaii (19.7%), Nevada (19.3%), New York (17.8%), District of Columbia (17.6%), and Oregon (17.0%).
Figure A and Table 2 show the total number of workers who either made it through at least the first round of PUA processing—the new federal program that extends unemployment compensation to workers who are not eligible for regular UI but are out of work due to the pandemic—by June 20 or filed initial PUA claims during the weeks of June 27 or July 4. We do not sum the PUA claims with regular UI claims because some states have misreported PUA claims in their initial claims data, leading to potential double counting.1
As of last week, DOL reported that over 15 million workers across 48 states and the District of Columbia are receiving or waiting on a decision for PUA benefits, which underscores the importance of extending benefits to those who would otherwise not have been eligible. Five states have at least a million workers in this category: Pennsylvania (3.0 million), Arizona (2.3 million), California (1.9 million), Michigan (1.1 million), and New York (1.1 million). New Hampshire and West Virginia still have not reported any PUA claims. Florida, Georgia, and Oklahoma have reported initial PUA claims, but have yet to report any continuing claims.
We should despair for the millions who have lost their jobs and for their families, and our top priority as a country should be protecting the health and safety of workers and our broader communities by paying workers to stay home when possible, whether that means working from home some or all of the time, using paid leave, or claiming UI benefits. When workers are providing absolutely essential services, they must have access to adequate personal protective equipment (PPE) and paid sick leave. The current spike in coronavirus cases across the country—and subsequent re-shuttering of certain businesses—show the devastating costs of reopening the economy prematurely.
As we look at the aggregate measures of economic harm, it is also important to remember that this recession is deepening racial inequalities. Black communities are suffering more from this pandemic—both physically and economically—as a result of, and in addition to, systemic racism and violence. Both Black and Hispanic workers are more likely than white workers to be worried about exposure to the coronavirus at work and bringing it home to their families. These communities, and Black women in particular, should be centered in policy solutions.
To mitigate the economic harm to workers, Congress should extend the across-the-board $600 increase in weekly unemployment benefits well past its expiration at the end of July. If Congress does not extend these benefits through next year, it could cost us more than 5 million jobs and $500 million in personal income. Figure B, at the end of this post, shows these expected job losses by state.
As part of the next federal relief and recovery package, Congress should also include worker protections, investments in our democracy, and resources for coronavirus testing and contact tracing (which is necessary to reopen the economy). At the same time, policymakers should prioritize long-overdue overhauls of federal labor law and continue to strengthen wage standards that protect workers and help boost consumer demand.
The package should also include substantial aid to state and local governments so that they can invest in the services that will allow the economy to recover, particularly public health and education. Without this aid, a prolonged depression is inevitable, especially if state and local governments make the same budget and employment cuts that slowed the recovery after the Great Recession. More than five million workers would likely lose their jobs by the end of 2021, harming women and Black workers in particular since they are disproportionately likely to work for state and local governments.
Figure B
Table 1

Table 2

1. Unless otherwise noted, the numbers in this blog post are the ones reported by the U.S. Department of Labor (DOL), which they receive from the state agencies that administer UI. While DOL is asking states to report regular UI claims and PUA claims separately, many states are also including some or all PUA claimants in their reported regular UI claims. As state agencies work to get these new programs up and running, there will likely continue to be some misreporting. Since the number of UI claims is one of the most up-to-date measures of labor market weakness and access to benefits, we will still be analyzing it regularly as reported by DOL, but we ask that you keep these caveats in mind when interpreting the data.
Enjoyed this post? Sign up for the Economic Policy Institute's newsletter so you never miss our research and insights on ways to make the economy work better for everyone.