Pieter Levels' framework for launching projects
Pieter Levels went from being an almost-broke college graduate to making over $25,000 a month with the startup Nomad List.
He has a specific framework that he uses when launching projects, which has helped him with Nomad List and other projects like Remote OK and Hoodmaps.
It consists of 7 phases: Idea -> Build -> Launch -> Grow -> Monetize -> Automate -> Exit
The framework starts with the idea. The idea should ideally come from a problem in your own life. With Nomad List, Pieter wanted to know which new cities to go to. Becoming less homogenous and doing more crazy shit also helps so that you don't have the same ideas as everyone else. And starting with a small, niche idea helps you in getting initial traction.
Then you should start building. You should build it yourself, something that's easier than ever nowadays with no-code tools, and you shouldn't spend more than one month doing your MVP. Pieter basically learned how to code on the fly when building Nomad List.
Then it's time to launch. Launch on Product Hunt, Hacker News, Reddit, niche forums, whatever. Just get your product out there. And remember that launching is not a one-and-done-deal. Keep launching over and over, for every new feature, so people remember your product. Case in point, Nomad List has launched 5 times on Product Hunt.
Then you move to growing your product and getting feedback. You should optimize for organic growth. Ask for feedback with tools like Intercom, or even just a simple feedback form. And collect email addresses so you can reengage your visitors later.
Then move to monetizing. Test out what people are willing to pay for by paywalling certain features. Try getting sponsorships or starting a Patreon. Recurring revenue is the best, but any kind of revenue in the beginning is beneficial.
Then automate the product. You can use cron jobs, which is what Pieter uses to retrieve a lot of the information on Nomad List. Try to automate as much as you can so you don't have to do so much manual work. The product can eventually become a source of (relatively) passive income.
And finally, the exit. You eventually sell your business for a good multiplier on the revenue, based on the growth rate.
That's the whole cycle of project development as Pieter sees it. I'm not Pieter, but I really love his story and think this is a useful framework so I wanted to share it here with you all.
This post was adapted from Pieter Levels' talk.
Thanks for reading!
submitted by /u/Shizukani10
[comments]



Source link
Building a product too difficult to use: How signups didn't translate to active users
Andrew Kamphey has been involved in the creator industry for more than 15 years. During this time, he has started several projects related to creators and influencer marketing.
This is the story about one of those projects that didn't take off: Creator Growth Lab. We want to know what went wrong, what were the lessons learned, and how those learnings improved the way he tackles new ventures.
How did he come up with the idea to build Creator Growth Lab?🔙
He had a side hustle where he would grow people's Instagram accounts. He got his clients anywhere between 2,000 and 5,000 new followers every month. Three years ago, Instagram started announcing policies that he knew would make that method not last. This is a natural thing with growth hacking. First, it works really well. Then something changes and it does not work anymore.
Creator Growth Lab helped Instagram creators to grow by themselves. They could log each day their growth tactics and measure how many followers they gained and their hashtag performance. Every single day you could go to the Lab and see your growth. Then figure out which was the best one. Optimize it and grow more.
How did he build it?⚒️
He had a monthly income from his clients. Every dollar he made, he put into Creator Growth Lab because he wanted to go fast. He quit his job in December 2018. Gave himself a month to mock a prototype. After a month, he realized he couldn't build it fast enough. It was going to take him about a year to figure out how to build it and then three more months to actually build it. He took all the money he had from his agency, and he used it to pay off one designer and one programmer.
He found a designer in Bali. And then he found through a friend, a Vietnamese programmer. His friend became an ad hoc Product Manager and they became a four-person team. It was fast. Within 30 days of working remotely, everything worked exactly how he planned.
What were his key levers to start growing it?📈
Initially, he had a dozen users that were paying him to grow their accounts, who he thought would also use this Lab. They were paying him between $100-$200/month each. It got 50 new user signups in the first month and the next month another 50 user signups.
He used his newsletter to promote Creator Growth Lab to his existing audience and got a dozen signups from that.
He sent direct emails to creators he knew because he had worked in the influencer marketing industry for five years.
What were the biggest challenges he had to overcome?⚔️
Signups weren't a problem. He ended up getting 50 signups per month for four months in a row. The challenge was to get active users. It took a while to get to the aha moment. You needed to use it each day for a week or two weeks before getting the aha moment. That's painful. Users will never get that far.
How did he realize the project was not going in the right direction?📉
Three months after launch, either lucky or unlucky, Instagram cut the number of actions you could do. That killed most growth hacks, but the product still exists. He could keep working on it. But looking back the actual problem was people didn't use it. He made a bunch of videos to explain how to use it. It was very complicated. Users needed to first decide to do growth hacks and then try to optimize them with the app. Not many people know 50 growth hacks.
He had been doing a bunch of automations on his client accounts. All of their actions were literally taken down to zero for 30 days. Within one month, he went from 12 paying clients to none.
He didn't charge them for Creator Growth Lab, it was free to sign up. He would charge later once he figured out who was it for, big mistake.
He did have the idea of Pro Accounts. Initially, it was created for individual users. He talked to a model agency that had thousands of models that were going to pay for using it. Could have been $9,000 a month. Then another person, a growth hacker, wanted to use it to manage 100 accounts. Their clients also left because of the change in Instagram policies.
In the end, how much money did he lose?💰
In total, he paid around $5,000 and never made a penny. The silly thing is that it doesn't feel like he necessarily lost the money. Because he had been self-funded, never went above his means. Only put money into it he was making through social media.
From all your takeaways he learned from this experience, what advice does he have for other entrepreneurs who want to get started or are just starting out?🗣️
🍂One of the most important things was that he talked to users, but he was not listening to them. He had so much hubris and very little humility because he had been successful at helping people grow for five years.
🍂He went into Creator Growth Lab thinking he knew everything. You don't know anything. Even if you think you know everything you don't.
🍂He spent a lot of time educating creators on why to use the product. Every successful creator will tell you that they grew by making good content. Creators want to create. He had no competitors. No one was trying to do this, that's a warning sign. It ended up being not needed.
🍂You need to talk with users, not just tell them about your product. It opened his mind. When he gets on the phone with a user he's not teaching them how to use the product. He gets on the phone once or twice a week with his newsletter readers and asks them about what's going on in their life. Just chatting with them.
🍂Your solution might not pan out and doesn't mean your business doesn't work. It doesn't mean you're not successful. It means that solution didn't work out.
🍂Figure out who your tribe is. Find them. If you talk to people for enough time, keep trying different solutions, and keep asking for their problems, you'll figure out a solution. You always have something to learn.
What are your favorite startup resources for makers and entrepreneurs?📚
🍂The Dip by Seth Godin. Winners quit. This book tells you to stop what doesn't work for you. If you work the muscle of quitting you can get to what works faster.
🍂The Mom Test by Rob Fitzpatrick. When talking to users, he realized he didn't have to go to them with a solution. He went to them pretending he didn't know anything about their problem and listened to what they had to say.
If you enjoyed it perhaps like or retweet the thread on Twitter
submitted by /u/nocodebcn
[comments]



Source link
#1948 How to teach your kids to build their own businesses


Joining me as somebody who I've been talking to via email for a while, and I've wanted to have on here and I'm so excited that he said yes to an interview.
So many entrepreneurs that I've interviewed had little businesses when they were kids. They're usually so freaking proud of then that they can't stop telling my producers about it. But so many of the stories ended with the business getting shut down by the school, by a teacher, or by the principal.
Well, today's guest said, "What if we create a way to encourage kids to sell and create businesses? We'll teach them how to do it and we give them everything that they need."
Scott Donnell is the founder of MyFirstSale, which gives kids the life skills and confidence
to sell their products in a safe, friendly online environment.
For a special listener discount, you can go to MyFirstSale.com/Andrew or hapbee.com/Andrew to see more.
Scott Donnell is the founder of MyFirstSale and Hapbee, a wearable device that allows people to pick the feelings they want to express, like happiness, calm and sleepiness.
Mixergy listeners can get the following promos:
www.myfirstsale.com/andrew ($20 off Sign Up)
www.hapbee.com/andrew (Indiegogo discount)
Sponsored by
HostGator – Ready to take your website to the next level? Whether you're a first-time blogger or an experienced web pro, HostGator has all the tools you need to create a great-looking website or online store. A wide range of options includes cloud-based web hosting, reseller hosting, VPS hosting and dedicated servers. Founded in 2002, HostGator is the perfect web partner for business owners and individuals seeking hands-on support. Visit www.hostgator.com/mixergy to see what HostGator can do for your website.
---
Toptal – Toptal is a global network of top talent in business, design, and technology that enables companies to scale their teams, on demand. Toptal serves thousands of clients, including Fortune 500 companies and innovative startups, delivering expertise and world-class solutions at an unparalleled success rate. With elite freelancers in over 100 countries, Toptal connects the world's top talent with leading companies in days, not weeks. Plus, every new engagement begins with a no-risk trial period, so clients only pay if satisfied with the work. Get started hiring with Toptal today.
More interviews -> https://mixergy.com/moreint
Rate this interview -> https://mixergy.com/rateint
What It Really Takes To Make A Million In Your Business

(You can watch the video below)
So many of us have this goal to make a million in revenue in our businesses… I used to dream so much of reaching this milestone back in 2009.
This is when I created a challenge for myself called "Mission To Make A Million In 365 Days".
And whilst I did reach the million mark a few years ago, that first challenge I set for myself was a total and utter fail, not because my ideas were bad, but because I was focusing on completely the wrong things.
It took me a few years from 2009 to figure out what it really takes to make a million, and it's such an important shift that I think holds so many entrepreneurs from ever getting to that milestone.
So in this week's episode I wanted to share with you my journey to making a million in my business and some key things I learned along the way that I know will be so helpful if this is a goal that's on your list too.
In this episode I share with you:
What happened by day 65 of my "Mission To Make A Million In 365 Days" challenge and why I decided I needed to set myself a different challenge after that.
The discovery I made in 2011 about what it really takes to become a successful entrepreneur and the new challenge I set for myself with this shift in perspective.
The changes I made that helped me bring to life a business idea I had been mulling over for 3 years (that's how FEA was born!).
The things we need to do every single day to become the person we need to be to create success.
The questions you really need to ask yourself as an entrepreneur and the commitments you need to make so that you can hit your financial goals.
I hope you love this episode and that it helps you to have a few A-HA moments!
I also wanted to let you know that I'm doing my final live workshop before the baby arrives and I'd LOVE to invite you to join me for it!
Click here to sign up for this workshop >>>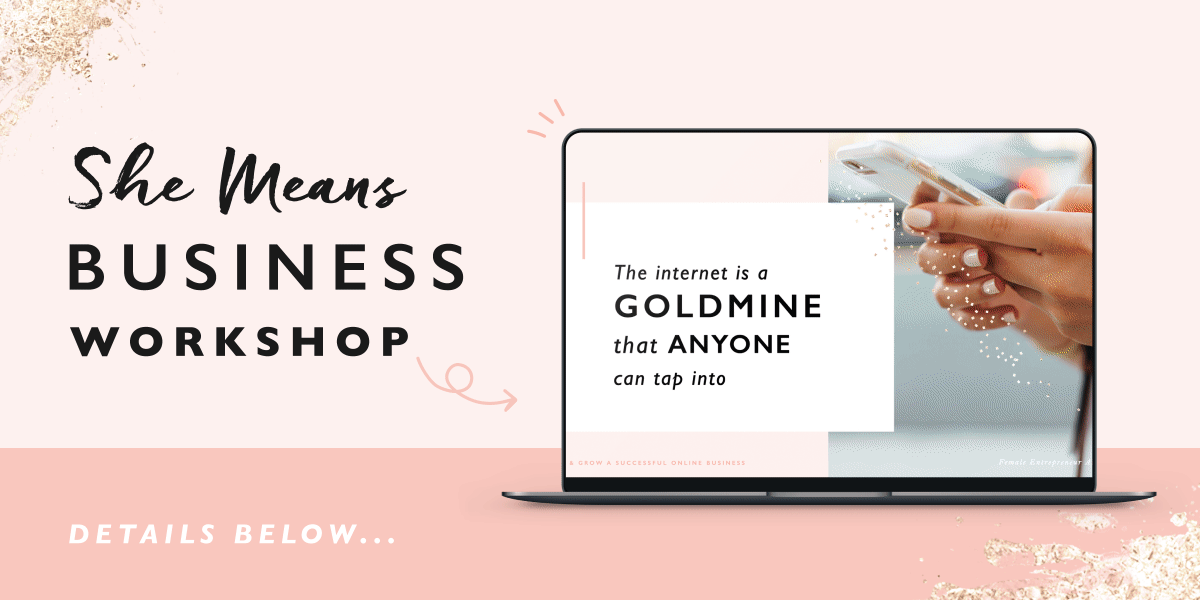 In this workshop I'll be sharing:
The 6 BEST ways to make money online – that everyone can take advantage of!
We'll be identifying what stage of the business journey you're at and what steps to take: are you The Dreamer, The Starter, The Hustler, The Grower, The Scaler or The Visionary?
How I was able to go from being a dreamer to building a million-dollar business – the core steps that got me here and how you can do it too.
The fundamental things you need to be doing every day (that most people don't even think about) to break through and create the success you want.
The post What It Really Takes To Make A Million In Your Business appeared first on Female Entrepreneur Association.