Lessons from Obama – monetising your persona and diversifying sources of your income
This may not seem at first glance as an "entrepreneurial post". However, I found this case study quite interesting, as it shows some "high level hustling", and ways to, essentially, bring in more money. (And at the end of the day, that's what every business is trying to do). Personal brand + diversification is a great way to increase the cashflow – be it into your personal bank account or for your business. So, I hope you find this useful form this standpoint (the original and full article can be found [here](https://rykovmedia.com/2020/02/13/how-to-monetise-your-persona-learning-from-obama/)).
—
If you are at all engaged with entrepreneurial threads on Reddit, Quora or Facebook, you will see at least once a day advice on how the wealthy got their current wealth and how they stay wealthy. One of the key lessons of the 21st century is that now anyone can monetise their persona. With the introduction Instagram, having your "personal brand" became a real thing. The concept is not new. However, over the past decade it has become far easier to enrich yourself by establishing your own personal brand, especially after the introduction of social media.
How do you monetise your persona, and how do you continue to find alternative sources of income? One of the most common examples that is usually given is the Kardashians. However, this time around, we decided to take a different point of view, and look at the former U.S. president – Barack Obama.
Why Obama
Obama has not (yet) been in any movies, tv series or commercials. Yet, in 2018, it has been reported that the Obamas net worth increased 30-fold, since the 2009 election win, making his net worth as of 2018 $40 million. This means that a look into his financial life offers us a chance to consider other revenue streams, which could be generated by someone who has made the most use of their personal brand.
Book deals
From 2006 to 2016 Obama has been reported to earn $15.6 million from books, such as: "The Audacity of Hope", "Of Thee I Sing: A Letter to My Daughters" and "Dreams From My Father". We can only assume that sales surged dramatically following his first election win in 2009.
A book deal is a great way to increase your income if you have a big following. If Kim Kardashian published a book on endangered pigs from Papa New Guinea, regardless of the topic, because of her social status, a minimum number of sales is pretty much guaranteed.
Attention sells. If you are known by thousands of people globally, they are more likely to stop by the bookshop (or search an online kindle shop) and open the first page of your new book. Publishers know this.
Finding someone who would not know who Barack Obama would prove difficult. It's an easy bet for any publishing house, and this proved to be a very good deal for all parties involved.
Key lesson: build your following and "sell their attention" at a later stage.
Speaking at events
Business Insider reports that since leaving the White House, Obama has been paid on average $400,000 for any public events that he spoke at. Why the big bucks for an ex-president? Well – same reason as the above. Who wouldn't want to take a picture of the former U.S. President or even potentially shake his hand at a live event? Put "Obama" on your event's guest list and it will sell out.
It is no wonder that most former politicians made the big bucks this way: as an example, CNN reported in 2016 that Clintons made up to $153 million between 2001 and 2016. Not too shabby!
Fees for speaking at events can vary – if the audience's credit rating is higher than average, fees are likely to be higher as well. Obama earned $800,000 for speaking to Northern Trust Corp and Carlyle Group in 2017, and an astounding $1.2 million for three Wall Street talks.
Key Lesson: Keynote speaking can be a great way to earn more. Become an expert on a topic, or, once again, utilise your large following to ensure that any event organiser would be estatic to have you on board.
Investments
Every truly wealthy person has dabbled in investments, one way or another. Mr. Obama is no exception. For starters, in 2007 the former president bought Bright Direction College Savings 529 Plans for his daughters, to pay off their college in the near future. Each account had somewhere between $100K and £250k in them.
As of 2015, Barack and Michelle Obama have been reported by CNN to hold somewhere between $1 million and $5 million in U.S. Treasury Notes (gaining about £15-50k in interest per year), £250k-500k in U.S. Treasury bills in a SEP-IRA and $300k-$750k in three different Vanguard index funds.
As you can see the former first couple clearly knows how to diversify their investment portfolio!
In addition to the above, Obamas are also no strangers to real estate investment.
In 2018 they purchased a house in Washington, DC, having previously rented it. The house's price was $8.1 million.
In 2019 they also purchased a house on Martha's Vineyard for another $11.75 million.
Key lesson: Invest your money. Diversify your portfolio. Look into bonds investment and real estate if you wish to build passive income and have savings after you get tired of continuous personal brand promotion.
"Obama Production"
In 2018 Barack and Michelle Obama agreed a deal with Netflix to produce movies and tv series for the streaming service. The new production company became known as "Higher Ground". In 2020, their first project, "American Factory" would win an Oscar for the Best Documentary.
While the particulars of the deal are unknown, similar five-year deal with Ryan Murphy, for example ("American Horror Story") was worth $300 million. So, there is no reason why Obamas couldn't come close to this figure, earning up to $60 million/year from the deal.
While this may seem like a long way from "monetising your personal brand", however if you are well-known, you can: attract high-skilled professionals who would love the idea of working with someone of your stature, attract other well-known celebrities and actors (which in turn would lead to higher viewership of the new film/series) and you can also secure more financing for your project. The majority of finance firms/banks would love to count their own "Obama" as one of their clients.
Key Lesson: entertainment industry can be cruel, but it can also be very lucrative. Are you well known outside of your inner circle? Use it and tap into this goldmine.
Hope you enjoyed the read! You can read the full article and more case studies + find helpful resources for entrepreneurs [here](https://rykovmedia.com/2020/02/13/how-to-monetise-your-persona-learning-from-obama/)
submitted by /u/rookthatisbandit
[comments]



Source link
How to master the miracle mindset: Stop feeling stuck and start moving forward in four easy steps

One of the biggest struggles that keeps so many people from building the successful business they dream of has nothing to do with strategy or marketing.
Success depends hugely on the mindset, beliefs and rituals we live by on a daily basis, that either lead us closer or further away from our dreams.
It's as simple as that: the answer to going from struggling to success story lives inside each and every one of us!
For such a long time I was that person and it was so frustrating feeling so stuck.
One day I decided that what I really needed to have wasn't another three-month trip around Australia in search of an epiphany, but a mindset shift, and when I did this, everything started to change.
If you've been struggling to get into a mindset conditioned for success, in this post we'll be going through four simple steps to help you get off the couch and on to taking the action that will move you forward.
These strategies have really helped me shift my mindset and have been crucial in helping me build the business of my dreams, become a bestselling author and achieve some of the biggest goals I had on my vision board.

Step 1: Create awareness of your current mindset
Any sort of change starts with awareness and clarity, so this is all about getting clear about where you're at and what your mindset is like.
There's a powerful intuitive journaling exercise that I love to do that really helps me create awareness around what's going on in my life, how I'm feeling and how that's showing up in my business.
Do some intuitive journaling
Take some time out to go somewhere quiet, a nice environment that makes you feel good.
Grab a pen and a piece of paper and give yourself permission to tune in with yourself and to write about what you're feeling and what's going on internally.
Ask yourself some questions that will help you explore, like:
"How am I feeling right now and what's my mindset like?"
The next step is to write without filtering or thinking too much, allowing the words to flow out onto the paper.
The intention is just to create awareness around what you're currently thinking: the good, the bad and the ugly. This is all about being really honest with yourself.

Step 2: Discover the shifts you need to make
As part of the intuitive journaling exercise, write down what your biggest struggle is right now, the biggest mindset challenge you're facing.
Whatever is bubbling underneath the surface for you in terms of a mindset block, a doubt, worry or fear, focus on that and ask yourself:
"Why do I feel like this?"
Write down whatever comes to mind and as you go along, keep asking yourself "Why do I feel like this?" over and over again.
As you continue to ask this question and dig deeper, you'll start peeling back the layers and getting to the root of the problem of what's really going on.
Really often we think our surface feelings are the issue, when in fact, it is experiences, memories or negative beliefs we're holding on to start showing up through us and in our business.
It could be something that happened three years ago that you don't even realise is having a huge impact on how you're feeling and showing up today.
So this exercise is about figuring out why you're really feeling the way you are so that you can do something about it.

Step #3: Look for the solution
Once you have answers to these questions and you've discovered what is truly affecting your mindset in the present and keeping you stuck, start looking for the solution.
Get clear on how you can move past that mindset block and not let it hold you back anymore.
Using the intuitive journaling method, simply brainstorm all the ideas you can think of for moving away from the negative mindset and towards a positive mindset.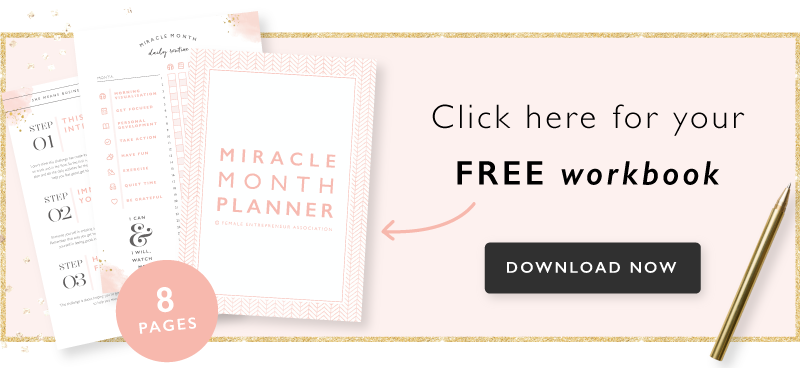 Step 4: Create your daily rituals for a growth mindset
Once you have created awareness and understood the mindset shifts you need to make in order to create more success in your life, it's time to put it all into practice.
This strategy will help you implement the steps you need to take to make those shifts on a daily basis.
Your daily rituals for a growth mindset are the actions and tasks that will help you to step away from self-limiting thoughts and step into a place where you're brimming with confidence.
This is about the practices that will shift you into a positive frame of mind that enables you to take the action that you need to take to create success.
A great ritual for a growth mindset is visualisation, which involves taking five minutes every day to close your eyes and connect with the vision of success that you hold for yourself.
The point is to visualise that dream or goal vividly and as if it has already happened and to connect with how it feels to have made that a reality.
Instead of spending your days consumed by a self-limiting mindset, visualization helps you immerse yourself into a mindset that connects you with what it is that you actually want to make happen.
Another really effective ritual for a growth mindset is to set intentions every day.
This involves getting really clear on what it is that you want to achieve, where it is that you want to go, what are the things that you want to make happen and the action you're going to take.
Success doesn't happen by accident, it's something that we have to create on purpose, so this is a way to get intentional about it every single day.
Listening to inspiring podcasts, watching inspirational videos or reading books to help you expand your mind and get away from a limited mindset is another great ritual to practice.
Once you have a list of rituals you would like to put into action, schedule in the time to practice them every single day.
Start by challenging yourself to stick to the process for seven days, then 14 days, then 30 days and keep doing it over and over again from there until they become a part of your natural daily habits.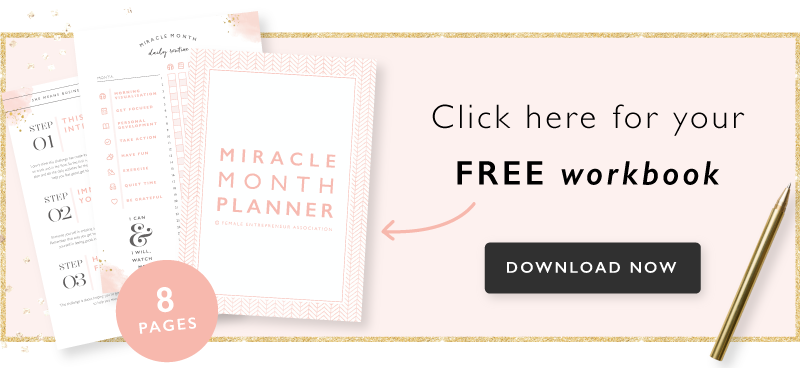 Practicing daily success rituals will make a huge difference to your mindset and if you stick to the process, you will surely start to see your positive mindset manifest into confidence, action and success.
Leave me a comment below and let me know what are the biggest mindset blocks you're struggling with. What mindset shifts do you know you need to make to create success?
The post How to master the miracle mindset: Stop feeling stuck and start moving forward in four easy steps appeared first on Female Entrepreneur Association.
Are you often asked to estimate one's ideas? I am periodically invited as a member of a jury to various commercial and non-commercial competitions. It is almost a routine activity: you sit, read strategies prepared by the others, analyze them according to certain evaluation criteria and write a conclusion. Tricky part comes in the final step when it is necessary to choose one from several strong applications. Yet, the choice is set up by the nature of the competition, priorities and other parameters significant for the organizers. It's their right as conditions are transparent and equal. It is therefore much more interesting to evaluate ideas for the free market: unequal, opaque, with a lot of opposite trends. How do you distinguish between weak and strong ideas?
It is usually advised to take a piece of paper and rate the idea from of 1 to 10 for utility, novelty, flexibility, realism, value, etc. How useful is this idea for a specific client? What about technical feasibility, possible profit and so on. In a more advanced version it is necessary to carry out a market research: key words, size of potential audience, presence of competitors, formulation of hypotheses for testing, etc. Although this technique is widely-recognized, it doesn't bring a sufficient help.
There are thousands of examples. "Thank you for the audio, but unfortunately we have decided that it is not appropriate for us at this time." This is the response of RSO Records to the first song sent, by the leader of the U2 Bono, who has sold 150 million records. FOX studio didn't see a potential and abandoned the idea of the Star Wars, which profit then exceeded $8 billion. Jeff Bezos visited more than 60 investors, and only 20 gave him $50 000 each to start Amazon, which has a gross-worth of more than trillion dollars. You can easily come up with a lot of similar examples yourself.
On the other hand, would you agree to invest in the business together with Sylvester Stallone, Bruce Willis, Demi Moore and Arnold Schwarznegger? A cool company full of successful people, initiated a network of restaurants named "Planet Hollywood". The company's share price reached a value of $32 on the first day of trading. However, three years later the stocks began to cost less than 1 dollar. Oops… It is much easier to find examples of business failures; every large company with longer history has experienced that.
In most cases of ups and downs, decisions were made by smart people with high qualifications, experience and intuition. Human consciousness is retrospective and the past seems so obvious to us. What lesson can be drawn from aforementioned examples? The only person who is really able to appreciate your idea is your client. Sole and impartial judge.
An expert can tell you if the similar ideas to yours are being implemented in the market (but only similar). Who's betting on what? How's everyone doing? How do customers behave? This is an important assessment of current trends. The expert can say: the chances are small or great, but it is not an opinion of the idea itself. No matter how ridiculous it seems.
My favorite example considers Doggles Company based in the United States. Two brothers decided to produce and sell sunglasses for the dogs. According to the Daily Mail, these glasses were listed as one of the most useless inventions. The founders even joined a TV show, where they were presented with an anti-prize and everyone laughed at them. Once they became recognized, sales skyrocketed. Dog breeders were buying glasses for fun, and the U.S. Department of Defense ordered a large shipment to protect the eyes of military dogs from sandstorms in Iraq. Today, Doggles' annual income is $3 million. Still think the idea was stupid?
Each idea has many nuances. When it first appears in your head, it's usually weak. A vague picture of the desired future, provokes you to start doing something with it in the present. The idea doesn't get strong in one moment. Even genius needs to put a lot of hard work behind the moments of insight. The more you work on the idea, the more powerful and realistic it becomes.
When you are ready to bring the idea to discussion, some people, will certainly criticize it. It is normal. Good things are almost always rejected at some point. It's hard to describe with a dozen slides and a few thousand words the work done by 86 billion neurons of your brain. Besides, people are more likely to judge not your idea itself, but their own interpretation of it. Some people will definitely support you; find something interesting in the idea, perhaps even something you haven't noticed yet. The more often and more you discuss the idea, the more realistic it becomes.
Don't hold the idea as your property that might be stolen. It is better to use the image of a puzzle: in your head, there is only a part of the necessary details and you need communication with a lot of different people to collect the whole picture.
Study reaction. It's bad when there's no reaction or it's weak. When there's a lot of criticism – it's rich material for improvement. Imagine you're spinning a radio handle looking for the right wave. When you change small elements of an idea, people's response changes, too. At some point, you'll get what you need. And, most likely, not where originally expected.
The only obstacle that can prevent you from implementing your idea is you. Especially lack of persistence. Most ideas are not realized because people abandon them, refuse to continue. If you don't stop, over time, you'll cover all the deficits.
Think of Joan Rowling, who was rejected by 12 publishers, Walt Disney, who was denied funding 300 times, Thomas Edison, with his 10,000 unsuccessful experiments of inventing a lamp. How many great creations and inventions lost the world because someone lacked the will and perseverance to complete their masterpiece.
Ideas are not being realized mostly because people simply abandon them. As long as you do something, your chances are always 50/50. Only if you refuse to continue the result is 100% predictable (and it's negative!).
How do you rate ideas? Share your strategies. Whether elbows were bitten by missed opportunities or vice versa, rejoiced that avoided a major fiasco. Are you making a grand plan now? Let's discuss and welcome to our community of social entrepreneurs and impact investors – Galileo www.iiic.ch
submitted by /u/Sergeygalileo
[comments]



Source link
5 Lead Generation Strategies for Solopreneurs by @DONNAAMOS
by Donna Amos | Featured Contributor 
There are tons of ways solopreneurs can make money online and offline, thanks to powerful digital technology, affordable mobile devices and the internet. And many of these micro-businesses can be started on a shoestring budget of under $1,000 – or even under $100! As long as your lead generation efforts are bringing in new customers, there's virtually no limit to how quickly you can scale your side hustle into a full-time business.
You might be a blogger and vlogger, creating content for your subscribers on your website and social media accounts, making money through ad revenue and affiliate marketing.
Or perhaps you could do freelance work offering B2B services to local small businesses.
Or you might run a small brick-and-mortar biz out of your garage or public storage unit, selling products via online marketplaces like Amazon, eBay and Craigslist.
You can also provide services directly to consumers as an independent contractor and through online apps like Uber, Postmates, Rover and TaskRabbit.
As a solo entrepreneur, you have tons of options today. But whichever path you choose for your lifestyle business, you will need a steady flow of new customers coming in every month in order to be successful.
So with that in mind, here are five lead gen tips to help you get more clients and more sales this year. Most of these methods are designed to bring in new leads online, but there are also some offline guerrilla marketing tactics here that still work really well for certain types of solo businesses.
1. Optimize Your Website to Capture Leads
Before you start investing time and money trying to scrape up traffic to your website, first make sure that your site is ready to receive those new visitors and convert them into subscribers, leads and paying customers.
Give your website visitors and blog readers plenty of opportunities to subscribe to your mailing list and receive free blog content, updates, and promotions. You should have subscriber boxes and contact forms on every page of your site. In fact, having multiple forms on each page isn't a bad idea. Make use of your site's header, footer and sidebar areas along with including custom lead capture forms on landing pages and service pages.
You should also have free lead magnets set up on dedicated landing pages in order to build your email list. These lead magnets, such as ebooks, infographics, and reports, are powerful tools for quickly grabbing new subscribers.
Then you could also segment your list based on reader interest and engagement and set up custom email funnels for each group to minimize unsubscribers and spam reports.
Remember, it's not always about the hard sell. Sure, some people on your site are ready to buy, so you should make it easy for them to do so without having to click on a million links to find the "Buy" button. But most of your site visitors aren't yet ready to whip out their credit cards – they're just browsing or killing time on their lunch break.
So if you can catch their interest, offer some free value with your blog content and lead magnets, then you can at least get them into your email funnel and social media channels to start building a relationship with them that will eventually pay off for you and them.
2. Buy Ads on Google and Social Media
Compared to old-school marketing strategies like TV and radio spots, billboards, magazine ads, and late-night infomercials, digital ads on Facebook, LinkedIn and Google are way underpriced.
Unlike "Big Media" advertising in the old days – when national ad campaigns could easily cost millions of dollars per month – you can start running social media ads for a couple of hundred bucks.
And if you target those ads effectively, you can actually start seeing results in no time.
3. Collaborate to Build Authority and Reach
There are tons of ways to build relationships with other influencers in your niche and piggyback your brand message onto their content and vice versa in order to rapidly expand your audience, brand recognition and industry authority. Here are just a few ideas on how you can get started:
– Guest blog posts
– Podcast interviews
– Youtube video collaborations
– Live local meetups
– Online hangouts
– Charity fundraisers
By offering time, content and value to other influencers, charities and brands in your industry and related industries, you can quickly reach new markets and new customers who have never even heard of you but are part of your target market.
The secret is to choose influencers that are a good fit and then give plenty of value first before asking for something in return. Don't just spam a bunch of influential bloggers and brands who are light years ahead of you and expect them to jump at the chance of featuring you on their blog or podcast. Reach out and spend some time becoming a part of their communities. Contribute first – genuinely and sincerely – before asking for anything for yourself.
If you give and give and give some more, and assuming you are building a great brand that offers tons of value, you'll find plenty of collab opportunities eventually beating down your door. That's when your reputation and reach will begin to expand exponentially.
4. Go Where Your Clients Like to Hang Out
The tricky thing about the internet is that you can reach just about anyone and get your brand and your content in front of them – but you have to know where to look.
Facebook ads can be super-effective, but only if your target customers hang out on Facebook every day. If they're usually on TikTok and Youtube but only have a neatly-scrubbed-but-never-used-dummy-account on Facebook to please their nosy parents, then you're wasting your money on all those Facebook ads.
Once you've located your target market and the platforms, forums, subreddits and social media groups where they spend their time, you can then start pouring your ad spend into the places that make sense.
But don't think that you can't reach them without paid ads. Joining those groups and forums and contributing helpful ideas for free pays off too. You just need to follow the rules and avoid coming across as spammy and overly-promotional. If you take your time to build relationships and offer value first, you'll get plenty of chances to slide into those DMs and actually pick up leads that convert.
5. Pass Out Flyers and Business Cards Like Crazy
While the internet is all the rage these days, there are still some very effective ways to grow your solo biz and get sales without plugging in. Yes, we're talking about flyers and business cards. It turns out that people still use them. If you're operating a business that sells to local customers, then door-to-door flyer marketing might work really well, and it's great because you can target your location easily.
And of course, no matter what kind of business you run, you should always have a few business cards in your pocket. Because every conversation is a chance to grab another subscriber and work on converting them into a customer.
Here's an example.
If you're starting up a lawn care company like this kid, with a few bucks you can have someone on Fiverr design a 8.5" x 5.5" flyer. Make sure it has a distinct discount coupon code to distinguish it from other deals you are offering through online ads or other marketing methods. Then email the file to your local print shop, go pick up the flyers and hire someone on Craigslist to pass them out to every house and business in your service area.
Solopreneurs have so many options for creating online and offline businesses today, and the low cost of entry makes it ridiculous for anyone to not take a shot and start one – or two or three. As long as you're offering a product, service or content that helps people, you'll be able to grow an audience and make money by selling to that audience. If you've already got your biz up and running but aren't getting a lot of clients, try these five lead generation strategies so you can get more sales.
The post 5 Lead Generation Strategies for Solopreneurs by @DONNAAMOS appeared first on She Owns It.