How to Build a Successful Partnership in Work and Life
Contributed by Katty Douraghy, president at Artisan Creative, a member of EO San Franciso and the MyEO Women of EO Champion. 
In January of 2000 my husband, Jamie, asked me to come work with (for) him. His creative recruitment business was growing and he needed stronger personnel management skills, which was an area I had spent the previous 10 years developing in my own career.
It all sounded fabulous—on paper. We would work closely to create the next chapter of our business together. We would lunch together and even walk to the office together. I was excited to start this perfect wedded-working venture together.
Building a Foundation for Success
Over time, reality set in. There were times when I inadvertently called him "honey" in front of our staff, followed by my being miffed when he asked me to re-do a report. I was so annoyed at times that I didn't want to talk to him all afternoon…nor at dinner, once we got home.
Very quickly, the realization set in that if this new working union was going to be successful we needed to re-think the arrangement and make certain that we had clearly defined roles with guidelines to work within.
Twenty years later, this collaboration has become a partnership in life and work with many lessons learned along the way.
Through EO, my husband and I have developed a friendship with fellow EO couple Brian and Jean Brault. We soon realized that we had many experiences in common. We also share similar learned lessons over the course of our respective marriages and entrepreneurial journeys.
EO members, if you work with your partner or spouse, check out this MyEO groups: Couples Who Work Together. Created by Brian Brault, the group is designed to strengthen both your business and personal relationship.
Lessons Learned as an Entrepreneurial Couple
With Brian and Jean, we have compiled a list of our top lessons from life as an entrepreneurial couple:
Define roles at home and at work.
Set boundaries, including work times and places.
Leave work issues at the office and leave home issues at home.
Refrain from using pet names at the office.
Give one another space to grow individually.
Remember you are a couple first and co-workers second.
Congratulate each other frequently, be each other's cheerleader.
Don't let frustrations build. Talk things out.
Check in on regular intervals and confirm you are working for the same goal.
Make it fun. Go away on a "business trip" to dream.
Remember, when work is stressful don't turn that on your partner.
Acknowledge each other's strengths and weaknesses, and get help to fill in the gaps.
Maintain outside interests together. Have a life together beyond the business.
Be proud that you are building a business together.
Together, we've also developed a few questions to help entrepreneurial couples engage in conversations to gain clarity, communicate more easily and connect with one another at a deeper level and to live a life by design.
What are three things we could do to better communicate?
What inspires you most about our relationship?
What do we stand for as a couple?
There are also a few tools that can benefit couples—5 Love languages, CliftonStrengths, Kolbe and DISC, among others. Using these tools regularly allows you to get to know yourself and your partner better.
Jamie and I adopted CliftonStrengths and refer to it often in our communication, both at home and at work. We have built a common language for support and growth as a couple. Having an external tool to refer to has also helped us reduce misunderstandings and focus on one another's strengths and recognize when we need to step in and support one another in business and in life.
This Valentine's day, I hope these simple concepts can lead to better communication at home and at work.
Katty Douraghy is president at Artisan Creative and an active member of EO San Franciso. She is also Champion of MyEO Women of EO, a group of entrepreneurs who are committed to learning together, supporting each other and creating a powerful network of women in business.
The post How to Build a Successful Partnership in Work and Life appeared first on Octane Blog – The official blog of the Entrepreneurs' Organization.
#1948 How to teach your kids to build their own businesses


Joining me as somebody who I've been talking to via email for a while, and I've wanted to have on here and I'm so excited that he said yes to an interview.
So many entrepreneurs that I've interviewed had little businesses when they were kids. They're usually so freaking proud of then that they can't stop telling my producers about it. But so many of the stories ended with the business getting shut down by the school, by a teacher, or by the principal.
Well, today's guest said, "What if we create a way to encourage kids to sell and create businesses? We'll teach them how to do it and we give them everything that they need."
Scott Donnell is the founder of MyFirstSale, which gives kids the life skills and confidence
to sell their products in a safe, friendly online environment.
For a special listener discount, you can go to MyFirstSale.com/Andrew or hapbee.com/Andrew to see more.
Scott Donnell is the founder of MyFirstSale and Hapbee, a wearable device that allows people to pick the feelings they want to express, like happiness, calm and sleepiness.
Mixergy listeners can get the following promos:
www.myfirstsale.com/andrew ($20 off Sign Up)
www.hapbee.com/andrew (Indiegogo discount)
Sponsored by
HostGator – Ready to take your website to the next level? Whether you're a first-time blogger or an experienced web pro, HostGator has all the tools you need to create a great-looking website or online store. A wide range of options includes cloud-based web hosting, reseller hosting, VPS hosting and dedicated servers. Founded in 2002, HostGator is the perfect web partner for business owners and individuals seeking hands-on support. Visit www.hostgator.com/mixergy to see what HostGator can do for your website.
---
Toptal – Toptal is a global network of top talent in business, design, and technology that enables companies to scale their teams, on demand. Toptal serves thousands of clients, including Fortune 500 companies and innovative startups, delivering expertise and world-class solutions at an unparalleled success rate. With elite freelancers in over 100 countries, Toptal connects the world's top talent with leading companies in days, not weeks. Plus, every new engagement begins with a no-risk trial period, so clients only pay if satisfied with the work. Get started hiring with Toptal today.
More interviews -> https://mixergy.com/moreint
Rate this interview -> https://mixergy.com/rateint
What It Really Takes To Make A Million In Your Business

(You can watch the video below)
So many of us have this goal to make a million in revenue in our businesses… I used to dream so much of reaching this milestone back in 2009.
This is when I created a challenge for myself called "Mission To Make A Million In 365 Days".
And whilst I did reach the million mark a few years ago, that first challenge I set for myself was a total and utter fail, not because my ideas were bad, but because I was focusing on completely the wrong things.
It took me a few years from 2009 to figure out what it really takes to make a million, and it's such an important shift that I think holds so many entrepreneurs from ever getting to that milestone.
So in this week's episode I wanted to share with you my journey to making a million in my business and some key things I learned along the way that I know will be so helpful if this is a goal that's on your list too.
In this episode I share with you:
What happened by day 65 of my "Mission To Make A Million In 365 Days" challenge and why I decided I needed to set myself a different challenge after that.
The discovery I made in 2011 about what it really takes to become a successful entrepreneur and the new challenge I set for myself with this shift in perspective.
The changes I made that helped me bring to life a business idea I had been mulling over for 3 years (that's how FEA was born!).
The things we need to do every single day to become the person we need to be to create success.
The questions you really need to ask yourself as an entrepreneur and the commitments you need to make so that you can hit your financial goals.
I hope you love this episode and that it helps you to have a few A-HA moments!
I also wanted to let you know that I'm doing my final live workshop before the baby arrives and I'd LOVE to invite you to join me for it!
Click here to sign up for this workshop >>>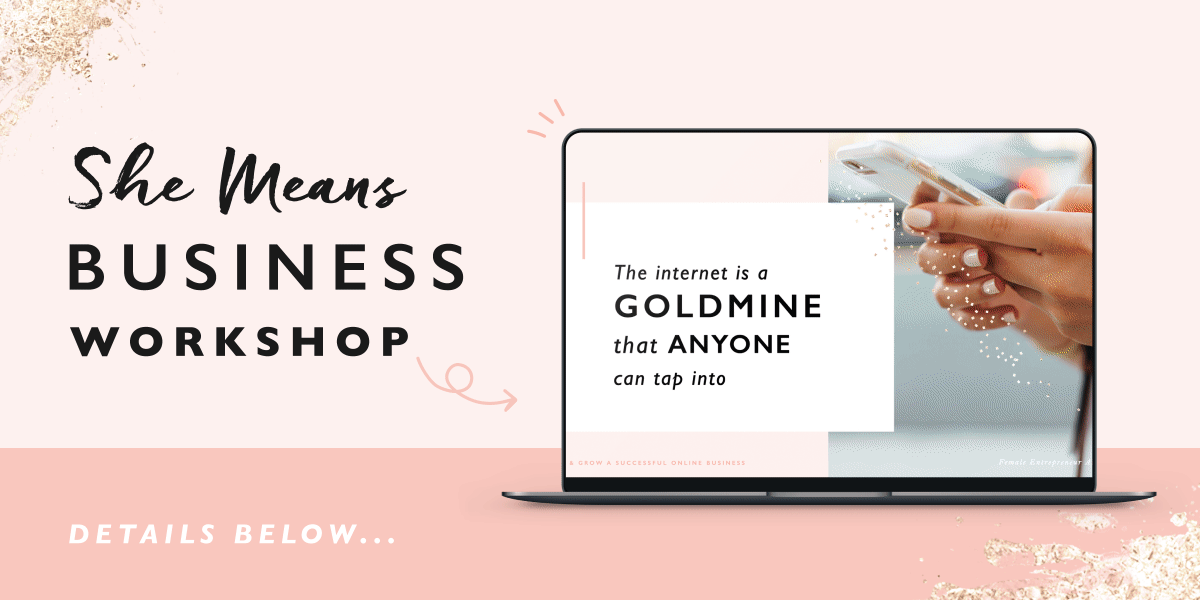 In this workshop I'll be sharing:
The 6 BEST ways to make money online – that everyone can take advantage of!
We'll be identifying what stage of the business journey you're at and what steps to take: are you The Dreamer, The Starter, The Hustler, The Grower, The Scaler or The Visionary?
How I was able to go from being a dreamer to building a million-dollar business – the core steps that got me here and how you can do it too.
The fundamental things you need to be doing every day (that most people don't even think about) to break through and create the success you want.
The post What It Really Takes To Make A Million In Your Business appeared first on Female Entrepreneur Association.
How a $8.00 investment got me a recurring $100 monthly sale
Hello everybody! I hope you're all doing great today! I'm a long time lurker, first time poster, but I have a story to tell you.
About a week ago I was listening to The Side Hustle show and heard en episode about a woman from Michigan who started a pet waste removal company (essentially poop scooping). She was able to replace her pharmacy job and was able to build it into a six figure income.
I was blown away. I'm a textbook over thinker who's built out businesses and websites over and over again (only getting to the point of launch and then abandoning everything out of fear or lack of connection). BUT THIS. THIS WAS SO SIMPLE I COULDN'T OVERTHINK IT:
1) Low Startup Costs
Free Wix site (looks legit af)
I design my own business cards and flyers
Just need initial tools and recurring expenses are only trash bags, gloves, masks, and gas.
2) Low Time Commitment
If you charge $14 per visit, have 30 clients, and show up weekly, you could be making up to 60/h if you route your clients correctly. WHICH MEANS that you get your time back, which is truly the only thing I care about at the moment.
3) Easy to preform
Other services businesses such as pressure washing, house painting, and cleaning were all to high risk for me. Didn't want to blow someone's paint off while pressure washing, or hire a whole crew to paint, or clean anything with a rag. Not interested.
This is literally scooping poop into a bag and tossing into the customers bin (unless they want haulaway services in which case you can charge even more!)
All of that to say, I finally pulled the trigger with my fiancé's support and we went out yesterday in the heat to hand out flyers. Yes, it was uncomfortable and hot and sweaty and weird walking up to peoples doors to slip in a flyer. BUT it only took my $8.00 to get my flyers printed, about 2 hours of my time, and not even 12 hours later I got a call from someone looking to schedule cleaning AND BI-WEEKLY SERVICES. Which means that I'm looking at just about $100 extra dollars per month for 1 client and MAYBE 2 hours max of my time actually scooping.
$50/h picking up poop. And KEEP IN MIND: if you're making as much as I am right now ($15/h 40h/week) then literally all it would take is convincing 30 people to book your services and you can leave your job. Income REPLACED AND EXCEEDED.
I was hyped all night yesterday and just wanted to share it with my favorite sub. A lot of your stories and ideas have influenced me to think that there's actually a different way to exist instead of being monitored by your whack ass bosses all day.
Side Note: there's a lot that goes into a business but over the course of the last 3 years I've acquired almost every skill I need to start a business myself. This didn't happen overnight. It was piece by piece. Wondering why tf I was learning illustrator. Why I learned to edit videos. Why I made so many website mockups. It all felt like an endless cycle. But when I found the idea that made sense, it was as if all my skills were acquired for this purpose. Keep learning! It definitely will reap benefits in the future!
TLDR: I actually put advice to action and booked a $100/month client with only $8.00 and 2 hours of putting up flyers on doors. Rate works out to about $50/h for minimal effort.
Thanks friends! Here to answer as many questions as I can if you have any.
Edit: ended up buying the domain to get google to recognize this traffic. Thank you everyone who's upvoted. Meant the world!!
Check out the site at: AV Scoops
submitted by /u/zeromoreno
[comments]



Source link