Be Mine: A Brief History of Valentine's Day Marketing
When I was in grade school, Valentine's Day was one of my favorite holidays. There were cards. There was the possibility that your crush actually liked you back. And, there was the chocolate — so much chocolate.
Little did I know that the roots of this holiday bore little-to-no resemblance to my childhood experience of it. We were never taught that Valentine's Day actually originated with an arguably gruesome ancient festival, where there was no chocolate or exchange of cute, red-and-pink cards.
But love it or hate it, those are the types of things we associate with the holiday today. After all, there's a reason roughly 114 million Valentine's Day cards are exchanged each year — it's what's become expected of us.
So how the heck did we get from an ancient Roman festival to a holiday that compels many of us to spend no less than $147 on celebrating it? That story, it turns out, is thousands of years old — but we'll try to condense it.
How Valentine's Day Began and Evolved
Ancient Rome

Source: Christie's
The roots of Valentine's Day are cited by some sources to lie in the ancient Roman festival Lupercalia, largely because it took place annually on February 15 — the day after what is today the observed date of Valentine's Day — and involved some very primitive forms of courtship and matchmaking. But it was also ancient Rome that saw the famous execution of a St. Valentine on February 14, around 278 A.D. According to legend, he wrote a letter on the night before his execution to his jailer's daughter, whom he had befriended, and signed it, "From Your Valentine."
Over two centuries later, Pope Gelasius ordered that Lupercalia be replaced with the February 14 observation of St. Valentine's Day. That set the tone, some believe, for the day's forthcoming tradition of exchanging "love messages," perhaps in remembrance of St. Valentine's farewell letter.
The Romans are also credited with constructing the idea of Cupid — a god of love often depicted with arrows that, as the legend goes, inflict love upon those who are hit by them. The Roman version of Cupid was adapted from Eros, a god of passion and fertility in Greek mythology. It seems that no one is quite sure when cupid became associated with Valentine's Day, but the fact that both have origins in ancient Roman culture suggests that there may have been some very early overlap between the two.
Shakespeare (and Chaucer) in Love

Source: Internet Archive
When NPR's Arnie Seipel set out to explore the history of Valentine's Day, he found that it first became romanticized by classic authors like William Shakespeare in the late 16th century, and Geoffrey Chaucer in the 1300s.
Chaucer
Dartmouth English professor Peter Travis cites Chaucer's epic poem The Parliament of Fowls, which was one of the first literary references to St. Valentine's Day, or "Seynt Valentynes day," as Chaucer spelled it. One such mention is made, Travis explains, alongside the line, "Now welcom somer, with thy sonne sonne, That hast this wintres weders over-shake." In other words, when we celebrate love in the coldest depths of winter — in February, for instance — it's so heartwarming that it makes summer feel less far away.
Shakespeare
Some literary historians credit Shakespeare for the permeation of love into popular culture with his composition of "Sonnet 18" — said to be written between 1593-1601 — a.k.a., "Shall I compare thee to a summer's day?" It's unclear when or how this particular work became associated with Valentine's Day, but like Chaucer, Shakespeare compares love to the seasons.
"While summer days may fade and fall into" colder months, writes Shakespeare analyst Lee Jamieson, "his love is eternal."
Of course, Saint Valentine's day is alluded to outright in Hamlet — written between 1599-1601 — when the character Ophelia recites a song about a young lady's experience with the holiday, which includes lyrics like, "Tomorrow is Saint Valentine's day," and, "To be your Valentine."
The 17th Century and Beyond

Source: American Antiquarian Society
By the 1700s, it's said that Valentine's Day made its way from Europe to the United States, which aligns with the establishment of the North American colonies between 1607-1770. It became traditional, according to HISTORY.com, "for friends and lovers of all social classes to exchange small tokens of affection or handwritten notes." That was more common in England, however, where the Industrial Revolution began earlier and eventually included the production of "fancy valentines [that] were extremely expensive to import."
It's said that one American woman, Esther Howland, was so intrigued when she received her first English valentine greeting in 1847, that she became infatuated with the idea of manufacturing them in the U.S. She was an early entrepreneur, and instinctively believed that there could be an American market for these formal, English-style greetings. After procuring materials like high-quality paper and lace from her father, a stationer, she created what many credit as the earliest American Valentine's Day greeting cards.
Today, Howland is still honored with the nickname "Mother of the American Valentine," with many citing her work as the start of a multi-million-dollar industry. But it didn't happen overnight — let's take a look at how her work paved the way.
A Brief Timeline of Valentine's Day Marketing
1714
Charles II of Sweden begins communicating with flowers, by assigning a different message to each type. This tradition allegedly assigned love and romance to the red rose, setting the stage for this flower to be exchanged during the later, commercialized era of Valentine's Day. However, it remains unclear if a specific brand is responsible for first marketing flowers as part of Valentine's Day gift-giving.
1822

Source: The Chocolate Journalist
In England, where Valentine's Day had by now already been celebrated with the exchange of gifts and cards for many years, the Cadbury chocolate company sells the first heart-shaped box of chocolates.
1849
In Massachusetts, Howland produces a dozen sample Valentine's Day cards and sends them off with her brother to distribute during a sales trip for their father's company — S.A. Howland & Sons — hoping to earn $200. Instead, he returns with 25X that amount, indicating a much higher-than-expected demand.
Here's an example of a card Howland created around this time.
1850
The first print advertisement for Howland's cards appears in the Worcester Spy.
1866

Source: Evan Amos
Conversation candies are developed, when Daniel Chase — brother of New England Confectionery Company (NECCO) founder Oliver Chase — uses vegetable dye to print words onto confections.
1870
Howland incorporates her booming card business as the New England Valentine Company, operating out of her home via an assembly line that was largely comprised of her friends.
1879

Source: Viintage
The New England Valentine Company moves operations from Howland's home to a Main Street factory in Worcester, Massachusetts. That same year, the company publishes the Valentine Verse Book, which contained 131 "verses" that people could cut out and paste inside of cards that came without a greeting — or those with a greeting that the buyer didn't like.
1880 – 1881
Howland sells the New England Valentine Company to the George C. Whitney Company.
1888

Source: Worcester Historical Museum
Whitney has acquired at least 10 competitors, including Berlin and Jones, which had become New York City's "largest manufacturer of Valentines." Ten years later, the company moves to large-scale headquarters on Worcester's Union Street.
1894
The Hershey Chocolate Company is founded, bringing what was previously "a European luxury product" to the U.S.
1902
Conversation candies become heart-shaped.
1906
American Greetings is founded, eventually becoming one of Whitney's chief competitors.

Source: Vintage Recycling
1907
The Hershey Chocolate Company introduces its Hershey Kisses candy product. Interestingly enough, the product was allegedly named Kisses because whenever a piece of chocolate was dropped on the conveyer belt at the Hershey factory, it sounded like a kiss.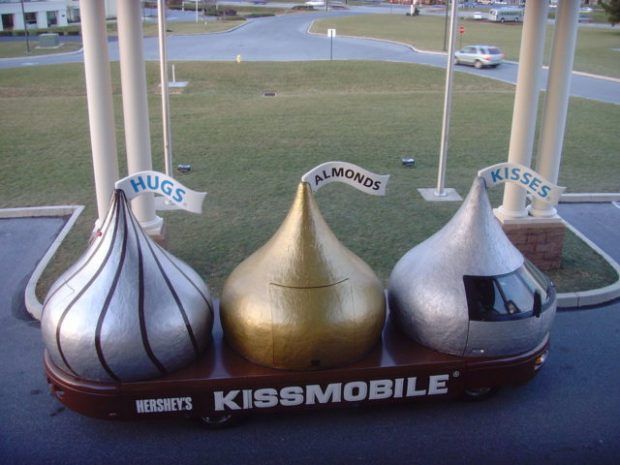 1910
That January, a massive fire destroys much of Whitney's headquarters. However, most of the Valentine's Day products had already been shipped for the season, having little impact on that particular holiday.

Source: Period Paper
That same year, Hallmark is founded. Meanwhile, 1910 also saw the creation of Florists' Telegraph Delivery — today known as FTD — which pioneered the remote ordering and delivery of flowers, providing a way to send them to far-away loved ones.
1913
Hallmark produces its first Valentine's Day card.
1948

Source: Vintage Ads
The De Beers diamond company launches its "A Diamond is Forever" campaign, sending the message that gifting high-end jewelry can be used as an expression of love.
1985
In the '80s companies like Hallmark began launching more Valentine's Day related commercials. In 1985, one commercial, which dubs Hallmark as "The Valentine's Store" shows off all of the cards and heart-shaped products you can buy for your loved one in their locations.
1986
As if Kisses weren't romantic enough based on their name, Hershey's enforced them as a Valentine's Day staple with one slight design tweak. The company began packaging Kisses candies in pink and red foil specifically for Valentine's Day.
2004
As marketers continued to embrace new media, we saw an influx of high-quality and insanely high-budgeted commercials mark the holiday from the '80s until now. One of the most iconic and beautifully shot commercials was a mini-romance drama, called "Le Film," promoting Chanel No. 5 perfume.
In the ad, a man falls in love and runs away with a starlet, played by Nicole Kidman. In the end, she returns back to her life of fame. As she walks down the red carpet, he notes all the things he'll remember about her, including the smell of her Chanel No. 5 perfume.
2005
Valentine's Day begins to go digital. On February 14, 2005, YouTube — which originated as an online dating site — makes its debut. Co-founder Steve Chen still credits its invention as the brainchild of "three guys on Valentine's Day that had nothing to do."

Source: Wayback Machine
2013
Ride sharing company Uber rolls out "Romance On Demand," allowing users to send flowers on Valentine's Day via the app. This initiative would continue to progress, with on-demand skywriting becoming available the following year.

Source: Uber
2016
Well aren't you accurate today, @netflix #HappyValentinesDay pic.twitter.com/pUK05gQ8Rs

— Tiffany Bukowski (@TheTiffy)
February 14, 2016
NetBase, a social media analytics platform, releases a Valentine's Day Sentiment Analysis, measuring how people engage with and discuss the holiday on social media. In total, it measured nine million mentions of Valentine's Day, with the vast majority of them mentioning a specific brand — Netflix. The top hashtag was #happyvalentinesday.
2017
In the earlier years of the Google Doodle, Google used Valentine's Day to spread awareness of a rare species. In 2017, a series of Google Doodles shown in the days leading up to Valentine's Day highlighted the stories of pangolins, the only mammal species with scales, as they give each other Valentine's Day gifts or serenade their mates. Here's one example:
While, at this point, Google didn't need to market themselves with Doodles, this shows an early example of a brand that used its platform to creatively market another cause on the holiday.
2018 to Present Day
In recent years, we've seen Valentine's Day marketing go completely digital with an emphasis on social media marketing. With these new opportunities, smaller companies that don't have Hallmark's budget can easily spread awareness of their own brands during the holiday. Here's one example of an Instagram post which highlighted a fine Italian restaurant ahead of Valentine's Day:
While these real dog's mimicking Lady and the Tramp grabbed attention, especially from the animal lovers on Instagram, this post's caption encourages audiences to interact with the brand. To learn more about this marketing campaign and eight others from recent years, check out this blog post.
What Marketers Can Learn from Valentine's Day Marketing
Like so many other holidays, Valentine's Day has experienced a transition into pop culture that has shaped the way it's perceived, discussed, and celebrated. Sure, it's often accused of being nothing more than a money-making marketing holiday — just look at these numbers compiled by HISTORY.com. But next time you hear someone label Valentine's Day as "Hallmark holiday," you'll have a wealth of historical information to respond with.
From our hearts to yours, Happy Valentine's Day. We'll be keeping an eye on its continued evolution.
Click here to see more of our favorite modern Valentine's Day campaigns.
Editor's Note: This blog post was originally published in February 2017, but was updated in February 2020 for comprehensiveness and freshness.
Top 10 Cincinnati News Websites To Follow in 2020 (US State)
Top 10 Cincinnati News Websites
Contents
 [show] 
⋅
About this list

& ranking
Submit Blog
Do you want more traffic, leads, and sales? Submit your blog below if you want to grow your traffic and revenue.
Submit Your Blog
Cincinnati News Websites
Cincinnati, Ohio, United States About Website Enquirer Media has been providing news, sports and entertainment coverage in Greater Cincinnati for 174 years. Breaking Cincinnati news, traffic, weather and local headlines from The Cincinnati Enquirer newspaper. Frequency 25 posts / day Website cincinnati.com
Facebook fans 172.3K ⋅ Twitter followers 146.6K ⋅ Instagram Followers 50.3K ⋅ Social Engagement 310ⓘ ⋅ Domain Authority 83ⓘ ⋅ Alexa Rank 25.1Kⓘ
Cincinnati, Ohio, United States About Website WLWT.com is leading the way with Cincinnati breaking news, weather and important local news coverage. Look to WLWT for political coverage, viral videos and more from Cincinnati's NBC affiliate. Frequency 30 posts / dayAlso in Ohio News Websites Website wlwt.com
Facebook fans 401.4K ⋅ Twitter followers 132.4K ⋅ Social Engagement 481ⓘ ⋅ Domain Authority 78ⓘ ⋅ Alexa Rank 49.3Kⓘ
Cincinnati, Ohio, United States About Website Get Local News, National News, Video, Government and Politics News, Business News, Crime and Justice News, Education News, Health News, Ohio News, Kentucky News, US and World News, Obituaries, Traffic, Sports, Cincinnati, Ohio, Northern Kentucky, Indiana, WCPO 9 News on WCPO.com Frequency 13 posts / day Website wcpo.com
Facebook fans 311.8K ⋅ Twitter followers 199K ⋅ Instagram Followers 44.1K ⋅ Social Engagement 564ⓘ ⋅ Domain Authority 80ⓘ ⋅ Alexa Rank 67.8Kⓘ
Cincinnati, Ohio, United States About Website An online publication about the people and places moving Cincinnati forward with news about tech, entrepreneurship, arts, innovation, neighborhood development news and more. Frequency 2 posts / week Website soapboxmedia.com
Facebook fans 7.8K ⋅ Twitter followers 14.4K ⋅ Instagram Followers 1.6K ⋅ Social Engagement 41ⓘ ⋅ Domain Authority 52ⓘ ⋅ Alexa Rank 1.2Mⓘ
Cincinnati, Ohio, United States About Website CityBeat Cincinnati provides updates on the latest News, Voice, Music, Arts & Culture, News, Food & Drink. Frequency 23 posts / week Website citybeat.com
Facebook fans 64.2K ⋅ Twitter followers 45.1K ⋅ Instagram Followers 50.3K ⋅ Domain Authority 63ⓘ ⋅ Alexa Rank 204.5Kⓘ
Cincinnati, Ohio, United States About Website 91.7 WVXU connects you to a world of ideas with NPR, local news from our award-winning news team, and music/entertainment programs heard only on public radio. WVXU keeps you up to date on current happening 24/7 in Cincinnati. Frequency 20 posts / day Website wvxu.org
Facebook fans 12.6K ⋅ Twitter followers 24.6K ⋅ Domain Authority 64ⓘ ⋅ Alexa Rank 264.3Kⓘ
Cincinnati, Ohio, United States About Website Cincinnati Magazine is the definitive guide to living well in Greater Cincinnati, connecting sophisticated, educated readers with the region's most interesting people, cultural issues, food, arts, fashion, news and history via print, digital, and events. Frequency 3 posts / week Website cincinnatimagazine.com/categ..
Facebook fans 25.9K ⋅ Twitter followers 41.6K ⋅ Instagram Followers 36.8K ⋅ Social Engagement 242 ⋅ Domain Authority 59 ⋅ Alexa Rank 425.3K
The post Top 10 Cincinnati News Websites To Follow in 2020 (US State) appeared first on Feedspot Blog.
The High-Tech CMO's Marketing Imperatives For 2020
Everyone is talking about the importance of customer experience across the marketing landscape, and CMOs in the high-tech vertical seem to be feeling the most pressure. In high-tech, customer experience is fundamental, as it relates to the experience that a company's products deliver to its users. But these days, customer experience must extend well beyond products to encompass every touchpoint along a customer's path to purchase and beyond — and must do so in real-time.
High-tech CMOs are expected to make the total customer experience come alive, but the hurdles to these end-to-end experiences are significant. Most high-tech companies today operate in a far more complex environment than other verticals because they are global, multi-product and often cut across both B2B and B2C organizations. Furthermore, high-tech enterprises tend to be disproportionately affected by new data privacy laws, all while maintaining a faster pace of change than any other vertical on the planet.
In pursuing their current transformation agendas, high-tech CMOs are challenged by budget constraints, security risks, lack of resources and an explosion of tech vendor options, to name a few obstacles. But the solution to creating a great total customer experience is not about finding more money or choosing the right technology, but rather prioritizing initiatives for the greatest long-term gains and making the most out of what high-tech marketing departments already have. Let's take a closer look at the current imperatives for marketers operating in the high-tech space today.
Total Customer Experience Requires Identity
The journey toward a seamless and immersive customer experience doesn't happen overnight, but high-tech CMOs can make significant progress in the short-term if they commit to mastering customer identity within their organizations. In high-tech especially, identity is a crucial linchpin to delivering a holistic and relevant customer experience, particularly given disparate data sets and privacy law limitations on data use. As the age of the cookie comes to an end, it is critical that a new and stronger foundation is established for effective cross-channel, cross-device marketing that can lead to true competitive advantage.
Having a single identifier to recognize customers and prospects across the marketing and database spectrum is essential to remaining relevant in today's fast-paced tech space. High-tech companies have a number of options for pursuing customer identity. Whether they choose to manage it in-house or through vendors, it is vital for CMOs to seek identity partners that are agile and are flexible of the high-tech industry. That means seeking global partners that have expertise across B2B and B2C businesses, a deep understanding of privacy laws and hybrid models that can accommodate the spectrum of outsourcing and in-housing preferences.
Injecting Flexibility Into Sourcing Strategies
Above all, high-tech CMOs must seek solutions that allow them to optimize links across their disparate data sets to create a layer of persistent IDs that can act as a strong connecting foundation for an end-to-end customer experience. That means simultaneously transforming a high-tech organization's sourcing strategy to inject more flexibility and reactivity into this important process.
Due to the global, multi-faceted, multi-product nature of high-tech businesses, most organizations already engage in rationalization exercises that attempt to bring more consistency to their sourcing abilities. The next challenge is to find partners that can enable organizations to not just rationalize costs and operate globally, but that can also provide options and engagement models that help them transform in a flexible and modular way. After all, the only constant in the high-tech vertical is change. Partners to these companies must likewise be able to adapt constantly and show transformation progress, while simultaneously being able to ensure "business as usual" is getting done.
Today's high-tech companies are built on foundations of innovation. Because they were the first movers in adopting comprehensive tech stacks, they face an even greater burden when it comes to transforming these stacks to enable a great total customer experience. As competition increases, high-tech CMOs must prioritize the rationalization of both costs and vendor lists. In doing so, they must set their sights on achieving not only scope and depth in their ability to understand customer identity but also the competence and flexibility to keep pace in a landscape where the pace of change continues to accelerate.
---
Sylvain Panzani is Merkle's Growth Strategy and Operations Officer. Previously, he served as and SVP and Client Partner in the High Tech Vertical Group, focused on delivering value for a selected set of B2B and High Tech customers. He has extensive experience in both strategy consulting and operational marketing in multinational B2B and B2C corporations. Sylvain has served in multiple leadership and operational marketing roles in diverse areas such as Business Intelligence, Field Marketing, Marketing Operations, Campaigns and Programs, for both B2C and B2C. He is the former head of Marketing for France at Dell for Consumer and Small Business, and of European Marketing Operations for Dell.
Uday Nayar is the Vice President of Client Strategy at Merkle. He serves as the Americas strategy lead for Merkle's Performance Media and CRM capabilities. Prior to joining Merkle, Nayar held positions in digital strategy and account management at large agencies like OgilvyOne and Digitas, where he led Fortune 500 client engagements across Technology, Financial Services, Insurance, and Retail industries. Nayar holds an Economics degree from the Delhi University, and an MBA from the Simon Graduate School of Business, University of Rochester.
Key insights: COVID-19 continues to impact consumer behavior, marketing spend and the marketing mix
30-second summary:
According to Amperity COVID-19 Retail Monitor, who tracked consumer behavior across categories and channels from 100 North American retail brands, overall retail demand is down 90%.

eMarketer's data shows the best use of ad spend at the moment is PPC, followed by email marketing and regional advertising.

Not surprisingly, a new report from streaming media intelligence provider Conviva – finds that streaming during the pandemic has climbed sharply (26%) in the U.S.

Global Web Index found that – while almost 45% of global consumers are devoting more time to social media – over 10% are also creating and uploading videos themselves.

40% of organizations potentially spending more on software can also be an opportunity for ideally placed vendors to solidify themselves within the longer-term business trends caused by the immediate crisis.

We have noticed that any of our articles that tackle the topic of coronavirus tend to have over 400% more engagement.
Understandably there is a lot of info out there right now talking about the effect COVID-19 has had on various sectors and businesses and how you should be dealing with it.
Rather than adding to the clutter in your inbox with our own findings we have decided to help and compile all the data out there making the rounds. So here you go:
Retail
According to Amperity COVID-19 Retail Monitor, who tracked consumer behavior across categories and channels from 100 North American retail brands, overall retail demand is down 90%. The losses are mainly driven by closure of retail stores, however online revenue is also down 74%. 
It isn't all doom and gloom though as the Health & Beauty has shown consistent growth of 19.28%. There has been a considerable shift towards higher-priced products in health and beauty, which has led to the sector's strong performance.
Food & Beverage declined by 20.38% after panic-buying slowed down. 
Social sees 2-day improvement, overtaking email as the most resilient non-organic marketing channel.
Ad spend
According to a forecast from eMarketer, global worldwide ad spend is currently down $20B from the beginning of the year.
However, rather than stopping ad spend, marketers need to refocus ad spend on key areas of streaming, gaming or online food delivery.
eMarketer's data shows the best use of ad spend at the moment is PPC, followed by email marketing and regional advertising.
Global streaming during COVID-19
Not surprisingly, a new report from streaming media intelligence provider Conviva – finds that streaming during the pandemic has climbed sharply (26%) in the U.S.
The increase in daytime viewing more clearly reflects the boost in stay-at-home behavior: the 10AM to 5PM window increased 39 percent between March 9 and 23.
Early morning hours are also up 26 percent, and pre-primetime fringe rose 20 percent. Interestingly, the only drop – a negligible 2 percent down – was in primetime.
For streaming video providers and advertisers, a key question is whether these bumps will carry over in any degree once the pandemic subsides.
"We anticipate streaming providers will retain new viewers long after the coronavirus has ended," Conviva CEO Bill Demas said in a statement, "as viewers embrace the variety and flexibility of the medium."
From the Conviva report
Messaging strategy during COVID-19
Messaging strategy remains important. As per research American Association of Advertising Agencies (4As):
43% of consumers find it reassuring to hear from brands they "know and trust" as COVID-19 pandemic spreads.

40% want to know how companies are responding to the coronavirus pandemic

15% say they don't want to hear from companies at the current time

43% of consumers believe coronavirus messages from retailers sound too similar and "are losing their impact."
Companies especially need to be cautious about communicating with inactive customers and customers they have not communicated with recently.
Potential mediums to communicate with stakeholders (in addition to email) are Social media, online video and podcasts.
Global Web Index found that – while almost 45% of global consumers are devoting more time to social media – over 10% are also creating and uploading videos themselves.
Brands can help people as they turn their homes into offices, schools, gyms, restaurants, leisure and entertainment spaces to learn, laugh and live in.
Brands can amplify the 'stay at home' message, in a correct and creative way. – esp. in places like the UK and US where there are lots of restrictions.
It is important to have a human-first rather than consumer-led approach in your messaging.
How COVID-19 will impact B2B tech spending?
According to new research by TrustRadius, many companies in the tech industry are bracing themselves for a broader economic decline. 18% anticipate that their companies will be spending less on software—a surprisingly low figure given the disruption to personal and professional lives that coronavirus has caused already.  
The fact that 66% of respondents expect unchanged or increased spending is more positive than many in the tech industry would expect. (This could of course change as the economic impact of the pandemic is better understood.) 
40% of organizations potentially spending more on software can also be an opportunity for ideally placed vendors to solidify themselves within the longer-term business trends caused by the immediate crisis.
Speaking to the Executive Director in Corporate Technology of an American multinational cosmetics company, we found that remote working is making them finetune their tech communication on the internal and external front.
The entire notion of having a 360 degree view of the consumer is front of mind for them and current tech projects are in play to look at the best ways to capture this. They are currently investing in consulting tech and paid media.
What are people reading on ClickZ?
Obviously COVID-19 remains the most sought after topic right now. We have noticed that any of our articles that tackle the topic of coronavirus tend to have over 400% more engagement. People are keen on getting insights on COVID-19 and its impact on various sectors, businesses, verticals.
Our readers are also interested in content that can help them optimize performance and conversions. Another topic which our readers seem to love at the moment is the death of the third-party cookies and how business will survive after it is phased out. 
As of this month, Google has implemented a new secure-by-default model for cookies, enabled by a new cookie classification system.
This system will stop sending third-party cookies in cross-site requests unless the cookies are secure and flagged through SameSite, which is meant to prevent the browser from sending the cookie along with cross-site requests.
While SameSite is not a particularly new concept, this will be the first time a secure cookie flag will be a requirement for those using Chrome — not just a best practice, as it has been up until now.
Google implemented these new requirements with Chrome 80 on February 4 as the first step in a larger multi-year plan to phase out support for third-party cookies, leaving the ad tech and martech industry with just a few weeks left to make the necessary tweaks to ensure their cookies continue to function properly.
The post Key insights: COVID-19 continues to impact consumer behavior, marketing spend and the marketing mix appeared first on ClickZ.