Linkedin Premium: Is It Worth the Cost?
Is LinkedIn Premium worth it?
This is the most common question I get from people reviewing LinkedIn features.
It's a fair question, though. If you put your money into something, you want to get the most from it.
Having the premium badge on your profile is kind of cool. It gives you a higher status than other profiles.
But what else?
You'll get superpowers (or something like that) and the people in your industry will be dying to do business with you?
​
https://preview.redd.it/96hmmij8upg41.jpg?width=1102&format=pjpg&auto=webp&s=29f8f4a632b88558f7836059c453f857d9623601
What is LinkedIn Premium?
Here's the main question: if you're paying for a premium service, what will you get from it?
The strategy used by LinkedIn to market their premium features has been highly criticized over the years, basically because they didn't create new features to include in the premium plans.
What they did, in a very smooth way, was take features from the free plans and include them in the paid plans.
So, here are some of the features that used to be free:
Tag profiles
Add comments to profiles
Statistics
Who viewed your profile
Profile visualization
But the objective here is to figure out whether those differences are worth US$79.99 a month for the Sales Navigator subscription (2018 pricing).
In this post, I will focus on LinkedIn for business development purposes. So you'll probably be interested in two plans: Business and Sales.
Let's look at the different plans available right now:
​
https://preview.redd.it/jrewsj4mupg41.png?width=1031&format=png&auto=webp&s=afa244b37c4b9034422733178e9c7e66db24890f
IMPORTANT: I'm assuming here that you have an optimized profile and at least a basic LinkedIn strategy in place. If not, you can check my guide to optimize your profile here.
LinkedIn Business
Let's say you're paying the $47.99 a month for LinkedIn Business.
In that case, you'll get extra features such as:
​
https://preview.redd.it/ekdjil7nupg41.png?width=1010&format=png&auto=webp&s=fcde6eb6d6b8deff1b808b97d69fbae8cff9f71e
You have 15 InMail messages every month, which means that you can send a direct message to anyone on LinkedIn (even someone not in your network).
Is that useful?
It depends.
Why should you pay for something that you can do already for free? Clearly because not too many people are aware of that they can do it for free.
But if you're considering paying for LinkedIn Business just so you can send InMail to prospects, maybe you're not using LinkedIn correctly.
You'll get the most of LinkedIn (free or premium), by sharing relevant content, building relationships, helping others and positioning yourself as an authority in your industry.
When you do your "homework" on LinkedIn, you don't need InMails to get new prospects.
LinkedIn insights, online video courses and career insights are totally prescindibles, in my opinion. I definitely don't want to pay for them.
If you want to develop your business (or your personal brand, startup, freelancing,etc…), the truly useful features are unlimited people browsing and who has viewed your profile.
Having unlimited searches is an essential feature if you want to get the most of LinkedIn – and to be honest, I'll pay for the Business plan just for this one feature.
Unlocking the ability to see who's viewed your profile is a very interesting feature if you want to follow up on those profiles.
Why? Because if they checked out your profile, they have a legitimate interest in what do you do, who you are, who you work for, or some other reason.
To follow up on that, an easy but useful tactic is to send an invitation to those people and say something like:
"Hi, I noticed that to you checked out my profile today. I thought that we might connect and chat about what brought you here. Thanks, Fran."
Simple, but efficient. Try it if you want to expand your network.
LinkedIn Sales Navigator
So far, so good. But should you pay US$79 a month for the Sales plan?
Let's take a look at the key features you get with the Sales Navigator plan:
​
https://preview.redd.it/w5l4ul7oupg41.png?width=1001&format=png&auto=webp&s=f34e8806bdff01b69579a00a2f3ad1e17c58b2fc
As you can see, there are some new things:
Advanced search with lead-builder
Lead recommendations and saved leads
Should you pay the extra money for those features?
Again, it depends.
Do you have an optimized profile and company profile?
Do you follow a content strategy that matches to your marketing persona?
Have you defined your marketing persona/s?
Do you have a clear strategy on LinkedIn groups?
Are you following up with your prospects to share value before selling them anything?
If your answer is a clear YES for all those questions, then pay for LinkedIn Sales Navigator. You'll get a lot of business from it.
Otherwise, I recommend that you review your LinkedIn strategy and marketing goals on this social network before paying a dime.
When is NOT worth to pay for LinkedIn Premium
At this point, we've seen the different features and pricing for both the Business and Sales plans.
But here's something I really want to tell you, just so you can be sure you're ready to pay for LinkedIn premium services or not.
As we've seen, the main benefit of paying for LinkedIn is that you can develop your business and expand your network.
Especially on Sales Navigator, whose search engine has very good filters that help you connect with highly qualified profiles.
On the other hand, you can share remarkable content, publish on LinkedIn Pulse, attract key contacts, expand your network, and ultimately build your authority using the free basic plan.
So, to pay or not pay – that's the question.
Here is my recommendation: don't pay for LinkedIn's annual plan.
Why not?
Let's say you're running a campaign to promote a new service and want to fill your pipeline with as many qualified prospects as you can.
Anyway … if you do it well, after running your campaign you'll get a lot of new connections – and more importantly, potential clients.
That means that you'll have a lot of sales nurturing and follow-up to do!
What I recommend – and it's something I do myself – is concentrate my campaigns in specific months, then pay for LinkedIn premium for a month or two.
The next month, I cancel my subscription and focus my efforts on attending to those new connections.
This is a more sensible approach. You won't pay for premium features you won't really use, and you can focus your efforts on converting new clients.
And clients will give you the ROI to evaluate in your particular case whether LinkedIn Premium is worth it or not.
Does that make sense to you, too?
Conclusions: Is LinkedIn Premium worth it?
Ok, enough talk about features, searches, strategies and so on. Should pay for it or not?
I'm so sorry to give you my "default consultant answer" again, but…
It depends.
It really depends of your LinkedIn strategy, if you have one. It depends on whether you've optimized your profile. It depends on your offer. It depends on your knowledge of LinkedIn features.
But here's something very definite:
LinkedIn premium gives you access to a worldwide network of potential clients. Not just clients, but key connections that will bring you new business opportunities, partnerships, collaborations, talented collaborators and employees, and much more.
You have basically two options at this point:
First, pay for LinkedIn Premium and add the golden premium badge to your profile.
​
https://preview.redd.it/fz7dbc6pupg41.png?width=710&format=png&auto=webp&s=3aad09fec837437094a52dba61f77b7cebc1dd30
If you don't mind spending that money because you have the budget, cool.
If your company pays you to have an annual LinkedIn premium subscription, cool.
But the truth is, you won't sell more just because you have a golden badge.
If you want to see a return in your investment, you must have a solid LinkedIn strategy in place, take action, share relevant and valuable content, connect wisely with other profiles, help others and build your authority.
Then, and only then, LinkedIn Premium will be worth it.
__________________
If you enjoyed this content you can check my guide on How to contact ANYONE on LinkedIn (for FREE)
submitted by /u/francanetecom
[comments]



Source link
What It Really Takes To Make A Million In Your Business

(You can watch the video below)
So many of us have this goal to make a million in revenue in our businesses… I used to dream so much of reaching this milestone back in 2009.
This is when I created a challenge for myself called "Mission To Make A Million In 365 Days".
And whilst I did reach the million mark a few years ago, that first challenge I set for myself was a total and utter fail, not because my ideas were bad, but because I was focusing on completely the wrong things.
It took me a few years from 2009 to figure out what it really takes to make a million, and it's such an important shift that I think holds so many entrepreneurs from ever getting to that milestone.
So in this week's episode I wanted to share with you my journey to making a million in my business and some key things I learned along the way that I know will be so helpful if this is a goal that's on your list too.
In this episode I share with you:
What happened by day 65 of my "Mission To Make A Million In 365 Days" challenge and why I decided I needed to set myself a different challenge after that.
The discovery I made in 2011 about what it really takes to become a successful entrepreneur and the new challenge I set for myself with this shift in perspective.
The changes I made that helped me bring to life a business idea I had been mulling over for 3 years (that's how FEA was born!).
The things we need to do every single day to become the person we need to be to create success.
The questions you really need to ask yourself as an entrepreneur and the commitments you need to make so that you can hit your financial goals.
I hope you love this episode and that it helps you to have a few A-HA moments!
I also wanted to let you know that I'm doing my final live workshop before the baby arrives and I'd LOVE to invite you to join me for it!
Click here to sign up for this workshop >>>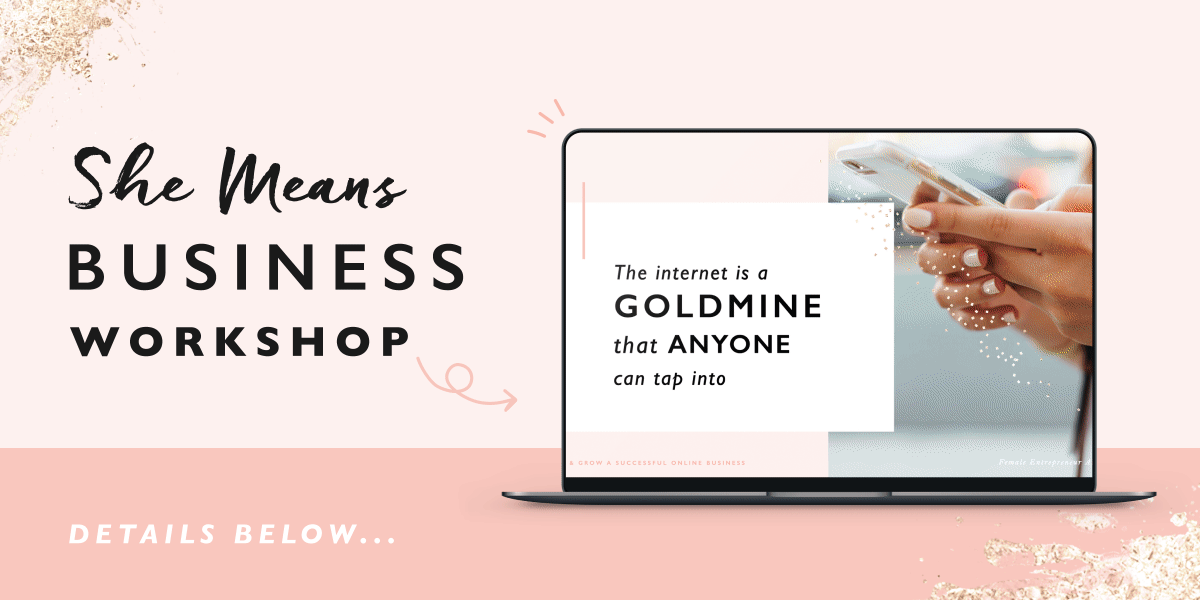 In this workshop I'll be sharing:
The 6 BEST ways to make money online – that everyone can take advantage of!
We'll be identifying what stage of the business journey you're at and what steps to take: are you The Dreamer, The Starter, The Hustler, The Grower, The Scaler or The Visionary?
How I was able to go from being a dreamer to building a million-dollar business – the core steps that got me here and how you can do it too.
The fundamental things you need to be doing every day (that most people don't even think about) to break through and create the success you want.
The post What It Really Takes To Make A Million In Your Business appeared first on Female Entrepreneur Association.
How a $8.00 investment got me a recurring $100 monthly sale
Hello everybody! I hope you're all doing great today! I'm a long time lurker, first time poster, but I have a story to tell you.
About a week ago I was listening to The Side Hustle show and heard en episode about a woman from Michigan who started a pet waste removal company (essentially poop scooping). She was able to replace her pharmacy job and was able to build it into a six figure income.
I was blown away. I'm a textbook over thinker who's built out businesses and websites over and over again (only getting to the point of launch and then abandoning everything out of fear or lack of connection). BUT THIS. THIS WAS SO SIMPLE I COULDN'T OVERTHINK IT:
1) Low Startup Costs
Free Wix site (looks legit af)
I design my own business cards and flyers
Just need initial tools and recurring expenses are only trash bags, gloves, masks, and gas.
2) Low Time Commitment
If you charge $14 per visit, have 30 clients, and show up weekly, you could be making up to 60/h if you route your clients correctly. WHICH MEANS that you get your time back, which is truly the only thing I care about at the moment.
3) Easy to preform
Other services businesses such as pressure washing, house painting, and cleaning were all to high risk for me. Didn't want to blow someone's paint off while pressure washing, or hire a whole crew to paint, or clean anything with a rag. Not interested.
This is literally scooping poop into a bag and tossing into the customers bin (unless they want haulaway services in which case you can charge even more!)
All of that to say, I finally pulled the trigger with my fiancé's support and we went out yesterday in the heat to hand out flyers. Yes, it was uncomfortable and hot and sweaty and weird walking up to peoples doors to slip in a flyer. BUT it only took my $8.00 to get my flyers printed, about 2 hours of my time, and not even 12 hours later I got a call from someone looking to schedule cleaning AND BI-WEEKLY SERVICES. Which means that I'm looking at just about $100 extra dollars per month for 1 client and MAYBE 2 hours max of my time actually scooping.
$50/h picking up poop. And KEEP IN MIND: if you're making as much as I am right now ($15/h 40h/week) then literally all it would take is convincing 30 people to book your services and you can leave your job. Income REPLACED AND EXCEEDED.
I was hyped all night yesterday and just wanted to share it with my favorite sub. A lot of your stories and ideas have influenced me to think that there's actually a different way to exist instead of being monitored by your whack ass bosses all day.
Side Note: there's a lot that goes into a business but over the course of the last 3 years I've acquired almost every skill I need to start a business myself. This didn't happen overnight. It was piece by piece. Wondering why tf I was learning illustrator. Why I learned to edit videos. Why I made so many website mockups. It all felt like an endless cycle. But when I found the idea that made sense, it was as if all my skills were acquired for this purpose. Keep learning! It definitely will reap benefits in the future!
TLDR: I actually put advice to action and booked a $100/month client with only $8.00 and 2 hours of putting up flyers on doors. Rate works out to about $50/h for minimal effort.
Thanks friends! Here to answer as many questions as I can if you have any.
Edit: ended up buying the domain to get google to recognize this traffic. Thank you everyone who's upvoted. Meant the world!!
Check out the site at: AV Scoops
submitted by /u/zeromoreno
[comments]



Source link
You Know This Song: Having Confidence to Sing the Soundtrack to Your Life by @NancySolari
by Nancy Solari 
One of my favorite hobbies and passions has always been karaoke. But as my vision started deteriorating after being diagnosed with Retinitis Pigmentosa, I found I could no longer read the lyrics at a distance. I solved this by having the karaoke host at my go-to bar whisper the words to me while I sang, but when I visited other karaoke places, I ran into issues with the DJ or manager being uncomfortable reading the words to me. In my mind, I felt more secure when they assisted me, but the audience often sat there whispering among themselves, confused by my performance.
One night, I was at a bar with my friends and serenading them with the well-known Britney Spears song "…Baby One More Time." The manager agreed to whisper the lyrics in my ear, but I had to repeatedly lean down to hear her; my body swaying like a pendulum during the performance. Suddenly, a woman got up from her seat, marched towards me, slammed her hand on the stage, and shouted: "You know this song!" Without another word, she disappeared, and I never encountered her again. But I immediately started singing the song without the manager and to my surprise, she was right: I sang the song perfectly. I realized I no longer needed my "karaoke crutch" of having the words read to me in order for me to succeed.
The next day, I was still perplexed by the mystery lady and my triumph in the bar. But it gave me the chance to understand I had become too dependent on others. The interruption of my song allowed me to recognize this and trust my abilities again.
In order for us to grow into being our most authentic selves, we must plant the seeds of the following qualities…
Let disrupters Into Your life
When I performed at karaoke bars, I was content with someone feeding me the words until the I was jolted into realizing the truth: I knew the lyrics and was capable of singing on my own. What I needed was someone to assist in my overall personal growth.
We need these people in our lives, because there are insecurities we cannot recognize in ourselves. The woman who interrupted me on stage saw the discomfort in my body and gave me the impetus to perform without assistance. Our friends and family do the same for us: They give us guidance and provide opportunities that endow us with confidence.
Believe in Your abilities
When my vision started worsening, I began leaning on those around me. It was only when I started singing on my own again that I grew more self-reliant. I developed a new habit of listening to the song a few times to learn the melody, and practicing for hours before performing. I discovered if I messed up the verses, I could just smile and make them up as went along: I learned how to adapt and become a stronger.
To find this self-assurance, I had to examine what I liked about myself. Nobody is perfect, but we have to consider a skill we take pride in and let it be our signature trait. For some it might be a physical attribute, and for others it may be intelligence. We can use confidence in this singular feature to build our self-worth in other areas: It becomes like a business card defining us in the best way possible.
Play Only Your Soundtrack
 My ability to sing and do karaoke is important because it stems from a time before I lost my sight. The music industry was a career path I went down for a brief period. I was going to music award parties, meeting with presidents of different record labels, and recording my music. As exciting as the industry was, I encountered sexual harassment that made me feel powerless.
One night, I was at an industry party that opened my eyes. I found myself scanning the room and observing new artists who were indulging in drugs. In that moment, I went to the bathroom; tears were running down my face, and I felt adrift in a sea of partiers. I looked in the mirror and told myself: "These are not my people." I immediately left the party and walked away from the music industry. I found the confidence to step out of that world, and I felt like I gained my soul back.
By confronting what I desired in life and have conviction in my morals, I left behind people I knew would not have assisted my growth. To find our true selves, we need this self-reflection. I found when I journaled or voiced my thoughts into a recorder, I effectively discovered my inner pain. When we examine ourselves through a different prism, we learn what holds us back and can create change in our lives.
The soundtrack to my life is far from complete, as I continue to be challenged by my vision every day. But each time we are confronted with adversity, we must remember our best verses will be about overcoming hardship, and the greatest songs often take years to write. Along the way, when self-confidence meets our authentic selves, we come one step closer to finishing the album to our life.
And that is music to my ears.
Nancy Solari is an inspiring example of living life with a positive mindset, regardless of the challenges you face.
At sixteen, she was diagnosed with retinitis pigmentosa: a progressive retinal disease that leads to blindness. Over the years, Nancy experienced significant vision loss, but refused to let this dissuade her from following her dreams. She obtained a BA in broadcasting and psychology from the University of Oregon, worked for Good Morning America and Entertainment Tonight, had a successful singing career, and was a top-producing Realtor in Southern California.
Nancy went on to obtain a life coaching degree, and launched Living Full Out in 2008 to help others achieve their goals. An accomplished coach, speaker, and host of the national radio show, Living Full Out with Nancy Solari, she shares her tools for success with audiences and organizations all around the country.
The post You Know This Song: Having Confidence to Sing the Soundtrack to Your Life by @NancySolari appeared first on She Owns It.