Growing as a Couple and a Startup
Contributed by Lionel Felix, founder of Felix Media Solutions and a member of EO Austin. 
My wife and I both work full-time in our commercial audio-video (AV) company and it's been very rewarding for our relationship as well as a strategic benefit. Our company, Felix Media Solutions, landed a spot on the 2019 Inc. 5000 list, but getting there came with many, many landmines that could have blown up the business—as well as our relationship.
I started the company in 2015 as a side-hustle with my old friend Mike Watts. We both had full-time IT jobs which paid well, but I wanted to save for a house and he wanted to bring home more for his family. When we found ourselves working through many of our weekends, our vacation days and (ahem) sick days from our main jobs, we both jumped in completely and cut the tethers. Our IT contacts helped us drive sales of video conferencing systems to our IT friends.
About the same time, I started dating Lindsey Rima (pictured at left). She managed the co-working space I was working in. She found what we did interesting and liked the idea of working with technology and making things work. She has BS in Biomedical Photography from Rochester Institute of Technology and she had worked as a product expert at the technology firm Zeiss. She soon donned a hard hat, filled a Husky bag with cable termination tools and started moonlighting on the field team terminating CAT5/6 cables, balanced audio cables and showing the guys how wire-management was supposed to look.
While the business grew quickly, she learned quickly and went into systems programming where she learned how to design and program complex automation systems from Extron, Biamp and RTI. We worked side-by-side and she moved full-time into system bidding, design, and programming. Within a year she had made herself integral to the field team as well as the sales team where she was bidding $250K whole courthouses, 100,000 square feet offices and getting us projects that were bid exactingly and profitably. I was relieved by not having to do all the bidding and programming. I was able to focus on business growth, business development, hiring and sales.
Growing Pains
By late 2017 it was clear there was a problem with our bookkeeping and accounts receivable (AR) was so backlogged we nearly ran out of cash, just in time for our bookkeeper to quit without notice. We had payroll in a few days, hundreds of thousands of dollars in AR getting moldy and not enough in the bank. I'm lucky to know people who can float me an entire payroll run while I get my house in order. Lindsey—who, at the time, was my girlfriend, programmer and designer—said, "I will take over the finance piece, you go sell and run the shop. I'll handle this side of things." And she just ran with it. She said, "I got this."
With us working on different parts of the business and having ownership of our pieces, we didn't step on each other's toes. While I am CEO, I knew that she had total ownership of what she had on her plate so I never needed to "manage" her. That autonomy, respect and trust let us work on the things we knew we needed to get done. Our goals were aligned which meant we knew what needed to get done.
Instead of all of this coming from an employee, it was from the woman who I also went out to dinner with and was involved with. Our conversations often moved from things we cared about in our personal life to business strategy and hiring and finances. While work romances create many conversations about work and a relationship between two working people features work as a common topic, being at the helm together created a very strong bond between us.
Within three months of Lindsey taking on the organization's finances, our AR went from an average age of 71 days to 21 days, our line of credit was at zero, our credit cards were at zero and we had two months of payroll in the bank. Lindsey had recently attended the EO Accelerator Cash Day where she learned about profit first. She worked with our new outside-finance person, Chelle Martinez of Tax Trailer, and we implemented the profit-first model—taking every dollar that comes in and putting it into discrete accounts, starting with profit, then taxes, operational expenditures, work in progress, and a vault account which became our internal line of credit to smooth out the bumps. (We are a project-based company and money comes in unevenly.)
Solutions Without Conflict
Over time we have been able to keep work discussions at home to a dull roar, but we love what we do. Working together taught us to have hard conversations because we were focused on the outcome and the future. That alone helped us a great deal.
Learning how to have hard conversations without conflict, just problem solving, was the most important thing we were able to solidify between us. We were more focused on positive, aligned outcomes than anything else. We learned to take nothing personally, which helped us move quickly to solve issues. We learned to grow and thrive without friction. Our partnership also manifested in a united voice within the larger team. There was no "go-ask-dad-if-mom-says-no" mentality, which often happens in family businesses.
How to Make it Work
For spouses and partners who wish to work together, I believe it's critical that they work on different parts of the business and do so with autonomy. Hovering, correcting, holding them to different standards can cause problems—particularly in the optics within the company.
Lindsey and I are lucky to be able to do our best work in different parts of the business. That's the tricky part. Can you both do your work and not have too many opinions about how the other is executing? Is the work style between the two people compatible? Are your vision, values and goals aligned? If yes, then give it a go. If you're both wanting to be the chef, on the other hand, well, two-business households are great, too!
As a lifelong techie with 20 years of IT and AV experience, Lionel Felix (pictured at left) is committed to building great solutions that are easy to use. Both he and his wife, Lindsey Rima, are members of EO's Austin, Texas, chapter. 
The post Growing as a Couple and a Startup appeared first on Octane Blog – The official blog of the Entrepreneurs' Organization.
#1948 How to teach your kids to build their own businesses


Joining me as somebody who I've been talking to via email for a while, and I've wanted to have on here and I'm so excited that he said yes to an interview.
So many entrepreneurs that I've interviewed had little businesses when they were kids. They're usually so freaking proud of then that they can't stop telling my producers about it. But so many of the stories ended with the business getting shut down by the school, by a teacher, or by the principal.
Well, today's guest said, "What if we create a way to encourage kids to sell and create businesses? We'll teach them how to do it and we give them everything that they need."
Scott Donnell is the founder of MyFirstSale, which gives kids the life skills and confidence
to sell their products in a safe, friendly online environment.
For a special listener discount, you can go to MyFirstSale.com/Andrew or hapbee.com/Andrew to see more.
Scott Donnell is the founder of MyFirstSale and Hapbee, a wearable device that allows people to pick the feelings they want to express, like happiness, calm and sleepiness.
Mixergy listeners can get the following promos:
www.myfirstsale.com/andrew ($20 off Sign Up)
www.hapbee.com/andrew (Indiegogo discount)
Sponsored by
HostGator – Ready to take your website to the next level? Whether you're a first-time blogger or an experienced web pro, HostGator has all the tools you need to create a great-looking website or online store. A wide range of options includes cloud-based web hosting, reseller hosting, VPS hosting and dedicated servers. Founded in 2002, HostGator is the perfect web partner for business owners and individuals seeking hands-on support. Visit www.hostgator.com/mixergy to see what HostGator can do for your website.
---
Toptal – Toptal is a global network of top talent in business, design, and technology that enables companies to scale their teams, on demand. Toptal serves thousands of clients, including Fortune 500 companies and innovative startups, delivering expertise and world-class solutions at an unparalleled success rate. With elite freelancers in over 100 countries, Toptal connects the world's top talent with leading companies in days, not weeks. Plus, every new engagement begins with a no-risk trial period, so clients only pay if satisfied with the work. Get started hiring with Toptal today.
More interviews -> https://mixergy.com/moreint
Rate this interview -> https://mixergy.com/rateint
What It Really Takes To Make A Million In Your Business

(You can watch the video below)
So many of us have this goal to make a million in revenue in our businesses… I used to dream so much of reaching this milestone back in 2009.
This is when I created a challenge for myself called "Mission To Make A Million In 365 Days".
And whilst I did reach the million mark a few years ago, that first challenge I set for myself was a total and utter fail, not because my ideas were bad, but because I was focusing on completely the wrong things.
It took me a few years from 2009 to figure out what it really takes to make a million, and it's such an important shift that I think holds so many entrepreneurs from ever getting to that milestone.
So in this week's episode I wanted to share with you my journey to making a million in my business and some key things I learned along the way that I know will be so helpful if this is a goal that's on your list too.
In this episode I share with you:
What happened by day 65 of my "Mission To Make A Million In 365 Days" challenge and why I decided I needed to set myself a different challenge after that.
The discovery I made in 2011 about what it really takes to become a successful entrepreneur and the new challenge I set for myself with this shift in perspective.
The changes I made that helped me bring to life a business idea I had been mulling over for 3 years (that's how FEA was born!).
The things we need to do every single day to become the person we need to be to create success.
The questions you really need to ask yourself as an entrepreneur and the commitments you need to make so that you can hit your financial goals.
I hope you love this episode and that it helps you to have a few A-HA moments!
I also wanted to let you know that I'm doing my final live workshop before the baby arrives and I'd LOVE to invite you to join me for it!
Click here to sign up for this workshop >>>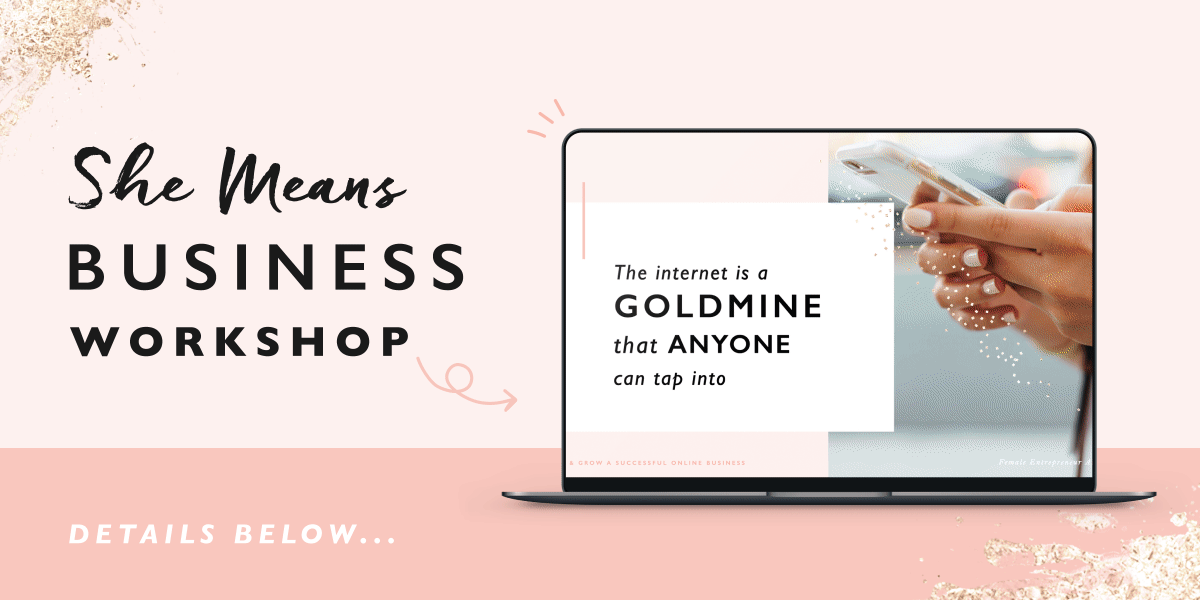 In this workshop I'll be sharing:
The 6 BEST ways to make money online – that everyone can take advantage of!
We'll be identifying what stage of the business journey you're at and what steps to take: are you The Dreamer, The Starter, The Hustler, The Grower, The Scaler or The Visionary?
How I was able to go from being a dreamer to building a million-dollar business – the core steps that got me here and how you can do it too.
The fundamental things you need to be doing every day (that most people don't even think about) to break through and create the success you want.
The post What It Really Takes To Make A Million In Your Business appeared first on Female Entrepreneur Association.
How a $8.00 investment got me a recurring $100 monthly sale
Hello everybody! I hope you're all doing great today! I'm a long time lurker, first time poster, but I have a story to tell you.
About a week ago I was listening to The Side Hustle show and heard en episode about a woman from Michigan who started a pet waste removal company (essentially poop scooping). She was able to replace her pharmacy job and was able to build it into a six figure income.
I was blown away. I'm a textbook over thinker who's built out businesses and websites over and over again (only getting to the point of launch and then abandoning everything out of fear or lack of connection). BUT THIS. THIS WAS SO SIMPLE I COULDN'T OVERTHINK IT:
1) Low Startup Costs
Free Wix site (looks legit af)
I design my own business cards and flyers
Just need initial tools and recurring expenses are only trash bags, gloves, masks, and gas.
2) Low Time Commitment
If you charge $14 per visit, have 30 clients, and show up weekly, you could be making up to 60/h if you route your clients correctly. WHICH MEANS that you get your time back, which is truly the only thing I care about at the moment.
3) Easy to preform
Other services businesses such as pressure washing, house painting, and cleaning were all to high risk for me. Didn't want to blow someone's paint off while pressure washing, or hire a whole crew to paint, or clean anything with a rag. Not interested.
This is literally scooping poop into a bag and tossing into the customers bin (unless they want haulaway services in which case you can charge even more!)
All of that to say, I finally pulled the trigger with my fiancé's support and we went out yesterday in the heat to hand out flyers. Yes, it was uncomfortable and hot and sweaty and weird walking up to peoples doors to slip in a flyer. BUT it only took my $8.00 to get my flyers printed, about 2 hours of my time, and not even 12 hours later I got a call from someone looking to schedule cleaning AND BI-WEEKLY SERVICES. Which means that I'm looking at just about $100 extra dollars per month for 1 client and MAYBE 2 hours max of my time actually scooping.
$50/h picking up poop. And KEEP IN MIND: if you're making as much as I am right now ($15/h 40h/week) then literally all it would take is convincing 30 people to book your services and you can leave your job. Income REPLACED AND EXCEEDED.
I was hyped all night yesterday and just wanted to share it with my favorite sub. A lot of your stories and ideas have influenced me to think that there's actually a different way to exist instead of being monitored by your whack ass bosses all day.
Side Note: there's a lot that goes into a business but over the course of the last 3 years I've acquired almost every skill I need to start a business myself. This didn't happen overnight. It was piece by piece. Wondering why tf I was learning illustrator. Why I learned to edit videos. Why I made so many website mockups. It all felt like an endless cycle. But when I found the idea that made sense, it was as if all my skills were acquired for this purpose. Keep learning! It definitely will reap benefits in the future!
TLDR: I actually put advice to action and booked a $100/month client with only $8.00 and 2 hours of putting up flyers on doors. Rate works out to about $50/h for minimal effort.
Thanks friends! Here to answer as many questions as I can if you have any.
Edit: ended up buying the domain to get google to recognize this traffic. Thank you everyone who's upvoted. Meant the world!!
Check out the site at: AV Scoops
submitted by /u/zeromoreno
[comments]



Source link