The man who removes a mountain begins by carrying away small stones.
Over the past few months, I've been mostly working on adding new features to https://wfh.team, and I plan to continue to do that for a while. But lately, I had been feeling like there is something missing from my project. Like I needed to breathe some life into my project. I use a simple todo list to keep track of all the things I want to do in the future. Most of the tasks on my list are technical tasks, but there are also a few non-technical items on there. One thing that was on my list forever (or at least that's how it felt like) and kept getting pushed down the list was:
– Give Back
This was basically on my vision board since I started my first side project. But every time I pictured it in my mind, I imagined myself running a big company that could afford to give back to the community in a big way. I always thought about this with the mindset of "Put on your oxygen mask before helping others", like my business needs to be very stable with a growing MRR before I can even think about giving back in any way. In some cases that might be true. Like my small side project is definitely not at a point where I can afford to build a shelter for homeless people, but that doesn't mean there is nothing I can do.
In fact, if I learned just one thing after doing many side projects over the past few years, it's to take small steps when taking big steps feels too hard or even impossible. (See the title 👆🏼)
So I recently started revisiting the idea of giving back and thinking about how I can do it on a smaller scale. I wrote down my thought about what I was looking for:
No matter how small my contribution is, I wanted it to be made toward a big problem the world is facing right now, like hunger, homelessness, climate change, etc.
I wanted it to be somehow aligned/related to what I'm doing at WFH and what my mission is.
Something that is affordable for me at this stage
After some digging around and looking into how other companies are doing a similar thing, I found the perfect match for what I was looking for
​
– For every job you post we plant a tree 🌳
​
I couldn't think of a better way to breathe life into my project by actually creating life!
This passed all my criteria. Climate change is a serious problem that is threatening the future of our planet 🌎 and our children, and one way to slow it down is by reforestation.
I think trying to make the world be a better place should be part of every company's mission. There are countless articles around the web about the benefit of WFH in regard to climate change and how it can help it by
Cutting Down on Greenhouse Gas Emission
Decreasing the Construction of New Office Spaces
Reducing Traffic-Related Deaths and Injuries
Another thing that makes this a perfect fit for my business and where I am right now is that planting a tree is actually very affordable. #teamtree started a campaign last year to raise $20 million to plant 20 million trees. And they made it in less than two months 🤯 What an incredible job! The good news is it's not too late to donate. You can still go to their website and plant a tree for every $1 you donate.
Lastly, I'm very excited about what comes next and looking forward to making the planet a greener place. I think in a few years when I look back at what I have done, I would be proud of helping people find their dream job and live a happier life, but what would make me even more proud is that by doing so I made the planet a better place to live in.
If you are looking for a remote/work from home job, check out https://wfh.team or follow @wfh_team on Twitter. If you have any suggestions, questions or just want to say hi 👋 , feel free to message me on Twitter via @saeedezt
submitted by /u/Difalt
[comments]



Source link
Growing A Side-Hustle Into A Global Business with Lorraine Dallmeier
This week I was joined on the She Means Business podcast by one of our amazing members from the Members' Club, Lorraine Dallmeier.
As soon as she returned to work after having a baby, Lorraine soon realised that she was being held firmly back by the glass ceiling.
She had been dabbling with creating a side-income for herself, so when the opportunity came up to take over the online course company she had been enrolled in, Lorraine took the plunge. She had seen it simply as a side-hustle, but it turned into so much more than that.
Join Lorraine and over 5000 other incredible women in business over in our Members' Club here >>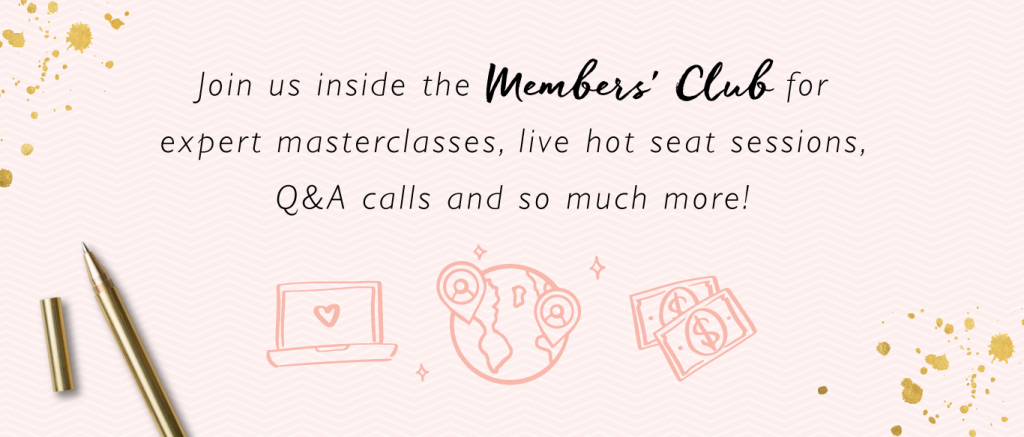 A few years and a lot of hard work later, Lorraine has grown her business, Formula Botanica, into a global success, with almost 9,000 students across 161 countries.
Formula Botanica is an online training school for people who want to learn how to make their own organic skincare or haircare and how to then turn those products into a viable and profitable indie beauty brand.
In this podcast, Lorraine and I discuss:
How being held back at work after having a baby pushed her to start her own business.
Her journey from being a student in her own online education business to buying and taking over the company.
All the changes, updates and processes she had to put in place to revive and grow the business, the steps she took and the things she focused on.
The successful launch that helped her realise she could quit her job and work on the business full-time.
How she used customer feedback to change and improve the business.
How she juggled growing the business and raising two children and the lifestyle she has managed to create for her family.
The struggles she faced with getting herself and her business out there and what she did to overcome her fear of being visible.
Winning The Digital Achiever of the Year Award from Google among beauty industry giants.
How she got started with video and how her skills have improved over time.
The kind of success her students have achieved.
All the exciting plans she has ahead of her this year.
Lorraine's top tips for success are:
Don't be scared of being visible – just do it and keep doing it until you feel comfortable with it. It will get easier the more you try!
Be really consistent in whatever you do. Be realistic in what you commit to doing and then keep showing up!
Find what drives you and gives you your passion as that's what will get you through the hard times.
Find out more or connect with Lorraine.
Website: https://formulabotanica.com
Facebook page: https://www.facebook.com/FormulaBotanica/
Join Lorraine and over 5000 other incredible women in business over in our Members' Club here >>
The post Growing A Side-Hustle Into A Global Business with Lorraine Dallmeier appeared first on Female Entrepreneur Association.
How to Connect at a Networking Event (Without Saying A Word)
by Latrice Cole
We all know it's necessary for growth professionally or personally, but let's be honest, it can be dreadful, intimidating, and downright awkward. What do you wear? Do you suck it up and wear the four-inch heels? How do you sell yourself? Do you humble-brag about your degree, or do you grit your teeth and smile until the very end? The most awkward part of networking is striking up the initial conversation with a complete stranger. But what if you didn't have to? With just a dash of fashion-savvy, you can skip the stress-inducing walk-up and the whole boring introduction speech with this simple trick I teach all my clients: Wear an ice-breaking accessory that's a stellar conversation starter. Below is a list of accessories that will get people approaching you now – and long after the event.
1. Scarves –Try wearing a unique vintage scarf or a scarf that you bought while on vacation with a great story behind it. This will allow you to share the story while taking the pressure off you. There are several ways to wear your scarf. Close to your face is best (around your neck), but if you're not comfortable with that tie it on your handbag, but remember the key is for people to notice it. So, if you are going to tie it to your bag, make sure you can showcase it.

2. Pop of color with your shoe or handbag – Wearing a classic or neutral outfit to a networking event is a great way to look polished and professional (think Little Black Dresses, pantsuit/pants, and blouse combo).  However, show a little personality by adding a great pair of shoes or bag in a print or color that pops (like burnt orange or red). You will surely gain compliments that can ease into a conversation.
3. Jewelry – One of my favorite ways to top off an outfit. Try wearing a stand out heirloom, like a ring or brooch or handmade earrings that boosts your confidence. Last October, I attended a fashion networking event, and I wore handmade earrings. They were a hit! People started conversations with me based on my earrings. It broke the ice, allowed me to engage with others, and exchange contact information.
4. Eyeglasses – Those who wear them use it out of necessity, but that doesn't mean they have to be boring. Use your necessity as an advantage by stepping up your eyewear game with an interesting shape, color, bedazzle, or print, according to your personality. I wear glasses and depending on the type of event, I may switch my frames to make a statement. Glasses draw attention to your face making it easy for people to make eye contact with you.
If you don't wear glasses you can always flip the script and admire someone else's to get the conversation going.
The post How to Connect at a Networking Event (Without Saying A Word) appeared first on She Owns It.
Not All SEO Problems Are Easy to Solve
Contributed by Jackie Carrillo, a content coordinator and contributor who writes on technology, marketing, business management and education. 
SEO is often touted as one of those essential business practices that are simple enough to do yourself. After all, you probably have the power to edit your business's website, so you can stuff pages with keyword phrases, sprinkle links galore and alter other factors that could improve your performance on the search engine results pages (SERPs). Thus, you could conceivably save tens of thousands of dollars by going the DIY route — unless you run into some SEO trouble.
SEO is simple until it isn't. Unfortunately, SEO can get exceedingly complex exceedingly quickly. To prove the point, here are a four relatively typical SEO problems that tend to be too complex for the average business leader to solve.
1. Your Website Indexing Is All Wrong
You can put all the care into optimizing your webpages—researching keywords, tinkering with metadata, etc.—but if Google can't find your webpages, it is all for naught. Websites and pages don't automatically join Google's search. Google deploys digital spiders to crawl the web looking for new pages and content, and then the search engine indexes those new pages, or adds them to it search capabilities.
Some creators intentionally hide webpages from Google's spiders or prevent Google from using those pages in search. In fact, this is a good SEO tactic if some of your content is lower-quality or non-vital to the user's experience of your website, like archives of tags. Then again, many more websites accidentally prevent their pages from being indexed through shoddy coding. Unfortunately, you can't tell your website developer to fix the problem because they don't know what pages to index and what to leave hidden from Google.
If you are wondering what an SEO company is for, it's knowing the difference between webpages that should and shouldn't be indexed. You should work with an SEO agency to help you with indexing your website properly, so the right content has the chance to rank on Google's SERPs.
2. Your Pages Are Competing Against Each Other
Many SEO DIY-ers use a tool like this one to research viable keywords, choose a couple relevant phrases and integrate those keywords into every bit of content on their website.
This strategy is called keyword cannibalization and it is not an effective strategy for getting multiple webpages on your site to rank. Instead of competing against other sites, your pages compete against one another, hurting the chances of all pages involved at ranking high on Google's SERPs.
The solution is to create a keyword map, which will help you identify which keywords are used on which webpages. Then, you should strive to diversify not only your keyword phrases but also the topics of your content, so you avoid overcrowding. Again, you should work with SEO professionals to choose the best keyword phrases for your pages and compete with other websites, not only yourself.
3. Your Content Isn't Structured to Google's Liking
The number of backlinks to your website matters. The quality of your content matters. However, these factors matter a bit less if your content isn't taking the right form.
Consider this example: You spend days developing a comprehensive, 3,000-word list of the best travel destinations for this year, replete with a few stunning, high-res images of a few destinations—but when you publish it, it doesn't come close to ranking.
That might be because Google only deems content of this sort acceptable when they take the form of an image gallery with minimal text. You can determine this with a bit of research using keywords similar to your content, like "best travel destinations 2020."
However, the differences in format between what you publish and what Google likes might be all but indiscernible to the average web user. Thus, you should rely on an SEO pro to perform thorough research on content styles before proffering instruction on content development.
4. Your Website Speed Is Embarrassingly Slow
Surprising to many SEO DIY-ers, website speed is one of Google's top-ranking criteria. Google's spiders don't like wading through a slow website, and users hate waiting for pages to load, too. Thus, Google knocks points off websites that aren't prioritizing haste and hustle, and that goes double for mobile.
SEO isn't the only reason you should invest more energy into increasing your website's speed on traditional and mobile platforms. Research shows that users will only wait about three seconds for a page to load before bouncing in search of a swifter page. Slower pages don't just rank lower; they also are less likely to cause conversions because of their subpar user experience.
Yet, increasing speed isn't as easy as it sounds. Typically, you need to tinker with exceedingly technical aspects of your site, like compression and code optimization, caching and content distribution. A simple speed boost comes from reducing the size of your images. Still, it helps to have a pro on hand to help you optimize your website for speed without compromising its quality.
Ostensibly, you can manage basic SEO on your own—but when your business encounters obstacles in its efforts to rank, you shouldn't try to solve any problems without professional help. Your website is simply to valuable to harm with shoddy SEO practices.
The post Not All SEO Problems Are Easy to Solve appeared first on Octane Blog – The official blog of the Entrepreneurs' Organization.