The Curse That Causes Promotions to Fail
Written for EO by Dr. Gleb Tsipursky, disaster avoidance expert, speaker and author. 
It's tragically common for people in organizations to be promoted up the hierarchy to their "level of incompetence," a concept in management known as the Peter Principle. They are promoted because they did well in their previous job, not based on their potential to meet the needs of the new position into which they are placed, even when the new role requires a wholly different set of skills. Moreover, there's often no training for the new skills they need to learn to succeed in their new position.
This combination of poor promotion practices and lack of training stem largely from a dangerous judgment error known as the curse of knowledge, referring to the fact that when we learn something, we face great difficulty in relating to someone who doesn't know it.
In other words, once we gain a set of skills, such as in managing others, we tend to forget what it feels like to lack these abilities; once we acquire relevant knowledge, such as the jargon of our profession, we tend to use it to speak to those who don't know this jargon, and then wonder why they fail to understand.
As a result, we have difficulties communicating with others about our professional activities, teaching them the skills they need to learn, and collaborating with them in professional settings.
The curse of knowledge error comes from how our brains are wired. It represents one of the many dangerous judgment errors that scholars in cognitive neuroscience and behavioral economics call cognitive biases.
Fortunately, recent research in these fields shows how you can use pragmatic strategies to address these dangerous judgment errors, whether in your professional life, your relationships, or other areas in life.
You need to evaluate where cognitive biases are hurting you and others in your team and organization. Then, you can use structured decision-making methods to make "good enough" daily decisions quickly or more thorough ones for important choices.
How Does the Curse of Knowledge Harm a Growing Company?
What about the curse of knowledge? A case in point: a quickly-growing manufacturing company faced a serious Peter Principle and curse of knowledge challenge. Staff got promoted into supervisory roles based on a combination of seniority and prior performance. Then, newly promoted supervisors were expected to pick up the skills on the job, without training in leadership. The problem stemmed from the curse of knowledge, with most of the leaders in the department of transportation forgetting the difficulties they had in developing their own leadership skills.
A newly-hired HR director, coming in with an outside perspective, recognized this long-standing practice as a serious issue. She convinced the department's leadership to develop a leadership development training program for newly promoted supervisors. The HR director brought in Disaster Avoidance Experts to consult on creating the leadership development program.
We started with an opt-in pilot training program for supervisors who were recently promoted from the ranks. Through focus groups and assessments of current supervisors, we identified eight core skills required for this role as compared to their previous positions, along with some relevant knowledge.
We then created a training curriculum that conveyed these skills and knowledge, along with a mentor program teaming a new supervisor with one who had more than five years of experience. We also created a method of evaluating success, namely seeing whether the newly promoted supervisors received a rating of "meeting or exceeding expectations" on their six-month performance assessment.
 Leadership Development Training
In the past, an average 63 percent of those promoted met this requirement, providing a clear baseline by which to measure our intervention.
Out of 48 recently promoted supervisors, 21 chose to join the pilot training program. Of these 21, a total of 17—83 percent—received a rating of "meeting or exceeding expectations," much higher than the baseline. Out of the 27 supervisors who chose not to join the program, only 16 received the same rating, or 59 percent, so around the baseline. Seeing how the new training curriculum substantially boosted performance by new supervisors, the manufacturing company's leadership endorsed the HR director's desire to train all newly-promoted supervisors.
I regret that such leadership development training didn't address the manner in which the Peter Principle determined how supervisors were selected. Unfortunately, the leadership wasn't willing to discuss this issue, as it would mean challenging the union contract's promotion guidelines. Still, at least the new supervisors had a much better chance of success due to addressing the curse of knowledge.
Dr. Gleb Tsipursky is on a mission to protect leaders from dangerous judgment errors known as cognitive biases by developing the most effective decision-making strategies. With over 20 years of experience as CEO of the training, coaching, and consulting firm Disaster Avoidance Experts, he also spent over 15 years in academia as a cognitive neuroscientist and behavioral economist. He's an EO speaker, a recent EO 360° podcast guest and author of Never Go With Your Gut (2019), The Blindspots Between Us (2020) and The Truth Seeker's Handbook (2017).
The post The Curse That Causes Promotions to Fail appeared first on Octane Blog – The official blog of the Entrepreneurs' Organization.
What It Really Takes To Make A Million In Your Business


(You can watch the video below)
So many of us have this goal to make a million in revenue in our businesses… I used to dream so much of reaching this milestone back in 2009.
This is when I created a challenge for myself called "Mission To Make A Million In 365 Days".
And whilst I did reach the million mark a few years ago, that first challenge I set for myself was a total and utter fail, not because my ideas were bad, but because I was focusing on completely the wrong things.
It took me a few years from 2009 to figure out what it really takes to make a million, and it's such an important shift that I think holds so many entrepreneurs from ever getting to that milestone.
So in this week's episode I wanted to share with you my journey to making a million in my business and some key things I learned along the way that I know will be so helpful if this is a goal that's on your list too.
In this episode I share with you:
What happened by day 65 of my "Mission To Make A Million In 365 Days" challenge and why I decided I needed to set myself a different challenge after that.
The discovery I made in 2011 about what it really takes to become a successful entrepreneur and the new challenge I set for myself with this shift in perspective.
The changes I made that helped me bring to life a business idea I had been mulling over for 3 years (that's how FEA was born!).
The things we need to do every single day to become the person we need to be to create success.
The questions you really need to ask yourself as an entrepreneur and the commitments you need to make so that you can hit your financial goals.
I hope you love this episode and that it helps you to have a few A-HA moments!
I also wanted to let you know that I'm doing my final live workshop before the baby arrives and I'd LOVE to invite you to join me for it!
Click here to sign up for this workshop >>>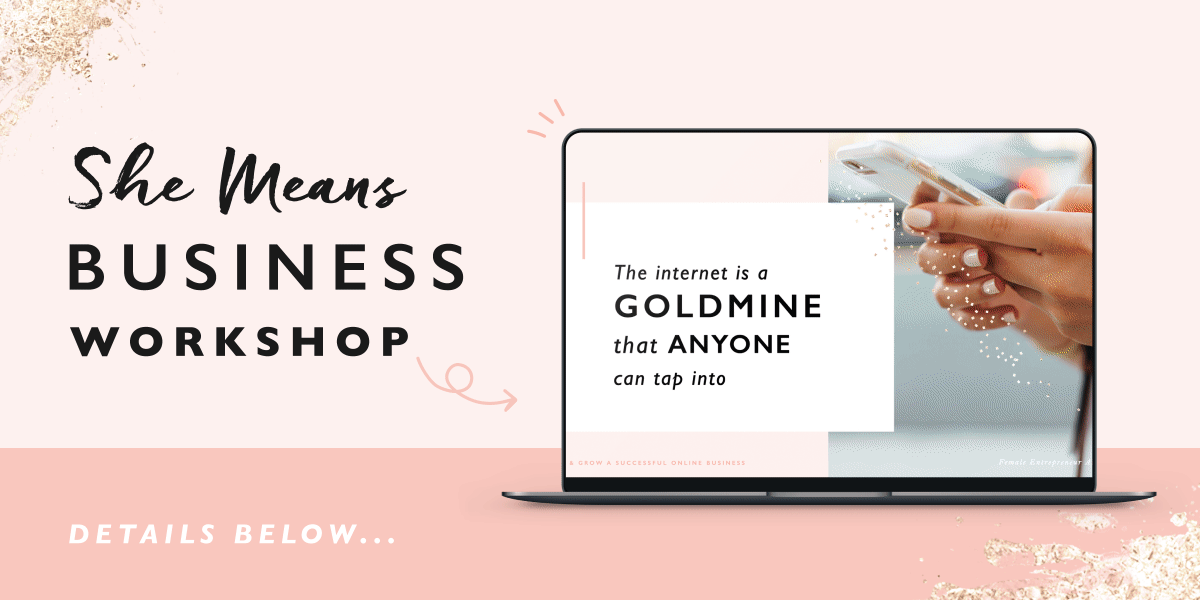 In this workshop I'll be sharing:
The 6 BEST ways to make money online – that everyone can take advantage of!
We'll be identifying what stage of the business journey you're at and what steps to take: are you The Dreamer, The Starter, The Hustler, The Grower, The Scaler or The Visionary?
How I was able to go from being a dreamer to building a million-dollar business – the core steps that got me here and how you can do it too.
The fundamental things you need to be doing every day (that most people don't even think about) to break through and create the success you want.
The post What It Really Takes To Make A Million In Your Business appeared first on Female Entrepreneur Association.
This Is How You Can Write a Killer Copy
Hey people!
As an early-stage startup founder, I cannot afford a copywriter expert and most of us cannot. I spent 3-4 days learning to copywrite; watched a lot of videos, read articles and posts on this sub, etc. After I wrote my new copy, I decided to turn it into 10 pieces of advice to share. If you have any feedback please comment.
P.S I couldn't upload images if you want to see the last 4 and example images you can click here.
1) Consistency
The look and feel of your site should be uniform throughout. Use the same 2-3 colors, leave consistent white space, and use the same language throughout your website.
This also helps you to create a brand. Your users will know your colors and it will contribute your overall brand awareness
2) No Adverbs, No Adjectives
Don't waste your white space with adverbs or adjectives. Effective copywriting requires a direct speech purged from unnecessary adverbs and adjectives.
After you write your copy always look for sentences or words to erase. If the sentence is powerful without a word, delete it.
3) Your Why matters
Always tell a story. Why you develop your product? What is your background? Did you encounter the problem that you solve?
A killer copy is the one that tells a great personal story. Start with your why and background then talk about the solutions you tried earlier. Finally, talk about your product. Don't forget to split your text into smaller parts to make it easier to read. You can see this kind of a copy at HEY!
4) Create excellent content
Combine content marketing and copywriting to maximize your conversion rate. Create content based on your niche and keywords, make an emotional connection, and make users take action with your killer landing page.
Try to write at least 1000-1500 words and try to be relevant to your audience. Don't just focus on what you sell, but look for trends that your audience search. You can use Google Trends for it.
5) Benefits>Features
Everyone says the same thing Benefits>Features and when something is being said everywhere, it is often being ignored.
As a matter of fact, a lot of landing pages tell about features that only the people who are genuinely interested in the product and experienced in the field can understand.
Tell for a 7-year-old, develop for a nerd.
6) Be a human
We don't talk like a machine in real life. Why would you write your copy like a machine? Your brand is like a human and it talks with people. Make it real.
If you have a video or an image, you can use real people on them or you can be on them. It feels great to see the person behind a landing page, it creates trust and a sense of friendship.
Conclusion:
In this article, we reviewed the copywriting basics for beginners. You really don't need to hire a copywriting expert. All it takes is continuously testing your copy and taking data-driven actions.
submitted by /u/sweetpotato31
[comments]



Source link
You Know This Song: Having Confidence to Sing the Soundtrack to Your Life by @NancySolari
by Nancy Solari 
One of my favorite hobbies and passions has always been karaoke. But as my vision started deteriorating after being diagnosed with Retinitis Pigmentosa, I found I could no longer read the lyrics at a distance. I solved this by having the karaoke host at my go-to bar whisper the words to me while I sang, but when I visited other karaoke places, I ran into issues with the DJ or manager being uncomfortable reading the words to me. In my mind, I felt more secure when they assisted me, but the audience often sat there whispering among themselves, confused by my performance.
One night, I was at a bar with my friends and serenading them with the well-known Britney Spears song "…Baby One More Time." The manager agreed to whisper the lyrics in my ear, but I had to repeatedly lean down to hear her; my body swaying like a pendulum during the performance. Suddenly, a woman got up from her seat, marched towards me, slammed her hand on the stage, and shouted: "You know this song!" Without another word, she disappeared, and I never encountered her again. But I immediately started singing the song without the manager and to my surprise, she was right: I sang the song perfectly. I realized I no longer needed my "karaoke crutch" of having the words read to me in order for me to succeed.
The next day, I was still perplexed by the mystery lady and my triumph in the bar. But it gave me the chance to understand I had become too dependent on others. The interruption of my song allowed me to recognize this and trust my abilities again.
In order for us to grow into being our most authentic selves, we must plant the seeds of the following qualities…
Let disrupters Into Your life
When I performed at karaoke bars, I was content with someone feeding me the words until the I was jolted into realizing the truth: I knew the lyrics and was capable of singing on my own. What I needed was someone to assist in my overall personal growth.
We need these people in our lives, because there are insecurities we cannot recognize in ourselves. The woman who interrupted me on stage saw the discomfort in my body and gave me the impetus to perform without assistance. Our friends and family do the same for us: They give us guidance and provide opportunities that endow us with confidence.
Believe in Your abilities
When my vision started worsening, I began leaning on those around me. It was only when I started singing on my own again that I grew more self-reliant. I developed a new habit of listening to the song a few times to learn the melody, and practicing for hours before performing. I discovered if I messed up the verses, I could just smile and make them up as went along: I learned how to adapt and become a stronger.
To find this self-assurance, I had to examine what I liked about myself. Nobody is perfect, but we have to consider a skill we take pride in and let it be our signature trait. For some it might be a physical attribute, and for others it may be intelligence. We can use confidence in this singular feature to build our self-worth in other areas: It becomes like a business card defining us in the best way possible.
Play Only Your Soundtrack
 My ability to sing and do karaoke is important because it stems from a time before I lost my sight. The music industry was a career path I went down for a brief period. I was going to music award parties, meeting with presidents of different record labels, and recording my music. As exciting as the industry was, I encountered sexual harassment that made me feel powerless.
One night, I was at an industry party that opened my eyes. I found myself scanning the room and observing new artists who were indulging in drugs. In that moment, I went to the bathroom; tears were running down my face, and I felt adrift in a sea of partiers. I looked in the mirror and told myself: "These are not my people." I immediately left the party and walked away from the music industry. I found the confidence to step out of that world, and I felt like I gained my soul back.
By confronting what I desired in life and have conviction in my morals, I left behind people I knew would not have assisted my growth. To find our true selves, we need this self-reflection. I found when I journaled or voiced my thoughts into a recorder, I effectively discovered my inner pain. When we examine ourselves through a different prism, we learn what holds us back and can create change in our lives.
The soundtrack to my life is far from complete, as I continue to be challenged by my vision every day. But each time we are confronted with adversity, we must remember our best verses will be about overcoming hardship, and the greatest songs often take years to write. Along the way, when self-confidence meets our authentic selves, we come one step closer to finishing the album to our life.
And that is music to my ears.
Nancy Solari is an inspiring example of living life with a positive mindset, regardless of the challenges you face.
At sixteen, she was diagnosed with retinitis pigmentosa: a progressive retinal disease that leads to blindness. Over the years, Nancy experienced significant vision loss, but refused to let this dissuade her from following her dreams. She obtained a BA in broadcasting and psychology from the University of Oregon, worked for Good Morning America and Entertainment Tonight, had a successful singing career, and was a top-producing Realtor in Southern California.
Nancy went on to obtain a life coaching degree, and launched Living Full Out in 2008 to help others achieve their goals. An accomplished coach, speaker, and host of the national radio show, Living Full Out with Nancy Solari, she shares her tools for success with audiences and organizations all around the country.
The post You Know This Song: Having Confidence to Sing the Soundtrack to Your Life by @NancySolari appeared first on She Owns It.