Who are the elites?, by Alberto Mingardi
In my blog post on Helen Dale's article on liberalism and technocracy, I asked who is an expert – how can we see somebody qualifies as such? The same question can, and should be, asked about "establishments" and "elites". This is hardly irrelevant now that so many of our political champions/advocates are vehemently "anti-establishment", but it is sometimes difficult to understand what they mean by that. Is Trump "anti-establishment", even though he has been in office for three years now? Are true "anti-elites" the many University professors who criticize both the political and the business elites, in spite of the fact they themselves live in neighboring circles?
Martin Gurri thinks that behind the current waves of the anti-establishment movement stands the way in which public opinion has been disrupted by digital innovation, which has somehow leveled down the public debate. The Internet killed arguments "ex authoritate", perhaps forever. The legitimacy of a given opinion or view used to stem from the fact its holder belonged to a certain institution; now, such a link between an institution and the authority bestowed upon ideas is becoming weaker and weaker. This may not be all bad when one reflects on the nature of elites. The reason people are on top is often simply that they have been there before. Gurri maintains that elites
are herd animals, who graze contentedly on the upper reaches of the institutions that sustain modern life. They are political people, government people, media people – members of some established order that amplifies their reedy voices into thunder, and wreathes their coiffured heads with high status and prestige. The most remarkable thing about them is how unremarkable they are, once they step down from their lofty perches.
Elites are there because they were there, so to say, and they tend to "export" themselves one field to another. For Gurri, they share
"a worldview and an attitude. The worldview is as old as Plato's Republic and as contemporary as a Hollywood red-carpet walk: those who possess power and fame are believed to own an equal measure of virtue and intellect, otherwise, why are they there? Success, in other words, is always deserved. In a just society, many are called, but only sturdy pillars of the establishment must ever be chosen. They are the Platonic guardians of the modern world".
Such confidence makes elites think they are best: sometimes, they are simply more organized, more compact, more homogeneous- and therefore capable to keep their grip on society. Yet from the great Italian "discoverers" of elites theory, from Mosca and Pareto onward, such grip is seen as dependent upon the rest of society recognizing elites are on top because they should be. Whatever form legitimacy takes (from the divine right of kings to liberal democracy to socialism), it defines why a certain group ought to be enjoying political power at the expense of the others. Vilfredo Pareto thought that elites were complex networks which, far from being monolithic, had constantly to renew themselves by co-opting—by whatever mechanism—new talents to avoid degeneration and decline. Yet if they closed themselves down that decline can accelerate sharply. I think it will be interesting to see how this broad scenario applies to the current crisis of elites- and in the face of almost endless talk about "diversity". Is it that the more Western elites became obsessed by talking up diversity, the less diverse in truth they became? I suppose this would be the (arch)conservative view. But at the same time, at least prima facie, it is hard to deny that elites have been better to spot and acquire talents on the outskirts of society in recent years than they have ever been.
Elites and experts do not perfectly coincide, but, in our world, because of the long wave of the Platonic dream—and also, quite frankly, of the fact of the ever-growing complexities of government—breed a worldview in which competence and knowledge (or the appearance thereof) is a key factor of legitimacy, they do somehow. An interesting perspective, in the face of the crisis of expertise and elites, could be that of elites that want to keep to avoid decline. It seems to me that this recent piece by Arnold Kling, annotating a conversation between Linkedin's Reid Hoffman and Stripe's Patrick Collison, can be read as such. Arnold's tips may be enough for a business, or a think tank, or a university department – but not sufficient as a tip for the upper strata of society as such. Still, there is plenty of good advice there for a persona of responsibility – to avoid, first and foremost, her own intellectual decline (which may mirror society's one).
(0 COMMENTS)



Source link
How CEOs Are Ruining AmericaToday, America's wealthiest business…
How CEOs Are Ruining America
Today, America's wealthiest business moguls – like Jamie Dimon, head of JPMorgan Chase – claim that they are "patriots before CEOs" because they employ large numbers of workers or engage in corporate philanthropy.
Rubbish.
CEOs are in business to make a profit and maximize their share prices, not to serve America. And yet these CEOs dominate American politics and essentially run the system. 
Therein lies the problem: They cannot be advocates for their corporations and simultaneously national leaders responsible for the wellbeing of the country. This is the biggest contradiction at the core of our broken system.
A frequent argument made by CEOs is that so-called "American competitiveness" should not be hobbled by regulations and taxes. Jamie Dimon often warns that tight banking regulations will cause Wall Street to lose financial business to banks in nations with weaker regulations. Under Dimon's convenient logic, JPMorgan is America. 
Dimon used the same faulty logic about American competitiveness to support the Trump tax cut. "We don't have a competitive tax system here," he warned.
But when Dimon talks about "competitiveness" he's really talking about the competitiveness of JPMorgan, its shareholders, and billionaire executives like himself.
The concept of "American competitiveness" is meaningless when it comes to a giant financial enterprise like JPMorgan that moves money all over the world. JPMorgan doesn't care where it makes money. Its profits don't directly depend on the wellbeing of Americans.
"American competitiveness" is just as meaningless when it comes to big American-based corporations that make and buy things all over the world. 
Consider a mainstay of corporate America, General Electric. Two decades ago, most GE workers were American. Today the majority are non-American. In 2017, GE announced it was increasing its investments in advanced manufacturing and robotics in China, which it termed "an important and critical market for GE." In 2018, over half of GE's revenue came from abroad. Its once core allegiance to American workers and consumers is gone.
Google has opened an Artificial Intelligence lab in Beijing. Until its employees forced the company to stop, Google was even building China a prototype search engine designed to be compatible with China's censors.
Apple employs 90,000 people in the United States but contracts with roughly a million workers abroad. An Apple executive told The New York Times, "We don't have an obligation to solve America's problems. Our only obligation is making the best product possible" – and showing profits big enough to continually increase Apple's share price.
American corporations will do and make things wherever around the world they can boost their profits the most, and invest in research and development wherever it will deliver the largest returns. 
The truth is that America's real competitiveness doesn't depend on profit-seeking shareholders or increasingly global corporations. The real competitiveness of the United States depends on only one thing: the productivity of Americans. 
That in turn depends on our education, our health, and the infrastructure that connects us. Yet today, American workers are hobbled by deteriorating schools, unaffordable college tuition, decaying infrastructure, and soaring health-care costs. 
And truth be told, big American corporations and the CEOs that head them – wielding outsized political influence – couldn't care less. They want tax cuts and rollbacks of regulations so they can make even fatter profits. All of which is putting Americans on a glide path toward lousier jobs and lower wages. How's that for patriotism?
The first step toward fixing this broken system is to stop buying CEOs' lies. How can we believe that Jamie Dimon's initiatives on corporate philanthropy are anything other than public relations? Why should we think that he or his fellow CEOs seek any goal other than making more money for themselves and their firms? We can't and we shouldn't. They don't have America's best interests at heart — they're making millions to be CEOs, not patriots.
Big American corporations aren't organized to promote the wellbeing of Americans, and Americans cannot thrive within a system run largely by corporations. Fundamental reform will be led only by concerned and active citizens.
Recessions, Bear Markets Need Time to Develop
Is this a Dead Cat Bounce or End of the Bear market?
My method for understanding which is admittedly peculiar: I concoct a novel, often unpopular narrative whose construction yields insight into what is unfolding. It helps if this "variant perspective" is both plausible and not widely held. The less people who share this particular view, the more likely it is not reflected in market prices.
Step two considers the opposite point of view:  What if the counter to this outlook is more accurate, and the entire prior thesis is incorrect? As is so often the case, the truth may be found somewhere between these extremes.
Last week, we considered one scenario: perhaps the Coronavirus didn't end the bull market. The drawdown is merely a counter-trend rally within a longer secular bull market; it is similar to the 1987 crash, a temporary setback within the longer 1982-2000 secular bull market. If the economy is merely experiencing a temporary contraction, once shelter-in-place orders are lifted, it will quickly recover. Pent up demand will send 330 million Americans, all with a bad case of cabin-fever, out to shop, dine, play and celebrate! Companies will rehire 10 million+ workers. The bull resumes its prior trend, eventually making new all-time highs. Happy happy, joy joy!
My colleague Batnick is somewhat incredulous about this thesis. But our investigation does not end there. Step two in our methodology is to consider the opposite position: What if the economic expansion is over, and the secular bull market is dead?
We have had prior crashes, economic collapses, and recoveries before. Winding our way through this unprecedented period of 10 million jobs lost in a month, and a 35% collapse in market prices (plus the recent 21% recovery), there is simply nothing comparable in prior experience. Pearl Harbor? Stagflation? Tech Wreck? GFC?  None are parallel, but the one commonality in these prior events is time.
These events all unfolded over a long period, both in the run up to- and the subsequent recovery from- each.
As an example, the diplomatic, trade, and economic factors that preceded the Pearl Harbor Attack, bringing the United States into World War 2, were years in the making. The 1960s and 70s bear market had multiple price shocks, high inflation and high unemployment that unfolded against a decades long malaise of the Viet Nam war and the Watergate scandal. Or consider the dotcom boom – by many measures, the market was overvalued years before the peak. The "irrational exuberance" speech  by Fed Chief Alan Greenspan was in 1996. The causations of the GFC were literally decades in the making.
Time might just be the most important, yet least well-understood aspect impacting how investors behaved during these prior market crashes.
We are pattern-recognizing creatures, looking to make sense out of a jumble of confusing and often contradictory information. Out of the chaos, the human primate confabulates a comforting narrative (as I try to do above). We are so uncomfortable with the idea that our lives are random, we desperately seek a storyline that is cohesive, understandable, and fair. We collectively lose our minds when some form of rationality is not present.
We find repeatable patterns.
Our psychology is such we keep doing what works until it no longer does. Since the end of the great financial crisis in 2009, the "Buy the dip" mentality has been amply and consistently rewarded. Every pullback has eventually led to new highs; each 10, 15, 20% drop has proven temporary, at least so far.
Traders recognize this pattern, whether it turns out to be random, temporary, or destined to eventually fail. When confronted with what trade set ups that have worked in the past, we mice run through the maze to get our pieces of cheese. This behavior is unlikely to stop until the behaviors stops getting rewarded.
Consider what traders did following the tech peak in March 2000. It took several years to see the dip buying behavior end. Before that top there was nearly two decades of new all-time highs. (Even the 1987 crash was a temporary 31% setback within the longer 1982-2000 secular bull market). When the Nasdaq peaked at 5100, the subsequent fall saw repeated recover attempts. The Nasdaq 100 Index, a popular trading ETF of the era, fell 30% from 107 to 75, rallied back 30% to 101, fell 15%, then rallied 18% to 102, before saw-toothing all the way down to a ~80% drawdown at $22 in October 2002.
Hope springs eternal among those who have been rewarded in the past for their faith. It takes time to break those money-making habits.
It is unclear if this has occurred yet.
The speed of this collapse is part of the reason why. Psychological damage that occurs in "normal" bear markets typically takes time to surface. Consider the Great Financial Crisis (GFC). U.S. equity markets peaked in October 2007; they made their final lows in March 2009. Over the course of those 18 months, investors became worn down by a relentless flow of bad news. Banks were imploding, massive layoffs were being announced, mortgage defaults were exploding. It really felt like the economic world was ending. But that did not happen in a month – it took 18 months before investor negativity turned into panic, culminating in capitulation. The definition of the word capitulation is surrender: Investors simply give up. They had to do something, anything, to stop the pain. This exhaustion of sellers is how lasting bottoms are made.
We have yet to see anything remotely like that in 2020.
The post Recessions, Bear Markets Need Time to Develop appeared first on The Big Picture.
COMMENT: Dear Mr. Armstrong,
I don't mean this against you specifically, but your latest post reminded me of It. I am in my 40s now. Ever since 9/11 I have been hearing older people say, 'I'm just glad I'm not 18 today.' Everyone knew this was coming. All the old people in America could have been spending the last 20 years of abundant free time trying to make the future -better- for all the young people coming up behind them. Instead, they were on cruises, playing golf, bingo, going to Florida, getting early-bird dinners, etc. And then they just sit there and say, 'Boy your lives are going to be terrible.' Well, thanks.
– JM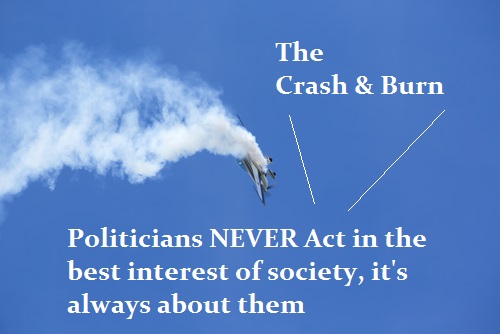 REPLY: You are absolutely right, but the average person also does not know where to start. The system is so corrupt at every level it does feel like resistance is futile. When I was young, I tried to make a difference. I quickly learned that trying to work from within government was indeed futile. You have people who try so hard to smear me by saying I'm a fraud, but why? It is because they also know that we have probably the largest institutional base of anyone. They fear, as always, I am too influential. But the truth is we are not influential enough to prevent this crash and burn.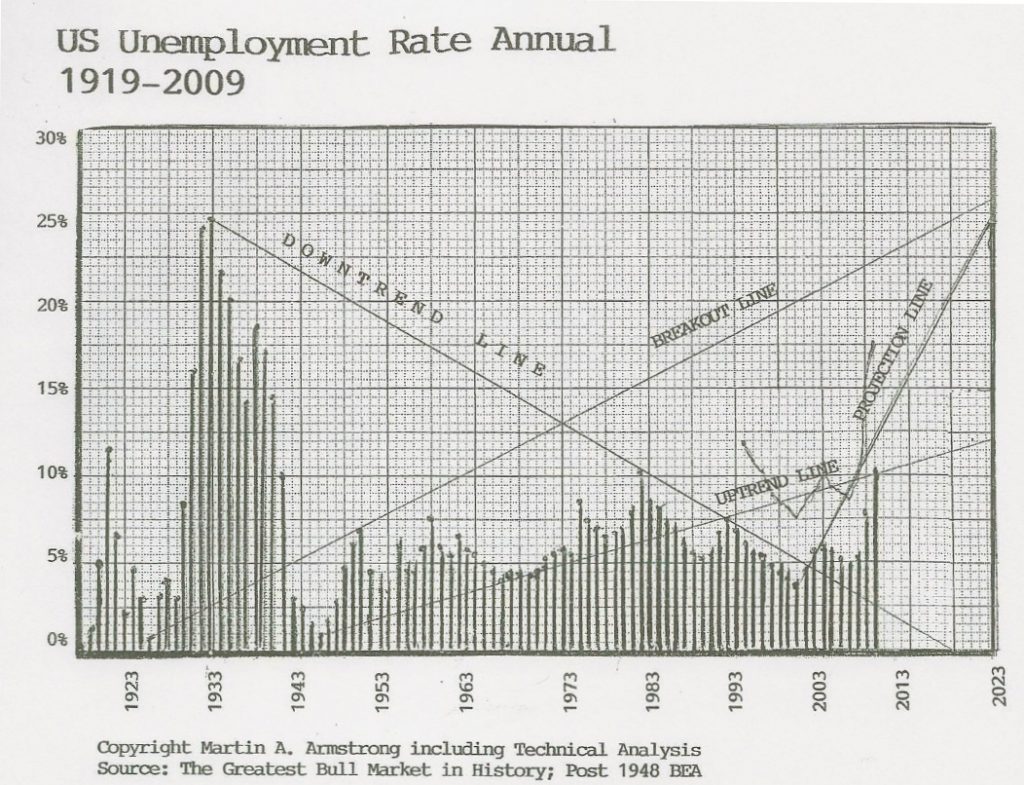 My personal goal was to create Socrates in the hope that people will look at this and understand when it is time to rebuild, let's do it the right way. I think Socrates has done an outstanding job. I have not personally been able to articulate its forecasts because I am just human. It has projected this crash, and the dramatic rise in unemployment that I fundamentally could not rationalize based on history. It projected years in advance that this 8.6-year wave would be a commodity boom, built upon shortages and NOT demand. That much I have been able to articulate. My job is to reveal its forecasts. As I have said, I was at a loss to comprehend how unemployment could possibly rise so fast. That has NEVER taken place even in times of war, no less the Great Depression.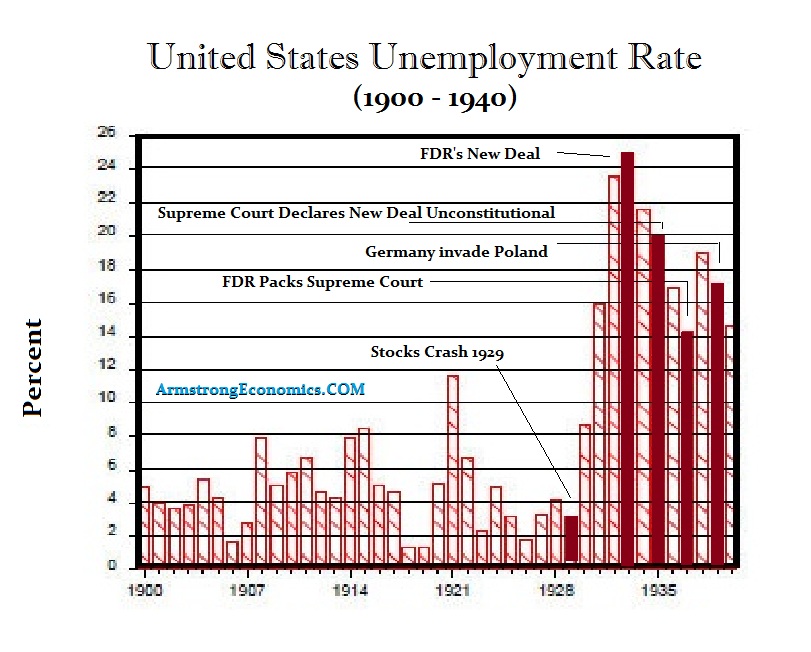 We can see that unemployment even during the Great Depression took three years to reach the 25% level. Even by 1930, unemployment had risen from the 3% level to about 8.5% in a year. Socrates forecast something that NEVER took place in history. That to me was very impressive.
They may hate me and claim I have too much influence, but that is always when they are going against the trend. This a cabal, a coordinated attack using so many fronts it is just beyond contemplation. It has been well organized. The WHO, which is part of this conspiracy, is now stating the world must remain locked down.
The untold story is of the farm workers who pick crops in Europe migrate from Poland south. This lockdown is causing a serious shortage in food which will lead to starvation and a real rise in disease, which our computer is projecting in 2022. This conspiracy to further political change is threatening civilization, national security, and inviting war.