Selfless scientist gives away fortune she earned from patenting life-saving cancer drug
A selfless scientist has given away the £865,000 royalties she received for helping to create a groundbreaking ovarian cancer drug.
For the last 29 years, Professor Nicola Curtin has been working hard to create a medicine which would help kill tumours in cancer patients.
The 65-year-old was part of a talented team at Newcastle University who produced Rubraca – a new cancer drug which has been approved for use on the NHS.
She has now decided to use the £865,000 royalties which she received from Newcastle University to transform the lives of disadvantaged people and help them get into work or training.
Nicola, who has worked at the university since 1982, has used the money to set up The Curtin PARP (Passionate About Realising your Potential) Fund at the Community Foundation.
Nicola, who lives in Gosforth, Newcastle, said: "I don't need the money. To me it's as much of a burden as it is a benefit.
'Maybe I could buy another house but that's another house to clean!
'I live quite modestly and I can't see my lifestyle suddenly becoming more extravagant.
'It's just like having a lottery win. I could have worked just as hard for as many years and there have been no drug came out of it.
'I'm paid for working really hard.
'Like most scientists, it's not the money that drives me, it's the intellectual challenge and the buzz I get from finding something out before anyone else knows it.
'I love interacting with the students and turning them into scientists – that's rewarding itself.
'I have got a daughter and she's got a job and she's married to somebody who has got a job. She's happy and she's secure financially herself. She thinks the fund is a great idea.
'I know that life is very unfair and people are at disadvantages and those people may have talents that could be exploited for a little bit of money.
'The opportunity and aim of this fund is to give them those opportunities. Not only will it help them but it's good for the country. It's not good for the country if we're wasting talent.'
Nicola said that she decided she wanted to work in medical research when she was around 15 years old.
She said: 'I wanted to do something that would improve people's health but I didn't want to work with sick people directly.
'Working with cancer is really interesting, it's intellectually challenging.
'I like the thinking part of it. It's like a detective situation when you're trying to get to the bottom of it.'
Nicola said she was working on creating much weaker drugs before discovering how effective Rubraca was in treating ovarian cancer.
Once they had proved that the drug worked, Newcastle University sold six years worth of royalties to Sagard Healthcare Royalty Partners for £31m.
The university had an agreement in which inventors such as Nicola would get money back from the sale.
She said: 'Rubraca has proved to be effective in around 50 to 55% of ovarian cancers.
'It kills the tumour cells while leaving the normal tissue relatively unaffected.
'It's really changed the way we think about treating cancer cells.
'There's a possibility that it may even benefit people with prostate cancer and pancreatic cancer.'
The charitable fund, which is named after the drug, will support a range of activities to help people to develop the skills, talents and confidence to overcome barriers to employment or education.
Priority will be given to carers, black and minority ethnic people, disabled people, homeless people and people who are experiencing disadvantage that prevents them from realising their potential.
Sandra King, Chief Philanthropy Officer at the Community Fund, said: 'We're delighted to celebrate the generosity of Professor Nicola Curtin, as the Curtin PARP Fund is officially open for applications at the Community Foundation.
'Her generosity is incredible – a truly inspiring philanthropist who should be recognised for her generous contribution to society.
'Not only has Professor Curtin had a hugely successful career that has changed lives and improved health, but she is sharing the proceeds of her success to help people overcome barriers and realise their full potential."
The Curtin PARP Fund at the Community Foundation is now open for applications in 2019, with a deadline of Monday December 2.
It will reopen in mid-January for the 2020 round, receiving applications at any point throughout the year.
COVID-19 Statistics: Reading the Tea Leaves
If you've been tracking the spread of the COVID-19 pandemic around the world, as we have, you've doubtless seen a lot of statistics. The raw numbers look shocking, and in many cases they are, but as always it's crucially important to ask yourself what the numbers mean.
For instance, our own Tom Nardi put together a counter that displays the total number of COVID-19 cases in the US. It's a cool project that puts together some web-scraping, a nice OLED screen, and a 3D-printed network display. When this is all over, it can be easily re-trained to show some other statistic of interest, and it's a great introduction to a number of web APIs. However, it's looking at the wrong number.
Let me explain. Diseases spread exponentially: the more people who have it, the more people are spreading it. And exponential curves all look the same when you plot out their instantaneous values — the raw number of COVID-19 cases. Instead, what distinguishes one exponential from another is the growth parameter, and this is related to the number of new cases per day, or more correctly, to the day-to-day change in new cases.
If left unchecked, and especially in the early stages of spread, the number of new cases grows every day. But as control efforts, mainly social distancing, take effect, the rate at which the number of new cases can slow, or even go negative. That's the plan, anyway.
As is very well explained by this video from 3 Blue, 1 Brown, if this were a naturally spreading epidemic, the point at which the new cases just starts to decline marks the halfway point in the course of the disease. Here, we're hoping that particularly strict quarantining procedures will cut this run even shorter, but if you're interested in how the disease is spreading, the point when daily new infections turns around is what you're looking for.
Why not put the daily difference in new cases on your desktop, then? These numbers are noisy, and the difference jumps all around. To be serious, you would probably want to put a moving average on the new cases figure, and look at that difference. Or simply show the new cases instead and look for it to drop for a few days in a row.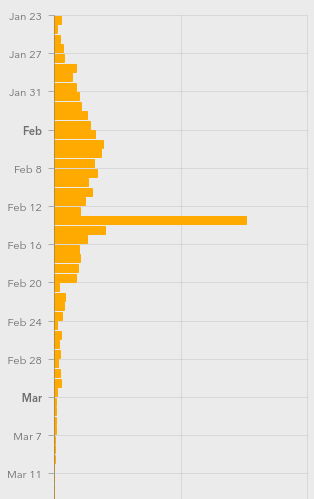 Still, this won't be a perfect measure. For starters, COVID-19 seems to incubate for roughly a week without symptoms. This means that whatever numbers we have, they're probably a week behind the actual situation. We won't see the effects of social distancing for at least a week, and maybe more.
Further complicating things is the availability of tests, human factors like weekends when more people get tested but fewer government reporting offices are open, timezones, etc. (What happened on Feb. 13?)
I'm not going to go so far as to say that the COVID-19 stats that we see are useless — actually far from it. But if you're going to armchair quarterback this pandemic, do it right. Plot out the daily new cases, maybe apply a little smoothing, at least in your head, and realize that whatever you're seeing now probably represents what happened last week.
When you finally see the turning point, you may celebrate a little, because that means the halfway point was a week ago. We've seen it happen in China around Feb 2, and I'm looking forward to it happening here. I hope it happens wherever you are, and soon.
We will get through this. Stay safe, all. And keep yourself uninfected to keep others uninfected.
Leaked screenshots reveal what Apple's new CarKey feature is going to look like
A new iOS feature called CarKey will allow iPhone and Apple Watch owners to unlock and drive their cars by relying upon their devices as opposed to a physical key.
Owners will be able to grant third-party individuals one-time keys that would enable them to unlock a car directly from their own device.
Evidence of CarKey first surfaced in an iOS 13.4 beta, though Apple may wait to release the feature until it unveils iOS 14 later this year.
---
When Apple released the first iOS 13.4 beta in early February, one of the more notable additions was a brand new CarKey API that makes it possible for Apple Watch and iPhone owners to start, lock, and unlock their vehicles directly from their devices.
Even cooler is that the API will allow device owners to share access with friends and family members via one-time keys. Imagine, for instance, the ability to remotely give a friend of yours the ability to unlock and drive your car with their own iPhone or Apple Watch.
At this point, it remains unclear if this feature will be available as part of a mature iOS 13 release or if it's something Apple is saving for iOS 14. In the meantime, though, a screenshot of the CarKey interface appears to have leaked on Twitter.
There are a few notable things worth pointing out in the tweet below. For starters, note the option of an Express Mode which would allow the feature to work without requiring users to authenticate via Face ID of entering in a passcode.
You'll also note that the CarKey interface offers three varying types of access to a vehicle. This certainly makes sense because sometimes you might just want to give someone access to your car to retrieve something as opposed to giving them the ability to drive your car. These three different access categories include Trunk Access (unlock the trunk only), Access Only (unlock the car only), and of course, Access and Drive.
Also, note the button which makes it relatively easy for users to invite people to whatever level of car access they deem appropriate. What's more, it's easy to remove users and some individuals can be added permanently. Everything happens within the Wallet app, and if you tap the key, you can see the specific car you have access to, which in this case is a BMW i8:
Again, it's not clear if CarKey is something we'll have access to with iOS 13 or in iOS 14. That said, there's a strong chance that CarKey — simply by virtue of how compelling a feature it is — will be something Apple will want to show off with iOS 14. Of course, the million-dollar question is how that might happen. Recall, WWDC this year is canceled, and though Apple is promising to do an online-only event, the impact of the coronavirus was so extensive that it prompted Google to cancel its I/O event entirely.
Marine species 'relocating towards the poles' due to rising temperatures
Marine species are relocating towards the poles due to rising ocean temperatures, scientists have said.
The researchers, including scientists from the universities of Bristol and Exeter, looked at data on over 300 marine plants, birds and animals spanning more than a century.
They found a 'general pattern' where species showed increasing population densities towards the poles but declines in numbers in the habitats near the equator.
The team believes its findings, published in the journal Current Biology, indicate rising temperatures have led to widespread changes in the population size and distribution of marine species.
Martin Genner, an evolutionary ecologist at the University of Bristol and senior study author, said: 'The main surprise is how pervasive the effects were.
'We found the same trend across all groups of marine life we looked at, from plankton to marine invertebrates, and from fish to seabirds.'
The world's oceans have warmed by an average of 1C since pre-industrial times, the researchers said.
To find out how this temperature change has affected marine life, the team reviewed 540 published records of species abundance changes – their occupancy trend over time.
They found certain species to be thriving well in the cooler regions of the oceans, with rising temperatures opening up previously inaccessible habitats.
For example, the researchers said, the populations of Atlantic herring and Adelie penguins were both declining in abundance near the equator but increasing in abundance towards the polar regions.
But they found conditions of habitats near the equator were too warm to tolerate.
Louise Rutterford, a study author based at both Exeter and Bristol universities, said: 'Some marine species appear to benefit from climate change, particularly some populations at the poleward limits that are now able to thrive.
'Meanwhile, some marine life suffers as it is not able to adapt fast enough to survive warming, and this is most noticeable in populations nearer the equator.
'This is concerning as both increasing and decreasing abundances may have harmful knock-on effects for the wider ecosystem.'
With warming predicted to increase up to 1.5C over pre-industrial levels by 2050, the researchers said species are likely to undergo further shifts in population distribution in coming decades.
Mr Genner said: 'This matters because it means that climate change is not only leading to abundance changes, but intrinsically affecting the performance of species locally.
'We see species such as Emperor penguin becoming less abundant as water becomes too warm at their equatorward edge, and we see some fish such as European seabass thriving at their poleward edge where historically they were uncommon.'