One feature of this election campaign is that we are seeing more bad faith arguments. By this, I mean arguments which their advocates cannot sincerely believe, at least not without humungous inconsistency with their other beliefs.
One egregious recent example of this was John Redwood's claim that Brexit is an opportunity for us to "develop policies to rebuild our self-sufficiency in temperate food." It is obviously absurd that someone who claims to support free markets – the essence of which is the division of labour – should suddenly favour North Korean-style Juche. But Redwood doesn't sincerely believe this. He's looking for an upside to Brexit and is clutching at straws (literally?). It's a bad faith argument.
Here are some other examples.
"Labour's call to abolish hospital car park charges is regressive, as it'll benefit richer people who tend to drive."
This misses the point. It's absurd to means-test every transaction: barmen don't ask to see how much you earn before deciding how much to charge you for a pint. Progressiveness or regressiveness should be judged at the level of the system as a whole, not for individual actions.
Which is why I say it's bad faith. Those making this claim aren't saying that, taken as a whole, Labour's policies are insufficiently redistributive. They are just looking for a flaw in Labour's policy and missing it.
"Labour shouldn't scrap private schools: it should raise the standard of state schools."
Simple maths shows the problem here. Average spending on state secondary school pupils is £6200 (pdf) per head. To raise spending to the level of that at a decent private school (say, Oakham) would need an extra £15,000 per pupil. Across 3.2 million (pdf) pupils, this implies extra spending of almost £50bn a year. That's equivalent to a raising income tax by a quarter or VAT by one-third. And this is without considering the practical difficulties of giving each state school an Olympic-sized rowing lake as they have at Eton.
Nobody, though, is advocating such a spending increase. Nor are they identifying such massive inefficiencies in the state sector that the elimination of them could get pupils as well educated on £6200 a year as £21,000*. Which is why I say this is a bad faith argument.
"Labour's plans for worker ownership are the confiscation of shareholders' property."
The people arguing this, however, take a very partial attitude to shareholders' rights. Political uncertainty – about Brexit and Trump's trade war – is depressing share prices and costing investors' billions of pounds; we know this because there's a strong correlation between the Baker, Bloom and Davis index of political uncertainty and equity valuations. If you think Labour is attacking shareholders without being equally vocal about the damage done by Trump and Brexit, you are guilty of bad faith.
"We must respect the will of the people on Brexit."
The will of the people, however, is to retain free movement.  Which argues for only the softest type of Brexit. Supporters of Johnson's plan – which he himself doesn't understand – cannot, therefore, easily invoke the will of the people.
What's more, the majority of voters favour nationalizing the railways, a wealth tax, worker-directors and higher taxes on top incomes. I haven't heard Jacob Rees Mogg calling for these. Invoking the "will of the people" when you do it so partially is bad faith**.
"Immigration depresses wages and puts pressure on public services."
All the evidence, however, is that it has only a tiny effect upon the wages of the low-skilled, and that EU migration is actually a net benefit for the public services. (See this pdf and the references therein.)
I call this a bad faith argument because those who are opposed to immigration aren't motivated by economic considerations. Almost nobody says: "I was opposed to immigration but having seen the evidence that it does no economic harm I'm now in favour of it." Instead, such opposition is based on non-economic factors, not all of which are racist. Trying to find an economic justification for tough immigration controls is bad faith: it misrepresents your actual beliefs.
To be clear, I am NOT saying that all arguments here are bad faith. There are valid cases to be made against Labour's policies on private schools, car park charges and worker ownership, and in favour of Brexit and immigration controls. Not necessarily persuasive cases, but ones that deserve a hearing. So let's hear them, and not rank dishonesty.
*  Is the Michaela Community School a counter-example to my claim? I don't know. Its exam results seem good, but can it match private schools for activities such as sport and music?
** OK, so we've had a referendum on Brexit but not on a wealth tax. But why not?
Monopoly Mayhem: Corporations Win, Workers LoseWhy do big…
Monopoly Mayhem: Corporations Win, Workers Lose
Why do big corporations continue to win while workers get shafted? It all comes down to power: who has it, and who doesn't.    
Big corporations have become so dominant that workers and consumers have fewer options and have to accept the wages and prices these giant corporations offer. This has become even worse now that thousands of small businesses have had to close as a result of the pandemic, while mammoth corporations are being bailed out.  
At the same time, worker bargaining power has declined as fewer workers are unionized and technologies have made outsourcing easy, allowing corporations to get the labor they need for cheap.    
These two changes in bargaining power didn't happen by accident. As corporations have gained power, they've been able to gut anti-monopoly laws, allowing them to grow even more dominant. At the same time, fewer workers have joined unions because corporations have undermined the nation's labor laws, and many state legislatures – under intense corporate lobbying – have enacted laws making it harder to form unions.
Because of these deliberate power shifts, even before the pandemic, a steadily larger portion of corporate revenues have been siphoned off to profits, and a shrinking portion allocated to wages.
Once the economy tanked, the stock market retained much of its value while millions of workers lost jobs and the unemployment rate soared to Great Depression-era levels.
To understand the current concentration of corporate power we need to go back in time. 
In the late nineteenth century, corporate power was a central concern. "Robber barons," like John D. Rockefeller and Cornelius Vanderbilt, amassed unprecedented wealth for themselves by crushing labor unions, driving competitors out of business, and making their employees work long hours in dangerous conditions for low wages. 
As wealth accumulated at the top, so too did power: Politicians of the era put corporate interests ahead of workers, even sending state militias to violently suppress striking workers. By 1890, public anger at the unchecked greed of the robber barons culminated in the creation of America's first anti-monopoly law, the Sherman Antitrust Act. 
In the following years, antitrust enforcement waxed or waned depending on the administration in office; but after 1980, it virtually disappeared. The new view was that large corporations produced economies of scale, which were good for consumers, and anything that was good for consumers was good for America. Power, the argument went, was no longer at issue. America's emerging corporate oligarchy used this faulty academic analysis to justify killing off antitrust.
As the federal government all but abandoned antitrust enforcement in the 1980s, American industry grew more and more concentrated. The government green-lighted Wall Street's consolidation into five giant banks. It okayed airline mergers, bringing the total number of American carriers down from twelve in 1980 to just four today. Three giant cable companies came to dominate broadband. A handful of drug companies control the pharmaceutical industry.
Today, just five giant corporations preside over key, high-tech platforms, together comprising more than a quarter of the value of the entire U.S. stock market. Facebook and Google are the first stops for many Americans seeking news. Apple dominates smartphones and laptop computers. Amazon is now the first stop for a third of all American consumers seeking to buy anything.
The monopolies of yesteryear are back with a vengeance.
Thanks to the abandonment of antitrust, we're now living in a new Gilded Age, as consolidation has inflated corporate profits, suppressed worker pay, supercharged economic inequality, and stifled innovation.
Meanwhile, big investors have made bundles of money off the growing concentration of American industry. Warren Buffett, one of America's wealthiest men, has been considered the conscience of American capitalism because he wants the rich to pay higher taxes. But Buffett has made his fortune by investing in monopolies that keep out competitors.
– The sky-high profits at Wall Street banks have come from their being too big to fail and their political power to keep regulators at bay.
– The high profits the four remaining airlines enjoyed before the pandemic came from inflated prices, overcrowded planes, overbooked flights, and weak unions.
– High profits of Big Tech have come from wanton invasions of personal privacy, the weaponizing of false information, and disproportionate power that prevents innovative startups from entering the market.
If Buffett really wanted to be the conscience of American capitalism, he'd be a crusader for breaking up large concentrations of economic power and creating incentives for startups to enter the marketplace and increase competition.
This mega-concentration of American industry has also made the entire economy more fragile – and susceptible to deep downturns. Even before the coronavirus, it was harder for newer firms to gain footholds. The rate at which new businesses formed had already been halved from the pace in 1980. And the coronavirus has exacerbated this trend even more, bringing new business formations to a standstill with no rescue plan in sight.
And it's brought workers to their knees. There's no way an economy can fully recover unless working people have enough money in their pockets to spend. Consumer spending is two-thirds of this economy.
Perhaps the worst consequence of monopolization is that as wealth accumulates at the top, so too does political power.
These massive corporations provide significant campaign contributions; they have platoons of lobbyists and lawyers and directly employ many voters. So items they want included in legislation are inserted; those they don't want are scrapped. 
They get tax cuts, tax loopholes, subsidies, bailouts, and regulatory exemptions. When the government is handing out money to stimulate the economy, these giant corporations are first in line. When they've gone so deep into debt to buy back their shares of stock that they might not be able to repay their creditors, what happens? They get bailed out. It's the same old story.
The financial returns on their political investments are sky-high.
Take Amazon – the richest corporation in America. It paid nothing in federal taxes in 2018. Meanwhile, it held a national auction to extort billions of dollars in tax breaks and subsidies from cities eager to house its second headquarters. It also forced Seattle, its home headquarters, to back away from a tax on big corporations, like Amazon, to pay for homeless shelters for a growing population that can't afford the city's sky-high rents, caused in part by Amazon!
And throughout this pandemic, Amazon has raked in record profits thanks to its monopoly of online marketplaces, even as it refuses to provide its essential workers with robust paid sick leave and has fired multiple workers for speaking out against the company's safety issues.
While corporations are monopolizing, power has shifted in exactly the opposite direction for workers. 
In the mid-1950s, 35 percent of all private-sector workers in the United States were unionized. Today, 6.2 percent of them are.
Since the 1980s, corporations have fought to bust unions and keep workers' wages low. They've campaigned against union votes, warning workers that unions will make them less "competitive" and threaten their jobs. They fired workers who try to organize, a move that's illegal under the National Labor Relations Act but happens all the time because the penalty for doing so is minor compared to the profits that come from discouraging unionization. 
Corporations have replaced striking workers with non-union workers. Under shareholder capitalism, striking workers often lose their jobs forever. You can guess the kind of chilling effect that has on workers' incentives to take a stand against poor conditions.
As a result of this power shift, workers have less choice of whom to work for. This also keeps their wages low. Corporations have imposed non-compete, anti-poaching, and mandatory arbitration agreements, further narrowing workers' alternatives. 
Corporations have used their increased power to move jobs overseas if workers don't agree to pay cuts. In 1988, General Electric threatened to close a factory in Fort Wayne, Indiana that made electrical motors and to relocate it abroad unless workers agreed to a 12 percent pay cut. The Fort Wayne workers eventually agreed to the cut. One of the factory's union leaders remarked, "It used to be that companies had an allegiance to the worker and the country. Today, companies have an allegiance to the corporate shareholder. Period."
Meanwhile, as unions have shrunk, so too has their political power. In 2009, even with a Democratic president and Democrats in control of Congress, unions could not muster enough votes to enact a simple reform that would have made it easier for workplaces to unionize.
All the while, corporations have been getting states to enact so-called "right-to-work" laws barring unions from requiring dues from workers they represent. Since worker representation costs money, these laws effectively gut the unions by not requiring workers to pay dues. In 2018, the Supreme Court, in an opinion delivered by the court's five Republican appointees, extended "right-to-work" to public employees.
This great shift in bargaining power from workers to corporate shareholders has created an increasingly angry working class vulnerable to demagogues peddling authoritarianism, racism, and xenophobia. Trump took full advantage.
All of this has pushed a larger portion of national income into profits and a lower portion into wages than at any time since World War II. 
That's true even during a severe downturn. For the last decade, most profits have been going into stock buybacks and higher executive pay rather than new investment.
The declining share of total U.S. income going to the bottom 90 percent over the last four decades correlates directly with the decline in unionization. Most of the increasing value of the stock market has come directly out of the pockets of American workers. Shareholders have gained because workers stopped sharing the gains.
So, what can be done to restore bargaining power to workers and narrow the widening gap between corporate profits and wages?
For one, make stock buybacks illegal, as they were before the SEC legalized them under Ronald Reagan. This would prevent corporate juggernauts from siphoning profits into buybacks, and instead direct profits towards economic investment.
Another solution: Enact a national ban on "right-to-work" laws, thereby restoring power to unions and the workers they represent.
Require greater worker representation on corporate boards, as Germany has done through its "employee co-determination" system.
Break up monopolies. Break up any bank that's "too big to fail", and expand the Federal Trade Commission's ability to find monopolies and review and halt anti-competitive mergers. Designate large technology platforms as "utilities" whose prices are regulated in the public interest and require that services like Amazon Marketplace and Google Search be spun off from their respective companies.
Above all, antitrust laws must stop mergers that harm workers, stifle competition, or result in unfair pricing.
This is all about power. The good news is that rebalancing the power of workers and corporations can create an economy and a democracy that works for all, not just a privileged few.
I have been mulling over a somewhat contrarian theory as to why the US markets seem to have decoupled from the U.S. economy. I have a commentary with lots of data on this coming Monday, but I wanted to discuss the evolution of my thinking about it today.
I began by asking the Fintwit community what they thought was driving markets, culled from some of the more popular tweets on the topic:
US Markets have rallied to record highs despite economic weakness & Covid-19 surge.

Why are traders ignoring the negatives and powering higher?

— Barry Ritholtz (@ritholtz) July 8, 2020
I was genuinely surprised about the response to that tweet; here is the FinTwit community reaction:
About 60% credited "The Fed" for the market rally off of the lows, while 30% believe it is a bubble; in the comments, more than a few people suggested it was both: a Fed induced bubble.
One option I considered was "Investors are looking past 2020 to 2021/22" (but I swapped it out as too nuanced and replaced it with "Bubble!").
I half-jokingly noted that no one had suggested "Buybacks," which if you can remember all the way back to 2019 was a popular explanation for what was driving markets over the prior 5-10 years. Suggestions to add "All of the Above" was thwarted by Twitter's 4 choice limit for polls, but I think that is as valid an answer as any.
The biggest shock to me: No one whatsoever brought up anything related to "international" in any capacity. No one mentioned overseas regions are the biggest source of revenue for America's biggest technology companies (and 42% of the S&P500).
I pulled this data form the most recent 10ks for the 6 FAANMG stocks — and it is pretty compelling.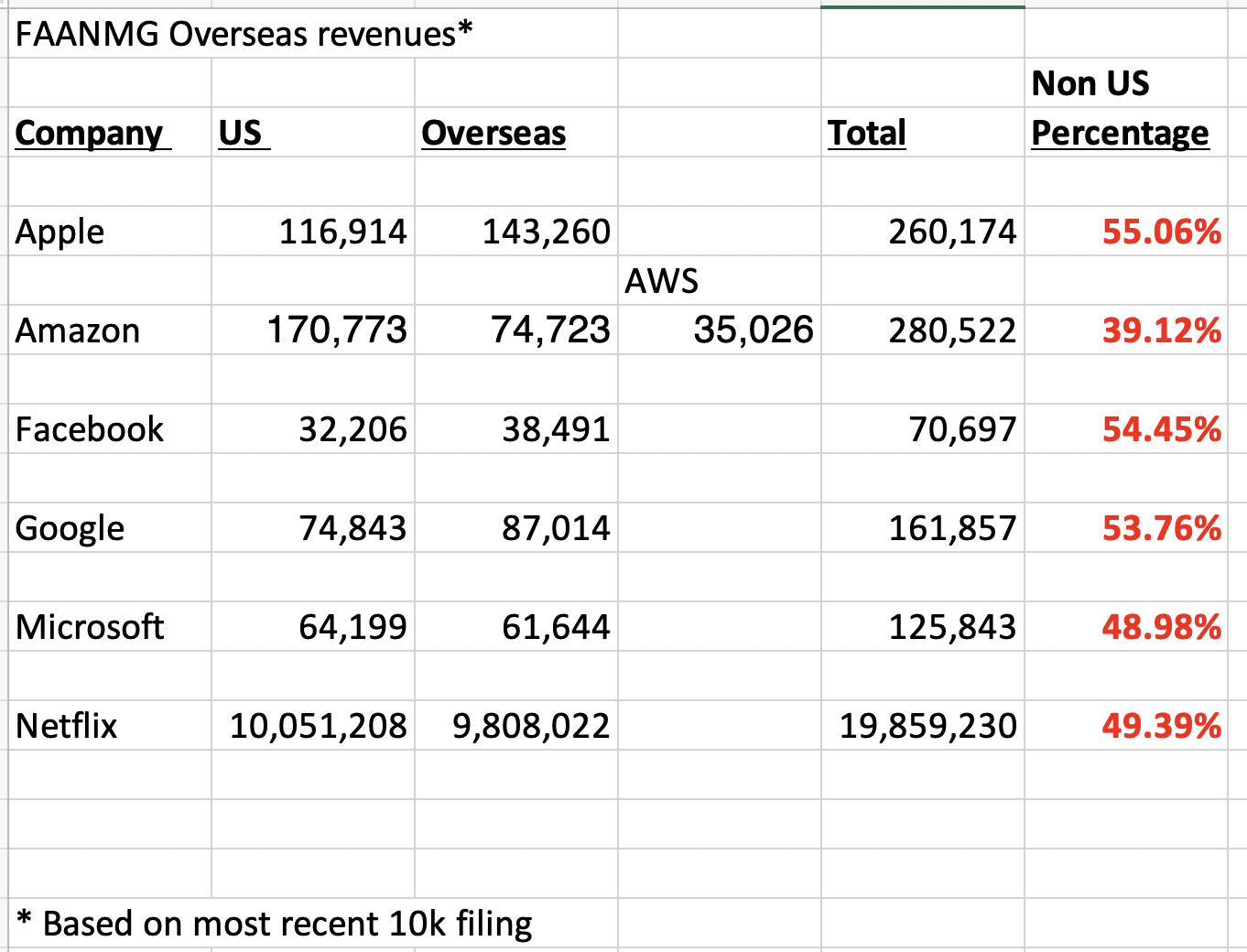 The other item no one thought to mention:  How much better the rest of the world is doing than the US in managing its pandemic — in terms of handling the lockdown, communicating the importance of masks and social distancing, in re-opening. Germany and South Korea and Japan, and yes, even China, have all managed this crisis much, much better than we have.
I pointed this out in a tweet Monday, and (again) I was surprised by the responses. A handful of trolls on the other side of the argument, but generally, widespread support.
The United States has 4.2% of the world's population, but over 25.3% of the infections and 24.4% of the deaths. It is an overwhelming indictment of gross negligence and incompetence pic.twitter.com/eg2jxzpORb

— Barry Ritholtz (@ritholtz) July 6, 2020
The difference between the two tweets is the poll at top was read by a financial audience, while this tweet was pushed into a political audience, thanks to retweets by George Conway, Rick Wilson, and the Mooch.
In finance, all of us tend to bring our confirmation bias to the table, typically reflecting our portfolios. But the political audience are hard core believers, and exist in a bubble within which it is very difficult to change any minds.
My job is to bridge the gap between these two disparate belief systems — politics and financial — to see if I can adhere to Ray Dalio's prime directive to investors: "There is nothing more important than understanding how reality works and how to deal with it."
Say what you will about confirmation biases in finance, but all of us have the ability to cover a short and go long. We each change our portfolio allocations, we sell long held beloved companies. Buying and selling often reflect a change of perspective. The feedback loop in investing is very short — buy or sell something, and you usually know if you are right or wrong in a matter of days or weeks, if not hours.
That feedback loop in politics is decades, and it does not tend to encourage circumspection and thought when we are in error.
Mr. Market is cruel but fair, and intolerant of losing positions.
This is the real genesis of the upcoming analysis. See it here on Monday.
Lots of charts after the jump…

FAANMG Stocks (group) vs S&P500 March 23 lows to present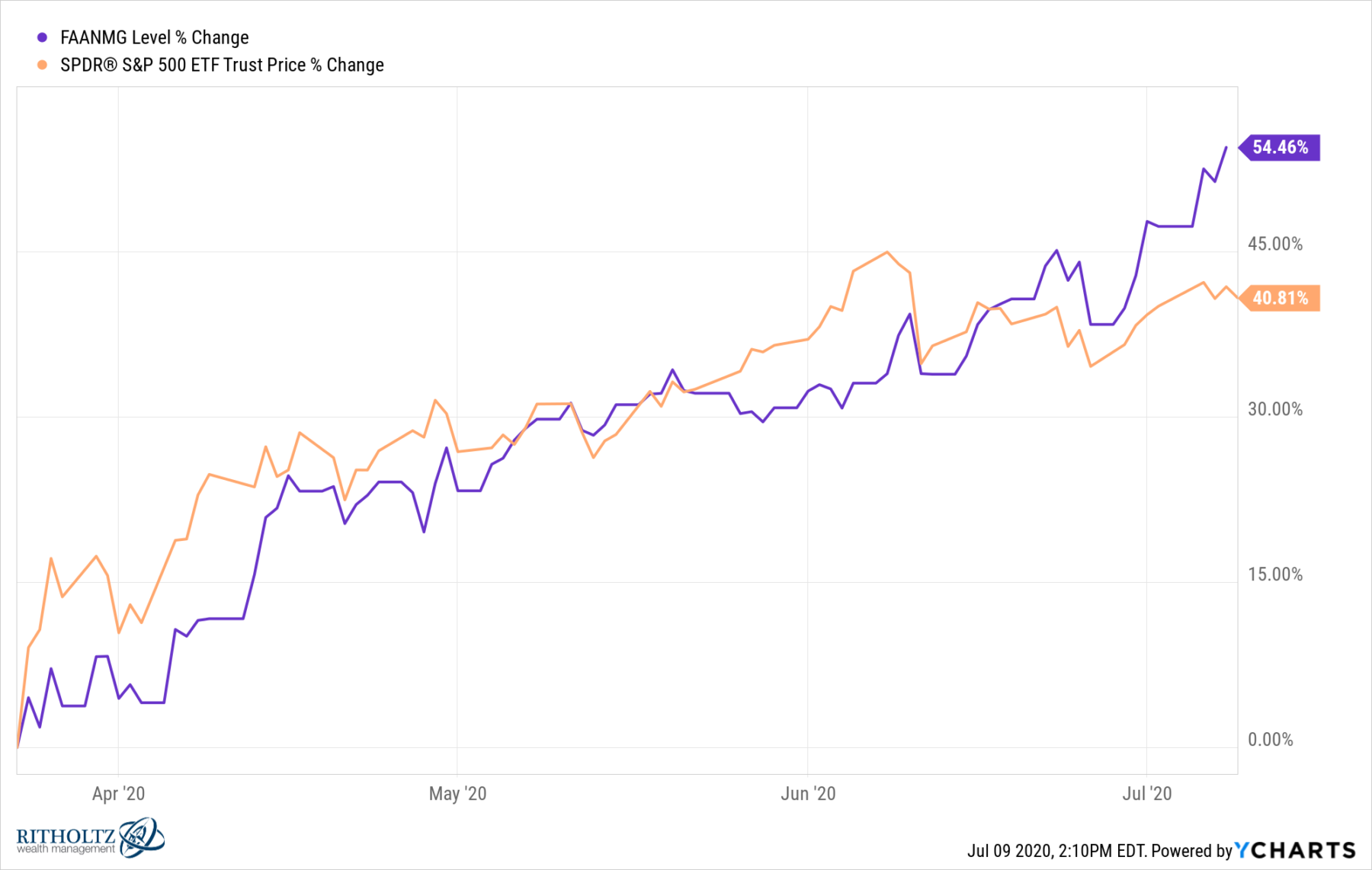 Source: YCharts
FAANMG Stocks (group) vs S&P500 2015 to present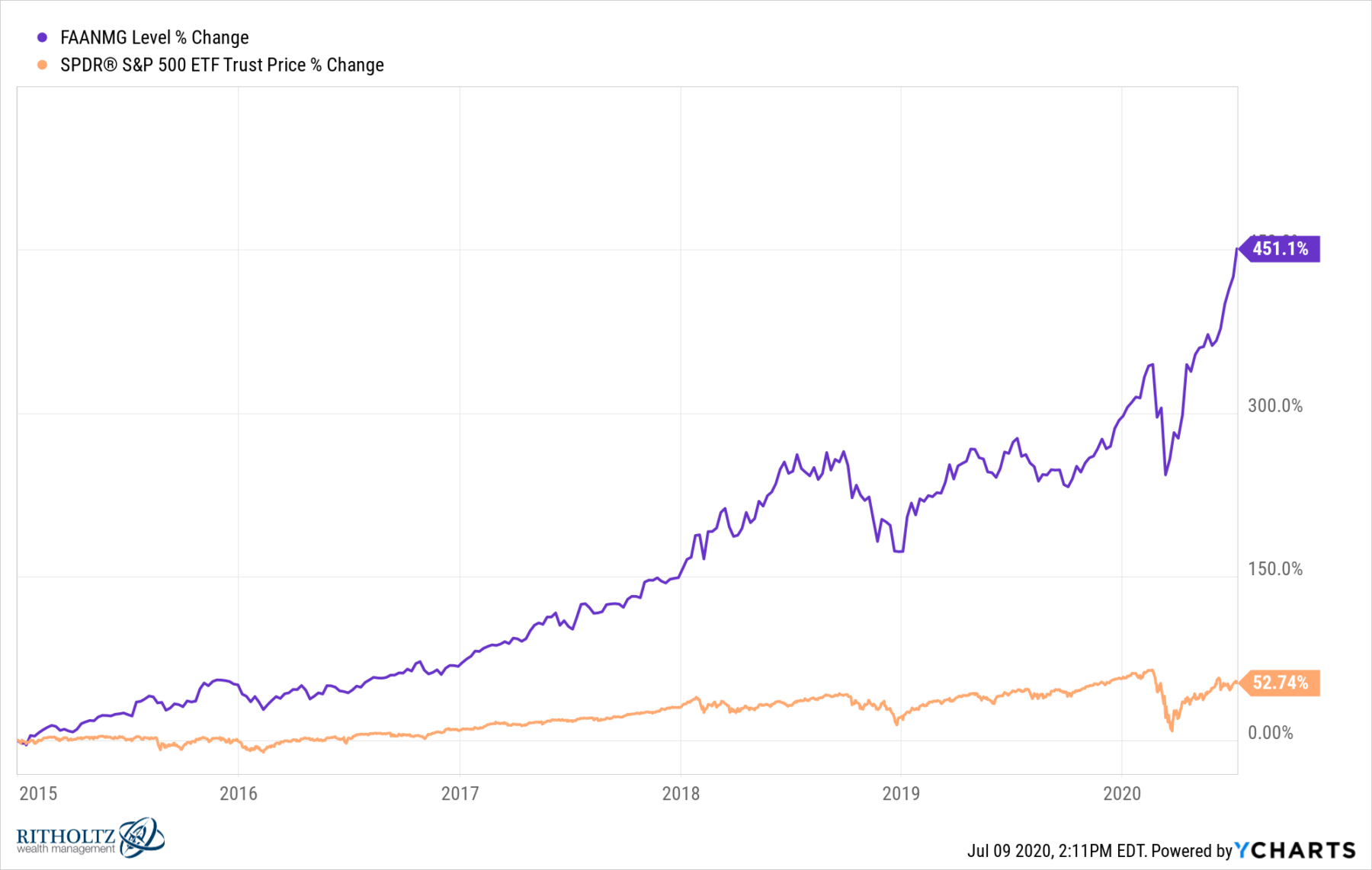 Source: YCharts
FAANMG Stocks (individual) vs S&P500 2015 to present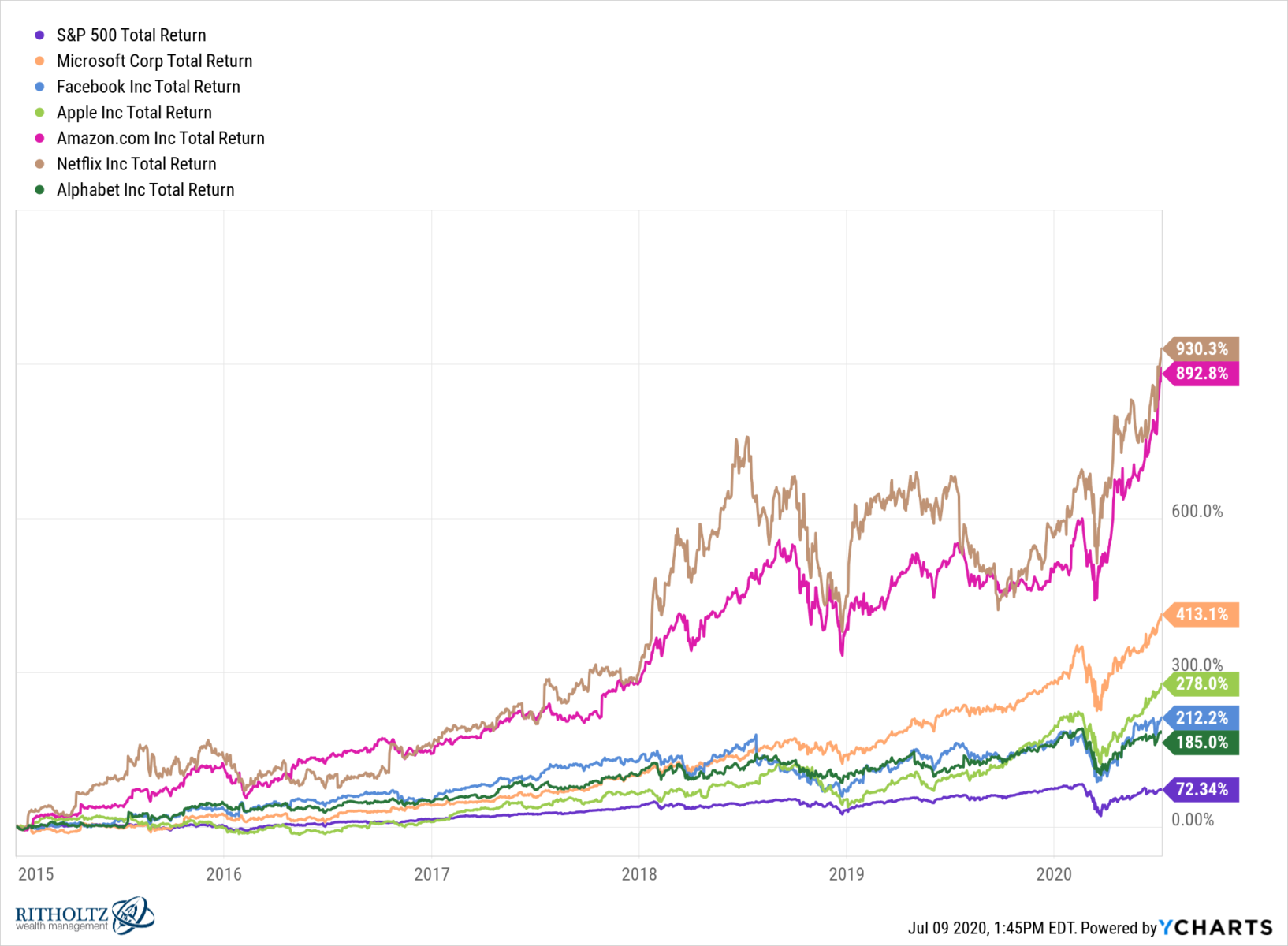 Source: YCharts
FAANMG Stocks (individual) vs S&P500 March 23 lows to present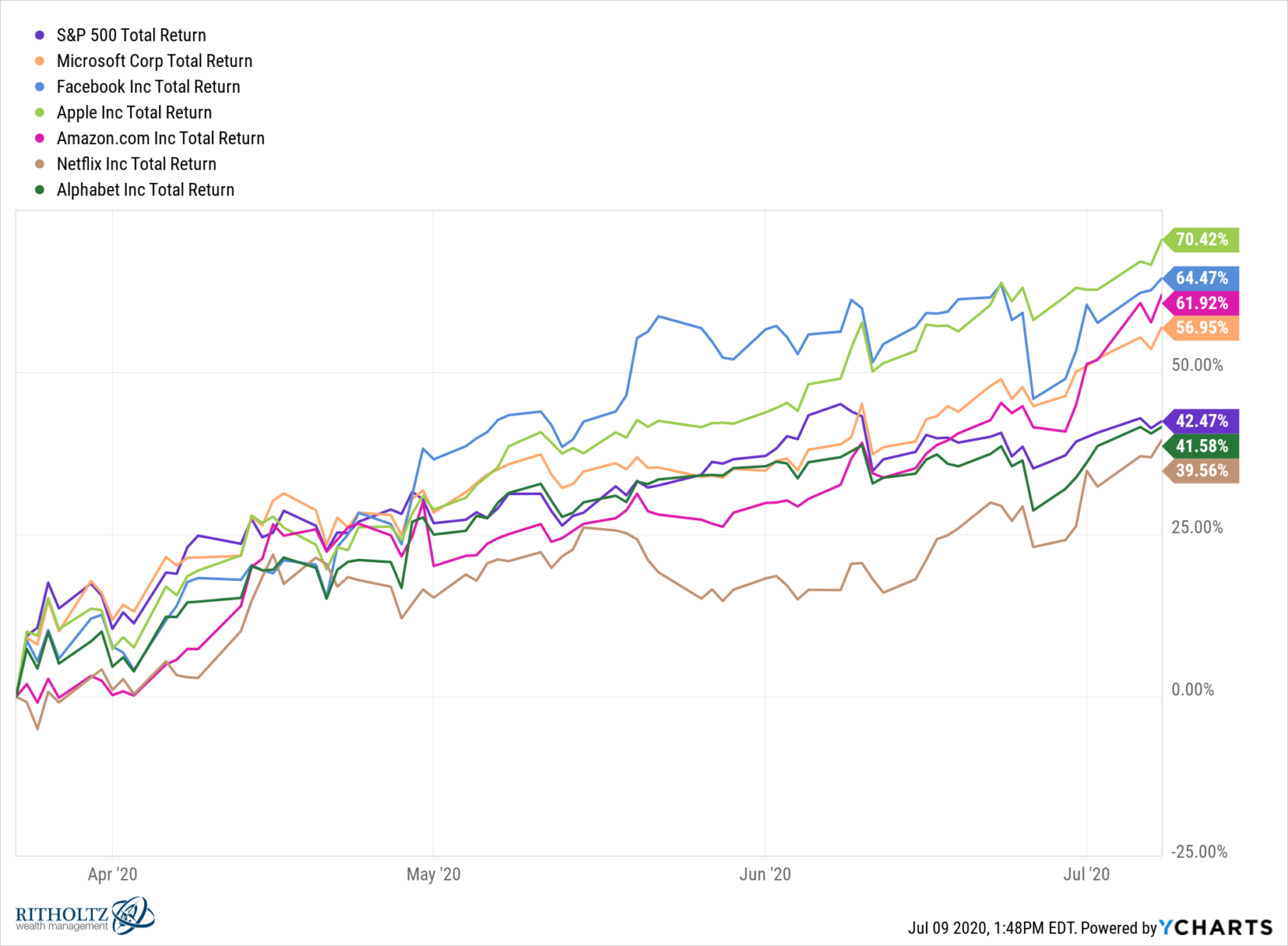 Source: YCharts
The post What is Driving Markets? appeared first on The Big Picture.
Market Talk – July 10, 2020
ASIA:
The United States has imposed sanctions on three senior officials of the Chinese Communist Party, including a member of the ruling politburo, for alleged human rights abuses targeting ethnic and religious minorities in the western part of the country. The decision to bar the three senior officials from entering the US is the latest in a series of actions the Trump administration has taken against China as relations deteriorate over the coronavirus pandemic, human rights, Hong Kong, and trade.
The United States is in talks with India on market access for its goods in exchange for reinstating New Delhi's trade concessions under the Generalized System of Preferences (GSP), U.S. ambassador to India Kenneth Juster said on Thursday. Last year, the US scrapped India's trade concessions under the GSP program that allowed duty-free entry to the US market for up to $5.6 billion of Indian exports in retaliation for India's high tariffs and rules on e-commerce.
Indian state-owned lender, Punjab National Bank, said on Thursday it had reported loans made to Dewan Housing Finance Corporation Ltd worth 36.89 billion rupees ($491 million) to India's central bank as "fraud." Indian state-owned lender PNB, which was hit by a $2 billion fraud involving billionaire Nirav Modi in 2018, had already set aside 12.5 billion rupees in provisions for the loans to DHFL, which is in bankruptcy proceedings. Other banks including State Bank of India and Union Bank have also reported DHFL's accounts as fraudulent.
The major Asian stock markets had a negative day today:
NIKKEI 225 decreased 238.48 points or -1.06% to 22,290.81
Shanghai decreased 67.27 points or -1.95% to 3,383.32
Hang Seng decreased 482.75 points or -1.84% to 25,727.41
ASX 200 decreased 36.30 points or -0.61% to 5,919.20
Kospi decreased 17.65 points or -0.81% to 2,150.25
SENSEX decreased 143.36 points or -0.39% to 36,594.33
Nifty50 decreased 45.4 points or -0.42% to 10,768.05
The major Asian currency markets had a mixed day today:
AUDUSD decreased 0.00141 or -0.20% to 0.69463
NZDUSD increased 0.0001 or 0.01% to 0.65707
USDJPY decreased 0.29 or -0.27% to 106.92
USDCNY increased 0.01336 or 0.19% to 7.01052
Precious Metals:
Gold decreased 7.10 USD/t oz. or -0.39% to 1,796.95
Silver decreased 0.02 USD/t. oz or -0.12% to 18.6465
Some economic news from last night:
China:
China Thomson Reuters IPSOS PCSI (Jul) increase from 67.89 to 72.52
Japan:
M2 Money Stock (YoY) increased from 5.1% to 7.2%
PPI (MoM) (Jun) increased from -0.5% to 0.6%
PPI (YoY) (Jun) increased from -2.8% to -1.6%
Thomson Reuters IPSOS PCSI (Jul) increased from 33.63 to 33.82
New Zealand:
Electronic Card Retail Sales (YoY) (Jun) increased from -6.0% to 8.0%
Electronic Card Retail Sales (MoM) (Jun) decreased from 78.9% to 16.3%
Some economic news from today:
China:
M2 Money Stock (YoY) (Jun) remain the same at 11.1%
New Loans (Jun) increased from 1,480.0B to 1,810.0B
Outstanding Loan Growth (YoY) (Jun) remain the same at 13.2%
India:
FX Reserves, USD increased from 506.84B to 513.25B
Cumulative Industrial Production (May) decreased from -0.70% to -45.80%
Industrial Production (YoY) (May) increased from -57.6% to -34.7%
EUROPE/EMEA:
The UK government has relaxed quarantine rules for travelers from a number of destinations, including France, Italy, Belgium, Germany, and Spain. From July 10, visitors arriving in England from 58 selected countries will no longer be required to self-isolate for 14 days. The US, China, and Portugal are among the destinations that have been left off the list, which is to be kept "under constant review."
A British-Palestinian MP and staunch opponent of Donald Trump's Middle East peace plan is running for the leadership of one of Britain's main political parties after its dismal showing in the 2019 general election. Layla Moran – born to a British diplomat father and Palestinian mother from Jerusalem – is in a two-horse race to head the Liberal Democrats, the fourth largest party in the UK Parliament.
German lawmakers have finalized the country's long-awaited phase out of coal as an energy source, backing a plan that environmental groups say is not ambitious enough and free marketers criticize as a waste of taxpayers' money. Bills approved by both houses of the German parliament on Friday envision shutting down the last coal-fired power plant by 2038 and spending about 40 billion euros ($45 billion) to help affected regions cope with the transition.
France, the second-biggest economy in the European Union, returned to growth this month even as activity in the rest of the region continued to decline. The $3 trillion French economy grew this month for the first time since February, as coronavirus restrictions were eased and domestic consumption ticked up, according to a closely-watched survey. An initial reading of the country's Purchasing Managers' Index, which tracks activity in the manufacturing and services sectors, jumped to 51.3 in June from 32.1 in May. Readings above 50 indicate an expansion.
The major Europe stock markets had a green day:
CAC 40 increased 49.47 points or 1.01% to 4,970.48
FTSE 100 increased 45.79 points or 0.76% to 6,095.41
DAX 30 increased 144.25 points or 1.15% to 12,633.71
The major Europe currency markets had a green day today:
EURUSD increased 0.00102 or 0.09% to 1.13004
GBPUSD increased 0.00216 or 0.17% to 1.26303
USDCHF increased 0.0008 or 0.08% to 0.94101
Some economic news from Europe today:
Norway:
Core CPI YTD (Jun) increased from 3.0% to 3.1%
Core Inflation (MoM) (Jun) increased from 0.1% to 0.4%
CPI (YoY) (Jun) increased from 1.3% to 1.4%
CPI (MoM) (Jun) remain the same at 0.2%
PPI (YoY) (Jun) increased from -17.5% to -14.4%
Italy:
Italian Industrial Production (YoY) (May) increased from -43.4% to -20.3%
Italian Industrial Production (MoM) (May) increased from -20.5% to 42.1%
France:
French Industrial Production (MoM) (May) increased from -20.6% to 19.6%
US/AMERICAS:
In a landmark ruling, the US Supreme Court has declared nearly half of the state of Oklahoma to be an Native American Indian reservation. The 5-4 ruling was based on a promise to the Muscogee Creek Nation prior to Oklahoma becoming an official state. "Today we are asked whether the land these treaties promised remains an Indian reservation for purposes of fed­eral criminal law. Because Congress has not said otherwise, we hold the government to its word," Justice Neil Gorsuch stated. Dissenting Justice John Roberts warned that the ruling would impact the government's ability to prosecute crimes and "may destabilize the governance of vast swathes of Oklahoma."
Today, China rejected the proposal for a nuclear arms discussion with the US, with Foreign Ministry spokesperson Zhao Lijian claiming the US was "neither serious nor sincere." China currently possesses the third-largest nuclear arsenal behind the US and Russia. The Chinese government faulted the US for allowing Russia to propose an extension of the New START treaty that limits the number of nuclear weapons but is set to expire in February. Although the Trump administration would like China to participate in discussions, spokesperson Lijian confirmed, "China's objection to the so-called trilateral arms control negotiation is very clear, and the US knows it very well."
The coronavirus outbreak that originated in Wuhan, China, has "severely damaged" US-China relations, President Trump stated this Friday. The US president declared that phase two of the prolonged trade deal is no longer a top priority, as the world is still recovering from the economic damage caused by the outbreak. Furthermore, the president allegedly stated that China had the ability to stop the spread of the virus but chose not to do so.
Police chiefs in Canada are asking the federal government to decriminalize recreational drug use. The Canadian Association of Chiefs of Police believes the matter should be considered a health crisis rather than a criminal offense, and reframing the act could lead to a decrease in overall drug usage, deaths, and drug-induced crimes.
According to Statistics Canada, 953,000 jobs were added to the Canadian economy in June. The total accounts for 488,000 full-time and 465,000 part-time jobs. The current unemployment rate sits at 12.3%, down from 13.7% in May. However, Statistics Canada noted that the real unemployment rate is closer to 16.3% as they did not include those who were not actively seeking employment.
US Market Closings:
Dow advanced 369.21 points or 1.44% to 26,075.30
S&P 500 advanced 32.99 points or 1.05% to 3,185.04
Nasdaq advanced 69.69 points or 0.66% to 10,617.44
Russell 2000 advanced 23.76 points or 1.70% to 1,422.68
Canada Market Closings:
TSX Composite advanced 145.18 points or 0.93% to 15,713.82
TSX 60 advanced 9.67 points or 1.03% to 945.35
Brazil Market Closing:
Bovespa advanced 871.50 points or 0.88% to 100,031.83
ENERGY:
The oil markets had a green day today:
Crude Oil increased 0.91 USD/BBL or 2.30% to 40.5300
Brent increased 0.84 USD/BBL or 1.98% to 43.1900
Natural gas increased 0.025 USD/MMBtu or 1.40% to 1.8080
Gasoline increased 0.0288 USD/GAL or 2.30% to 1.2795
Heating oil increased 0.0171 USD/GAL or 1.40% to 1.2400
The above data was collected around 15:00 EST on Friday.
Top commodity gainers: Lumber (7.41%), Cotton (2.43%), Copper (2.55%), and Canola (3.80%)
Top commodity losers: Bitumen (-2.63%), Corn (-3.14%), Ethanol (-6.45%), and Coffee (-2.87%)
The above data was collected around 15:05 EST on Friday.
BONDS:
Japan 0.02%(-0bp), US 2's 0.15% (-0bps), US 10's 0.62%(+2bps); US 30's 1.31%(-0bps), Bunds -0.46% (+3bp), France -0.13% (+1bp), Italy 1.31% (+2bp), Turkey 12.39% (+2bp), Greece 1.27% (+16bp), Portugal 0.45% (+2bp); Spain 0.44% (+10bp) and UK Gilts 0.16% (+0bp).
Italian 12-Month BOT Auction decreased from 0.014% to -0.124%