If truth is the first casualty of war, social science is the first casualty of election campaigns. So it was with Sajid Javid's speech yesterday. He claimed that Labour will tax everybody more, "saddle the next generation with debt", "ruin your finances" and would be "letting prices run wild in the shops."
All this is silly hyperbole.
I say so not just because, as Simon says. Labour's spending plans are more sustainable than the Tories because it will not inflict a damaging Brexit upon the economy.
Instead, there are two other reasons why Javid is wrong.
One is that developed economies are resilient. They just don't tip swiftly from prosperity to ruin. For one thing, high debt (even if we get it) is no barrier (pdf) to decent economic growth. Also, as Eric Lonergan says, "inflation is truly dead, and policy makers don't need to worry about it." Governments and central banks have struggled to raise inflation despite trying. It would be odd if Mr McDonnell had powers unknown to the ECB or Bank of Japan. And we must remember the finding of John Landon-Lane and Peter Robertson, that government policies don't usually change trend growth by very much – a result that is comforting as well as dispiriting.
Adam Smith was bang right. There is a great deal of ruin in a nation. Countries can cope with bad policies. Those on the right who say the UK (well, actually Britain) can survive leaving the EU therefore have a point. But you cannot easily claim that the economy is resilient to changes in trading rules but ultra-vulnerable to moderate differences in fiscal policy and taxes.
There is, however, another reason why economies aren't ruined by bad policy. It's that such policies don't persist. They get reversed. Examples of this include Mitterrand's "austerity turn" in 1983 and Syriza's acceptance of EU-imposed austerity in 2015. But we have also seen examples under the Tories. Thatcher abandoned M3 targets and fiscal austerity in the mid-80s: cyclically adjusted net borrowing rose from a small surplus in 1981-82 to 2.8% of GDP in 1983-84. And Major pulled the UK out of the ERM in 1992.
Liberal democratic capitalism, then, selects against bad policies. Ones which damage the economy egregiously get reversed. If Labour's policies are as bad as Javid claims (arguendo!) the correct inference is not that Labour will ruin the nation, but that Mr McDonnell will disappoint his supporters as so many of his predecessors have done.
Herein, I think, lies an under-appreciated reason for voting Labour. Selection pressures against bad policy apply more strongly to Labour than to the Tories, not least because policies that hurt capital arouse more powerful hostility than ones that only hurt the poor. Mediocre Labour policies will meet stiff resistance from the media and capital, whereas the Tories can get away with worse. The "hostile environment policy ruined many lives. And Austerity killed over 100,000 people and is only now being reversed (and for other reasons). It's difficult to imagine that Labour policies that did so much harm could persist for so long.
Risk-averse people who are uncertain about the social and economic impact of the party's policies should for this reason favour Labour: the worst they can do is very likely ultimately better than the worst the Tories can do.
Guest Contribution: "Banks on the Brink"
Today we are fortunate to be able to present a guest contribution written by Mark Copelovitch  (University of Wisconsin – Madison) and David Singer (MIT).
---
"The peculiar essence of our financial system is an unprecedented trust between man and man; and when that trust is much weakened by hidden causes, a small accident may greatly hurt it, and a great accident for a moment may almost destroy it." –Walter Bagehot (1873), Lombard Street: A Description of the Money Market, pp.158-9.
Why do banking crises occur? In our new book, Banks on the Brink: Global Capital Securities Markets, and the Political Roots of Financial Crises, we seek to understand why some countries are more prone to banking crises than other countries or at different times.
At the simplest level, banks collapse because customers lose trust in them. Trust is ubiquitous in the financial system. Banks trust that customers will repay their loans. Depositors trust that banks will manage their money carefully. And banks trust other banks to provide liquidity and to remain standing day after day. But as Walter Bagehot noted in his famed account of London's 1866 financial panic, trust in the financial system can erode from "hidden causes." When trust is weakened, even seemingly small accidents—like the collapse of London bank Overend, Gurney, and Company, which triggered the 1866 panic—can cause systemic financial crises.
The details of individual banking crises vary, but rarely does trust in the banking system evaporate without due cause.  In the Panic of 1907, banks collapsed because they were complicit in speculation and market manipulation that led to massive financial losses. During the Asian financial crisis of the late 1990s, the trigger for the collapse of Thai banks was speculative lending to real estate developers, which led to a boom and bust in the real estate market. And in 2008, after a decade of easy mortgages to borrowers with shaky credit histories and a growing bubble in the real estate market, investors grew fearful that banks and holders of mortgage-backed securities might never get their money back.
Our book highlights two key triggers of banking crises. The first, levels of foreign capital inflows, sets the stage for potential distortions in the financial system. Large capital inflows have been found to be a consistent correlate of banking crises. Indeed, many scholars believe that the malignancy of global capital flows is the most likely culprit behind banking crises.  In Lost Decades, their analysis of the Great Recession, Chinn and Frieden (2011) point to the enduring prevalence of the capital flow cycle, in which "capital floods into a country, stimulates an economic boom, encourages high-flying financial and other activities, and eventually culminates in a crash." They note that many previous crises fit this pattern, including the Mexican and Asian crises in the 1990s, and dozens of others.  Reinhart and Rogoff, in this This Time is Different (2009), suggest that the pattern has deep historical roots. One of their key findings, backed by data covering 800 years of financial crises, is that large current account deficits, asset price bubbles, and excessive sovereign borrowing are common precursors of crises across space and time.  Moreover, bank failures were relatively rare during the Bretton Woods monetary system from the end of World War II to the early 1970s, when governments enacted strict controls on capital movements (Helleiner 1994). This overall finding—that foreign capital opens up a Pandora's Box of financial distortions—now has the status of conventional wisdom in academic and policy circles.
The potential dangers of capital inflows are real. But existing research has failed to emphasize that foreign capital is not always destabilizing for the banking system. For every instance of a banking crisis preceded by large capital inflows, there are countless examples where inflows are harmlessly—and even productively— channeled throughout the national financial system.  For example, while the U.K. and the U.S. both experienced large current account deficits in the years preceding the Great Recession. Australia and New Zealand also experienced substantial current account deficits, but their banking systems escaped relatively unscathed.
Why do capital inflows lead to banking crises in some cases but not in others? To explain this, we focus on a second variable: national financial market structure. We argue that the substantial variation in the relative prominence of banks versus securities markets (Figure 1) determines whether capital inflows are channeled safely and productively through the national economy, or whether they instead cause banks to take on excessive risks and increase the likelihood of a financial crisis.  Banks often sit alongside other financial institutions, including stock and bond markets, which provide alternative sources of financing for borrowers and alternative investments for savers. When banks are conservative because of the relative absence of competition for financial intermediation, foreign capital can be safely channeled into the system without causing bank instability. On the other hand, when banks sit alongside viable securities markets, capital inflows exacerbate banks' risk taking and increase the probability of a crisis.
Figure 1: Market/bank ratio, OECD countries, average, 1990-2011
Source: World Bank Global Financial Development Database, calculated as the ratio of stock market trading volume to total bank lending
To test our argument, we analyze data from the 1970s through the early 21st century for most of the world's developed economies. Figure 2 illustrates the core result of our statistical analysis: capital inflows are only correlated with banking crises under certain conditions – namely, when they flow into a financial system in which commercial banks compete alongside large and highly-developed securities markets.
Figure 2: Average Conditional Marginal Effect of Gross Portfolio Capital Inflows on Probability of a Banking Crisis, by Market/Bank Ratio (World Bank banking crisis classification), 1970-2011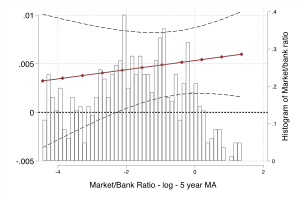 Coefficient on change in gross portfolio inflows (%  of trend GDP, 5-year moving average)
In this book, we not only explore the determinants of banking crises, we also explore how capital inflows and financial market structure interact to affect banks' risk taking. The conventional wisdom linking capital inflows to crises emphasizes distortions in the allocation of capital as it is channeled through banks and other intermediaries (Portes 2009).  The question is precisely how this plays out and which distortions are most salient.  Some scholars find a clear link between capital inflows and the volume of credit.  For example, Schularick et. al. (2012), in their groundbreaking work on the long-term patterns of financial instability in industrialized countries, find that 1) domestic credit growth is the single most important determinant of banking crises; and 2) capital inflows, as measured by current account deficits, go hand-in-hand with credit booms, especially in the post-Bretton Woods era.  In contrast, other scholars, such as Amri et. al. (2016), find only a weak relationship between capital inflows and domestic credit growth and notes that this connection is diminishing over the last two decades.
If capital inflows lead to banking crises by triggering changes in the volume of domestic lending, then we should find a similar conditional, interactive relationship between capital inflows, financial market structure, and credit growth as we did with banking crises.  However, we find no such relationship – either unconditionally or conditionally – between capital inflows and the growth rate of domestic bank credit.  While capital inflows are conditionally correlated with banking crises, the relationship does not appear to operate through a simple increase in the volume of bank loans.  Rather, credit booms appear to be a separate channel of financial instability from the one we identify in our analysis.
In contrast, we do find evidence that capital inflows influence the propensity of banks to take on greater risk, through a reduction in capital cushions and/or the assumption of greater insolvency risk – and that this varies depending on a country's domestic financial market structure. In other words, capital inflows – in financial systems where banks complete alongside large securities markets – affect the quality of bank lending and the composition of bank balance sheets.
Figure 3 illustrates this second core result. It shows the conditional relationship between capital inflows, market structure, and national level averages of Tier 1 commercial bank capital.  These results strongly suggest that capital inflows trigger banking crises not because they cause credit booms (surges in the volume of bank lending), but because they lead banks to reduce their capital holdings and lend to more risky customers.  This decline in the quality of banks' loan portfolios, rather than an increase in the number and amount of loans, appears to be the "smoking gun" linking capital inflows to banking crises in industrialized countries.
 Figure 3: Average Conditional Marginal Effect of Gross Portfolio Inflows (% trend GDP) on Tier 1 Commercial Bank Capital Ratio, by Market/Bank Ratio
Coefficient on change in gross portfolio inflows (%  of trend GDP)
The political roots of financial market structure
While our statistical analysis shows that financial market structure mediates the effects of foreign capital inflows, it cannot explain how such variation in market structure developed in the first place. To resolve this puzzle, we turn to historical analysis, zeroing in on the political decisions that shape the structure of financial markets that make certain countries especially vulnerable to banking crises. Through detailed historical case studies of Canada and Germany, Banks on the Brink shows how seemingly innocuous political decisions about financial rules can accumulate over decades and solidify a country's financial market structure for generations.
In our case study of Canada, we show that the country's remarkable history of bank stability has been attributable in part to its equally remarkable fragmented and underdeveloped stock markets. The Canadian Constitution granted the national government the sole authority to regulate the banking industry, but authority over stock markets was relegated to the provinces. During the economic crisis of the early 1930s, while the U.S. government seized the opportunity to create a national securities regulator and to minimize the role of state regulatory agencies, Canada made few changes to its regulatory system. The government took no steps to create a national regulator, instead reaffirming the authority of the provinces to supervise their stock exchanges in accordance with their particular needs. To this day, Canada is the only industrialized country without a national securities regulator. We argue that the country's underdeveloped securities markets have had a salutary effect on its banks, which have been successful in channeling foreign capital to borrowers over the last four decades without taking on undue risk.
Like Canada, Germany has a long history of bank stability, but it has recently taken a dangerous turn. Our case study highlights how policy decisions in the aftermath of two major financial crises—the Panic of 1873 and the crisis of 1931—arrested the development of German securities markets and solidified a heavily bank-centric financial system. Interest-group and party politics, rising nationalism and anti-Semitism in the late 19th century, and the Nazis' ascendance to power in the 1930s all conspired to hobble the development of German stock markets prior to World War II, allowing banks to engage in long-term conservative lending with "patient capital" throughout the postwar era until the 1980s. In recent years, however, financial competitors from within and outside Germany have prompted the large German banks to seek alternative sources of revenue. Deutsche Bank, Commerzbank, and other large banks have become champions of Finanzplatz Deutschland, a single large securities market designed to compete with New York and London. As this market has developed, the conservative bias of German banks has eroded, and many required emergency bailouts in the early 21st century.
Key implications
Banks on the Brink shows that politics is the root cause of financial crises, but not in the way that many observers might imagine. Bankers themselves have political preferences and may express them publicly, and some banks lobby for favorable public policies and donate to political campaigns and political action committees. But at a deeper level, banks are embedded in financial markets, which themselves reflect an accumulation of government choices. Banks today operate in an environment shaped by these political choices, some of which make banks more resilient, others of which make them more prone to crisis. This variation, across space and time, explains why some countries find themselves more vulnerable to banking crises and the dangers of foreign capital inflows than others.
These findings have key policy implications for how to minimize the risk of banking crises in the U.S. and elsewhere. In light of the slow-moving nature of financial market structure, any policy proposal to fundamentally alter the shape and depth of financial markets will likely be dead on arrival. Proposals to re-introduce Glass-Steagall-type regulations which separate commercial and investment banking might be episodically popular in countries like the U.S., but as our evidence suggests, they would fail to address the underlying reasons for banks' excessive risk taking. We also argue against capital controls. Instead, we suggest that regulators should focus their efforts are tightening bank capital requirements, especially in financial systems with prominent or growing securities markets.  Governments are unlikely to be able or willing to fundamentally alter the structure of domestic financial markets in the short- or medium-term. But they can ensure that financial institutions act more prudently, especially when foreign capital inflows flood into the country and the temptation for  banks to engage in more risky behavior is greatest.
---
This post written by Mark Copelovitch and David Singer.
Here is Why Jared Kushner is the Point Man for Private Profiteering During the Coronavirus Response
Raw Story
Hot off of singlehandedly ending the Israeli-Palestinian conflict, America's Son-In-Law-In-Chief has put himself in charge of handling half of the White House response to the coronavirus crisis.
Didn't you know that? No? Oh, well, it seems the White House just decided that, ah, the people didn't need to hear about this. Oh, and FYI, most of his team are from the private sector. That's not a problem, Congressional Democrats, is it?
Thanks to some thorough reporting by Politico, we now know that Jared Kushner is running a shadow COVID-19 response team alongside the official task force led by Mike Pence. Pence once characterized his group as an "all-of-government response," but Kushner's team is an "all-of-private-sector response" full of private equity executives and health care profiteers. That "all-of-private-sector" line isn't me being snide: it's how some of the anonymous White House officials in the report characterized their own colleagues.
Of course, in the Trump era, the difference between the government and the private sector is mostly semantic. As the Revolving Door Project has been pointing out since February, Trump's health officials are all ex-Pharma and insurance profiteers. That's a key reason the response has been so bad: the people in charge have perverse incentives and don't believe in government. Nor are they all that different than whom one might expect under a Marco Rubio or Chris Christie administration: shoring up CEO's wallets while leaving the poor and helpless to suffer is just how the Republican party works in 2020.
What is unique to a Trump administration response, however, is Kushner. Members of his shadow task force include his former roommate Adam Boehler, a private equity and venture capital bro who was a deputy to Seema Verma (of Medicaid co-pays infamy) before taking charge of the International Development Finance Corporation. Boehler's replacement, Brad Smith, is also on the Kushner team. Smith, like Boehler, made it big as an entrepreneur by building a home-based palliative care company, which got him a COO job at an Anthem subdivision.
Rounding out the CMS representatives is Andy Slavitt, the last head of Obama's Centers for Medicare and Medicaid Services. Slavitt's $115 million venture capital fund has an undisclosed sum of money invested in Boehler's old firm, Landmark Health.
Other Kushner team members include private equity executive David Calouri, a career healthcare investor; and Nat Turner, an online advertising-turned-medtech CEO (Boehler is also considered a Silicon Valley-type within the executive branch).
So we have a group of entrepreneurs and investors who all made their money in healthcare secretly managing the federal government's response to the greatest healthcare crisis in decades. Some have investments in each other's businesses. They're in a position to learn more about the virus, and our health system's needs, than almost anyone. Indeed, Kushner's group has been given leeway to work with a broad range of agencies, including FEMA, HHS, and USAID. And they set themselves up in this way without the White House ever telling the public.
One might start to wonder if these savvy businessmen could be looking to profit off of this insider knowledge. One might then ask how the federal government plans to counteract these potential conflicts of interest.
One would be disappointed, if perhaps unsurprised. The only two ethics precautions Kushner's team have taken are that "people signed voluntary service agreements that were vetted by career legal professionals—and that there is no one doing procurement, outside of government officials," according to one anonymous official who spoke with Politico. That hardly seems sufficient. For one, it's not like this White House's vetting professionals have gotten sterling reviews, including for Kushner himself. Plus, is anyone enforcing these voluntary service agreements? What exactly did the team agree to? Even if someone else is managing government procurement, have the team members promised not to convey what they see and hear back to their private-sector colleagues? If so, how would we know?
And there are other concerns. Citizens for Responsibility and Ethics in Washington has already sent a letter about the task force members using their private, personal email accounts for government business. That's a violation of the Presidential Records Act and Federal Advisory Committee Act, as the President who ran on "but her emails" ought to know.
Indeed, word from inside the White House is troubling; insiders told Politico that "plenty of private companies have been trying to profiteer and fence their wares." One even said, "I don't know how our government operates anymore." Now, there's a long and petty history of Trump HHS appointees gossiping with Politico reporters about their colleagues. Before the coronavirus, it had gotten so bad that one official said (to Politico, of course) that the department was like "a fucking soap opera." But without investigations and oversight, we won't know if this is just jilted aides trampling the new dogs to claw back some power, or if Kushner's clique really is something to worry about.
If we only had an opposition party which could do its constitutional duty of overseeing the executive branch. If only that opposition party controlled half of the legislature, largely thanks to promises to stand up to the president. If only that opposition party hadn't just given the house away on oversight of the largest bailout bill in the nation's history.
If only, with stakes of literal life or death, the Democratic party could actually do as it did during World War II: conduct deep investigations into government waste and profiteering to hold the bureaucracy accountable. Pundits are right to compare the coronavirus to the Second World War in terms of the scale of government response needed; but not only has the response thus far lacked the required scale or any equability, it hasn't had any accountability measures sufficient for such a project. That's bad enough, but it's doubly so when the key reason we've lacked such accountability is that leaders in the party opposed to the most corrupt president in American history tell reporters they are afraid of looking too aggressive. Democrats, you are an opposition party. Being aggressive is your job.
The post Here is Why Jared Kushner is the Point Man for Private Profiteering During the Coronavirus Response appeared first on Center for Economic and Policy Research.
How to Prepare for the Trump RecessionThe global coronavirus…
How to Prepare for the Trump Recession
The global coronavirus pandemic has put our economy in free-fall.
Even through Donald Trump's reckless economic policies, like his pointless trade war with China or his deficit-busting tax cuts for his billionaire donors, the economy has somehow managed to keep chugging along — until now. 
All of the stock market gains from Trump's time in office have been wiped out, and over the course of just over one week in March the Dow Jones Industrial Average experienced its five largest drops in history. 
Worse than a plummeting stock market, businesses and major industries have been forced to shutter their windows to help combat the rapid spread of the virus, putting hundreds of thousands of workers' paychecks at risk. 
A recession is inevitable at this point. Here are 3 things we can do to prepare.  
Number one: We need to reform unemployment insurance so it reflects the needs of today's economy. 
When it was first created in 1935, unemployment insurance was designed to help full-time workers weather downturns until they got their old jobs back. But there are fewer full-time jobs in today's economy, and fewer people who are laid off get their old jobs back again. 
As a result, only 27% of unemployed workers receive benefits today, compared to 49% of workers in the 1950s. We need to expand unemployment coverage so that everyone is protected.
Number two: We need to strengthen Temporary Assistance for Needy Families, also known as  public assistance. 
Since its creation in 1996, the number of families receiving cash assistance has declined dramatically – and not because they're doing well. Between 2006 and 2018, just 13% of families were lifted out of poverty, while the number of families receiving public assistance fell by 39%.
Already weak, the program didn't hold up well during the Great Recession. Funding doesn't automatically expand during economic downturns – meaning the more families are in need, the less money there is to help them. The program also has strict work requirements, which can't be fulfilled in a deep recession. Worse yet, many individuals in need have already exhausted their five years of lifetime eligibility for assistance.
We need to reform the public assistance program so that more families in need are eligible. It should be easier to waive the strict work eligibility requirements during the economic downturn, and the lifetime five-year limit should be suspended.
Number three: We need to protect the Supplemental Nutrition Assistance Program, also known as SNAP or food stamps. 
Unlike public assistance, SNAP responded well during the Great Recession. Its requirements are designed to expand during economic downturns or recessions.
Waiving work requirements during the Great Recession made thousands of people in need eligible for the program who otherwise wouldn't have been. Between December 2007 and December 2009, the number of SNAP participants rose by 45%. The program helped keep an estimated 3.8 million families out of poverty in 2009.
But that might not be an option this time around, as SNAP has come under attack from the Trump administration, which is trying to enact a draconian rule change that would kick an estimated 700,000 of our most vulnerable citizens off of the program. Luckily, a judge blocked the rule from going into effect, but the administration is still fighting to enforce it — even in the middle of a global pandemic. We need to make sure SNAP's flexibility and ability to respond to economic downturns is protected before the next recession hits.
Stronger safety nets are not only good for individuals and families in need. They will also prevent the looming recession from becoming an even deeper and longer economic crisis.