Now the Gap Can Finally Move On
(Bloomberg Opinion) — An overdue change is coming to Gap Inc.The retailer announced Thursday that CEO Art Peck, who has led the company (which also includes Banana Republic and Old Navy) since 2015, will step down. The company's chairman, Robert J. Fisher, will serve as interim CEO while the board hunts for a successor.Under Peck's tenure, the clothing retail empire never found its stride. The namesake chain has struggled with merchandising issues, from ill-fitting garments to unfashionable looks to the wrong mix of tops and bottoms in its stores. Banana Republic erred by veering too trendy instead of sticking with the sleek, classic professional attire its customer sought. Both brands have gotten stuck in a spiral of near-constant discounting, relying on "40% off" promotions to carry the business when the fashion itself wasn't enough to get people in the door.Old Navy, which for many years was the rare bright spot of the Gap business, has recently started to sputter. It, too, has had problems with its merchandise, failing to deliver the right mix of print and patterns.The company said Thursday comparable sales were down 4% in the third quarter, a dismal showing that reflected declines at all three major brands.Plenty of other leaders have effectively taken the blame for Gap's woes in the Peck era. Rebekka Bay, Gap's one-time creative director, was pushed out in early 2015 after Peck was named CEO. Marissa Webb, creative director at Banana Republic, departed later that year. Andi Owen, the president of Banana Republic, departed in 2017. Jeff Kirwan, president of Gap brand, was axed in 2018 as the brand struggled with major inventory management issues. Owen and Kirwan, in particular, had been handpicked by Peck to lead a comeback.After all those senior-level castoffs, it has become abundantly clear that Peck is the one who bears responsibility for Gap's inability to mount a turnaround. And after nearly five years, it is also clear that he did not have the answers to Gap's problems.It was surprising that Peck did not vacate the CEO role earlier this year when the company announced its plan to split into two, with Old Navy set to become a standalone business. It seemed like a natural moment for a fresh start.Of course, whether or not Gap and Banana Republic are better off depends on who the board is able to convince to step into Peck's shoes. But board members made the right call by seeking a leader with fresh vision.To contact the author of this story: Sarah Halzack at shalzack@bloomberg.netTo contact the editor responsible for this story: Michael Newman at mnewman43@bloomberg.netThis column does not necessarily reflect the opinion of the editorial board or Bloomberg LP and its owners.Sarah Halzack is a Bloomberg Opinion columnist covering the consumer and retail industries. She was previously a national retail reporter for the Washington Post.For more articles like this, please visit us at bloomberg.com/opinion©2019 Bloomberg L.P.
U.S. Futures Jump With Stocks on Easing Virus Toll: Markets Wrap
(Bloomberg) — U.S. equity futures jumped alongside stocks in Europe and Asia after the reported death tolls in some of the world's coronavirus hot spots showed signs of easing over the weekend. The dollar edged higher and Treasuries fell.Contracts on all three main American gauges rallied after New York state fatalities fell for the first time and President Donald Trump said he sees signs the pandemic is beginning to level off. The Stoxx Europe 600 Index also jumped, led by automakers and travel and leisure shares after Italy and Spain said they had the fewest deaths in more than two weeks, and Germany and France reported the lowest numbers in days.The upbeat tone in markets follows another negative week, and the mood among investors remains divided. Bulls are pointing to more attractive valuations, unprecedented stimulus and now slowing death rates in several major countries. Bears are fretting the continued spread of the disease, dismal economic data and the rising corporate costs of the pandemic and subsequent shutdown."We are still optimistic that the administration will be able to get this virus under control and reopen the economy by the end of April, early May," Lindsey Piegza, chief economist at Stifel Nicolaus & Co., said on Bloomberg TV. "If that does occur, it's likely that we're able to control the downturn from a depressionary scenario into a recessionary scenario."In Asia, Japan's benchmark ended almost 4% higher even as that country moved closer to declaring a state of emergency. The yen dropped as haven demand receded. Shares in Hong Kong rose while Shanghai was closed for a holiday.Elsewhere, crude oil pared a decline of as much as 11% though it remained lower as uncertainty swirled over a proposed meeting of the world's top producers. The pound fluctuated before turning higher even as U.K. Prime Minister Boris Johnson was admitted to hospital for tests after suffering from the coronavirus for 10 days.These are the main moves in markets:StocksFutures on the S&P 500 Index rose 3.4% as of 8:30 a.m. New York time.The Stoxx Europe 600 Index jumped 2.8%.The MSCI Asia Pacific Index jumped 2.6%.CurrenciesThe Bloomberg Dollar Spot Index increased 0.2%.The euro decreased 0.1% to $1.0785.The British pound rose 0.1% to $1.2286.The Japanese yen declined 0.4% to 108.99 per dollar.BondsThe yield on 10-year Treasuries gained five basis points to 0.64%.Germany's 10-year yield rose two basis points to -0.42%.Britain's 10-year yield jumped two basis points to 0.332%.CommoditiesWest Texas Intermediate crude fell 3.3% to $27.40 a barrel.Gold rose 1.2% to $1,639.53 an ounce.For more articles like this, please visit us at bloomberg.comSubscribe now to stay ahead with the most trusted business news source.©2020 Bloomberg L.P.
Virtual school is hard enough. It's even more chaotic for a family of 9
Subscribe to Outbreak, a daily newsletter roundup of stories on the coronavirus pandemic and its impact on global business.
During the coronavirus pandemic, families across the country are trying to figure out how to work from home, manage childcare, and adapt to virtual school. Jennifer Radcliffe and her clan is no different—except perhaps in terms of scale.
Radcliffe is an assistant city editor at the Houston Chronicle and a mom of seven. With kids in the house from ages 2 to 13, in preschool through seventh grade, school-from-home is a different beast. While Radcliffe is still heading into the newsroom (with journalism considered an essential job during the crisis), she is at home during some of the school day, while her husband, an advising manager at Houston Community College, works from home full-time.
Radcliffe talked to Fortune about what working and studying from home during a pandemic looks like for a family of nine.
This interview has been edited and condensed.
Fortune: What is your family's normal, pre-pandemic school routine like?
Jennifer Radcliffe: On a normal day, I get up at 5:45 a.m. to pack lunches, make breakfast, brush hair, find shoes, load up backpacks. We are out the door by 7:30 a.m. at the latest. My five oldest are split between two public schools and the two youngest are in preschool part-time.
I don't miss this part at all! Preschool drop-offs are done around 8:45 a.m., and then I head off to teach at the University of Houston or work at the Chronicle. I leave to start pickups at 1:40 p.m. There is lots of time spent waiting around in carpool lines. We would get back home around 3:45 p.m. For the most part, outside of a bit of nagging, they handled their schoolwork themselves. My husband and I are swamped just with housework and basic daily maintenance, like laundry and cooking. I'll quiz for a spelling test or double check a math worksheet, but I am too busy to micromanage.
What's it like doing school for seven kids at home now?
Online classes started in our district on March 31. The second schools shut down, though, my social media timelines filled with all sorts of "helpful" tips on how to teach kids from home. Pretty soon, you feel like you need to be logged onto all the sites, printing all the worksheets, ordering workbooks, listening to podcasts, and making a plan to get them into med school or Harvard or both all on your own.
And then the district sent its plan, which is full of Zoom meetings, Microsoft Teams and Google Classrooms. There's Living Tree, Remind, Ready Rosie, Flip Grid. I had to make a Google Sheet with passwords and links. It's a lot—a lot of web sites, a lot of passwords, a lot of videoconferences for adults who are also trying to care for younger children, do real jobs at home, and live a very different type of life than we are used to. But, at the same time, I get that you have to figure out a way because your kids have to learn to read and do division and identify continents. So it's a problem everyone is struggling with and everyone is trying their hardest.
There was a huge learning curve. It definitely was not easy. I think I finally have all the passwords and websites stored now at least. We started to get into a decent groove—I was spending about an hour a day helping the kids one-on-one and feeling pretty good about it all. We even finished a color-wheel art project that had been assigned to my kindergartner. But when I went back over the teachers' to-do lists, I realized we had missed way more assignments than I thought. We didn't do any of the desert habitat lessons. We skipped a bunch of math. I'm pretty sure the teachers will be super flexible and forgiving. They are just trying to get their feet underneath them too.
One of the harder part is, with everyone home all day every day, there is considerably more housework. It's hard to focus on their academics when there are messes and laundry to deal with. So you add that into the equation, and it's really a lot. But I know it's a phase, like all of life, and it will pass. Hopefully soon. The great news is that the kids seem fine. They're enjoying the extra time at home and as a family. So that's a silver lining.
What's the setup in the house like—where in the house are you all working?
We have an office with two computers, and the new rule is that you lock the door if you can't be interrupted. We have a dining room table covered with laptops and schoolwork too. We're trying to be more careful not to walk behind anyone who may be Zooming and not screaming while someone may be on a call, but the little kids don't really get that. And the dog doesn't really get that.
There's just not enough quiet spaces for all the things that need to be done in the same window of the day. One day last week, I had a work call, two Zoom sessions with teachers and a gymnastics lesson all overlapping. I tried to set up various laptops and phones in various places and we somehow made it work.
What are the teachers asking you, as parents, to do? Are those asks manageable for a family with so many kids at home, versus a family with one or two kids doing virtual learning?
I think the teachers understand that our 2-year-old has plenty of company at home and doesn't need to see her classmates. Our other teachers are very kind and tell me to just do what I can. In fact, one teacher recently told me that while going through the homeschool scenarios, she kept thinking, 'But how would Jennifer be able to do this?' They were sort of testing their scenarios against whether a family like mine could be successful. But you also may have families with one child and more downtime who may really need more specific schedules and want a heavier workload to keep busy.
Are there any other families in your kids' schools who have as many siblings? Or does it feel like your family is in unique circumstances compared to your kids' classmates right now?
I definitely have friends with four and five kids. Just managing two or three can be hard in this circumstance. And, honestly, I feel bad sometimes for families with just one child right now because, while they have less to juggle, those kids can sometimes be a bit lonely and the parents have to do a lot more to entertain them, while also trying to do their real jobs from home. I'm sure that can be draining too. My kids can stay busy all day without direction from me. I may need to referee from time-to-time, but they don't need me to entertain them.
How are those at-home learning and childcare responsibilities split between you and your husband?
I think the hardest part about what's happening now is that it really hurts your ability to compartmentalize. Kids did school things at school. Mom and Dad do work things at work. Just having enough devices, enough one-on-one attention and enough peace and quiet is impossible. No one has that bandwidth.
Do the older children help with the younger kids' school at all?
Sometimes they play school with the little ones and that's really helpful. You take for granted that someone will teach them their letters and shape. That they will learn by osmosis. Sometimes they set up stations around the dining room table. One will be responsible for a math class and one for an art class.
What is your own work like right now?
I have been working from the newsroom still. There's a skeleton staff here—we are considered an essential job—and I have enjoyed the peace and quiet. But our jobs as journalists are busy and grim right now. So being weighed down by that reality, while trying to parent, teach, and operate a homeschool and manage a big household is a lot. I teach three newswriting classes at the University of Houston too. They are all online only right now, which is very manageable for me, but it does take time to grade and connect with students.
In reality, my everyday life was busy and somewhat unmanageable. And now I've traded prepping lunches, rushing to school and waiting in carpool lines for this new, hopefully temporary, reality of overseeing academics at home. I didn't have the old system perfected, despite years of practice, so there's no reason to expect that I would be good at this new one yet either. I know we have to be gentle with ourselves and our families right now and I definitely keep that at the front of my mind. I am in so many ways enjoying this extra time I have with my family and trying to make the best of it, while also ensuring that they don't fall behind or forget how to read or something.
—Millions won't be able to pay their bills this month. What financial experts advise
—What small businesses applying to the SBA's Paycheck Protection Program need to know
—The worst part of losing 10M jobs in 2 weeks? The real number may be much higher
—Why the U.S. is changing its mind on coronavirus face masks
—Americans face hunger crisis as SNAP benefits are harder for some to get
—Tax-exempt student loan assistance is now law. It's time to make it permanent
—Hospitals are running low on the most critical supply of all: oxygen
—PODCAST: Two health care CEOs on why coronavirus tests and vaccines are the ammunition needed to fight COVID-19
—VIDEO: 401(k) withdrawal penalties waived for anyone hurt by COVID-19
Subscribe to Outbreak, a daily newsletter roundup of stories on the coronavirus pandemic and its impact on global business. It's free to get it in your inbox.
Electricity pricing under hysteria conditions
The enhanced community quarantine (ECQ) which the government hoisted over the entire Luzon has resulted in large-scale business and economic losses. The overall impact on the 1st quarter GDP will be known in about two months from now, but the decline in electricity demand is known daily.
I got weekly data for March 2020 from the Independent Electricity Market Operator Philippines (IEMOP), and also the data for March 2019, and I computed the difference between the two periods. There was a big decline in power demand starting March 15, the day the Metro Manila quarantine was implemented, followed by ECQ for the entire Luzon on March 17. Big declines in average demand of 5.5% and peak demand of 8%. The customer effective spot settlement price (ESSP) at the Wholesale Electricity Spot Market (WESM) was down by 60% to only P2.08/kWh (see Table 1).
This means big savings for residential customers and the few commercial and industrial customers that are allowed to continue operation. It also means big losses for both generation companies (gencos) and distribution utilities (DUs) like Meralco in terms of decline in revenues. I assumed a 5% decline in megawatt hours (MWH) for March 2020. My estimated losses for gencos in the Meralco franchise area alone is about P934 billion and for Meralco itself, about P33 billion (see Table 2).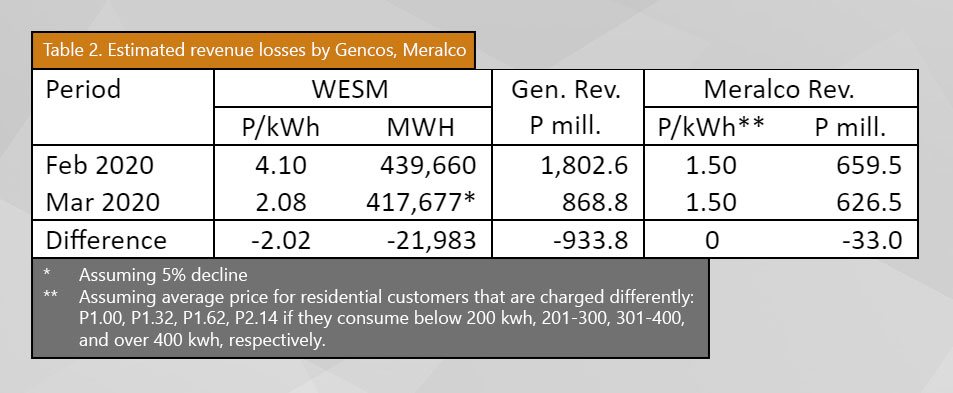 Now the Laban Konsyumer Inc. (LKI), headed by my new friend Vic Dimagiba, sent me its letter to the Philippine Independent Power Producers Association, Inc. (PIPPA) dated March 26. LKI is asking the private independent gencos to accept a Force Majeure provision of their Power Supply Agreements (PSAs) with DUs and electric cooperatives because electricity consumers in Luzon should be spared from paying fixed charges for generation capacity that was not consumed, that GenCos will have windfall profits for "ghost" deliveries.
My understanding of this letter is that LKI wants the contract price under PSAs, say P4/kWh, to be forced to go down to the WESM level of P2.08/kWh for March 2020. Otherwise they will demonize and lambast the gencos as greedy.
This is an irrational demand by LKI on the following grounds.
One, a PSA contract price is an important incentive for companies to stay, even expand in the power generation business. Otherwise they might consider going into hotels, restaurants, hospitals, and other businesses and leave the country's power supply situation further in peril.
Two, it is selective as it targets only the power supply sector for some parochial interests. LKI did not write similar petitions to water companies, telecom and internet companies, food manufacturers, trucking and logistics companies, etc. It did not say that they should bring down their prices in this period, otherwise LKI will demonize and lambast them as greedy.
Three, customers are charged on their actual electricity consumption, not on electricity produced that was not consumed. The claim of "windfall profits for ghost deliveries" is an illusion.
Four, as shown in Table 2, the gencos, and even DUs like Meralco, have already suffered big revenue losses of nearly P1 billion for this March alone.
Five, I am not a lawyer but I think the Force Majeure provision mainly applies to "Acts of God" and not Acts of Government. The ECQ is an economic and business punishment imposed by the government in exchange for the public health goal of "flattening the curve" of the China virus infection, a.k.a. COVID-19.
The Department of Energy and the Energy Regulatory Commission, among the entities cc'd by LKI, should not entertain this irrational letter from LKI. People should learn to respect business contracts, wait for voluntary waivers or price reductions but not forced waivers and price controls.