All Eyes Are on California as Uber and Lyft Fight Labor Leaders to Determine the Future of the Gig Economy
It's the best of times and the worst of times for rideshare drivers across the country, depending on whom you ask.
"Drivers have lost their homes due to the shrinking pay from Uber and Lyft and can't find new apartments because landlords don't think we have stable jobs, this is the world we live in," said Nicole Moore, a part-time Lyft driver in Los Angeles and organizer with Rideshare Drivers United. "I know two or three drivers who have been living out of their cars. Meanwhile Garrett Camp [the co-founder of Uber] just bought a $72.5 million home."
Six hours north in Sacramento, Jermaine Brown, a Lyft and Uber driver, said that he started working for the apps because he had "three beautiful kids at home," but was stuck working 60 to 70 hours a week at a car rental agency.
"I was just missing out on a lot of time with my kids," he said. "Lyft and Uber have provided me with the flexibility to be at home with them, coach their soccer and basketball teams, and pick them up from school."
Brown was speaking at a press conference held by Protect App-Based Drivers & Services, an organization infused with a cool $100 million from Uber, Lyft, Instacart, and Doordash. The group had assembled to officially announce a new 2020 ballot measure in California that would exempt rideshare and delivery drivers from a recent California Supreme Court ruling and subsequent legislation, Assembly Bill 5, that labels them as employees and not independent contractors.
"Here in California, the battle lines have been drawn," said Moore.
In April of 2018, the California Supreme Court issued the Dynamex decision, which said all employers must presume workers are employees instead of independent contractors. If an organization wants to classify workers as independent contractors under the new rule, they'll have to pass a three-pronged 'ABC test,' to prove that:
A. The worker is free from the control and direction of the hiring entity in connection with the performance of the work, both under the contract for the performance of the work and in fact.
B. The worker performs work that is outside the usual course of the hiring entity's business.
C. The worker is customarily engaged in an independently established trade, occupation, or business of the same nature as the work performed.
An independent doctor contracted with a local hospital would pass the ABC test, but a janitor for that same hospital likely wouldn't. The ruling made it possible for any worker who was mislabeled to sue their employer.
In September, California State Legislature codified the ruling into law, making it illegal for an employer to misclassify employees as independent contractors. The new ruling, California Assembly Bill 5 (AB5) or the "gig-worker rule," would require Uber, Lyft, Instacart, and other app-based companies to pay all of their employees minimum wage and provide them with benefits like health insurance and paid sick days.
The companies weren't happy. They responded by creating the cash-rich Protect App-Based Drivers & Services and launching a 2020 ballot referendum to exempt ride-hailing apps from the rules of AB5.
The referendum also sweetened the pot for voters by extending certain benefits to drivers. It ensures that they make at least 20% more than minimum wage and reimburses them with $0.30 per mile driven during work to cover wear and tear on cars. It also extends small healthcare stipends to certain employees and provides insurance for on-the-job accidents.
The benefits are better than nothing, which is what drivers currently receive, but still much less than what they would get were they official employees.
Agile Accounting
The 30-minute press conference where the group announced the referendum consisted of a number of short speeches by app-based drivers and leaders of community organizations like Fathers Against Drunk Driving. Speaker after speaker stressed the importance of "flexibility."
"I do rideshare because the flexibility is phenomenal and it allows me to be there for my family while making extra money to supplement my retirement income from the Navy," said San Diegan Llewellyn Holloway, who drives for Lyft. "I'm supporting the ballot initiative because it's going to allow me to keep my flexibility, and that's the most important thing to me."
"This ballot measure would be great for me because it would enhance my ability to make more money, while at the same time allowing me the flexibility to do what I want any time I want," said Doordash driver Issy Tindimwebwa, who is also a real estate broker.
"If I were an employee, I wouldn't get the same flexibility and would probably have to quit driving," said Lorraine Hanks, a Lyft driver who said she spent eight hours each day as a cook at a homeless shelter.
The term has become a limber linchpin in the closely-watched debate playing out in California to determine the future of the gig economy.
"The challenge with AB5 is that it makes everybody an employee," said Stacey Wells, spokesperson for Protect App-Based Drivers & Services. "It gets rid of this ability to be flexible, which is key…So if we go to this new employment model people will have to work in shifts."
In a blogpost, Uber reiterated this threat of shift requirements. "Scheduling and rigid shifts would become the norm, and Uber would likely prevent drivers from working for other rideshare companies," a representative for the company wrote.
But legal experts say there's nothing in California law that requires shift scheduling. San Diego City Attorney Mara Elliott laughed when asked if there was any legal precedent for employees being required to work shifts.
"There are no requirements that hours be contiguous, either. I generally just don't know where they're coming from," said San Diego Chief Deputy City Attorney Mark Ankcorn, who is currently presiding over a lawsuit against Instacart around employee classification.
Flexibility has no legal meaning either, said Ankcorn. "Flexibility is flexible enough to drive a truck through," he remarked when asked for a definition of the term.
Any company is able to work around employee schedules as little or as much as they'd like, he said. "The idea that we are forcing them under California law to clock in and clock out like we're showing up to a factory floor in 1930 is an outdated model, and it's disingenuous."
Assemblywoman Lorena Gonzalez, who authored AB5, also said that any question of flexibility is up to the employer "legally speaking." 
Uber, she said, intended the post to be "a threat because they want workers to be afraid. The company has the power to require shifts, but they're not required to do so by law." Even if their ballot initiative passes, said Gonzalez, "Uber can still decide to require shifts. The company still has the ability to screw their workers out of flexibility."
Moore, meanwhile, said she currently has the flexibility to "turn off the app to pick my kids up from school and then turn it back on after," but she still has to work 60 hours a week as a driver to make enough money to survive, "which makes things hardly flexible at all."
But the messaging behind the Protect App-Based Drivers & Services Act has been effective. Wells says at least 17,000 drivers have signed on to support the 2020 ballot initiative.
That's partially because drivers are literally being messaged.
Getting the Memo
"A lot of the drivers I've talked to have said it's been very confusing, that they can't get in and out of the driving app if they don't respond to requests to support the Act. They say 'do you want flexibility?' of course the driver says they want flexibility," said Gonzalez.
Drivers are captive audiences in their cars as they receive information on their apps from the very companies that provide them with their paychecks.
"When your employer asks you to carry out political action, that raises lots of questions about coercion and whether or not workers feel totally free in terms of what they do," said Ken Jacobs, chair of the UC Berkeley Labor Center.
Still, Wells contends that there's no coercion and that drivers simply support the ballot initiative on their own terms.
Wells said that no drivers have been paid to support the ballot measure and that all political action is voluntarily. Plus, she added, it's not like Uber and Lyft kick drivers who criticize their respective companies off the platforms. The majority of drivers she's spoken with just don't see themselves as employees of these apps, they don't think of them in a traditional boss-employee way, she said.
Jacobs agrees that while some drivers do approach this as a full-time job, others likely think of it as a supplemental gig.
Uber currently has 3.9 million registered drivers who complete about 14 million trips per day. The company does not break down the numbers of hours a driver works on average, and would not respond to requests for that information. They did, however, recently impose a 12-hour maximum on driving shifts.
Uber and Lyft took a while to figure out that messaging about "flexibility" is what resonates with voters and drivers, said Steve Smith, communications director of the California Labor Federation. Representatives of the company were "schizophrenic" in their initial arguments against reclassifying drivers and changed their approach toward AB5 twice before they found something that worked for them, he said.
"As the bill was moving through the legislature they never strictly opposed it," he said. "Instead they made points about how we need to have different rules that modernize laws in order to address new companies and not stifle innovation," and when they didn't catch on, "they said the law didn't apply to them."
Smith claimed that his organization had been speaking with lobbyists working on behalf of Uber and Lyft throughout the process and said that it was clear that at first "they weren't sure how to handle the legislature, they didn't quite know what to do with it." Eventually, they decided to hone in on the flexibility message.
"I'm not sure why that wasn't the message all along, and it's clearly going to be their message going forward," he said.
Wallet Woes
App-based companies have legitimate worries about the operating costs of onboarding millions of new employees. They claim that they will have to limit the number of drivers they hire and that they will have to pass new costs along to their riders, lowering demand.
Employees, unlike independent contractors, qualify for local minimum wage laws, health and unemployment insurance, and other social programs. They can also unionize and bargain for more. That's a lot of extra cost for app-based companies that are not yet profitable. Research analysts at Barclays estimated in a report that the reclassification in California would cost $3,625 per driver.
The new costs could add an additional $500 million to Uber's annual operating costs. Uber reported a net loss of $1.2 billion in Q3 of 2019.
Last year, New York City's Taxi and Limousine Commission voted to establish a minimum wage of $17 an hour for app-based drivers, raising the average pay of the city's 77,000 drivers by about $9,600 per year on average. The change came in response to eight cab drivers who killed themselves in 2018. One driver, Doug Schifter, shot himself outside of City Hall after writing a Facebook post about his financial struggles.
Uber and Lyft temporarily stopped accepting new drivers in New York as a result of the ruling, and both are in the middle of lawsuits fighting the change. Lyft reported that it could see a $50 million decline in 2019.
"I think anyone who tells you that the changes in New York City are good is …" said Uber CEO Dara Khosrowshahi, trailing off in an April investors call. "It's malarkey, frankly," he finally said.
The total number of Uber rides in New York between March and May in 2019 fell by about 8%, according to an analysis by Bloomberg. Lyft saw a drop of about 0.4%.
Still, UBS analyst Eric Sheridan said that the results weren't nearly as bad as Uber and Lyft made them out to be.
"Data from the NYC TLC indicates that higher prices have had minimal impact on demand (measured as growth in number of trips in high-volume FHV services), indicating Uber & Lyft may have more pricing power than investors think," he wrote in a note to clients.
On Monday, Khosrowshahi told reporters that his company was once again growing in New York, despite the changes, and that he expects to be profitable by 2021.
"New York is proof that this can work," said Jacobs.
Jacobs looks at the city as an example of why the rideshare companies can do more to aid drivers than what their ballot initiative provides. The initiative guarantees 120% of minimum wage, but because of loopholes, he said, some drivers would still end up with a floor salary of $5.64 each hour.
The referendum won't count waiting time as work, won't reimburse drivers for the cost of driving while waiting to pick up a ride, and will under-reimburse the cost of wear and tear on cars (they'll pay $0.30 per mile but the IRS estimates the real cost is $0.58). Workers also won't receive paid rest breaks, paid meal breaks, paid sick leave, or unemployment insurance, he explained. He calculated the true pay with loopholes and came to the conclusion that drivers would actually earn significantly less than the minimum wage.
Wells called Jacobs' analysis "completely bogus," and claimed that Jacobs was "backed by labor." In an email, she pointed out that California's minimum wage is about to increase by a dollar and that certain cities already have higher minimum wage standards. In another email, Wells sent me a tweet where Jacobs' colleague and co-author of the analysis, Michael Reich, was seen speaking out against the ballot initiative. She said it was proof that he is "biased" and "has an agenda."
Jacobs stands by his analysis, and says that his calculations were always intended to be seen as a pay floor, not a ceiling. "The Labor Center's biggest source of funds are the State of California and foundation grants. We also have funding from public contracts, unions, businesses and individuals. Michael Reich's funding mainly comes from foundations and public contracts," he added. "The quality of our research speaks for itself."
All Eyes on California
As ridesharing apps race to expand their presence across the country, questions of labor and employee rights closely follow. Gonzalez says many state legislators are eyeing AB5 as a template for how to handle those problems, and Steve Smith says his office has been working with the AFL-CIO to get similar measures started across the country.
Rebecca Smith, director of work structures at the National Employment Law Project pointed to new initiatives in Seattle, New York, and Oregon that mimic California's.
"California's passage of AB5 has inspired workers and their communities around the country and we'll see lots of similar legislation in 2020," she said.
Moore said she's heard from officials in Colorado and New Jersey who are eyeing AB5.
This month, lawmakers in Geneva, Switzerland cited AB5 in their decision to reclassify drivers as employees and ordered a halt of all activities by the company in the country until they acted accordingly. "We follow the recent decision of the State of California. Drivers are employees," said local authorities.
Presidential candidates have also taken the issue up as part of their campaign messaging. Senator Elizabeth Warren (D-Mass.) wrote an opinion piece for the Sacramento Bee in support of AB5.
"These "gig" industries — think ride-sharing companies like Uber and Lyft and food delivery apps like Postmates and Doordash — tapped new technologies to meet new consumer demands, but they did it, in large part, by taking advantage of worker classification laws," she wrote. "Their innovations are packaged with all the polish and gloss of the internet economy, but they fit right into a corporate tradition going back more than a century, in which big, powerful entities exploit labor laws to boost their bottom lines – never mind the consequences for the workers actually doing the work."
Senators Kamala Harris (D-Calif.) and Bernie Sanders (I-Vt.) have also issued statements of support of drivers being classified as employees instead of independent contractors.
And as pro-labor groups use California as a lab to figure out their approach to the fight, so do their opponents. "If other states are interested in protecting this new economy model of work then this might be something they'd want to explore as well," said Wells of the ballot initiative.
The idea, said Ankcorn is to "leap" over the needs of employees and go straight to the "ballot box while throwing around a lot of words like 'flexibility' and hiding the ball." A healthy infusion of investor cash also helps the cause, added Rebecca Smith.
Labor groups around the country realize that they'll be out-resourced and outspent. They know it won't be easy to reach a disjointed set of drivers that companies already have easy access to.
"It's going to be a combination of ads and grassroot campaigning," said Steve Smith. "Our strength is in speaking directly with voters instead, but we're going to need to have massive reach to counter the incredible amount of money the other side has available to spend."
They're also hoping to bank in on an ill will toward technology companies currently engulfing swaths of the country.
"The skepticism that exists right now with tech companies regarding privacy and other issues gives us a natural advantage," said Smith. "The favorability of these companies has dropped significantly in the past two years."
Uber in particular took a large hit in 2017 when a number of negative stories about passenger safety, driver abuse, and toxic corporate work culture came out in the press. The PR mishaps gave birth to the #DeleteUber movement on social media and despite a serious image rehabilitation campaign, the company has yet to fully recover, according to internal data obtained by The Washington Post.
Smith isn't uncertain about how Californians will vote on the upcoming ballot, and there's still about a year of campaigning ahead of him. But he is certain that right now California is under a microscope.
"What happens in California sets the tone for what happens everywhere else, for all of the progressives around the country worried about the monopolies that tech companies have and what that means to our economy," he said. "We want to engage them in this fight, and all eyes will be on this ballot measure. Whatever happens will set the tone for the entire nation."
More must-read stories from Fortune:
—Wall Street's scorn for Elizabeth Warren boils over
—The 2020 tax brackets are out. Here's what you need to know
—Trump's national parks changes could, ironically, help Jeff Bezos
—Sherrod Brown has some advice for 2020 candidates hoping to win in Ohio
—Prisoners are fighting wildfires on the front lines, but getting little in return
Get up to speed on your morning commute with Fortune's CEO Daily newsletter.
U.S. Futures Jump With Stocks on Easing Virus Toll: Markets Wrap
(Bloomberg) — U.S. equity futures jumped alongside stocks in Europe and Asia after the reported death tolls in some of the world's coronavirus hot spots showed signs of easing over the weekend. The dollar edged higher and Treasuries fell.Contracts on all three main American gauges rallied after New York state fatalities fell for the first time and President Donald Trump said he sees signs the pandemic is beginning to level off. The Stoxx Europe 600 Index also jumped, led by automakers and travel and leisure shares after Italy and Spain said they had the fewest deaths in more than two weeks, and Germany and France reported the lowest numbers in days.The upbeat tone in markets follows another negative week, and the mood among investors remains divided. Bulls are pointing to more attractive valuations, unprecedented stimulus and now slowing death rates in several major countries. Bears are fretting the continued spread of the disease, dismal economic data and the rising corporate costs of the pandemic and subsequent shutdown."We are still optimistic that the administration will be able to get this virus under control and reopen the economy by the end of April, early May," Lindsey Piegza, chief economist at Stifel Nicolaus & Co., said on Bloomberg TV. "If that does occur, it's likely that we're able to control the downturn from a depressionary scenario into a recessionary scenario."In Asia, Japan's benchmark ended almost 4% higher even as that country moved closer to declaring a state of emergency. The yen dropped as haven demand receded. Shares in Hong Kong rose while Shanghai was closed for a holiday.Elsewhere, crude oil pared a decline of as much as 11% though it remained lower as uncertainty swirled over a proposed meeting of the world's top producers. The pound fluctuated before turning higher even as U.K. Prime Minister Boris Johnson was admitted to hospital for tests after suffering from the coronavirus for 10 days.These are the main moves in markets:StocksFutures on the S&P 500 Index rose 3.4% as of 8:30 a.m. New York time.The Stoxx Europe 600 Index jumped 2.8%.The MSCI Asia Pacific Index jumped 2.6%.CurrenciesThe Bloomberg Dollar Spot Index increased 0.2%.The euro decreased 0.1% to $1.0785.The British pound rose 0.1% to $1.2286.The Japanese yen declined 0.4% to 108.99 per dollar.BondsThe yield on 10-year Treasuries gained five basis points to 0.64%.Germany's 10-year yield rose two basis points to -0.42%.Britain's 10-year yield jumped two basis points to 0.332%.CommoditiesWest Texas Intermediate crude fell 3.3% to $27.40 a barrel.Gold rose 1.2% to $1,639.53 an ounce.For more articles like this, please visit us at bloomberg.comSubscribe now to stay ahead with the most trusted business news source.©2020 Bloomberg L.P.
Virtual school is hard enough. It's even more chaotic for a family of 9
Subscribe to Outbreak, a daily newsletter roundup of stories on the coronavirus pandemic and its impact on global business.
During the coronavirus pandemic, families across the country are trying to figure out how to work from home, manage childcare, and adapt to virtual school. Jennifer Radcliffe and her clan is no different—except perhaps in terms of scale.
Radcliffe is an assistant city editor at the Houston Chronicle and a mom of seven. With kids in the house from ages 2 to 13, in preschool through seventh grade, school-from-home is a different beast. While Radcliffe is still heading into the newsroom (with journalism considered an essential job during the crisis), she is at home during some of the school day, while her husband, an advising manager at Houston Community College, works from home full-time.
Radcliffe talked to Fortune about what working and studying from home during a pandemic looks like for a family of nine.
This interview has been edited and condensed.
Fortune: What is your family's normal, pre-pandemic school routine like?
Jennifer Radcliffe: On a normal day, I get up at 5:45 a.m. to pack lunches, make breakfast, brush hair, find shoes, load up backpacks. We are out the door by 7:30 a.m. at the latest. My five oldest are split between two public schools and the two youngest are in preschool part-time.
I don't miss this part at all! Preschool drop-offs are done around 8:45 a.m., and then I head off to teach at the University of Houston or work at the Chronicle. I leave to start pickups at 1:40 p.m. There is lots of time spent waiting around in carpool lines. We would get back home around 3:45 p.m. For the most part, outside of a bit of nagging, they handled their schoolwork themselves. My husband and I are swamped just with housework and basic daily maintenance, like laundry and cooking. I'll quiz for a spelling test or double check a math worksheet, but I am too busy to micromanage.
What's it like doing school for seven kids at home now?
Online classes started in our district on March 31. The second schools shut down, though, my social media timelines filled with all sorts of "helpful" tips on how to teach kids from home. Pretty soon, you feel like you need to be logged onto all the sites, printing all the worksheets, ordering workbooks, listening to podcasts, and making a plan to get them into med school or Harvard or both all on your own.
And then the district sent its plan, which is full of Zoom meetings, Microsoft Teams and Google Classrooms. There's Living Tree, Remind, Ready Rosie, Flip Grid. I had to make a Google Sheet with passwords and links. It's a lot—a lot of web sites, a lot of passwords, a lot of videoconferences for adults who are also trying to care for younger children, do real jobs at home, and live a very different type of life than we are used to. But, at the same time, I get that you have to figure out a way because your kids have to learn to read and do division and identify continents. So it's a problem everyone is struggling with and everyone is trying their hardest.
There was a huge learning curve. It definitely was not easy. I think I finally have all the passwords and websites stored now at least. We started to get into a decent groove—I was spending about an hour a day helping the kids one-on-one and feeling pretty good about it all. We even finished a color-wheel art project that had been assigned to my kindergartner. But when I went back over the teachers' to-do lists, I realized we had missed way more assignments than I thought. We didn't do any of the desert habitat lessons. We skipped a bunch of math. I'm pretty sure the teachers will be super flexible and forgiving. They are just trying to get their feet underneath them too.
One of the harder part is, with everyone home all day every day, there is considerably more housework. It's hard to focus on their academics when there are messes and laundry to deal with. So you add that into the equation, and it's really a lot. But I know it's a phase, like all of life, and it will pass. Hopefully soon. The great news is that the kids seem fine. They're enjoying the extra time at home and as a family. So that's a silver lining.
What's the setup in the house like—where in the house are you all working?
We have an office with two computers, and the new rule is that you lock the door if you can't be interrupted. We have a dining room table covered with laptops and schoolwork too. We're trying to be more careful not to walk behind anyone who may be Zooming and not screaming while someone may be on a call, but the little kids don't really get that. And the dog doesn't really get that.
There's just not enough quiet spaces for all the things that need to be done in the same window of the day. One day last week, I had a work call, two Zoom sessions with teachers and a gymnastics lesson all overlapping. I tried to set up various laptops and phones in various places and we somehow made it work.
What are the teachers asking you, as parents, to do? Are those asks manageable for a family with so many kids at home, versus a family with one or two kids doing virtual learning?
I think the teachers understand that our 2-year-old has plenty of company at home and doesn't need to see her classmates. Our other teachers are very kind and tell me to just do what I can. In fact, one teacher recently told me that while going through the homeschool scenarios, she kept thinking, 'But how would Jennifer be able to do this?' They were sort of testing their scenarios against whether a family like mine could be successful. But you also may have families with one child and more downtime who may really need more specific schedules and want a heavier workload to keep busy.
Are there any other families in your kids' schools who have as many siblings? Or does it feel like your family is in unique circumstances compared to your kids' classmates right now?
I definitely have friends with four and five kids. Just managing two or three can be hard in this circumstance. And, honestly, I feel bad sometimes for families with just one child right now because, while they have less to juggle, those kids can sometimes be a bit lonely and the parents have to do a lot more to entertain them, while also trying to do their real jobs from home. I'm sure that can be draining too. My kids can stay busy all day without direction from me. I may need to referee from time-to-time, but they don't need me to entertain them.
How are those at-home learning and childcare responsibilities split between you and your husband?
I think the hardest part about what's happening now is that it really hurts your ability to compartmentalize. Kids did school things at school. Mom and Dad do work things at work. Just having enough devices, enough one-on-one attention and enough peace and quiet is impossible. No one has that bandwidth.
Do the older children help with the younger kids' school at all?
Sometimes they play school with the little ones and that's really helpful. You take for granted that someone will teach them their letters and shape. That they will learn by osmosis. Sometimes they set up stations around the dining room table. One will be responsible for a math class and one for an art class.
What is your own work like right now?
I have been working from the newsroom still. There's a skeleton staff here—we are considered an essential job—and I have enjoyed the peace and quiet. But our jobs as journalists are busy and grim right now. So being weighed down by that reality, while trying to parent, teach, and operate a homeschool and manage a big household is a lot. I teach three newswriting classes at the University of Houston too. They are all online only right now, which is very manageable for me, but it does take time to grade and connect with students.
In reality, my everyday life was busy and somewhat unmanageable. And now I've traded prepping lunches, rushing to school and waiting in carpool lines for this new, hopefully temporary, reality of overseeing academics at home. I didn't have the old system perfected, despite years of practice, so there's no reason to expect that I would be good at this new one yet either. I know we have to be gentle with ourselves and our families right now and I definitely keep that at the front of my mind. I am in so many ways enjoying this extra time I have with my family and trying to make the best of it, while also ensuring that they don't fall behind or forget how to read or something.
—Millions won't be able to pay their bills this month. What financial experts advise
—What small businesses applying to the SBA's Paycheck Protection Program need to know
—The worst part of losing 10M jobs in 2 weeks? The real number may be much higher
—Why the U.S. is changing its mind on coronavirus face masks
—Americans face hunger crisis as SNAP benefits are harder for some to get
—Tax-exempt student loan assistance is now law. It's time to make it permanent
—Hospitals are running low on the most critical supply of all: oxygen
—PODCAST: Two health care CEOs on why coronavirus tests and vaccines are the ammunition needed to fight COVID-19
—VIDEO: 401(k) withdrawal penalties waived for anyone hurt by COVID-19
Subscribe to Outbreak, a daily newsletter roundup of stories on the coronavirus pandemic and its impact on global business. It's free to get it in your inbox.
Electricity pricing under hysteria conditions
The enhanced community quarantine (ECQ) which the government hoisted over the entire Luzon has resulted in large-scale business and economic losses. The overall impact on the 1st quarter GDP will be known in about two months from now, but the decline in electricity demand is known daily.
I got weekly data for March 2020 from the Independent Electricity Market Operator Philippines (IEMOP), and also the data for March 2019, and I computed the difference between the two periods. There was a big decline in power demand starting March 15, the day the Metro Manila quarantine was implemented, followed by ECQ for the entire Luzon on March 17. Big declines in average demand of 5.5% and peak demand of 8%. The customer effective spot settlement price (ESSP) at the Wholesale Electricity Spot Market (WESM) was down by 60% to only P2.08/kWh (see Table 1).
This means big savings for residential customers and the few commercial and industrial customers that are allowed to continue operation. It also means big losses for both generation companies (gencos) and distribution utilities (DUs) like Meralco in terms of decline in revenues. I assumed a 5% decline in megawatt hours (MWH) for March 2020. My estimated losses for gencos in the Meralco franchise area alone is about P934 billion and for Meralco itself, about P33 billion (see Table 2).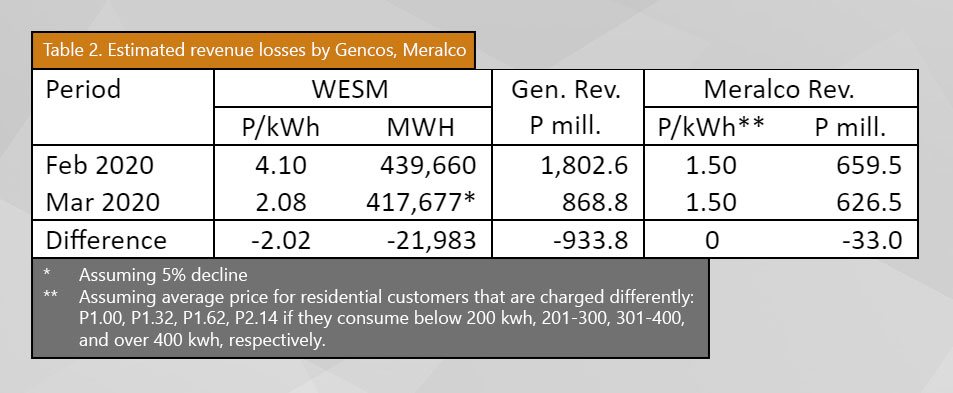 Now the Laban Konsyumer Inc. (LKI), headed by my new friend Vic Dimagiba, sent me its letter to the Philippine Independent Power Producers Association, Inc. (PIPPA) dated March 26. LKI is asking the private independent gencos to accept a Force Majeure provision of their Power Supply Agreements (PSAs) with DUs and electric cooperatives because electricity consumers in Luzon should be spared from paying fixed charges for generation capacity that was not consumed, that GenCos will have windfall profits for "ghost" deliveries.
My understanding of this letter is that LKI wants the contract price under PSAs, say P4/kWh, to be forced to go down to the WESM level of P2.08/kWh for March 2020. Otherwise they will demonize and lambast the gencos as greedy.
This is an irrational demand by LKI on the following grounds.
One, a PSA contract price is an important incentive for companies to stay, even expand in the power generation business. Otherwise they might consider going into hotels, restaurants, hospitals, and other businesses and leave the country's power supply situation further in peril.
Two, it is selective as it targets only the power supply sector for some parochial interests. LKI did not write similar petitions to water companies, telecom and internet companies, food manufacturers, trucking and logistics companies, etc. It did not say that they should bring down their prices in this period, otherwise LKI will demonize and lambast them as greedy.
Three, customers are charged on their actual electricity consumption, not on electricity produced that was not consumed. The claim of "windfall profits for ghost deliveries" is an illusion.
Four, as shown in Table 2, the gencos, and even DUs like Meralco, have already suffered big revenue losses of nearly P1 billion for this March alone.
Five, I am not a lawyer but I think the Force Majeure provision mainly applies to "Acts of God" and not Acts of Government. The ECQ is an economic and business punishment imposed by the government in exchange for the public health goal of "flattening the curve" of the China virus infection, a.k.a. COVID-19.
The Department of Energy and the Energy Regulatory Commission, among the entities cc'd by LKI, should not entertain this irrational letter from LKI. People should learn to respect business contracts, wait for voluntary waivers or price reductions but not forced waivers and price controls.