20 Gifts for Boys Under $30
This post may contain affiliate links. Read my disclosure policy
here
.
Looking for the best gifts for boys this holiday season? We have you covered with this Little Boys Gift Guide — and they're all under $30 to help you stick to your gift budget! This list includes gifts for 7 year old boys, gifts for 5 year old boys, and gifts for 2 and 3 year old boys!
This Holiday Gift Guide was thoughtfully put together by Gretchen on the MoneySavingMom team — a mom to three little boys ages 7, 2, and 1. As a boy mom, her life is full of adventure, dirt, and snacks! She is married to her high school sweetheart and enjoys finding good deals, decorating, coffee, and good books.

Have a little boy on your list this year and you're stumped on what to get them? Here are some great ideas to get you started based on their age. There are a wide variety of items listed here, so you'll be sure to find something they like!
Best Gifts for 7 Year Old Boys
1. Nerf N Strike Elite Strongarm Toy Blaster – My son loves playing with Nerf blasters with his friends and my husband! This one is a great gift for Nerf newbies.
2. Hasbro Guess Who Classic Game – This game is a favorite at our house! My 7 year old and I will often play a game or two after the little ones go to bed. It's super easy and a lot of fun!
3. Remote Controlled Mini Drone Quadcopter – Someone gifted my son with this and it is the coolest little toy! This Quadcopter can fly forward, backward, up, down, hover, and even do complete flips in the air.
4. Ideal My First Magic Set – This set is a great introduction to magic tricks and includes items to perform 25 different magic tricks. My son has enjoyed performing his magic tricks for all sorts of friends and family using this kit.
5. Kid's Walkie Talkies – You can't go wrong with walkie talkies, especially if you have more than one boy. I can't tell you how much fun kids have with these!
Best Gifts for 5 Year Old Boys
6. Magic Tracks Remote Control Turbo Race Cars with Bendable Glow in the Dark Racetrack — This racetrack probably ranks as one of my boys' favorite gifts they've ever received! This track bends and flexes as well as glows in the dark — making it super fun and exciting.
7. Superhero Costume Capes and Masks – Boys like to dress up too — just as long as it's anything superhero related! These capes and masks are soft and adjustable.
8. Melissa & Doug Wooden Building Blocks Set – These blocks are made from solid wood and they're perfect for building towers and knocking them over again and again. My boys have even used them to construct roads and towns for their toy cars and mini-figures.

9. LEGO Classic Creative Suitcase Building Kit – Once my boys are a little older, they transition from Duplos to real LEGOs and this is a great first LEGO kit to start them with. I love that it comes with a carrying case to keep them all in one spot.
10. Just Play PJ Masks Collectible Figure Set – If you have a PJ Masks fan, these PJ Masks Figures will be a hit! This set includes Cat boy, Owlette, Gekko, Luna girl, and Romeo.
Best Gifts for 2 and 3 Year Old Boys
11. Fisher-Price Nickelodeon Blaze & the Monster Machines – My boys are obsessed with Blaze & the Monster Machines, and these little cars have provided hours of entertainment for them. We've had them for several years and they are extremely durable and good quality.
12. Play-Doh Modeling Compound 10-Pack Case of Colors – You can't go wrong with Play-Doh! Boys love to squish, shape, and mold this stuff into all sorts of interesting creations.
13. First Builders Big Building Bag – Mega Bloks are my boys' first introduction to LEGOs and they always love them! These are perfect for early development skills as well.
14. Wooden Train Tracks Full Set Bundle – Oh my goodness! I can't tell you how much little boys love trains and train tracks! We've had our set for over 5 years and all three of my boys have spent hours playing with it. This set connects with multiple brands including the Thomas Railway System, Brio, Melissa and Doug, Kidkraft, and more!
15. Safari Animals Figures – I didn't know boys could have so much fun with animal figures until they got one free in a fast food kids meal. We are continually adding to our collection and now have animal figures all over our house. They sleep with them, play with them in the bath, and always take them on car trips. This set is BPA-free and uses no-toxic paint.
Stocking Stuffers for Boys
16. Flying Rubber Chicken Slingshot (16 pack) – These are the silliest little toys but kids absolutely love them! I buy them for every birthday party and throughout the year as surprises. These things provide so much laughter and fun and would be such great stocking stuffers.
17. Mr. Bubble Magic Bath Crackles – Make bath time fun with these magic bath crackles! My boys thought these were the best thing ever!
18. Super Miracle Bubbles – My kids are always up for playing with bubbles! These are an easy stocking stuffer idea that won't disappoint.
19. Hog Wild Holiday Snowman Popper – This toy has been awarded the "Best Toy" award by Parents Magazine and I would agree! Not only did it provide lots of entertainment and laughter for my boys, it's also quiet and small — two things that are on my checklist for best toys. 🙂
20. Whoopee Cushion – If you have boys, I can assure you this will be a hit. I found these at my Dollar Tree and put them in their stockings last year. The only problem was that I heard this all day long on Christmas. But hey — they loved them!
Bonus Ideas (Over $30)
Have a little extra wiggle room in your Christmas budget and willing to spend a bit more? Try one of these bonus recommendations:
21. Little Tikes Easy Score Basketball Set – This basketball set is has been a big hit with all of my boys (including my husband at times!). It's small enough to use inside and has been a lifesaver on some of the long winter days to help burn off energy.
22. Little Tikes First Slide – We got this slide a couple of years ago and it has provided hours upon hours of fun. Not only do my kids slide down it, but they race their cars, trucks and basketball down it as well.
23. Foam Bow & Arrow Archery Set – This bow & arrow set is made from durable lightweight, foam tip arrows allowing the arrows to shoot over 100 feet!
More Holiday Gift Guides
Looking for other budget-friendly holiday gift guides? Don't miss Gretchen's Beauty Gift Guide and Olivia's Gluten-Free Gift Guide!
Stay tuned as we roll out several more gift guides over the next couple of weeks — put together by several different MoneySavingMom.com team members!
Psst! Be sure to sign up for our hot deals newsletter to make sure you don't miss any of the hottest deals each day this holiday season!
What other ideas do you have for best gifts for boys? Let us know in the comments!
My Unconventional Best Work-From-Home Gear Guide (What's Yours?)
I'm quite familiar with working from home in my tiny 78 sq. ft. "office", but after looking at some online WFH gear guides recently, it's all about standing desks, latest laptop models, and USB hubs. Eh? My desk is a basic folding table and my laptop is a 2015 Macbook Pro (with real scissor keyboard and real moving trackpad) that recently underwent DIY battery replacement surgery (way too complicated, Apple!).
My favorite WFH gear is different. Maybe yours is too? These are real things that I bought with my own money and I would buy them again if I had to do it all over again.
Quiet, Please! – 3M PELTOR X5A Over-the-Head Ear Muffs
I wear these every day to help me focus. They have the highest noise reduction rating (31 dB) available on the market. You even have to certify that you are using them for "professional/commercial use" (which I am while working for money, as far as I am concerned). At ~$30, they are also about $10 more expensive than other similar models, but I think the extra $10 is well spent to know you have the quietest experience possible. If you have kids running around the house, you need all the help you can get. They are "over ear", which means they don't put pressure on your ears and I can wear them for a relatively long time without discomfort. (I try to take regular breaks anyway.)
Budget Noise-canceling Headphones – Mpow H5 Active Noise Cancelling Headphones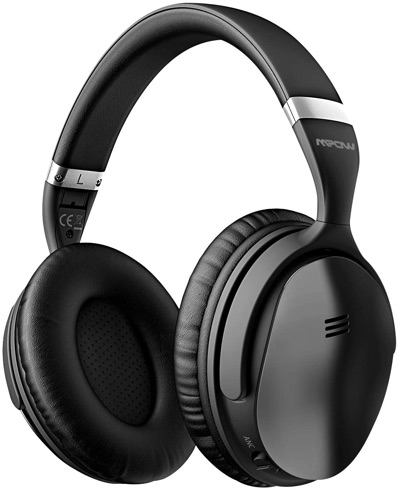 After a certain member of the house (ahem) stole my trusty old pair of wired Bose QC25 headphones, I decided to try out a budget pair of $50 bluetooth noise-cancelling headphones. These over-hear headphones worked out quite well and I really don't miss the old Bose ones. I'd say they are 80% as good while under 20% the price of new Bose QC35 headphones.
Note: I do own a pair of regular Airpods, which I got as a nice gift. I do like them and use them for phone calls around the house and outside, but I use the Mpow headphones while at my desk listening to music or editing things.
Dependable Printer – Brother Monochrome Laser Printer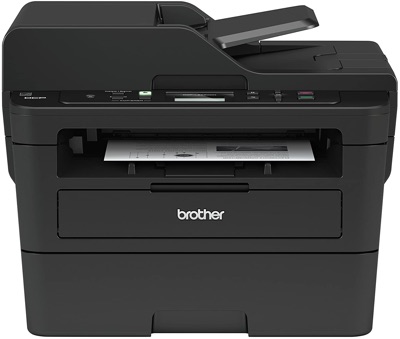 This thing is the workhorse of my home office, and yet also the oldest electronic item here at over 10 years old. Which is rather crazy, given that it has moving parts and daily to scan PDFs, make copies, and of course print. These Brother black-and-white laser printers are like the Toyota Corollas of the printer world – cheap yet reliable. The cost per page can be very low thanks to generic toner cartridges (that link is for two of them) if you don't mind a slight decrease in quality.
Dry Erase Whiteboard – Magnetic Dry Erase Whiteboard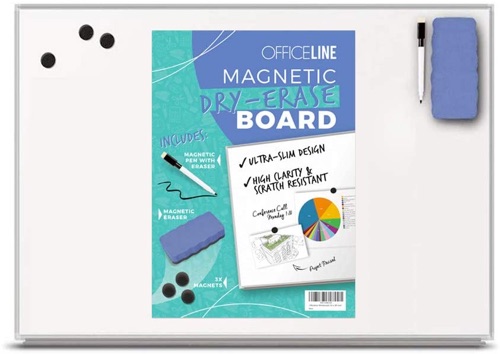 Another inexpensive but important addition for a variety of reasons. Sometimes something physical is just better than the digital alternative. This one is lightweight and thus easy to remove from the wall and move it around. You can also put up complex equations or obscure drawings and put it behind you during those Zoom and Webex meetings and impress/confuse/scare your colleagues. I like these BIC markers as they are higher quality and have finer points.
Looking around my desk, other random things that I probably like more than I should are my TI-85 calculator, classroom-grade pencil sharpener, and an ancient Swingline stapler (sadly not the red 747). The only thing that I have been thinking about upgrading is my office chair. Any suggestions?


"The editorial content here is not provided by any of the companies mentioned, and has not been reviewed, approved or otherwise endorsed by any of these entities. Opinions expressed here are the author's alone. This email may contain links through which we are compensated when you click on or are approved for offers."


My Unconventional Best Work-From-Home Gear Guide (What's Yours?) from My Money Blog.
---
Copyright © 2019 MyMoneyBlog.com. All Rights Reserved. Do not re-syndicate without permission.
Best NRE FD Rates 2020 : All You Need To Know
Non-Resident External or NRE Account can be a Savings, Recurring or Fixed Deposit Account where NRIs can deposit their foreign currencies which gets remitted to an Indian Account. An NRE account is held in Indian Rupees and is completely tax-free. In this article, we will discuss how you can select the best NRE FD and give you the best NRE FD rates in different banks in India.
NRIs cannot open a regular account that is designed for Indian Residents as per the guidelines by Foreign Exchange Management Act (FEMA) and this can attract huge penalties if breached. Also, no interest is earned if the account is closed within a year.
Benefits of an NRE FD Account
An NRE FD Account holder has the following benefits –
Both principal and interest earned are tax-free in India

Principal and interest earned are freely repatriable to account holder's country of residence

High-Interest Rate

Can be opened jointly with other Non-Resident Indian(s)

Offers flexible tenures that may range from 1 year to 10 years
Best NRE FD Rates
Below is a table that compares NRE Account FD Rates across all the banks along with the tenures mentioned.
Name of the Bank
Tenure
1 year
2 years
3 years
5 years
SBI
5.70%
5.70%
5.70%
5.70%
HDFC BANK
6.15%
6.15%
6.25%
6.15%
ICICI BANK
5.80%
5.80%
6.00%
6.00%
PNB
5.80%
5.80%
5.80%
5.80%
AXIS BANK
6.55%
6.65%
6.50%
6.50%
CANARA BANK
5.85%
5.85%
5.80%
5.80%
KOTAK MAHINDRA BANK
5.90%
5.90%
5.90%
5.50%
BANK OF BARODA
5.90%
5.90%
5.90%
6.15%
BANK OF INDIA
6.30%
6.25%
6.25%
6.25%
IDBI BANK
5.95%
5.85%
5.90%
6.10%
UNION BANK OF INDIA
6.75%
6.40%
6.40%
6.45%
FEDERAL BANK
6.15%
6.15%
6.25%
6.25%
INDUSIND BANK
6.65%
6.75%
6.75%
6.65%
YES BANK
7.25%
7.25%
7.25%
7.25%
CENTRAL BANK OF INDIA
5.70%
5.70%
5.70%
5.70%
INDIAN BANK
5.90%
5.80%
5.80%
5.80%
HSBC BANK
4.50%
5.00%
5.25%
NA
CITIBANK
4.25%
4.25%
4.25%
4.50%
INDIAN OVERSEAS BANK
6.25%
6.30%
6.20%
6.20%
PUNJAB AND SIND BANK
5.85%
5.85%
5.85%
5.85%
UCO BANK
6.10%
6.10%
6.10%
6.05%
UNITED BANK OF INDIA
6.50%
6.25%
6.25%
6.00%
ORIENTAL BANK OF COMMERCE
6.25%
6.25%
6.25%
6.25%
DBS BANK
5.75%
5.75%
5.75%
5.75%
* IndusInd Bank provides this interest rate for 61 months and above. 
Small Finance Bank FD Rates
Our government has licensed some companies to operate as financial institutions, small finance banks for example. Though not a scheduled commercial bank, these institutes are very niche in operations Fixed deposit is one of the services offered by Small Finance Banks. Down below are some small finance banks that provide the best interest rates for an NRE FD Account.
Small Finance Bank
Tenure/ FD Interest Rates
1 year
2 years
3 years
5 years
AU Small Finance Bank
7.00%
7.50%
7.77%
7.50%
ESAF Small Finance Bank
8.00%
7.75%
7.30%
7.30%
Equitas Small Finance Bank Limited
7.75%
7.45%
7.55%
6.75%
Suryodaya Small Finance Bank
8.00%
8.00%
8.25%
9.00%
Conclusion
We see that it is very tough to choose from, especially when each is better on its own. But there are certain factors you must keep in mind while going forward such as interest rate and a trustworthy long-term relationship with the bank. Also, you must check if the account can be operated from the country you live in right now. Some major banks have branches in countries like the USA, UK, and the Middle East.
The post Best NRE FD Rates 2020 : All You Need To Know appeared first on Compare & Apply Loans & Credit Cards in India- Paisabazaar.com.
Coronavirus Stimulus Check 2020 [how much you'll get & who qualifies]
(The following is a transcription from a video I recorded. Please excuse any typos or errors.)
Quick little update for you.
The Senate and the White House reached an agreement on this big stimulus bill, the Trump coronavirus stimulus check for 2020.
Let me share with you who will be eligible, how much you will get, what the qualifications are, and when you can expect to receive the stimulus check from the U.S. government.
And so if you haven't heard about this, it's pretty cool because you're probably going to be getting a nice fat check from the government.
Here are the details that you need to know.
It is expected to be up to $1,200 per adult and $500 per child, which is pretty fun.
These amounts are based off of your 2018 tax returns if you haven't filed 2019 tax returns yet.
Taking Your Income Level Into Consideration
And according to this article from the Los Angeles Times, the amount received will decline gradually beginning with individuals who make $75,000 a year or married couples who make $150,000 total each year.
Individuals making $99,000, or above or couples making $198,000, or above would receive no check.
Which looks like this:
And here is another helpful breakdown of how big your stimulus check will likely be:
When will you get your check?
Stimulus Check Timeframe
The fun thing about is they're expected to be shipping within the next few weeks.
So that's really cool. And you don't normally see the government move this fast on things, but the stock market's been doing fantastic the last two days as a result of the expectation of this thing coming through.
While I'm not really excited about the long term effects of the government giving away all this money, I know a lot of people who will be excited to get a little bit of cash in their pocket.
So that's the latest update for the Trump coronavirus stimulus check for 2020!
Let us know in the comments below what you plan to do with this Trump stimulus check that you will hopefully be receiving soon!