Purchasing a home can be an exciting experience, but real financial consequences that can arise if you don't compare lenders before you apply for a mortgage. On top of costly closing costs and higher fees, some mortgage lenders cannot offer the lowest mortgage rates available today. If you wind up with a subpar loan because you failed to shop around, you could easily spend thousands of extra dollars in interest for no reason at all. 
Since your mortgage will likely be around for at least 15 to 30 years, comparing mortgage rates and terms is essential. We compiled a list of the top mortgage lenders and rates for this reason — to help you figure out which lenders are reputable, and which offer the lowest mortgage rates available in your area.
Which Lenders Offer the Best Mortgage Rates of 2019?
Before you move forward with a home loan, take the time to compare interest rates, fees, and customer service ratings among the top lenders in the market today. The following lenders made our list of top mortgage lenders based on the rates they offer, their reputation and ratings, and their online loan platforms and features. 
#1: Quicken Loans
Quicken Loans is frequently considered one of the top mortgage lenders nationwide, and it's easy to see why. Not only does Quicken Loans offer some of the most competitive interest rates borrowers can find today, but they also offer a fully online mortgage process that lets you avoid visiting a local branch to get your loan processed and underway.
Quicken Loans even offers a feature called RateShield, which locks in your mortgage rate for up to 90 days while you shop for a home or finalize your home loan. You can apply for your home loan online, but you can also call into their 1-800 number for help. Quicken Loans even offers a helpful online chat feature that lets you get all your questions answered before you apply.
#2: Chase
While Chase is known for its popular credit cards, checking accounts, and savings accounts, they also offer a competitive mortgage product.
Chase even lets you get prequalified online without a hard inquiry on your credit report, which makes it easy to see an estimate of the mortgage rates you'll qualify for — and how much you may be able to borrow —before you move forward with a full application.
Like Quicken Loans, Chase offers a wide range of mortgage options consumers want including 30-year and 15-year fixed-rate mortgages as well as adjustable-rate mortgage options. Chase also offers valuable tools that can help you determine your new home loan payment, figure out how much you can afford to borrow, and more.
#3: Bank of America
Bank of America promises a "digital" mortgage experience that's more convenient than working with a brick and mortar bank. You can get prequalified online without a hard inquiry on your credit report, and you an also access valuable tools that can help you figure out the right loan for your needs.
Bank of America offers fixed-rate and adjustable-rate mortgage options, so they're bound to offer a home loan that suits your needs. They also offer closing cost discounts and other perks for existing Bank of America customers who belong in their Preferred Rewards program.
#4: Amerisave
Amerisave is an online mortgage lender who promises amazingly low rates and a simple digital mortgage process. You can complete an application and upload all the documentation required for your mortgage online, and Amerisave will even send a representative to your home to complete the closing process at the time and date of your choosing.
Amerisave offers fixed-rate and adjustable-rate mortgage loans with every timeline you can imagine, and all with some of the most competitive rates available today.
#5: Veterans United Home Loans
Veterans United Home Loans connect veterans, active military, and qualifying spouses to VA loans with low rates and easy borrowing requirements. Since Veterans United focuses solely on VA loans, however, this lender isn't an option for consumers who don't meet eligibility requirements based on military activity.
VA loans can be very attractive for those who can qualify since they come with easy credit requirements and you don't have to put any money down. You do have to pay an initial funding fee, but VA loans also come without burdensome private mortgage insurance or PMI.
Since Veterans United Home Loans focuses on VA loans, they're one of the best lenders to consider if you plan to choose this option.
#6: loanDepot
Consider loanDepot if you want to compare loan products and get prequalified online in a matter of minutes. This mortgage lender offers access to mortgage loans for a new home purchase or a refinance, and you may be able to qualify for extremely low rates depending on your creditworthiness.
If you're looking for a more personal experience, keep in mind that loanDepot will connect you with an individual loan counselor that can help you find the best loan for your needs.
#7: Huntington Bank
Huntington Bank also offers a robust online mortgage platform that makes it easy to compare loan options online. They offer fixed-rate and adjustable-rate mortgages to meet a variety of needs, and interest rates can be extremely competitive based on your creditworthiness and other factors.
Consider Huntington Bank if you want to purchase a new home or refinance an existing mortgage but you want the option to speak with a local mortgage counselor in your area.
How to Get the Best Mortgage Rates
The best mortgage rates typically go to borrowers who have excellent credit, a stable income, a long history of employment, and the ability to put down a large down payment. This means that, if you want to qualify for the best mortgage rates available today, you may need to take some steps to improve your situation before you apply.
Here are some tips that can help you become a more attractive borrower or alter your home loan to secure the lowest rate possible:
Shop Around with Multiple Lenders
Shopping around with several different lenders is the best way to ensure you're getting the lowest rate you can qualify for. You can do this by comparing several different lenders and their loan offerings, or by applying for a new mortgage with a loan aggregator like LendingTree so you can compare multiple loans and rates in one place.
Shopping around is crucial since individual lenders set their own criteria to determine who can get approved — and since rates can be higher or lower for you depending on how attractive they find you as a borrower.
We always suggest comparing mortgage rates with at least 2 to 4 lenders before you apply for a home loan. In addition to mortgage rates, make sure to ask about and compare closing costs and fees along with online account management options.
Consider Working with a Credit Union
In addition to traditional banks and online lenders, you can also compare mortgage rates and loans offered by credit unions in your area. While you typically need to be a member of a bank at a credit union, these institutions are not-for-profit, meaning they're often able to offer lower interest rates than for-profit lenders and banks.
Also, remember that you may be able to join a credit union with ease if you aren't a member already. Credit unions may charge up to $25 to join, but it's possible you could be eligible for a membership-based on where you live, which communities you're involved for, your job, your military service, and other factors.
Look at Government-Backed Mortgage Programs
Also check into government-backed mortgage programs like FHA loans, VA loans, and USDA loans. Since the federal government guarantees these loan programs, you may be able to qualify for lower mortgage rates and better terms even if your credit is less than perfect.
Just remember that there's usually a tradeoff to be made with government loan programs — even if they let you secure a lower interest rate.
FHA loans, for example, let you get started with a down payment as low as 3.5% of your loan amount if your credit score is at least 580, but they also charge upfront mortgage insurance and ongoing mortgage insurance premiums that cannot be canceled during the life of your loan — even after you have more than 20% in equity built up.
Take Steps to Boost Your Credit Score
Another important factor that determines your mortgage rate is your credit score. While 680 or higher is typically considered a "good" FICO credit score, you may qualify for better rates with a traditional home loan if you can find a way to boost your credit score to greater heights.
While there are many factors that influence your individual FICO score, keep in mind that the two main factors that determine your score are your payment history and the amounts you owe in relation to your credit limits. As a result, paying all your bills early or on time and paying off debt can make a significant impact on your credit score in a hurry.
Save Up a Larger Down Payment
Another factor that can impact your mortgage rate is how much money you can afford to put down on your home. Most traditional lenders prefer borrowers to put down at least 20% of their home's value when they buy, and they often extend the best rates to buyers who can reach this threshold.
If you don't have a down payment or your down payment is minimal, you may also find your home loan options are limited. Many lenders require you put down 5% at a minimum and even FHA loans require 3.5%, so you should start saving until you have enough money to secure the loan you want with a rate and payment you can afford.
Get a Shorter Mortgage
The most popular type of mortgage is the fixed-rate home loan, mostly because the interest rate and mortgage payment (including principal and interest) will never change. However, you don't have to go with the traditional 30-year home loan if you prefer to pay off our home faster. Many lenders offer 20-year loans, 15-year mortgages, and even 10-year home loans with a fixed rate.
Even better is the fact that most of the time, fixed-rate mortgages with a shorter repayment timeline come with lower mortgage rates. This means you'll pay your home off faster and pay less in the interest all along.
Consider Alternative Mortgage Loan Products
In addition to fixed-rate mortgages, many lenders offer loans with an adjustable rate. Adjustable-rate mortgages, also called ARMs, typically let consumers pay a lower fixed rate for an introductory period before resetting to market rates once the introductory offer is up. 
Where fixed-rate home loans are usually best for consumers who plan to stay in their home for a long time, adjustable-rate mortgages can be a good deal for people who want an initial low rate because they plan to move or refinance within a few years after buying their home.
Pay for Points
Mortgage points, which are also called mortgage discount points, let consumers pay a flat fee to secure a lower mortgage rate on their home loan. One point, which typically translates into a .25% discount off your rate, normally costs 1% of your mortgage amount or $1,000 for every $100,000 you borrow.
While paying for points may not make sense if you only plan to own your home for a short amount of time, the savings can be significant if you plan to remain in your home for the long haul.
Join a Bank-Based Loyalty Program
Finally, don't forget that some mortgage lenders offer preferable rates and terms to consumers who use their own banking and loan products. This is the case with Citibank and Bank of America, for example, since both banks offer mortgage rate discounts or a reduction in closing costs for customers who bank with them and meet other criteria. 
If you participate in the Bank of America Preferred Rewards program, for example, you can earn a higher rate of rewards with their rewards credit cards and get a reduced origination fee on your home loan.
What Are The Best Mortgage Rates
While mortgage rates may be somewhat out of your control, there are steps you can take to improve your chances of qualifying for superior mortgage rates and loan terms. You can shop around and compare lenders for starters, but you should also try to improve your credit and financial situation so you're a more attractive borrower overall. 
The lenders on this list offer some of the best mortgage rates and loan terms available today, so make sure to consider them first as you look for ways to get into the best loan possible. 
The post Best Mortgage Rates appeared first on Good Financial Cents®.
Coronavirus Bill Expands Sick Leave, FMLA. Here's How to Claim It
One of the most important things we can all do to slow the spread of the coronavirus, the government tells us, is stay home, especially if we're sick.
Employers have probably been telling you the same about any illness for years. But many workplaces haven't backed up that advice with the one thing that would make it easy to stay home when you're sick: paid time off from work.
The coronavirus pandemic has made this conundrum glaring, and the U.S. government has stepped in to address it while we face this crisis.
Here's all of our coverage of the coronavirus outbreak, which we will be updating every day.
The Families First Coronavirus Response Act (FFCRA), one prong of the federal government's response to COVID-19, went into effect on April 1, expanding access to paid sick leave and paid family medical leave (FMLA) for U.S. workers through Dec. 31, 2020.
The legislation provides tax credits and requirements for employers to provide paid leave to workers affected by COVID-19. It has some exceptions, but in general, if you're unable to work for coronavirus-related reasons this year, you are likely guaranteed some paid time off.
How to Qualify for Paid Leave Related to the Coronavirus
Whether you're entitled to paid sick leave or expanded FMLA — and how much — under the new rules depends on who you work for and why you're unable to work.
Which Companies Will Provide Paid Leave?
The new law requires private-sector employers with fewer than 500 employees to provide paid leave to eligible workers. All workers are entitled to paid sick leave; to be eligible for expanded FMLA, you have to have worked for the company for at least 30 days.
Private businesses with fewer than 50 employees are exempt from paying for leave related to child care if they can prove it would put them out of business, according to the U.S. Chamber of Commerce. This should be tough to prove, though, because the IRS is providing a dollar-for-dollar refund in the form of a quarterly tax credit, and letting businesses apply to receive the credit in advance, to cover the cost of leave.
Health care and emergency organizations can exclude employees from FMLA expansion due to the crisis response.
Public-sector employers subject to the Fair Labor Standards Act, regardless of number of employees, are subject to the new requirements. Most federal employees are already covered by the existing Family Medical Leave Act, so they aren't covered by expanded FMLA under the new law — but are covered for paid sick leave.
Pro Tip
Read what the IRS says about how self-employed workers can access the new leave benefits.
If you're self-employed, including freelancers and gig workers, you can claim a tax credit for the same benefits. To benefit from the credit before you file your 2020 tax return next year, subtract the credit from your estimated quarterly income tax payments this year.
What Qualifies as Coronavirus-Related Leave?
The reasons to qualify for paid leave under the new law are pretty broad. You have to be unable to work — including remote work — because of COVID-19, which includes:
Quarantine and isolation orders:

You're subject to an order from your federal, state or local government requiring or urging you to stay home or self-isolate to prevent the spread of COVID-19. This could apply if your state is under a stay-at-home order, your place of work isn't deemed essential and you can't work from home; or if you travel into a state or city that requires a 14-day quarantine and can't work while quarantined, for example.
Health care advisory:

A health care provider has advised you to self-quarantine due to COVID-19.
COVID-19 symptoms:

You're experiencing symptoms, which the

CDC lists

as fever, cough, shortness of breath or all three, and seeking a medical diagnosis.
Caring for someone:

You're caring for someone who is subject to a quarantine or isolation order from the government or advisory from a health care provider.
Your kids are out of school or daycare:

You're caring for your children whose school or childcare is closed or unavailable. This doesn't apply if you're caring for anyone else's children.
Similar conditions:

You're experiencing what the

U.S. Department of Labor calls

"any other substantially similar condition specified by the U.S. Department of Health and Human Services."
Having no work available from your employer for an eligible reason counts as being unable to work.
Here's What You're Entitled to Under FFCRA
If you're eligible for expanded paid leave, you can receive up to 12 weeks' paid leave total. The amount of pay depends on what you earn when you're working and the reason you take leave.
2 Weeks' Paid Sick Leave
For paid sick leave, you can get two weeks — 80 hours for full-time employees or your average hours for part-timers — at these rates:
100% pay, up to $511 daily,

if you're out for quarantine, isolation or COVID-19 symptoms.

Two-thirds pay, up to $200 daily,

if you're out to care for a child or someone who is quarantined or experiencing symptoms.
10 Weeks' Paid Family Medical Leave
If you're caring for your kids who are out of school or child care because of the coronavirus crisis, you can receive 10 additional weeks under expanded FMLA, paid at two-thirds your normal wages.
How to Claim Paid Sick Leave for Coronavirus
You won't have to deal with a government office to claim paid sick leave.
Instead, your employer will handle the leave under normal payroll. If you haven't gotten clear direction from someone at your company about how to request paid time off for coronavirus-related reasons, reach out to your manager or someone in HR for details.
Be prepared for some disorganization, though, as companies work to understand the requirements and quickly incorporate new benefits into their systems.
If you experience delays or outright refusal of benefits you're entitled to, contact your local DOL Wage and Hour Division, the agency responsible for enforcing the new requirements. Someone there should be able to offer guidance on your entitlements and a course of action.
FROM THE MAKE MONEY FORUM
What If Your Employer Is Exempt?
The 500-employee cap on the paid leave requirement was a compromise among legislators when the House of Representatives was drafting the bill, CNN reported at the time. 
The good news is 89% of employees who work for an exempt employer already have access to some paid sick leave, according to CNN. The bad news is 6.7 million workers make up the 11% who did not.
Companies Offering Coronavirus Paid Leave
To narrow the gap, some large companies have created or amended sick leave policies to grant paid leave to hundreds of thousands more hourly workers. They include Amazon, Apple, Bloomin' Brands (Outback Steakhouse), Darden Restaurants (Olive Garden), McDonald's, Starbucks, Target, and Walmart and Sam's Club.
State-Level Requirements
New York state enacted its own legislation last month requiring all employers in the state to provide paid sick leave of five or 14 days, depending on the size and revenue of the employer.
Aside from special coronavirus-related provisions, 12 states and Washington, D.C., require employers to offer paid sick leave. None of these states exempts large companies from the requirement, so you could be eligible at least for the amount of paid leave your state mandates.
California, New Jersey, New York, Rhode Island and Washington provide for paid family medical leave, and Washington, D.C., enacted a measure a couple years ago set to take effect on July 1.
If You Can't Get Paid Sick Leave
If you're not eligible for paid time off and are unable to work, consider filing for unemployment benefits. Under recent legislation, you might be eligible if you quit your job for coronavirus-related reasons, including contracting the virus or caring for someone who is sick.
Under the regular Family Medical Leave Act, your job should be secure if you have to take time off to care for a family member or your own health condition, even though you aren't paid while out from work. FMLA requires private employers with 50 or more employees to provide up to 12 weeks' unpaid leave.
A Modest Needs Self-Sufficiency grant might be available to help you cover living expenses if you're tight on cash. To get groceries, you can find a local food bank through Feeding America's nationwide network.
If you're well and have the time, you could always try to make some money online while you're home on sick leave.
Dana Sitar (@danasitar) has been writing and editing since 2011, covering personal finance, careers and digital media.
This was originally published on The Penny Hoarder, which helps millions of readers worldwide earn and save money by sharing unique job opportunities, personal stories, freebies and more. The Inc. 5000 ranked The Penny Hoarder as the fastest-growing private media company in the U.S. in 2017.
My Unconventional Best Work-From-Home Gear Guide (What's Yours?)
I'm quite familiar with working from home in my tiny 78 sq. ft. "office", but after looking at some online WFH gear guides recently, it's all about standing desks, latest laptop models, and USB hubs. Eh? My desk is a basic folding table and my laptop is a 2015 Macbook Pro (with real scissor keyboard and real moving trackpad) that recently underwent DIY battery replacement surgery (way too complicated, Apple!).
My favorite WFH gear is different. Maybe yours is too? These are real things that I bought with my own money and I would buy them again if I had to do it all over again.
Quiet, Please! – 3M PELTOR X5A Over-the-Head Ear Muffs
I wear these every day to help me focus. They have the highest noise reduction rating (31 dB) available on the market. You even have to certify that you are using them for "professional/commercial use" (which I am while working for money, as far as I am concerned). At ~$30, they are also about $10 more expensive than other similar models, but I think the extra $10 is well spent to know you have the quietest experience possible. If you have kids running around the house, you need all the help you can get. They are "over ear", which means they don't put pressure on your ears and I can wear them for a relatively long time without discomfort. (I try to take regular breaks anyway.)
Budget Noise-canceling Headphones – Mpow H5 Active Noise Cancelling Headphones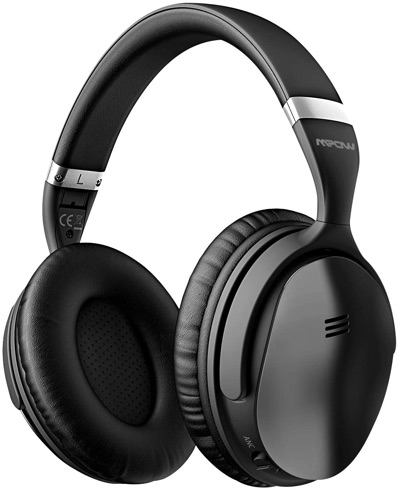 After a certain member of the house (ahem) stole my trusty old pair of wired Bose QC25 headphones, I decided to try out a budget pair of $50 bluetooth noise-cancelling headphones. These over-hear headphones worked out quite well and I really don't miss the old Bose ones. I'd say they are 80% as good while under 20% the price of new Bose QC35 headphones.
Note: I do own a pair of regular Airpods, which I got as a nice gift. I do like them and use them for phone calls around the house and outside, but I use the Mpow headphones while at my desk listening to music or editing things.
Dependable Printer – Brother Monochrome Laser Printer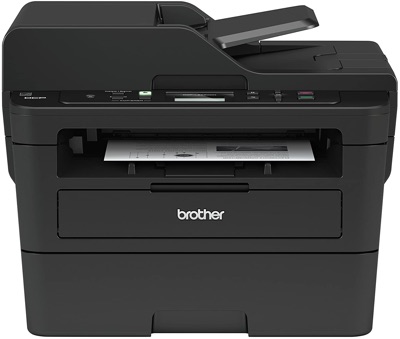 This thing is the workhorse of my home office, and yet also the oldest electronic item here at over 10 years old. Which is rather crazy, given that it has moving parts and daily to scan PDFs, make copies, and of course print. These Brother black-and-white laser printers are like the Toyota Corollas of the printer world – cheap yet reliable. The cost per page can be very low thanks to generic toner cartridges (that link is for two of them) if you don't mind a slight decrease in quality.
Dry Erase Whiteboard – Magnetic Dry Erase Whiteboard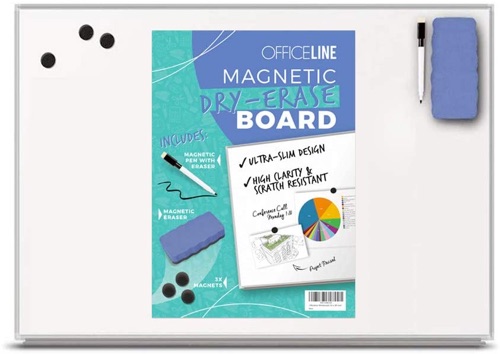 Another inexpensive but important addition for a variety of reasons. Sometimes something physical is just better than the digital alternative. This one is lightweight and thus easy to remove from the wall and move it around. You can also put up complex equations or obscure drawings and put it behind you during those Zoom and Webex meetings and impress/confuse/scare your colleagues. I like these BIC markers as they are higher quality and have finer points.
Looking around my desk, other random things that I probably like more than I should are my TI-85 calculator, classroom-grade pencil sharpener, and an ancient Swingline stapler (sadly not the red 747). The only thing that I have been thinking about upgrading is my office chair. Any suggestions?


"The editorial content here is not provided by any of the companies mentioned, and has not been reviewed, approved or otherwise endorsed by any of these entities. Opinions expressed here are the author's alone. This email may contain links through which we are compensated when you click on or are approved for offers."


My Unconventional Best Work-From-Home Gear Guide (What's Yours?) from My Money Blog.
---
Copyright © 2019 MyMoneyBlog.com. All Rights Reserved. Do not re-syndicate without permission.
Best NRE FD Rates 2020 : All You Need To Know
Non-Resident External or NRE Account can be a Savings, Recurring or Fixed Deposit Account where NRIs can deposit their foreign currencies which gets remitted to an Indian Account. An NRE account is held in Indian Rupees and is completely tax-free. In this article, we will discuss how you can select the best NRE FD and give you the best NRE FD rates in different banks in India.
NRIs cannot open a regular account that is designed for Indian Residents as per the guidelines by Foreign Exchange Management Act (FEMA) and this can attract huge penalties if breached. Also, no interest is earned if the account is closed within a year.
Benefits of an NRE FD Account
An NRE FD Account holder has the following benefits –
Both principal and interest earned are tax-free in India

Principal and interest earned are freely repatriable to account holder's country of residence

High-Interest Rate

Can be opened jointly with other Non-Resident Indian(s)

Offers flexible tenures that may range from 1 year to 10 years
Best NRE FD Rates
Below is a table that compares NRE Account FD Rates across all the banks along with the tenures mentioned.
Name of the Bank
Tenure
1 year
2 years
3 years
5 years
SBI
5.70%
5.70%
5.70%
5.70%
HDFC BANK
6.15%
6.15%
6.25%
6.15%
ICICI BANK
5.80%
5.80%
6.00%
6.00%
PNB
5.80%
5.80%
5.80%
5.80%
AXIS BANK
6.55%
6.65%
6.50%
6.50%
CANARA BANK
5.85%
5.85%
5.80%
5.80%
KOTAK MAHINDRA BANK
5.90%
5.90%
5.90%
5.50%
BANK OF BARODA
5.90%
5.90%
5.90%
6.15%
BANK OF INDIA
6.30%
6.25%
6.25%
6.25%
IDBI BANK
5.95%
5.85%
5.90%
6.10%
UNION BANK OF INDIA
6.75%
6.40%
6.40%
6.45%
FEDERAL BANK
6.15%
6.15%
6.25%
6.25%
INDUSIND BANK
6.65%
6.75%
6.75%
6.65%
YES BANK
7.25%
7.25%
7.25%
7.25%
CENTRAL BANK OF INDIA
5.70%
5.70%
5.70%
5.70%
INDIAN BANK
5.90%
5.80%
5.80%
5.80%
HSBC BANK
4.50%
5.00%
5.25%
NA
CITIBANK
4.25%
4.25%
4.25%
4.50%
INDIAN OVERSEAS BANK
6.25%
6.30%
6.20%
6.20%
PUNJAB AND SIND BANK
5.85%
5.85%
5.85%
5.85%
UCO BANK
6.10%
6.10%
6.10%
6.05%
UNITED BANK OF INDIA
6.50%
6.25%
6.25%
6.00%
ORIENTAL BANK OF COMMERCE
6.25%
6.25%
6.25%
6.25%
DBS BANK
5.75%
5.75%
5.75%
5.75%
* IndusInd Bank provides this interest rate for 61 months and above. 
Small Finance Bank FD Rates
Our government has licensed some companies to operate as financial institutions, small finance banks for example. Though not a scheduled commercial bank, these institutes are very niche in operations Fixed deposit is one of the services offered by Small Finance Banks. Down below are some small finance banks that provide the best interest rates for an NRE FD Account.
Small Finance Bank
Tenure/ FD Interest Rates
1 year
2 years
3 years
5 years
AU Small Finance Bank
7.00%
7.50%
7.77%
7.50%
ESAF Small Finance Bank
8.00%
7.75%
7.30%
7.30%
Equitas Small Finance Bank Limited
7.75%
7.45%
7.55%
6.75%
Suryodaya Small Finance Bank
8.00%
8.00%
8.25%
9.00%
Conclusion
We see that it is very tough to choose from, especially when each is better on its own. But there are certain factors you must keep in mind while going forward such as interest rate and a trustworthy long-term relationship with the bank. Also, you must check if the account can be operated from the country you live in right now. Some major banks have branches in countries like the USA, UK, and the Middle East.
The post Best NRE FD Rates 2020 : All You Need To Know appeared first on Compare & Apply Loans & Credit Cards in India- Paisabazaar.com.