Tariffs Can Work — When They're Part Of A Plan
Republicans are in revolt. Economists on the left and right are deeply skeptical. President Trump's top economic adviser resigned rather than be party to it. The culprit: tariffs, and specifically the president's decision to slap duties on imported steel (25 percent) and aluminum (10 percent).
Though they are widely vilified, tariffs actually can work, providing protection for a few vulnerable companies, safeguarding entire industries, maybe even encouraging a wholesale reassessment of what counts as fair trade. Tariffs also come with considerable costs and risks, however, and making the gambit work requires a well-defined goal and a winning strategy. And it's not clear that Trump has the detailed plan needed to make this gamble pay off.
One early estimate of Trump's plans, for example, uses a variant of a well-respected model to project that the tariffs would eliminate five jobs for every one they save, because the help they offer steel producers is more than offset by the elevated prices that users of manufactured steel, like car manufacturers, wind up having to pay. This is often a risk with tariffs: By raising the price of imported goods, tariffs strain the budgets of companies — and consumers — who buy those goods. In addition, tariffs can provoke an escalating trade war in which foreign countries who resent the new border tax fight back by implementing protectionist measures of their own.
But these risks don't mean tariffs are doomed to fail; they just require a long-term goal that justifies the short-term cost in jobs and dollars — and a way to reach it.
This kind of targeted tariff helped save Harley Davidson, for example. In the early 1980s, the company was losing market share to smaller, more affordable imports from Japan. Bankruptcy seemed a real possibility until President Ronald Reagan agreed to introduce a severe protective tariff.
Deliberately designed to be fast-acting and short-lived, the tariff started at a steep 49.4 percent before gradually falling back to the normal 4.4 percent rate over the course five years. In the end, it didn't take that long for Harley Davidson to reorganize its operations, fix manufacturing problems and return to profitability. By year four, they felt secure enough that they actually asked for the tariffs to be lifted early (presumably because the tax had already fallen dramatically and because a show of strength was good PR).
To some observers, that turnaround might still count as a failure because the company recovered not on its own but with the help of regulations that, by their very nature, interfere with the free market, limiting consumer choices and putting upward pressure on prices.37 But clearly the tariffs accomplished their basic goal, blunting competition from Japan in order to give an iconic U.S. company breathing room to catch up.
Now consider a broader example of tariffs in action, namely the heavily protectionist world of European agriculture. The EU operates under an integrated set of policies designed to ensure a decent standard of living for Europe's farmers while also guaranteeing a reliable supply of food for European citizens. Among those policies are direct payments to farmers, funding for rural development — and also tariffs, including some tariffs that bite deeply into the pockets of U.S. farmers. When sending goods to Europe, American farmers face an average tariff of 13.7 percent, or nearly three times what E.U. farmers face when exporting their products to the U.S.
All this special treatment for native agriculture comes at a serious cost, of course: Over a third of the E.U. budget goes to support the roughly 5 percent of citizens involved in farming, which is money that can't be used for other urban or industrial priorities. But what really matters is whether Europeans think these costs are outweighed by the benefits that come with tariffs and other agricultural supports. And in a recent Eurobarometer poll, 52 percent of respondents said they "totally agree" or "tend to agree" that the EU should have trade barriers for agricultural products, compared to 34 percent who disagreed.
Which brings us back to Trump's decision to impose a 25 percent tariff on steel imports from outside North America and a 10 percent levy on aluminum. Here, too, the defining question shouldn't be, "What will it cost?" but rather, "What's the underlying goal, and can it be achieved at a reasonable cost?"
The chosen goal might be quite narrow, along the lines Trump himself outlined when he signed the tariff proclamations last Thursday: "A strong steel and aluminum industry are vital to our national security." Ensuring that the U.S. can produce enough steel to keep building planes and ships in the event of a military emergency seems like a tailored and well-defined objective, not unlike the aim of the tightly targeted Harley Davidson tariff.
But narrow efforts aren't always the most successful. The last time the U.S. imposed steel tariffs in an attempt to bolster the industry, under President George W. Bush, the real-world effects proved rather meager. Imports did decline, but seven U.S. steel companies still went bankrupt and the number of workers in the industry seems to have dropped. Partly, this may be because the tariffs didn't last long enough to allow for the kind of restructuring that U.S. steel mills really needed; they were lifted within two years, after the World Trade Organization ruled them illegal. But it's also possible the industry needed more help than tariffs alone could provide as a result of high pension costs and a history of inadequate investment.
With the virtue of hindsight, it seems like the time was ripe during Bush's presidency to pursue a bigger goal: not just helping America's struggling steel industry but helping many U.S. industries fight off the full force of what's sometimes called the "China shock" — the sudden rise in Chinese imports of all kinds after the country joined the WTO and gained broader access to U.S. markets. Between 2000 and 2007, America lost about a million manufacturing jobs, affecting industries well beyond steel. A more ambitious plan — one that included steel tariffs alongside other protections and supports — might have helped defend U.S. industries across the board.
Trump may indeed have something bolder in mind, in which case steel and aluminum tariffs may merely be the opening move. At times, he seems ready to embrace a widening trade war, saying that if Europe retaliates against the steel imports, the U.S. could impose a new tax on EU cars. And during his campaign, he floated the far more disruptive possibility of a 45 percent tariff on Chinese imports.
But if the goal is indeed grander — a realignment in global trade that opens space for more U.S. exports and U.S. manufacturing jobs — then tariffs alone probably won't suffice. Remember that to build a unified agricultural support system, the EU created a complex package of tariffs, subsidies, regulations and rural development aid that all operate in concert.
To ignite a renaissance of U.S. manufacturing, a lot of other things would have to change: The dollar would probably need to fall further, which would help spur exports; countries like China and Germany would have to start saving less and spending more, thus creating more demand for foreign goods, including those made in America; and the U.S. would likely have to pare back its own appetite for imports, including getting Americans to save more money.
Whatever the objective, it needs to be paired with the appropriate tactics. For some goals, tariffs make sense, even if they do come with costs. Ultimately, the only way to assess Trump's tariff plans is not with a ledger comparing the boon for steel producers against the cost for steel users, but by identifying the broader goal — and seeing whether it gets met.
Fama (JME, 1984) was published 35 years ago, but the earlier — perhaps the earliest — appearance of the Fama regression is in Tryon (1979). While the puzzle has largely persisted since then, it has seemingly disappeared since the global financial crisis.
Figure 1: Ex post one year depreciation of euro/dollar up to 2007M08 against one year offshore US-euro interest differential (up to 2006M08). 
Recall the puzzle: If the joint hypothesis of uncovered interest rate parity (UIP) and rational expectations –- sometimes termed the unbiasedness hypothesis — held, then the slope of the regression lines (in red) would be indistinguishable from unity. In fact, they are significantly different from that value. This pattern of coefficient reversal holds up for other dollar-based exchange rates, as well as for other currency pairs (with a couple exceptions). The fact that the coefficient is positive in the post-global financial crisis period is what we term "the New Fama puzzle".
Interestingly, after 2006, the relationship flips.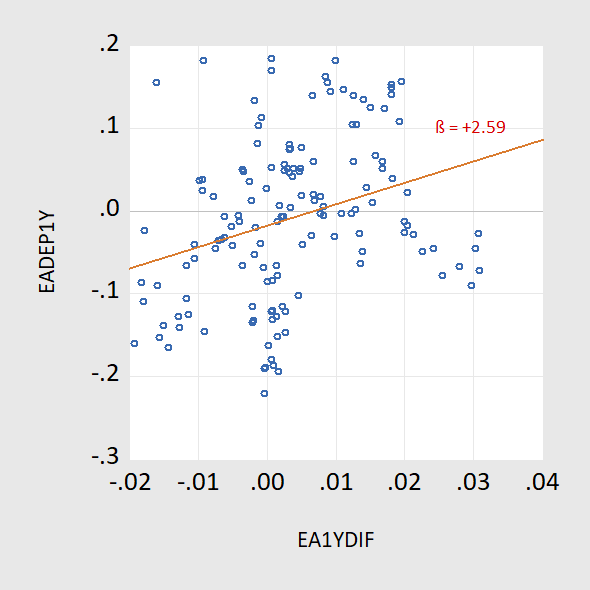 Figure 2: Ex post one year depreciation of eur/dollar up to 2019M06 against one year offshore US-euro area interest differential (up to 2018M06). 
In a revision to NBER working paper just released (No. 24342, posted 12/11), coauthored with Matthieu Bussière (Banque de France), Laurent Ferrara (SKEMA Business School), Jonas Heipertz (Paris School of Economics), we re-examine uncovered interest parity – the proposition that anticipated exchange rate changes should offset interest rate differentials, with data up to mid-2019.
This is one of the most central concepts in international finance. At the same time, empirical validation of this concept has proven elusive. In fact, the failure of the joint hypothesis of uncovered interest rate parity (UIP) and rational expectations – sometimes termed the unbiasedness hypothesis – is one of the most robust empirical regularities in the literature, vigorously examined since Fama's (1984) finding that interest rate differentials point in the wrong direction for subsequent ex-post changes in exchange rates.
The most commonplace explanations – such as the existence of an exchange risk premium, which drives a wedge between forward rates and expected future spot rates – have some empirical verification, albeit fragile.
One key development prompts this revisit. First and foremost, the last decade includes a period in which short rates have effectively hit the zero interest rate bound. This point is clearly illustrated in Figure 1 where we plot one-year interest rates for a set of eight selected economies and the US. This development affords us the opportunity to examine whether the Fama puzzle is a general phenomenon or one that is regime-dependent.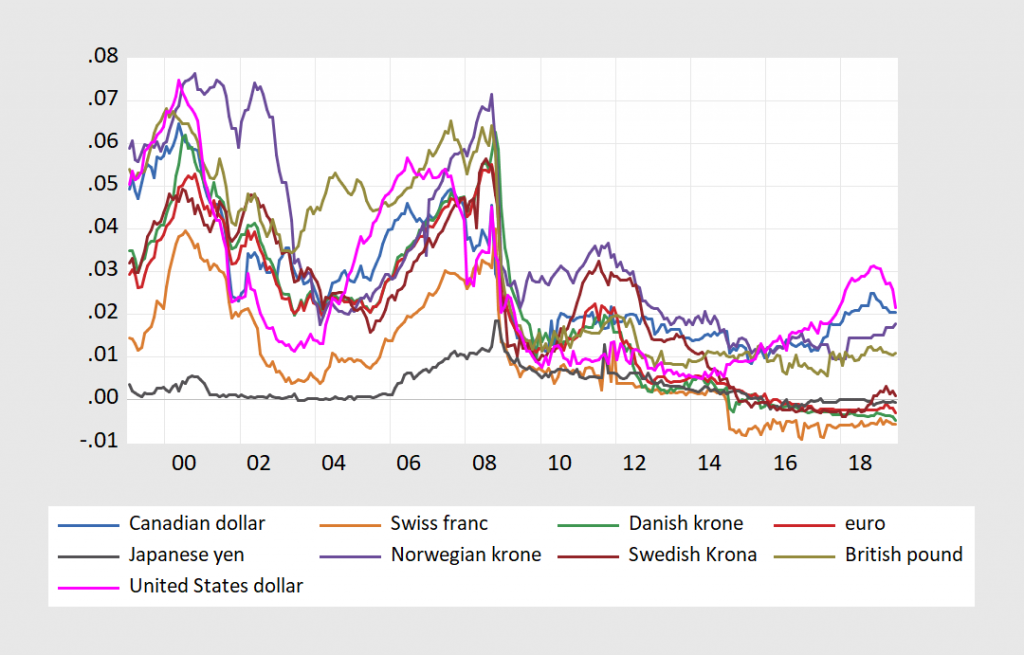 Figure 3: One year yields on Eurocurrency deposits.
As shown in Figure 3, more recently — and since the first version of this paper — short rates in the US have risen above the zero lower bound. This allows us to test to the robustness of our findings.
We obtain the following findings. First, Fama's result is by and large replicated in regressions for the full sample, ranging from 1999 to June 2018 (for exchange rate changes ending in June 2019). However, the results change if the sample is truncated to apply to only the most recent decade, the period for which interest rates are essentially at zero. For that period, interest differentials correctly signal the right direction of subsequent exchange rate changes, but with a magnitude that is altogether not reconcilable with the arbitrage interpretation of UIP. In other words, we obtain positive coefficients at exactly a time of high risk when it would seem less likely that UIP would hold.
The use of survey based expectations — thereby dropping the rational expectations hypothesis — data provides the following insights. First, interest differentials and anticipated exchange rate changes are positively correlated, consistent with the proposition that investors tend to equalize at least partially expected returns expressed in common currency terms (see also Chinn and Frankel (2019) for results 1986-2017).
Second, the switch in the β coefficient at the one year horizon arises because the correlation of expectations errors (defined as expected minus actual) and interest differentials changes substantially between pre- and post-crisis periods. This is important, as can be seen by examining the probability limit of the β' coefficient in a Fama regression:
s+1 – s = α' + β'(i-i*) + error
so:
plim(β') = 1 – [A] – [B] – [C]
Where
[A] ≡ cov(covered interest diff.,i-i*)/var(i-i*)
[B] ≡ cov(risk premium, i-i*)/var(i-i*)
[C] ≡ cov(forecast error, i-i*)/var(i-i*)
covered interest differential = – [(f – s) – (i-i*)]
risk premium = f – ε(s+1)
forecast error = ε(s+1) – s
f is the forward rate for period +1
s is the current spot exchange rate
ε(s+1) is subjective market expectations of the future spot exchange rate (proxied using Consensus Forecasts survey data).
The decomposition for the euro/dollar β' is shown in the Figure 4 below, for the 2003M01-2018M06 period (defined by the survey data). The components are shown as theoretical β' + [-A] + [-B] + [-C], so as to add up to the estimated β'.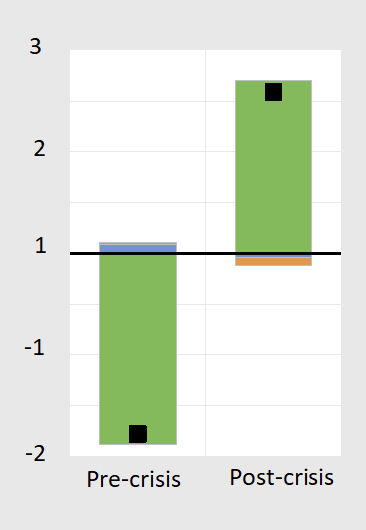 Figure 4: Decomposition of euro/dollar β'. [A] is brown, [B] is blue, [C] is green; black square denotes estimated β', line at 1 denotes theoretical β' under unbiasedness hypothesis. Source: BCFH (2019).
Exchange risk comovement with the interest differential does not appear to be the primary reason why the Fama coefficient has been so large in recent years (although the altered behavior of exchange risk does play a role). Rather, how expectations errors comove with the interest differential appears of central importance — that is the [C] component. This correlation changes because in the pre-crisis period, the dollar depreciated more than anticipated, while that is no longer true post-crisis. The size of the swing is partly due to the fact that interest differentials are now less variable (the variance has shrunk).
So far the change has proved durable despite the liftoff of short rates — at least in the US, Canada and UK. Whether this will continue to be the case remains to be seen.
Ungated version of the paper, here.
Bonus Quotation of the Day…
… is from page 426 of the late Jan Tumlir's January 1984 speech at the Cato Institute – a speech titled "Economic Policy for a Stable World Order" – as this speech is reprinted in Dollars, Deficits, & Trade (James A. Dorn and William A. Niskanen, eds., 1989):
Indeed the difficulty for the economist may now lie in explaining why the world economy still functions at all, however dissatisfied we may be with its functioning. The answer is, of course, that there is a lot of ruin in any economy with a modicum of freedom. I am sometimes unsure whether it is actually an advantage of the capitalist system that it can take such an enormous amount of beating. If it were in the habit of collapsing more frequently, we would perhaps govern ourselves more prudently (and more cheaply to boot).
DBx: Indeed.
I've long argued that the economist's standard assertion that government intervenes into the economy first and foremost to correct market failures fails spectacularly as a positive theory of government intervention into the economy. It's far closer to the truth to say that government intervention into the economy is fueled not by market failures (as understood by economists) but, rather by the market's astonishing success and robustness.
The market's success at raising people's standards of living creates the expectation that wealth creation is easy and normal while poverty is out of the ordinary. But of course historically poverty is the norm – and poverty so deep, unrelenting, and overwhelming that few Americans today can begin to imagine a condition so crushing. Because the market makes wealth so abundant and its production appear to be normal and easy to the point of being practically automatic – and because nearly all of the massive number of details of the intricate processes at work at every moment to create wealth are hidden from view – the market's 'failure' to create heaven on earth is believed by many to be an unanswerable indictment of the market.
On top of this 'problem' is the market's mighty robustness: tax it, saddle it with diktats, poison it with easy money, accuse it of being run by and for demons and devils, and the market keeps motoring along, improving the lives even of those who most hate it and who do the most to harass it. The market works less well than it would absent these intrusions, of course, but it still works surprisingly well. As long as, and insofar as, prices and wages are allowed to adjust according to the forces of supply and demand, the market's robustness is Herculean. (The market is not, however, indestructible. Harass it too much and it will quit working.)
If the market truly collapsed completely more often, giving people a taste of what life is like without it, the world would have in it not only far fewer communists and socialists, but also far fewer "Progressives" and "conservative nationalists."
The market's true failure, in short, lies is its incredible capacity to succeed and to keep on keeping on. The market fails to prevent people from taking it for granted.
The post Bonus Quotation of the Day… appeared first on Cafe Hayek.
Market Talk – December 12, 2019
ASIA:
According to reports from Reuters, China is trying to propose a plan to promote Macau to be its next "Hong Kong" by building it into a world-leading financial center. China unveiled plans of creating a yuan-denominated stock exchange, as well as allocating extra land to Macau for it to grow. The region was a former Portuguese colony and will target companies from Portuguese speaking countries such as Brazil in order to avoid direct competition with China and the mainland.
Indian Parliament passed Citizenship Amendment Bill on 11-Dec-2019, which proposes to accord citizenship to illegal Hindu, Sikh, Buddhist, Jains, Parsis and Christian migrants from Pakistan, Bangladesh and Afghanistan. It, naturally, implies that migrants, who identify themselves with any group or community other than those mentioned above, from these countries won't be eligible for citizenship. The bill also relaxes the provisions for "Citizenship by naturalization." The proposed law reduces the duration of residency from the existing 11 years to just five years for people belonging to the same six religions and three countries. The bill covers six communities namely Hindu, Sikh, Buddhists, Jains, Parsis and Christian migrants from Pakistan, Bangladesh and Afghanistan.
The Indian government has prohibited gift imports through e-commerce portals except life-saving drugs and rakhi. The import of goods was earlier free and not subject to customs duties. The move will impact Chinese e-commerce web sites like Club Factory, Ali Express and Shein who are the largest users of this route.
The US reprimanded Pakistan Air Force chief for misusing F-16 fighter jets by undermining their shared security platforms and infrastructures months after the Indian Air Force shot down an F-16 jet of Pakistan Air Force during an aerial combat over Kashmir. Andrea Thompson, the then-undersecretary of State for Arms Control and International Security Affairs, wrote a letter to Pakistani Air Force Chief Air Chief Marshal Mujahid Anwar Khan in August over the matter.
The major Asian stock markets had a mixed day today:
Shanghai decreased 8.72 points or -0.30% to 2,915.70
Kospi increased 31.73 points or 1.51% to 2,137.35
ASX 200 decreased 43.80 points or -0.65% to 6,708.80
NIKKEI 225 increased 32.95 points or 0.14% to 23,424.81
Hang Seng increased 348.71 points or 1.31% to 26,994.14
SENSEX increased 169.14 points or 0.42% to 40,581.71
The major Asian currency markets had a mixed day today:
AUDUSD increased 0.00241 or 0.35% to 0.68931
NZDUSD increased 0.00003 or 0.00% to 0.65823
USDJPY increased 0.5860 or 0.54% to 109.1310
USDCNY decreased 0.04597 or -0.65% to 6.98293
Precious Metals:
Gold decreased 5.54 USD/t oz. or -0.38% to 1,470.81
Silver increased 0.013 USD/t. oz or 0.08%% to 16.9207
Some economic news from last night:
Singapore:
Unemployment Rate (Q3) remain the same at 2.3%
Japan:
Core Machinery Orders (MoM) (Oct) decreased from -2.9% to -6.0%
Core Machinery Orders (YoY) (Oct) decreased from 5.1% to -6.1%
Foreign Bonds Buying increased from -511.1B to 235.8B
Foreign Investments in Japanese Stocks decreased from 394.0B to -200.4B
Australia:
MI Inflation Expectations remain the same at 4.0%
New Zealand:
External Migration & Visitors (Oct) decreased from 1.40% to 0.10%
FPI (MoM) (Nov) decreased from -0.3% to -0.7%
Permanent/Long-Term Migration (Oct) decreased from 4,290 to 4,120
Visitor Arrivals (MoM) increased from -0.1% to 0.0%
Some economic news from today:
Singapore:
Retail Sales (MoM) (Oct) decreased from 2.0% to -2.2%
Retail Sales (YoY) (Oct) decreased from -2.1% to -4.3%
India:
CPI (YoY) (Nov) increased from 4.62% to 5.54%
Cumulative Industrial Production (Oct) decreased from 1.30% to 0.50%
Industrial Production (YoY) (Oct) increased from -4.3% to -3.8%
Manufacturing Output (MoM) (Oct) increased from -4.0% to -2.1%
EUROPE/EMEA:
UK elections went underway today, with still the outcome being unpredictable. The election results will be counted out in the morning. Yesterday, both Labour and Conservatives gave their final pitches with PM Boris Johnson saying his side was the only side who can bring Brexit forward.
France is gearing up for another round of strikes tomorrow over the proposed reforms of the pension plan and age of retirement.
According to the WSJ, Saudi Arabia is seeking to defuse the situation with Iran, with the Pakistani FM acting as a mediator between the two.
The US senate comittee has now officially signed off a bill which places sanctions on Turkey over thier recent purchase of the S-400 missile defense system.
The major Europe stock markets had a green day today:
CAC 40 increased 23.39 points or 0.40% to 5,884.26
FTSE 100 increased 57.22 points, or 0.79% to 7,273.47
DAX 30 increased 74.90 points or 0.57% to 13,221.64
The major Europe currency markets had a mixed day today:
EURUSD decreased 0.00204 or -0.18% to 1.11126
GBPUSD decreased 0.00821 or -0.62% to 1.31169
USDCHF increased 0.00346 or 0.35% to 0.98606
Some economic news from Europe today:
UK:
Thomson Reuters IPSOS PCSI (Dec) increased from 47.8 to 48.5
RICS House Price Balance (Nov) decreased from -6% to -12%
Germany:
Germany Thomson Reuters IPSOS PCSI (Dec) decreased from 53.55 to 53.43
German CPI (YoY) (Nov) remain the same at 1.1%
German CPI (MoM) (Nov) decreased from 0.1% to -0.8%
German HICP (YoY) (Nov) increased from 0.9% to 1.2%
German HICP (MoM) (Nov) decreased from 0.1% to -0.8%
Swiss:
SNB Interest Rate Decision remain the same at -0.75%
PPI (YoY) (Nov) decreased from -2.4% to -2.5%
PPI (MoM) (Nov) decreased from -0.2% to -0.4%
France:
France Thomson Reuters IPSOS PCSI (Dec) decreased from 43.69 to 42.49
French CPI (YoY) increased from 0.8% to 1.0%
French CPI (MoM) (Nov) decreased from 0.0% to -0.1%
French HICP (YoY) (Nov) increased from 0.9% to 1.2%
French HICP (MoM) (Nov) increased from -0.1% to 0.1%
Italy:
Italian Quarterly Unemployment Rate decreased from 9.9% to 9.8%
Italy Thomson Reuters IPSOS PCSI (Dec) increased from 38.88 to 40.11
Euro Zone:
Industrial Production (YoY) (Oct) decreased from -1.8% to -2.2%
Industrial Production (MoM) (Oct) decreased from -0.1% to -0.5%
Deposit Facility Rate (Dec) remain the same at -0.50%
ECB Marginal Lending Facility remain the same at 0.25%
ECB Interest Rate Decision (Dec) remain the same at 0.00%
US/AMERICAS:
The US-China trade deal is close to completion, according to President Trump. "Getting VERY close to a BIG DEAL with China. They want it, and so do we!" he posted this Thursday. CNBC reported that US negotiators are ready to cancel the new tariffs and cut existing tariffs by 50% ($360 billion). With only three days left before the US imposes an additional $156 billion on Chinese goods, time is of the essence.
Bank of Canada Governor Stephen Poloz sees Canada's economy expanding in the new year at a steady. Last week, the central bank voted to maintain the target rate at 1.75% where it has remained for over a year. Growing government debt, not just in Canada, is one of Poloz's main concerns. "Experience shows that high debt levels can amplify the impact of a shock on the economy," the governor stated. Poloz expressed concerns over global trade as well, stating that companies are dismantling supply chains in favor of cheaper, less effective, options.
Canada's Conservative Party Leader Andrew Scheer resigned this Thursday. Scheer's resignation comes after it was revealed that he used Conservative Party funds to pay for his children to attend private school. Dustin van Vugt, executive director of the party, may be forced to resign as well for similar reasons.
Brazil's central bank voted in favor of dropping the target rate to 4.5%. "Essential conditions for sustained growth were laid down in 2019. Brazil is ready for a new development cycle," stated Waldery Rodrigues, special secretary to Brazil's Economy Ministry. Brazil certainly amped up efforts to build business, attract foreign and domestic capital, lower the debt ceiling, and solve the ongoing pension crisis. However, the pension dilemma is ongoing as are domestic conflicts such as the Amazon wildfires. Unemployment remains high at 11.6%, but is expected to decline in the new year. The government cited optimism about continued economic growth and predicts GDP to rise to 2.3% in 2020.
US Market Closings:
Dow advanced 220.75 points or 0.79% to 28,132.75
S&P 500 advanced 26.94 points or 0.86% to 3,168.57
Nasdaq advanced 63.27 points or 0.73% to 8,717.32
Russell 2000 advanced 12.89 points or 0.79% to 1,644.81
Canada Market Closings:
TSX Composite advanced 7.29 points or 0.04% to 16,946.90
TSX 60 advanced 1.56 points or 0.15% to 1,012.93
Brazil Market Closing:
Bovespa advanced 1,235.87 points or 1.11% to 112,199.74
ENERGY:
The IEA report was released this week which was contrary to the OPEC optimism for demand.
The oil markets had a green day today:
Crude Oil increased 0.4992 USD/BBL or 0.85% to 59.3943
Brent increased 0.4959 USD/BBL or 0.78% to 64.3858
Natural gas increased 0.0381 USD/MMBtu or 1.68% to 2.3095
Gasoline increased 0.0032USD/GAL or 0.20% to 1.6422
Heating oil increased 0.0141 USD/GAL or 0.73% to 1.9477
Top commodity gainers: Wheat(2.16%),Steel(13.28%),Ethanol(1.90%), and Natural Gas(1.68%)
Top commodity losers: Cocoa(-9.37%), Oat(-5.03%), Baltic Dry (-4.93%), and Orange Juice(-0.97%)
The above data was collected around 12:40 EST on Thursday.
BONDS:
Japan -0.02%(-2bp), US 2's 1.63% (+2bps), US 10's 1.88%(+9bps);US 30's 2.24%(+2bps), Bunds -0.32% (-0bp), France 0.03% (-1bp), Italy 1.34% (+2bp), Turkey 12.10% (-8bp), Greece 1.39% (-61bp), Portugal 0.41% (+5bp), Spain 0.47% (+4bp) and UK Gilts 0.82% (+5bp).
US 30-Year Bond Auction decreased from 2.430% to 2.307%
US 4-Week Bill Auction increased from 1.500% to 1.540%
US 8-Week Bill Auction increased from 1.520% to 1.540%