Thoughts On Buying Property Ahead Of A Potential Recession
When I sold a key SF rental property for 30X annual rent in 2017, I was both ecstatic and sad. On the one hand, I was pumped someone was willing to pay 59% more than what I would have sold it for when I first tried to sell it in 2012.
On the other hand, my wife and I had lived in that house since early 2005. Our long-term vision was to raise a family there and live happily ever after. But our child never came, so in 2014, we downsized by buying 40% cheaper house and rented our old property out. We contemplated a simpler life without children. Then, as fate would have it, my wife got pregnant in 2016, and our son was born in early 2017.
After his birth, we really considered moving back to our previous larger house, which was in a much busier part of the city. However, we just couldn't bring ourselves to pack our things again and relocate so soon. So I set up a race between myself and a real estate agent. I was to find a new set of tenants and she was to find a qualified buyer. Whoever found new occupants first would win. I lost.
The SF real estate market continued to do well up until 1H2018. It dipped in 2H2018, came back in 1H2019, and is now fading again in 2H2019.
There is inventory building in many parts of the country as buyers take a wait and see approach.
With so much talk of an impending recession on the horizon, why buy real estate now? Let's discuss some key points to help potential buyers make better decisions.
Buying Property Ahead Of An Potential Recession
1) Real estate is cyclical. From New York City to Seattle, it is very clear that real estate markets across the country have softened. Some markets started softening as early as 2017, while other markets are starting to soften now. If you end up buying property in a softening market, expect real estate prices to stay flat or go down for the next 3 – 5 years. You will not catch the bottom.
It takes 3 – 5 years for the market to work through inventory and find price stability. There are always delusional sellers in the first couple years who believe they can still get peak prices. It's only after seeing their property sit on the market for months that they finally acquiesce to cutting prices.
Below is a simplified chart of the SF Bay Area real estate market cycles.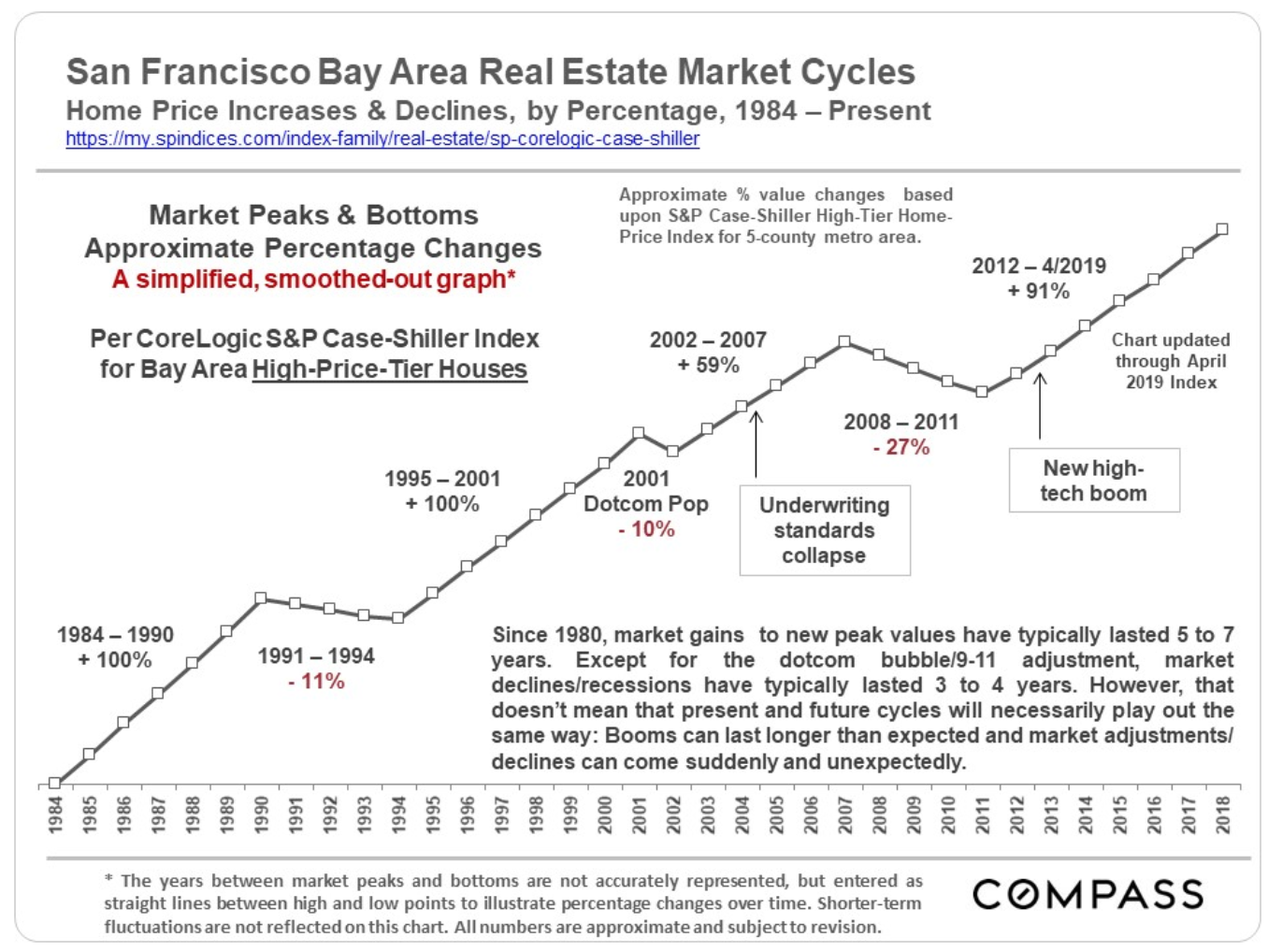 2) Real estate is seasonal. The best time to buy property is in November, December, and January. The weather is generally terrible during this time of year, nobody wants to move during the holidays, and any seller listing during this time period is more motivated to make a deal.
As the weather gets better and people get paid their bonuses, the real estate market heats up in Spring.
Take a look at some housing data from the Federal Reserve, the Census Bureau, and Zillow. If you want to buy a house despite a potential recession, the fourth quarter of each year is your best bet.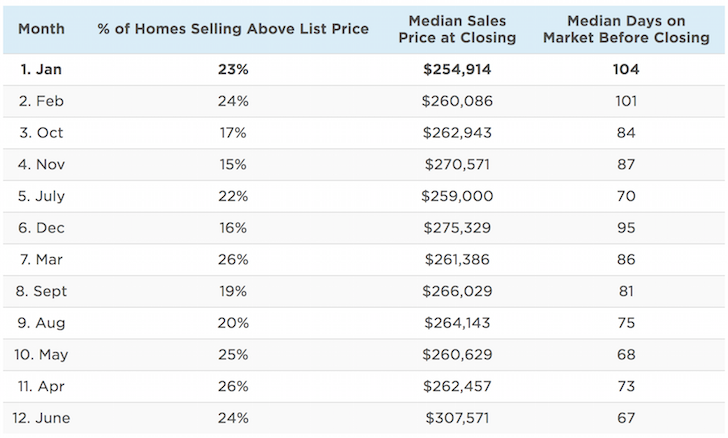 3) Hope springs eternal. Why does the real estate market always seem to heat up in the first half? It's the same reason why Financial Samurai gets more traffic in the first half than in the second half. Hope and goal setting!
This is the year we will buy property might be as common a thinking as This is the year I will workout, eat better, and lose 10 pounds. As people come back from the holidays and get paid their bonuses, they get motivated to make positive changes in their lives.
The government also knows about human nature, which is why it makes us pay our taxes by April 15th before we run out of money.
Given owning real estate is one of the best ways to build long term wealth, buying real estate is always one of the most popular financial moves people want to make.
If you want to sell property, it's best to list in the first half of the year when more people have more money and are looking to buy.
4) Follow a conservative home buying rule. The homeowners who suffer the most during a recession are those who've simply bought too much house and lose their main source of income. It's important to follow the 30/30/3 rule of home buying.
Cash flow. Spend no more than 30% of your gross income on your monthly mortgage payment.
Down Payment. You should have at least 30% of the value of the home saved in cash. 20% is for the downpayment to avoid PMI insurance, and the other 10% is for a healthy cash buffer.
Value of the home. Cash flow affordability is a function of the price you pay. If you are able to meet the first two hurdles of cash flow and down payment, then you can tie it all together with a proper multiple of your yearly gross income to see what you can afford. I recommend buying a property no greater than 3X your annual gross income. However, with interest rates so low, stretching up to 5X may be reasonable for some with larger cash buffers.
Remember, you can always refinance your home, but you can never change your initial purchase price!
5) Pay cash for a house. If you can pay cash for your house and can comfortably cover all the ongoing maintenance expenses and taxes, then you've got the best house buying scenario if we enter a recession.
Being a cash buyer also helps you get the best price possible. Not having to depend on a bank to give a buyer a loan can easily shave off 1% – 5% from another buyer's offer who requires a loan.
It is much more stressful being a property seller than a property buyer. Each day a house goes unsold after an offer due date hurts the value of the house. Cash buyers can also offer quick closes that can also help get them a lower price.
If the property market proceeds to decline by 20%, a cash buyer is only down 20%. Having a paper loss of -20% won't feel pleasant, but it will feel much more pleasant than if a buyer put down 20% and lost 100% of his or her equity.
See: How To Pay All Cash For A Property Without Having All Cash
6) Buy property to fit your life. I used to often wonder why anybody would get into a bidding war and overpay for a property, especially after an already massive appreciation in prices. But overbidding happens all the time because people have needs that are even more important than wants.
When couples have their first child or another child, they'll often want to buy a larger home. Sometimes, parents and in-laws need to move in to be cared for. These type of buyers can't wait until the perfect time to buy a house. They need to live their lives today.
I'd like to get a larger house for guests to stay longer term. Besides, I'm very bullish on single family homes with panoramic ocean views in San Francisco. If there are deals to be had, I'm pouncing because I've got a 20+ year time horizon.
7) Prime locations will suffer less. The farther you have to commute to a major job center, the more likely your home price will drop during a recession. Vacation properties will likely suffer the most, so please avoid buying a vacation property until there is really blood in the streets. Finally, excessively large and expensive properties will also suffer
Heartland real estate with already high cap rates may outperform coastal city real estate with low cap rates. However, no area will be immune to a recession. The only difference will be the magnitude of declines. Please carefully study the demographic trends, job growth figures, upcoming inventory, and health of the major industries in the area you want to buy.
If you must buy now, focus on the best location possible. Look to buy property priced no greater than 20% of the median price home in your area because that's where the demand is greatest. If you want to save money and get a deal by buying a property farther out, then you should wait until you can't go a day without seeing a bearish real estate headline.
8) Lower mortgage rates will create a soft landing. The 10-year bond yield going from a high of 3.2% in 2018 down to a low of 1.45% in 2019 helps affordability since mortgage rates have come down by a similar magnitude as well.
With rising inventory, softer prices, tough lending standards, strong employment, and lower mortgage rates, it's hard to see prices collapsing by more than 15% – 20%.
I just finished refinancing my mortgage and my payment is going from $3,920 down to $2,820 a month. A $1,000 increase in cash flow is significant. Thousands of other homeowners across the country will experience similar types of cash flow boosts as well that will enable them to more comfortably afford their homes.
Make Sure You Buy And Hold For The Long Term
If you buy property and a recession hits, you'll be fine so long as you keep paying your mortgage and property taxes. If you buy your property with cash, you probably don't have anything to worry about unless the property took all the cash you had.
Life goes on as usual during a recession. Recessions generally only last between 6 – 18 months anyway. Sometimes, by the time you realize you're in a recession, it's already over.
If you can't hold on during a downturn and decide to foreclose or do a short-sale, then you simply lose 100% of your downpayment. You also hurt your credit score by the following according to FICO:
30 days late: 40 to 110 points
90 days late: 70 to 135 points
Foreclosure, short sale or deed-in-lieu: 85 to 160
Bankruptcy: 130 to 240
Before you buy a property, please discuss and follow all the items in the post above. If you've crunched the numbers, are OK with taking a 15% – 20% hit, and plan to own your property for 10 years or longer, chances are high you're going to be fine.
Start looking at homeownership as a way to improve your lifestyle. If you end up making money over the long run, fantastic. Most people usually do. If not, it's OK because you were too busy making great memories.
Readers, anybody planning to buy now? Anybody bought recently? What was or is your thought process? Where are you buying and how much has the market gone down? How much do you think your real estate market will go down, if at all?
Related: Buy Utility, Rent Luxury (BURL): The Real Estate Investor's Rule To Follow
The post Thoughts On Buying Property Ahead Of A Potential Recession appeared first on Financial Samurai.
Review: Luigi's Mansion 3 [Nintendo Switch]
Luigi is back and better than ever in the newest installment in the Luigi's Mansion Series.
This is the third game in the Luigi's Mansion franchise, and it's by far the best. Luigi's Mansion 3 came out on the Nintendo Switch and Nintendo Switch Lite on October 31, 2019.
Players get to master new skills and equipment in this delightfully charming game. Luigi's Mansion 3 has been wildly popular since its release, with over 5.3 million copies sold.
The game has 4.7/5 rating from GameStop, a 96% positive rating from Google Users, a 5/5 rating from Common Sense Media, and a 86% positive rating from Mediacritic. Luigi's Mansion 3 was also voted the Best Family Game of 2019 at the Video Game Awards.
This game begins with Mario, Princess Peach, three Toads, and Luigi riding on a bus. Luigi and his merry band of friends are going to a hotel—I know, I know, a hotel is not technically a mansion, but the game is still fun anyway—, where they have been promised a luxurious stay.
Unsurprisingly, the promised vacation is not luxurious in any way. Instead, soon after Luigi and company arrive at the hotel, everyone but Luigi is captured by the ghosts of the haunted hotel. This means it's up to Luigi to rescue his friends.

Luigi's Equipment
Luigi's Mansion 3 sees the return of some iconic equipment from the previous Luigi's Mansion games and some new equipment to spice things up.
The Poltergust 3000 is Luigi's main tool and only weapon. He uses it to blow and suck air, ghosts, and money.
Dark Light Device is a special light that gets attached to the Poltergust 3000 and allows players to see hidden objects and trap ghosts.
The Plunger is another Poltergust attachment that can be used to stick to objects to solve puzzles, unblock a path, or attack ghosts.
Faces: New And Familiar
This new game also features some familiar characters, but also some new ones. Here is a list of characters:
Luigi—obviously—is the main character and reluctant ghost hunter extraordinaire.
Gooigi is Luigi's gooey, Jello-esque doppelganger. Gooigi is an indispensable character who, when he's not stored in Luigi's backpack, assists him with defeating ghosts and solve puzzles—as long as they don't involve water.
Professor E. Gadd is a zany character with some serious mad scientist vibes. He upgrades Luigi's equipment, sells him items, and performs unauthorized experiments on him—looking at you Gooigi.
Polterpup is Luigi's adorable ghostly puppy sidekick/mascot.
Hellen Gravely is one of the main antagonists and is one of the big bosses and proprietress of the haunted hotel
King Boo is a returning enemy from previous Luigi's Mansion. He is the big bad and is the enemy players face in the final boss battle.
Watch Luigi's Mansion 3 Gameplay with Lisa Coronado
The Haunted Hotel
The haunted hotel is amazing!
Next Level Games has outdone themselves with the design of this game.
Luigi's Mansion 3 is so fun because unlike its predecessor, Luigi's Mansion 2: Dark Moon, there's always something new to see or do. There are 15 floors and two basement levels—not including the roof—and each has its own theme, which all look like something players would expect to see in a fancy haunted hotel—you know, if you visited a lot of haunted hotels. Every floor has a boss which players must beat to proceed to the next floor.
Basement Level 2 is the boiler works
Basement Level 1 is the maintenance level
1st Floor is the grand lobby
2nd Floor is the mezzanine themed floor
3rd Floor is the hotel shops
4th Floor is the excellent stage
5th Floor is the R.I.P. suites
6th Floor is Castle MacFrights
7th Floor is the garden suite
8th Floor is paranormal productions
9th Floor is the Unnatural History Museum
10th Floor is the tomb suites
11th Floor is the twisted suites
12th Floor is the spectral catch
13th Floor is the Fitness Center
14th Floor is the Dance Hall
15th Floor is the Master Suite

Fun Takeaways
Some of the best things about this game were the little details. Luigi is a reluctant hero, which is what makes him such a fun protagonist. He spends the entire game afraid of everything. He trembles when he opens doors, jumps at noises, random movement, and jump scares.
When Luigi runs his head lags behind him, like he is a manic character from Tom and Jerry, it's what makes the game so fun. It's obvious that Luigi is scared, but with such a fun castle to explore, how can you stop playing?
Gooigi—see in the list above—is a new playable character in the Luigi's Mansion franchise. He rests in Luigi's backpack and is loads of fun to play. The graphics really give Gooigi depth, and when players move him around, they'll get to see and hear how he oozes through obstacles. It is utterly fascinating.
Gooigi is capable of slipping through grates and fences, and essentially has all of the powers Luigi does—except for his weakness with water. Should players decide to play in local co-op, they can choose to play both Luigi and Gooigi simultaneously.
Another great detail in this game is how interactive it is; virtually everything players interact with is reactive. Players can bump into tables, topple chairs, blow on tubas, and break things.
A bonus is that most of those things will also give out money or prizes when players interact with them.
Combat And Puzzles
Combat is entertaining in this game, although Luigi's Mansion 3 doesn't feel like a combat-focused game. The Poltergust 300—once again, in the list above—is a weapon without feeling like a weapon.
It is incredible how versatile the Poltergust 3000 is, and it is really cool to consider just how in-depth the game design is to create a world where a modified vacuum with attachments is the only thing players need to succeed.
Also, smashing ghosts against the floor and walls is really fun.
Puzzles are a significant part of the gameplay as well, and they are just as dynamic as the setting and combat. Players are challenged to really think outside the box with this game.
Multi-player Option
Luigi's Mansion 3 also offers a multi-player mode, which means eight players can gather either online or locally. This game also sees the return of 'ScareScraper'—which is from Luigi's Mansion 2: Dark Moon—in a co-operative mode or the option to play 'ScreamPark' in a team vs. co-operative team mode.
'ScareScraper' is a teamwork focused co-op where players must clear randomly generated floors from a high-rise. They do this by hunting ghosts and moving on once all of the ghosts on a floor are cleared.
'ScreamPark' pits two multi-player teams—Teams Luigi and Gooigi—against each other in three different match types. The matches are:
Ghost Hunt: where the team who catches the most ghosts, especially tough ones, wins
Cannon Barrage: is a game where players must obtain cannonballs, some of which are held by ghosts, and fire them at targets
Coin Floating: teams must collect the most coins from a pool without collecting any nasty surprises that also lie within the water
Controls are the same in both single and multiplayer modes, and characters are color-coded versions of Luigi and his doppelganger.
Verdict
This game is a fantastic addition to a unique series. There is very little to not like about this game. There is the occasional issue with controls, and some of the puzzles are a little difficult to decipher. These issues are overshadowed by all of the other things that make this game great.
Luigi's Mansion 3 is a game with gorgeous graphics, a fun plot, and a charming protagonist. It is an excellent game for players of all ages. With an average of 15 hours of gameplay, without any treasure hunting,
Luigi's Mansion 3 is a delightful way to spend some time with our favorite scaredy-cat ghostbuster.
The post Review: Luigi's Mansion 3 [Nintendo Switch] appeared first on Your Money Geek.
Azlo Review – Online Business Checking
Alzo is an online bank that focuses on simple business banking for entrepreneurs. With a huge focus on online entrepreneurs like freelancers and business, they are looking to change the way these businesses bank.
But what does that mean for you if you're looking for a great business checking account?
Let's dive in!
See how Azlo compares to the best business checking accounts and read more in our review below.
---
Completely free business checking
Integrated invoicing and payment acceptance services
Does not offer checkbook services and cannot accept cash
What Is Azlo?
Azlo is an online-only bank available in the U.S. and Mexico. The CEO & Co-founder is Cameron Peake. Azlo was founded in 2017 and is part of BBVA USA, Member FDIC.
"Within the banking industry, small business customers usually either aren't served at all, or they're served as an afterthought. At Azlo, from day one, we've built our product just for them. For example, we don't have minimum balances or monthly fees. This is important because if you're a new business owner ― particularly someone who hasn't started earning revenue yet ― your money should be put towards your business rather than fees," Peake said in an interview with fitsmallbusiness.com.
What Do They Offer?
Azlo offers free business checking suited for simple businesses such as small businesses, contractors, and freelancers who do all of their business online.
It also has a no-fee model. Companies that need to write paper checks will want to use a different bank since Azlo doesn't offer checkbook services. Businesses that need in-branch services and deal with cash will also not be a good fit for Azlo since none of those services are offered.
For most small businesses, Azlo can do virtually everything needed without any fees. It offers simple business checking, but for many small businesses, they don't need anything more. Here's what's included with an Azlo checking account:
No-fee checking account
Free ATM access using Allpoint Network (55,000 ATMs)
Invoice clients for free
Debit card
Bill pay, which includes option for mailing paper checks
Connect your checking account to popular accounting software such as QuickBooks Online, Xero, and Wave.
Accept credit card payments through Stripe, Square, or PayPal.
Clients can send in paper checks for payment or use a bank transfer.
Receive incoming wire transfers fee-free. Outgoing wire transfers are not available.
As you can see from the list above, Azlo is very business-oriented.
Some customers have reported that transfers with Azlo are slower than with other banks. Azlo lists that outgoing transfers can take 1-3 business days, and incoming transfers can take 4-5 business days. Mobile check deposits can take 1-6 business days to process. These processing times can certainly be a factor if you need fast processing for transfers and check deposits.
Azlo cannot send international transfers. They are working on adding this option. Although you can pull from an Azlo account using an international debit service.
We also experienced trouble trying to use the invoicing and receiving payments with credit cards on invoices.
Azlo is available in all 50 states. Azlo is not able to offer services to businesses involved in gambling, money services, privately-owned ATMs, sales of marijuana or its derivatives, precious metals, pawnshops, or cryptocurrency exchanges. It also can't support limited partnerships or limited liability partnerships.
Azlo does have some limits on certain transactions. From their webpage these include:
ATM withdrawals are limited to $1,000/day.
Card purchases and over-the-counter cash withdrawals have a cumulative limit of $8,000/day and 30 unique card transactions/day.
Transfers TO a linked account are limited to $300,000/day, and transfers FROM a linked account are limited to $100,000/day.
Payments through bill pay are limited to $10,000/payment. Bank-to-bank (ACH) payments are limited to $300,000/day.
Mobile check deposits are limited to $10,000/check and $20,000/month. Limit can be increased based on your Azlo account history.
Mobile App
Azlo has a mobile app for both the iPhone and Android. On the Apple App Store, it has a 4.3/5 rating from 258 people and 4.1/5 rating from 298 people on the Google Play Store.
Customer Service
Customer service is available by email and phone. You can email Azlo at support@azlo.com. They reply within 1 business day. Phone service is available at 844-295-6466 from 6:30 am to 5:30 pm Pacific time Monday through Friday.
Are There Any Fees?
Nope. Azlo is all-free business checking. That begs the question — how do they make money? Azlo says it makes money by earning interest on checking deposits and from customers using the Azlo debit card.
Payment serviced from Stripe, Square, and PayPal do charge processor fees, but these are separate from Azlo.
Is My Money Safe?
Yes, Azlo uses bank-grade encryption on its website, and mobile and BBVA USA is a Member FDIC.
Is It Worth It?
It has potential, that's for sure.
For small businesses that have simple checking needs and want to accept online payments from customers, Azlo will do everything you need.
It has integrated invoicing and the ability to accept payment from credit cards and bank transfers, providing a great infrastructure for small businesses.
However, if you're looking for more, check out our list of the best business checking accounts here.
The post Azlo Review – Online Business Checking appeared first on The College Investor.
10 Slow Cooker Recipes That Will Make Dinner Time Easy
Are you looking for some new and delicious slow cooker recipes so you can have tasty and stress-free dinners this week?
I love making meals in a slow cooker. Dinners are so much easier when you start everything in advance! I'm less stressed, can focus on things I'd rather do, all while knowing that I have a delicious meal cooking.
So, if you're looking for some of the best slow cooker recipes, I have 10 new recipes for you to try – that's almost two full weeks of meal ideas!
I think you're going to like all of these slow cooker recipes, but here are my favorites:
Easy Slow Cooker Cauliflower Soup – Cauliflower, cashews, and a smoky chickpea topping. This soup is packed full of protein, and it's vegan. This soup is creamy, rich, and the chickpea topping is roasted, which gives it a nice crunch.

Slow Cooker Salsa Verde Chicken Soup – Chicken, black beans, fire roasted corn, lime juice, and more. You can top this hearty soup with cheese, avocado, sour cream (I like to use plain Greek yogurt), and more.

Mozzarella Stuffed Crockpot Meatloaf – Garlic, onions, mozzarella cheese, Italian seasoning, and more. This meatloaf even has a delicious sweet and spicy glaze on top. I honestly had no idea that you could even make meatloaf in the slow cooker until I found this recipe.
Many of these slow cooker recipes take 15 minutes or less of prep time, which means you can easily make them before you go to work in the morning. They also make great leftovers for lunch the next day.
I like to put together slow cooker recipes before we go out hiking, biking, or exploring. We're usually very hungry when we finish, and having a slow cooker meal ready to eat means we're never too tired to eat dinner at home.
Being too tired or too hungry to cook is probably one of the top reasons for going out to eat, but dinner out can easily cost $30-$50. That can be a lot of extra spending that you didn't budget.
So, these slow cooker recipes will give you some delicious new ideas, make dinner time easier, and they'll keep your food budget in check.
If you're interested in more meal ideas, I recommend checking out the following articles for more of my favorite recipes:
Note: If you're looking for easy weekly meal plans, full of budget recipes, I recommend $5 Meal Plan. $5 Meal Plan is a meal planning service that sends you a delicious meal plan and shopping list every week for just $5 a month.
Here are 10 slow cooker recipes.
1. Easy Slow Cooker Cauliflower Soup
2. Slow Cooker Vegan Butternut Squash Soup
3. Sweet Potato Apple Casserole
4. French Beef Stew
5. Teriyaki Chicken Quinoa And Veggies
6. Salsa Verde Chicken Soup
7. Slow Cooker Corned Beef Tacos
8. BBQ Pulled Pork Tacos
9. Slow Cooker Chicken Chili
10. Mozzarella Stuffed Crockpot Meatloaf
What are your favorite slow cooker recipes?
The post 10 Slow Cooker Recipes That Will Make Dinner Time Easy appeared first on Making Sense Of Cents.